Earlier this week we showed you some easy and tasty baked sweet potato wedges that you can make if you're looking to eat a little healthier in this new year.  Today we're going to show you a different kind of potato recipe, which is also fairly simple and packs a ton of flavor into a light meal.  The potatoes above get their flavor from Sichuan peppercorns, which are quickly becoming the hot new ingredient for restaurants and home cooks.  As the name tells you, this spice comes from the Sichuan region of China, and it was actually banned in the United States until 2005 for fear that the peppercorns could carry bacteria that was harmful to native trees (today, the USDA considers this to be a "negligible risk").  Since then, Sichuan peppercorns have been slowly introduced to the American palate, and they're really an interesting ingredient to cook with:  unlike hot peppers, with produce a burning sensation, these peppercorns give your mouth what's been described as a numbing feel.  We've also discovered that they change the taste of other things you're consuming – for example, if you eat something with Sichuan peppercorns and then take a sip of water, the water hits your tastebuds much differently.  All this is to say that we were really excited to come across this potato recipe in the New York Times, which we adapted below as a quick, spicy, vegan lunch for ourselves – and now you can try it too!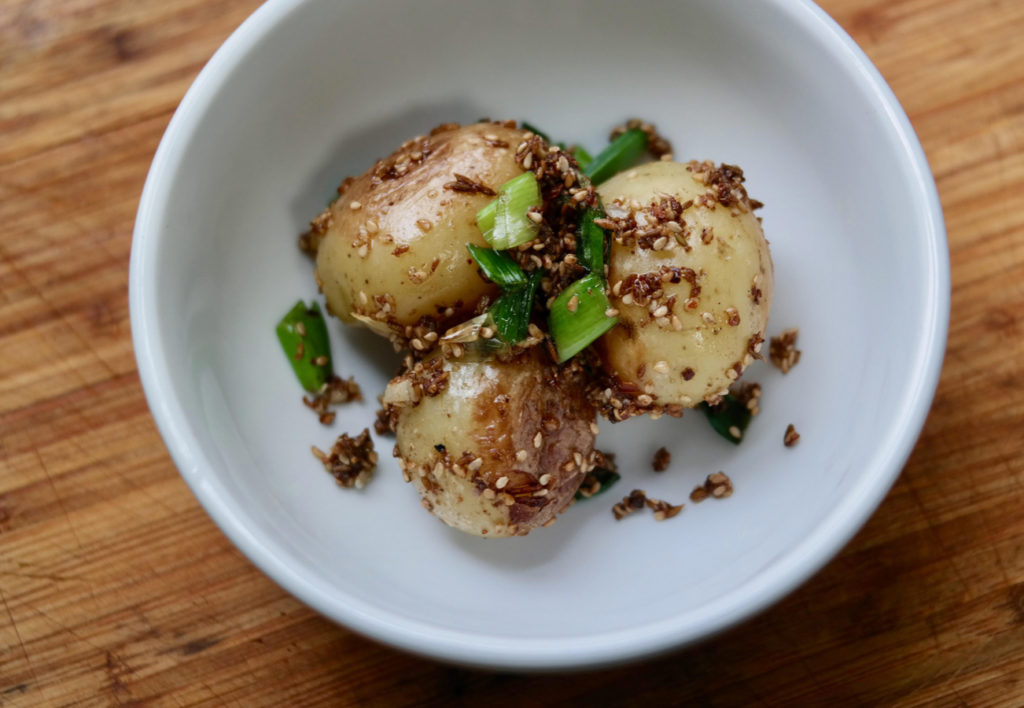 To make this, you'll need:
2 pounds of small yellow potatoes
Red Sichuan peppercorns
Whole star anise
White pepper
Cumin seeds
Red pepper flakes
Sugar
Sesame seeds
Vegetable oil
2 scallions
Garlic
You'll first want to get the potatoes cooking by placing them in a large pot, covering them with at least a few inches of water, and letting them boil for 10 minutes.  When they're done, scoop them out with a slotted spoon and set them on a towel to dry.
While you're waiting for the potatoes you can make your spice mix:  measure out 2 tablespoons of sesame seeds and place them in a small skillet.  Toast them over medium heat, without any oil, for about 5 minutes until they turn golden brown, then pour them right into a bowl to cool.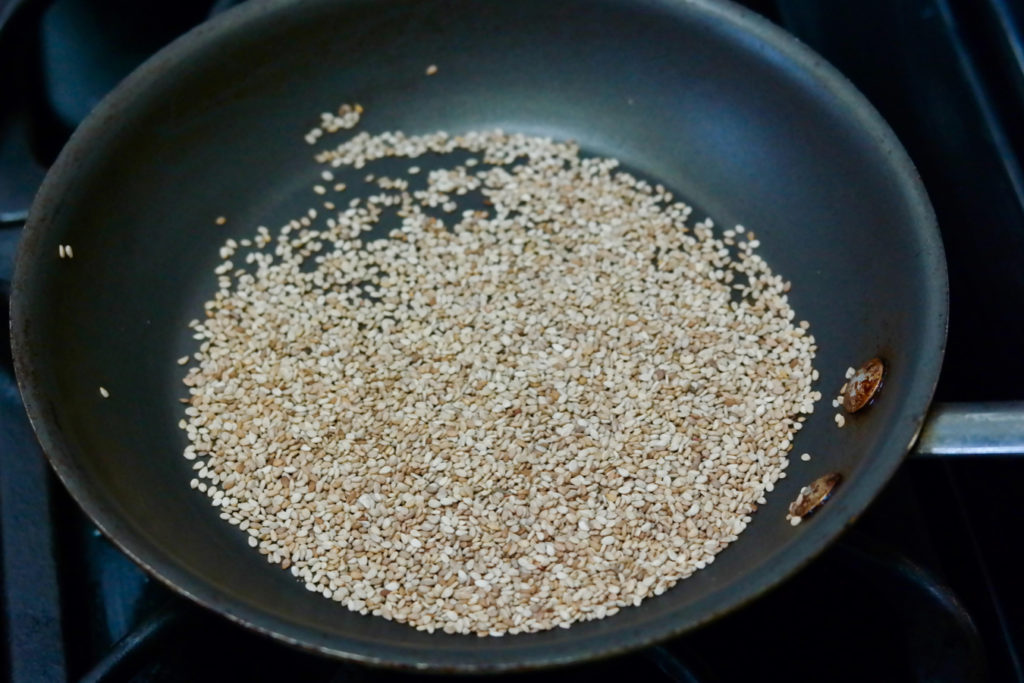 In the same dry skillet, place 2 teaspoons of Sichuan peppercorns, a whole star anise pod, a teaspoon of cumin seeds, and 1/2 teaspoon of white pepper.  Toast for 2 minutes, then pour into a separate bowl to cool.  Once again in your skillet, toast another teaspoon of cumin seeds and a tablespoon of red pepper flakes for about a minute.  Now place the sesame seeds and both batches of toasted spices into a food processor and add in a teaspoon of sugar and a teaspoon of salt.  Crush your bouillon cube into the processor, then grind everything together into a rough powder.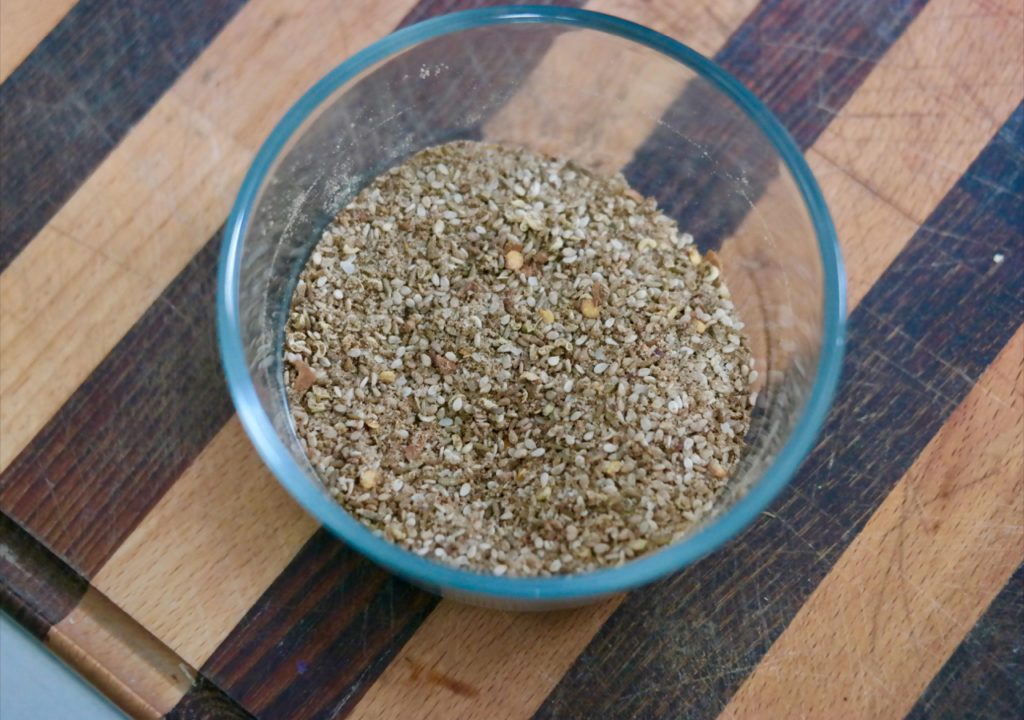 Now you'll want to slice up your scallions and finely chop 4 garlic cloves.  Next, pat your potatoes dry, and in a large wok warm 3 tablespoons of oil over high heat.  Place in the potatoes and cook for 4 or 5 minutes, until brown spots appear on them.  Push the potatoes to the sides of the pan and pour another tablespoon of oil into the middle, then add in the garlic, scallions, and the spice mixture and cook for just a few seconds.  Stir everything together with the potatoes and cook for another few seconds.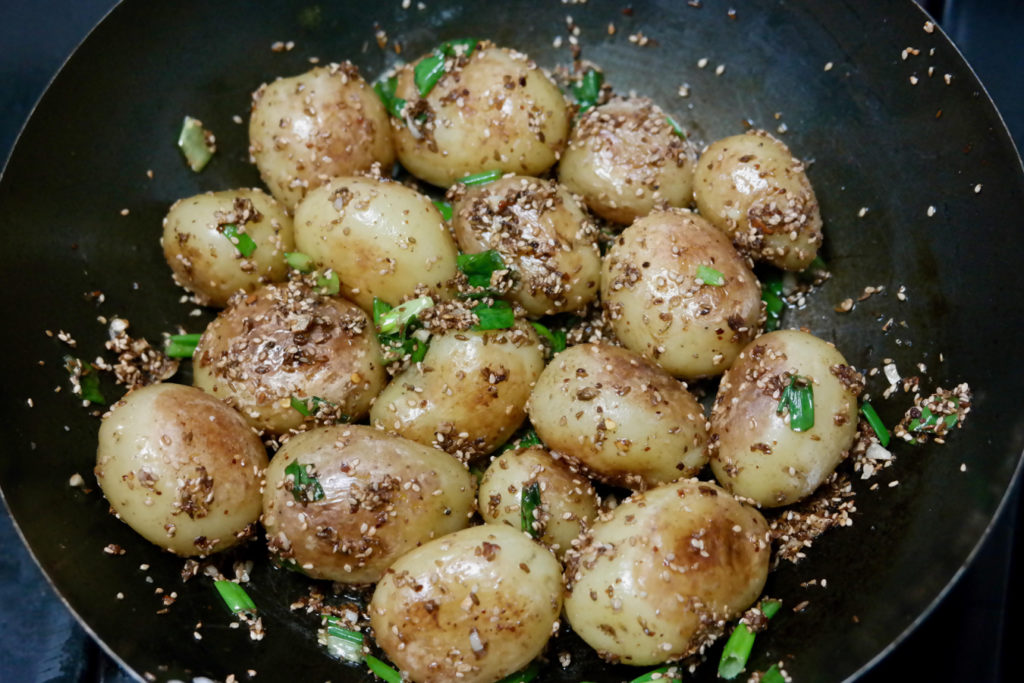 Now you can lift the potatoes out of the wok, add more salt to taste, and enjoy!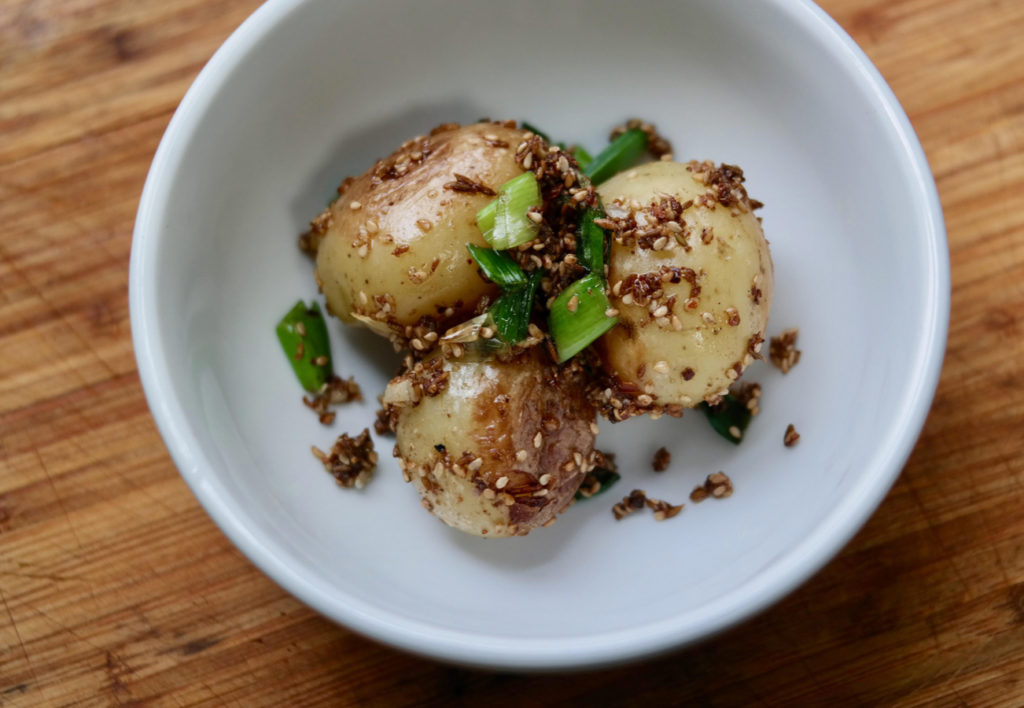 In case you didn't figure it out by now, these potatoes are spicy, but their spiciness has an interesting dimension thanks to the Sichuan peppercorns.  The amount of spice here is pretty reasonable, so it's a good introduction to this critical component of Sichuan cuisine, and the small, rich yellow potatoes are an excellent pairing:  they stir-fry well, and it's nice to bite into a spicy exterior and then have a warm, slightly buttery interior to counteract the numbing heat.  You might have to search a little to find Sichuan peppercorns, and maybe some star anise as well, but once you've got everything it's pretty easy to make the spice mix and then boil and stir-fry the potatoes – just know that at the end, as with any wok cooking, you have to move quickly.  So if you're feeling adventurous, and you've heard about this Sichuan spiciness but haven't yet got a chance to try it out, these potatoes are a great way to have a vegan meal with a very interesting flavor.