Since we featured a super easy recipe centered around black beans earlier this week, we're going to continue on that theme – as well as our focus on healthy meals – to show you what other interesting things you can do with these legumes that have become a backbone of vegetarian cooking.  Today, inspired by a recipe in the New York Times, we're going to shift over to white beans with this take on a classic of French cuisine.  Normally au vin is a preparation method for cooking chicken, where (as you might be able to guess from the name) wine is used to braise the meat and vegetables in this dish.  Here we use the same ingredients, but swap the chicken with beans for an interesting and tasty result.  Since you're cooking with two different types of alcohol, and there's some amount of technique involved here, this is a recipe you've got to put a little more concentration into, but it's worth the effort to transform beans into this delicious, vegan, Frenchified dinner.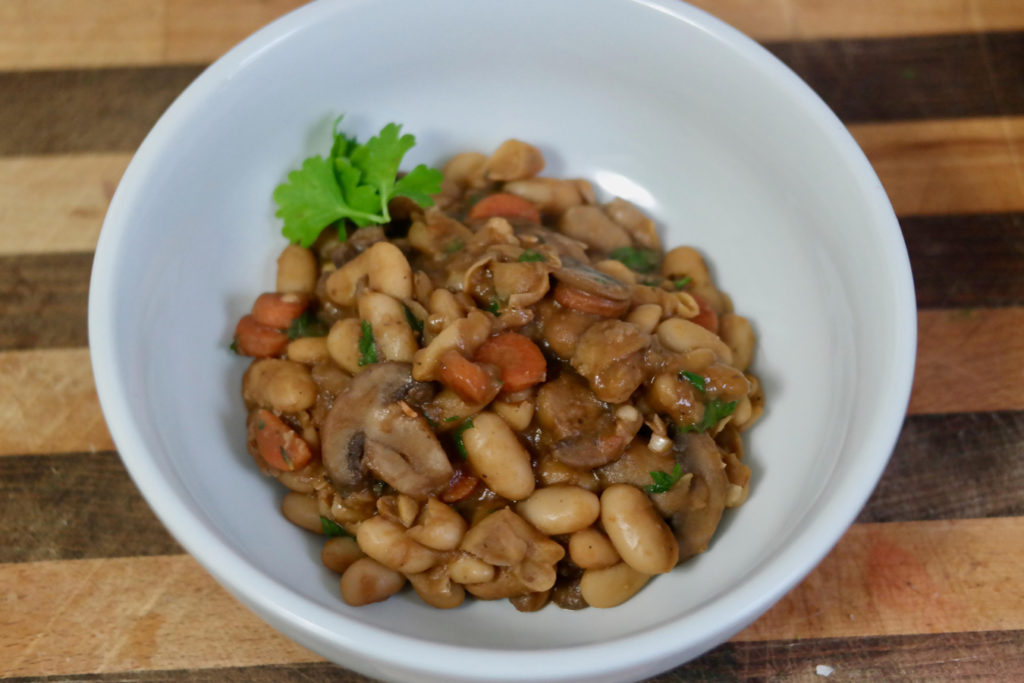 To make this, you'll need:
Butter
3 carrots
A shallot
8 ounces of sliced mushrooms
Thyme
Garlic
A dry red wine
Tomato paste
2 15-ounce cans of cannellini beans
A pint of vegetable broth
Dry sherry
Parsley
Balsamic vinegar
You can start by slicing up your carrots and chopping your shallot, then in a Dutch oven melt 3 tablespoons of butter over medium heat and cook these vegetables, along with a pinch of salt and some pepper, for 5 minutes.  Add in the mushrooms and cook for another 5 minutes or so, until everything is softened and the mushrooms have begun to wilt.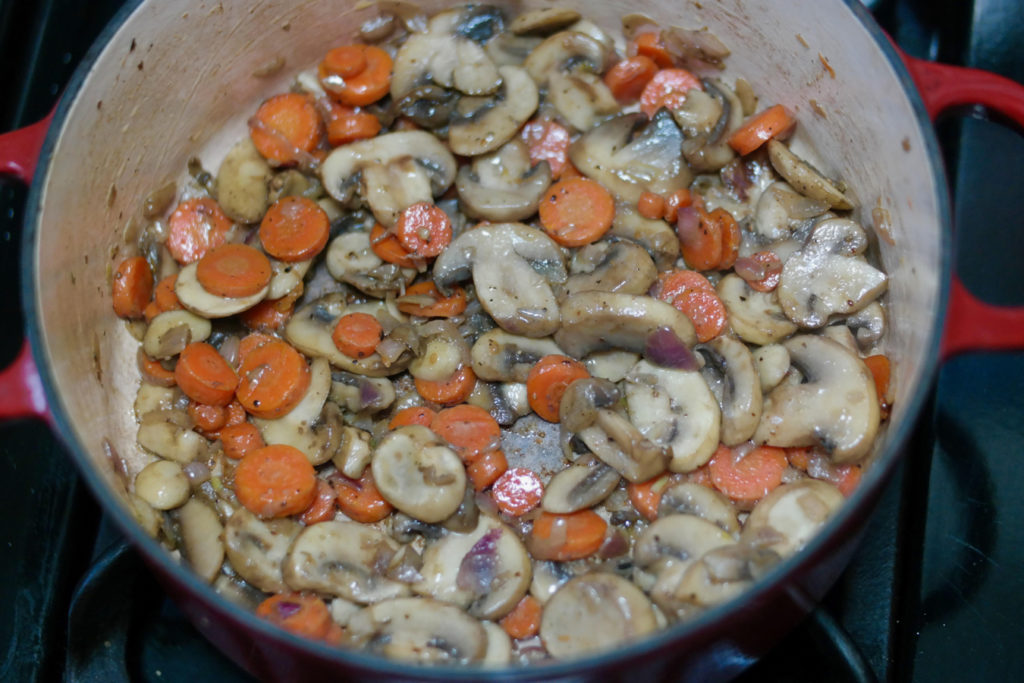 Now chop up 3 garlic cloves and add those in along with 5 whole sprigs of thyme.  Cook for just a few seconds, then stir in 2 teaspoons of tomato paste and 1/2 cup of the wine and cook for about 3 minutes, until the wine has been mostly absorbed.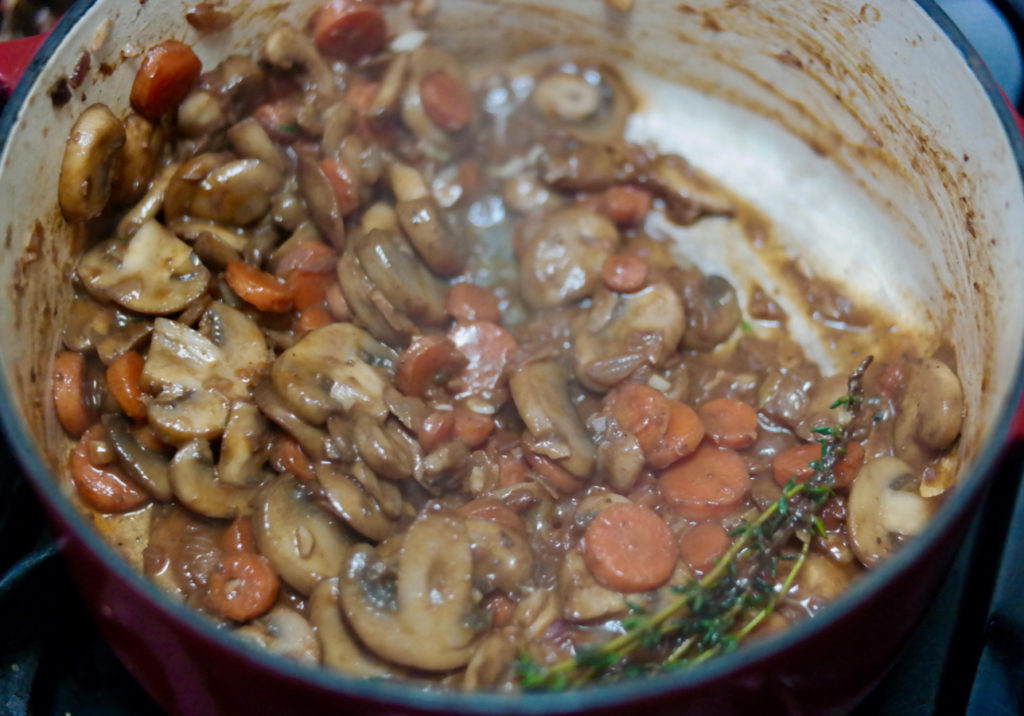 Drain and rinse your beans and add those in, plus all of your broth, a tablespoon of dry sherry, and more salt and pepper to taste.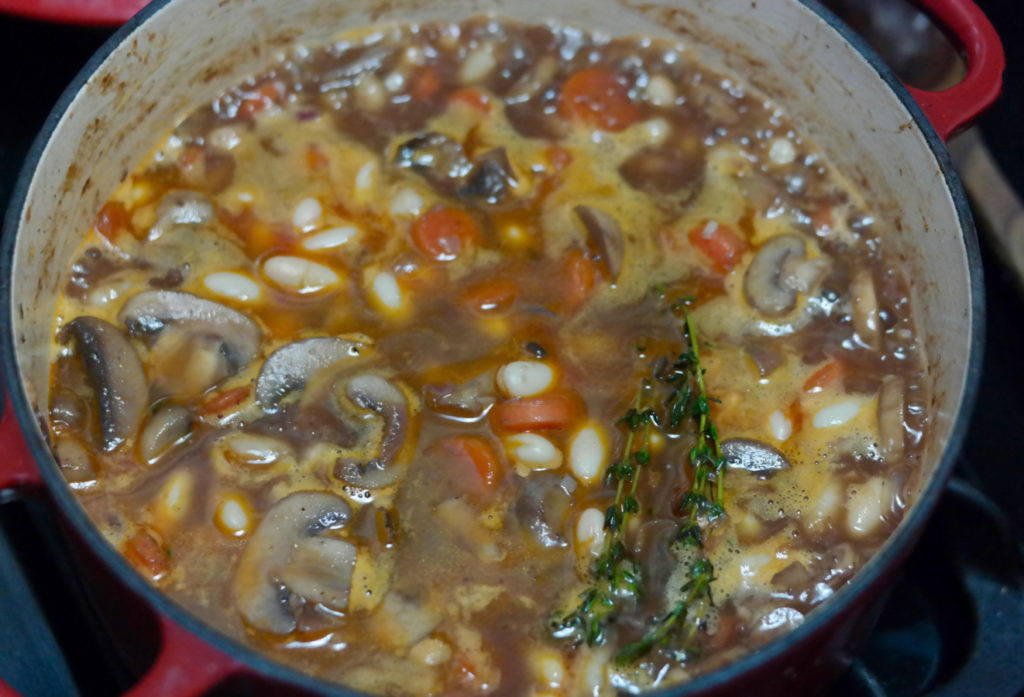 Bring this all to a boil, then lower the heat and simmer with the pot semi-covered for half an hour, until you have a thick sauce.  Then pluck out the thyme, chop a large handful of parsley leaves, and stir those in along with a teaspoon of balsamic vinegar.  Now you can serve your beans with some extra parsley on top.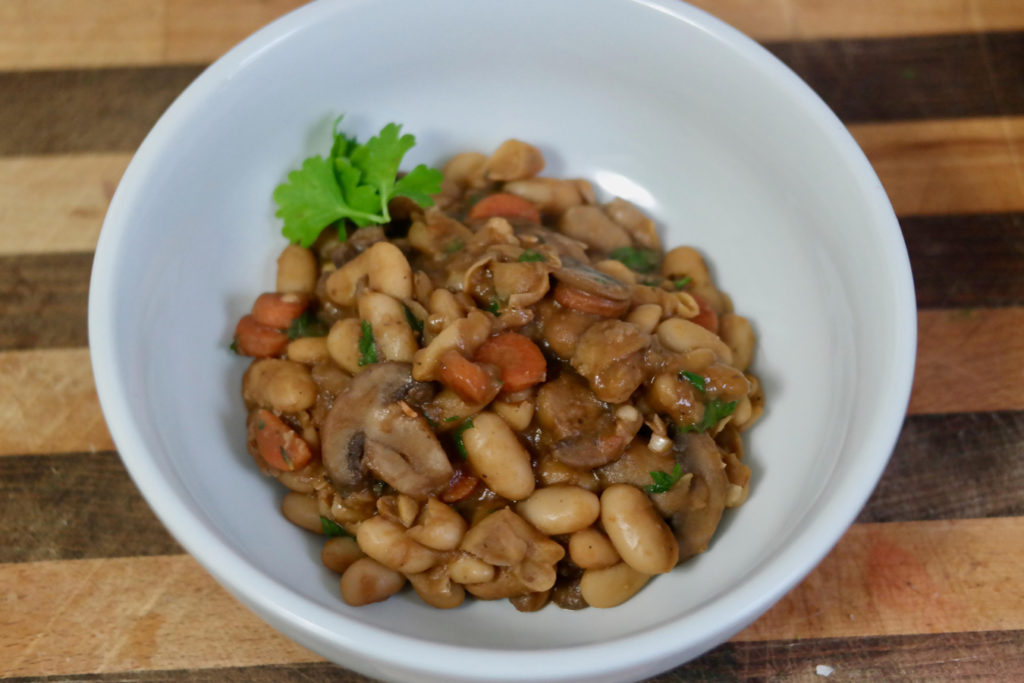 This is definitely a splurgy meal – you're going to be opening a bottle of red wine, plus adding a splash of sherry, so these beans probably aren't something to whip up for a quick lunch.  But it's nice to try out some French cooking techniques, which are traditionally centered around meat but here serve some white beans well to make a rich and flavorful vegan meal.  We thought we'd tried all manner of bean variations before in our experience cooking vegetarian, and sometimes we get a little sick of eating the same beans over and over, but this was a nice variation that felt fancy and allowed us to get some new tastes and techniques for a tried and true meatless staple.