We've made it one month into 2021 and survived!  To close out this January, we're going to show you one last healthy recipe that we made recently, featuring some whole foods and plenty of vegetables cooked together to make something delicious.  Today's meal, which we adapted from a recipe in the New York Times, take pearl couscous, cheese and some veggies and transforms them into a savory cooked cake that you can slice up and serve.  It takes some effort and technique to make, so be sure you set aside enough time and patience, but we enjoyed this unusual meal – you can see it kind of looks like a pizza – and we think it's a great way to end out a month of better eating.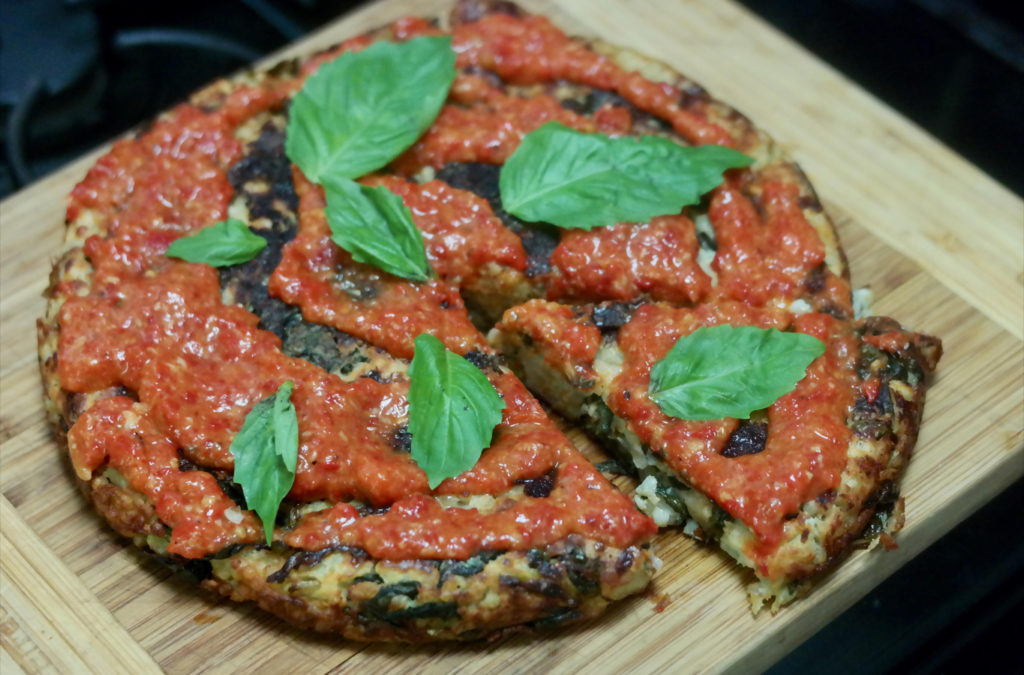 To make this, you'll need:
2 red bell peppers
A small tomato
Olive oil
2 heads of garlic, plus 2 extra cloves
Vinegar
Honey
Pearl couscous
Scallions
A 5-ounce package of spinach leaves
Mozzarella cheese
Parmesan cheese
An individual-sized container of Greek yogurt
Flour
2 eggs
Coriander seeds
Basil
You'll want to start by preparing the sauce that goes on top of the couscous cake:  de-stem and de-seed your bell peppers and slice them each into four pieces, and also cut your tomato in half.  Place these vegetables in a bowl and toss them with a tablespoon of olive oil, plus salt and pepper, then spread them out on a baking sheet.  Now slice the very tops off the 2 heads of garlic, rub a little olive oil on top, and wrap them rightly in foil.  Place the garlic on the baking sheet as well and roast everything at 425°F for 35 minutes.
While you're waiting you can start on the cake:  bring 1 1/3 cups of salted water to a boil, then pour in 1 1/2 cups of couscous and cook at a simmer, covered, over medium-low heat for 10 minutes.
You'll also want to trim the white ends off of 10 scallions, then rub them with 2 teaspoons of olive oil.  In a large oven-safe pan cook them for 2 minutes on each side, until they're browned in spots.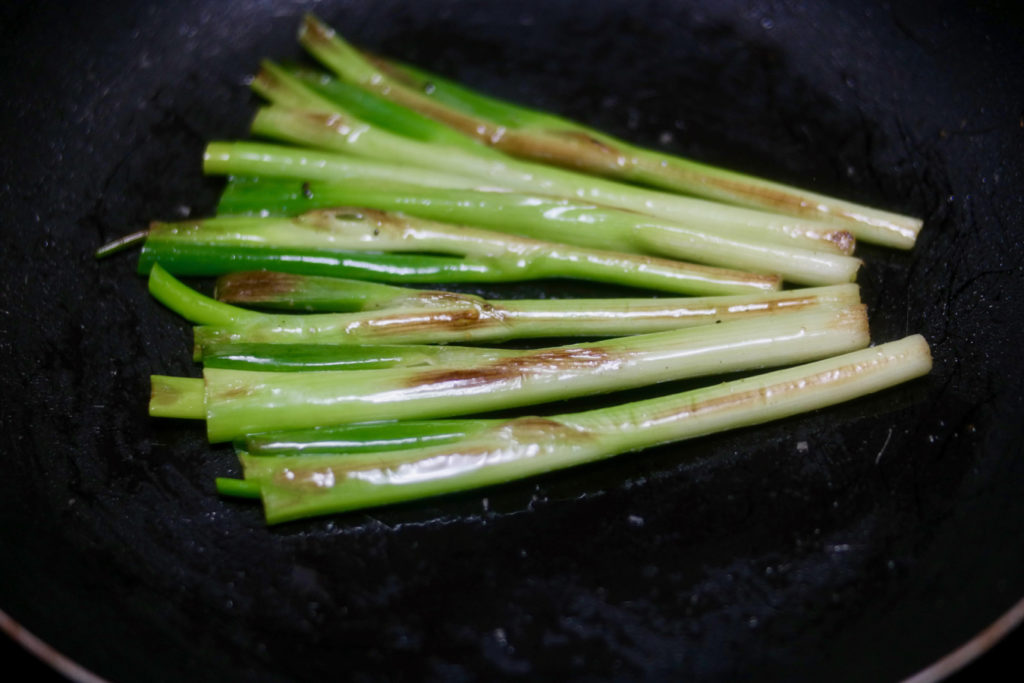 Set the scallions aside to cool, then pour your spinach into the same pan with another 2 teaspoons of olive oil and cook just until the spinach is wilted.  Place the spinach in a bowl and add in your cooked couscous, the entire container of Greek yogurt, your eggs, and 1/3 cup plus a tablespoon of flour.  Chop your scallions and your 2 cloves of garlic, and tear off 1/3 cup of basil leaves, and place those in the bowl as well.  Grate up a cup of mozzarella and 1/2 cup of Parmesan and pour those in your bowl too.  Finally, measure out a tablespoon of coriander seeds and crush them with the back of a large knife, then add those in along with some salt and pepper.  Stir all of this together, then brush 5 tablespoons of olive oil into your skillet and scrape your couscous mixture in, using your mixing spoon to evenly spread it around.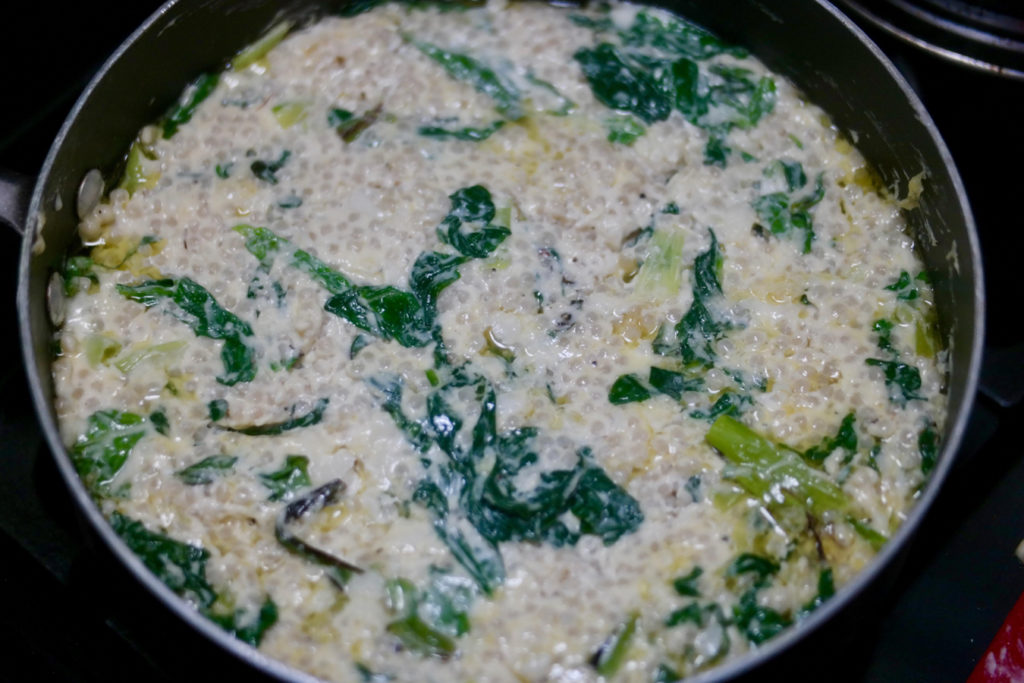 Cook this on your stovetop over medium-low heat for 20 minutes, until it browns around the edges and is firm in the middle.
Meanwhile, once the vegetables come out of the oven, you should be able to peel the skins off the peppers and tomato and squeeze each garlic clove out of its skin.  Place these vegetables, minus their skins, into a food processor with 1 1/2 tablespoons of vinegar, a teaspoon of honey, and some salt and pepper.  Run the food processor, and once you have a chunky but even mixture add in 3 tablespoons of olive oil and puree everything into a smooth sauce.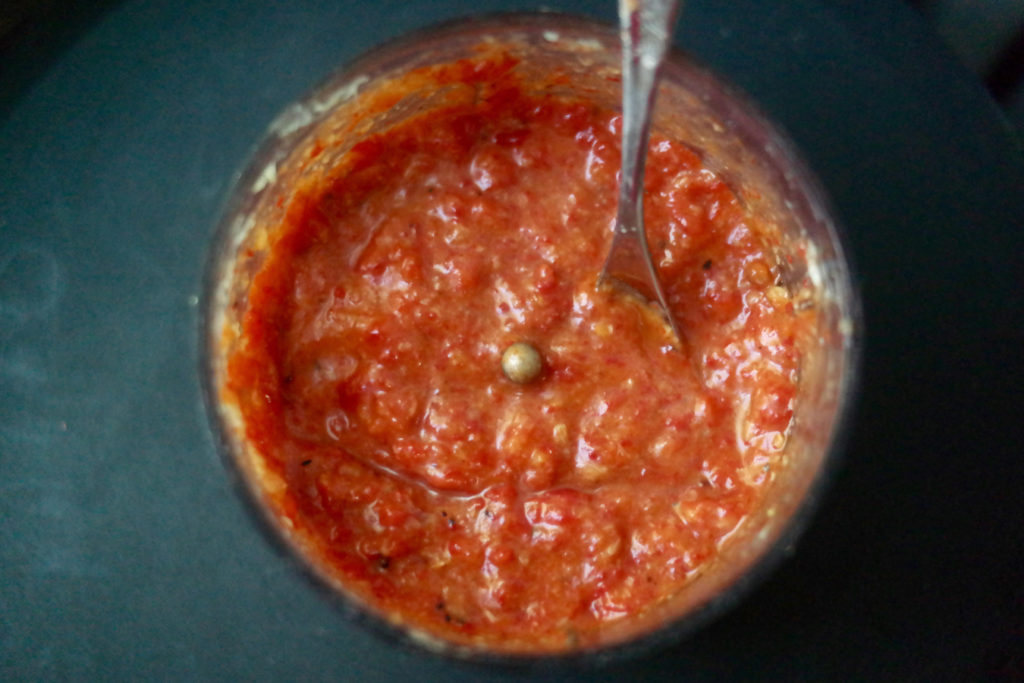 When the couscous cake has cooked on one side, run a spatula around the edges and underneath to loosen it.  Take the pan off the heat, place a large plate on top, then flip the whole thing over and the cake should slide onto the plate.  Carefully put the cake back into the pan, with the browned side up, and cook on the other side now for 8 minutes.  Then use the same method to slide the cake out again onto a serving platter.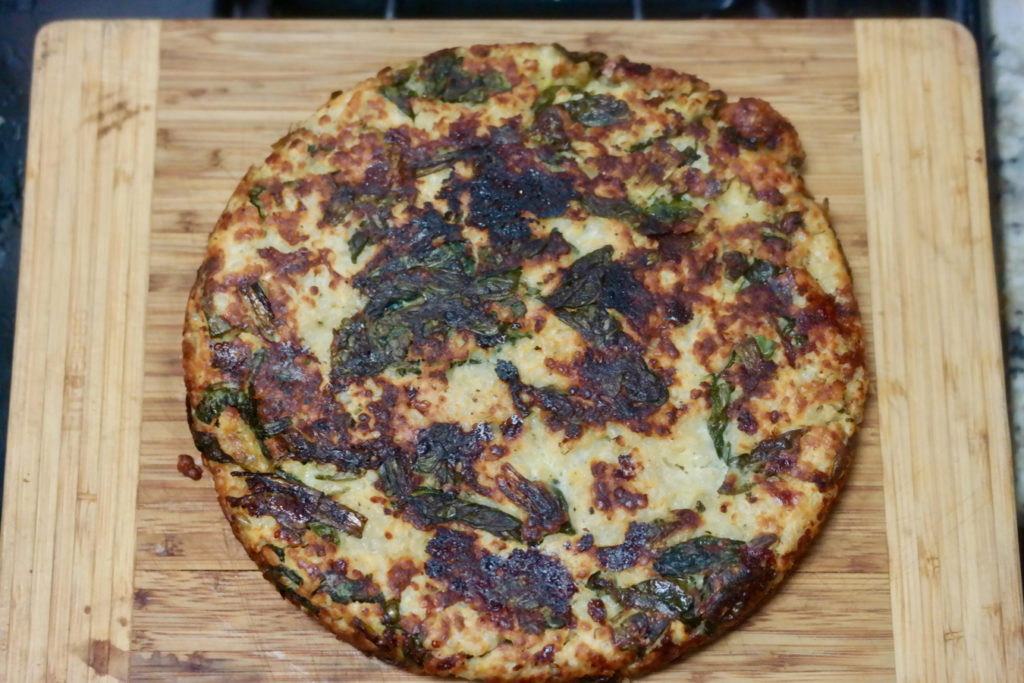 Top the cake with the red pepper sauce and extra basil leaves, then cut it into wedges and serve.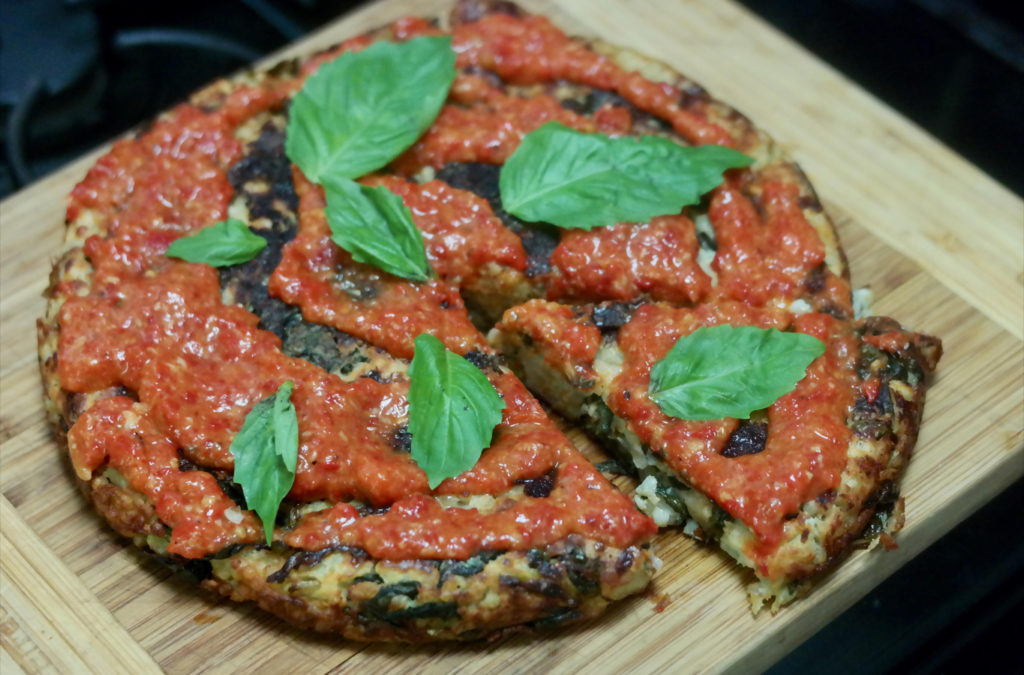 As we said, this isn't a simple recipe.  There's a lot of vegetable prep that goes into making the sauce, and you also have to mix a bunch of different ingredients together.  Making the cake itself is also kind of a feat:  it's important to be extremely careful when flipping the half-cooked cake and then sliding it back into the same pan to finish on the stove.  All in all this takes at least an hour and a half to make, so be sure to set aside enough time and care in working to make sure everything goes where it needs to and nothing falls apart.  But the result is superb:  the couscous is a great base for the different vegetables, cheeses, spices, and herbs and cooks up nicely, while the roasted pepper, tomato, and garlic sauce makes for a great topping.  This fed the two of us for an entire day, so even though it was a lot of work, we ate good and didn't have to prepare any other food.  You could consider this couscous cake a project, so if you've got some free time and want to experiment, this is an excellent way to try something new.