In case we didn't give you enough work to do last week, when we showed you how to make a couscous cake, today we're taking on another very involved – but also very delicious – recipe.  These parathas are a South Asian flatbread, made by lightly frying a flaky, layered dough.  We're always down for some bread so we decided to adapt this recipe from Bon Appétit, and while it turned out to be an all-afternoon affair, we were glad we got the chance to try them out.  You'll have to set aside at least 5 hours to make sure you have enough time to make, shape, rest, and cook the dough, so plan accordingly – but the reward is this nice, warm, rich and herb-studded bread.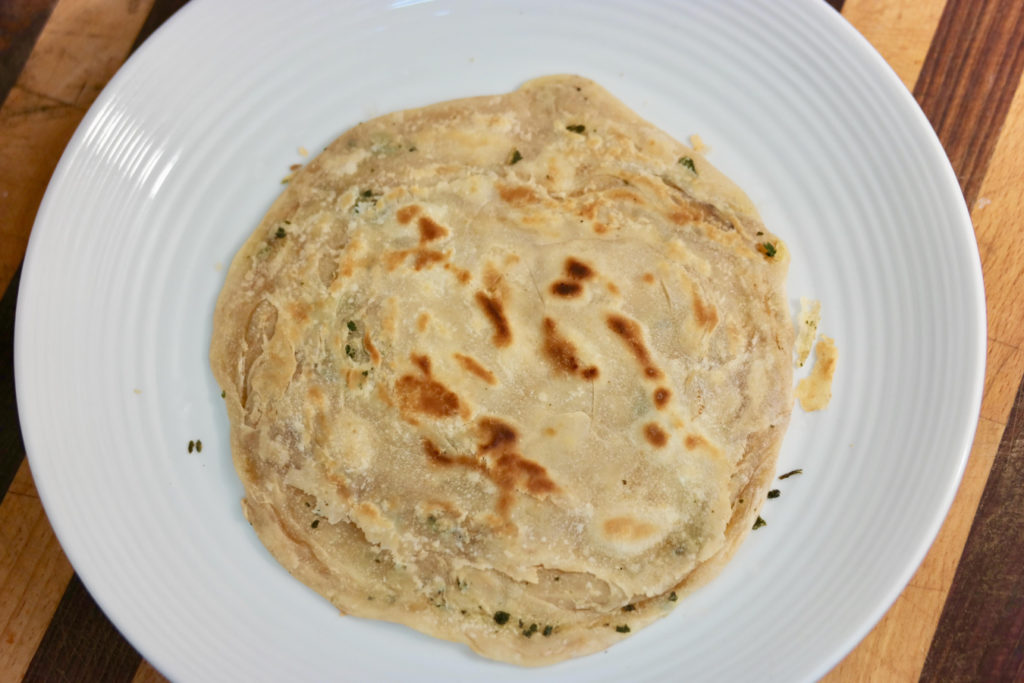 To make this, you'll need:
2 sticks of butter
A large bunch of sage
Sugar
Flour
First, cut all your butter into bite-sized pieces, then melt the pieces in a pan over medium heat until they begin to foam.  Let the butter warm for a few more minutes until it starts to sizzle, then pluck off 24 sage leaves and let them fry in the butter for around 5 minutes, until they're crispy.  Fish them out with a slotted spoon and lay them aside on a paper towel, making sure to sprinkle them with salt while they're fresh out of the butter.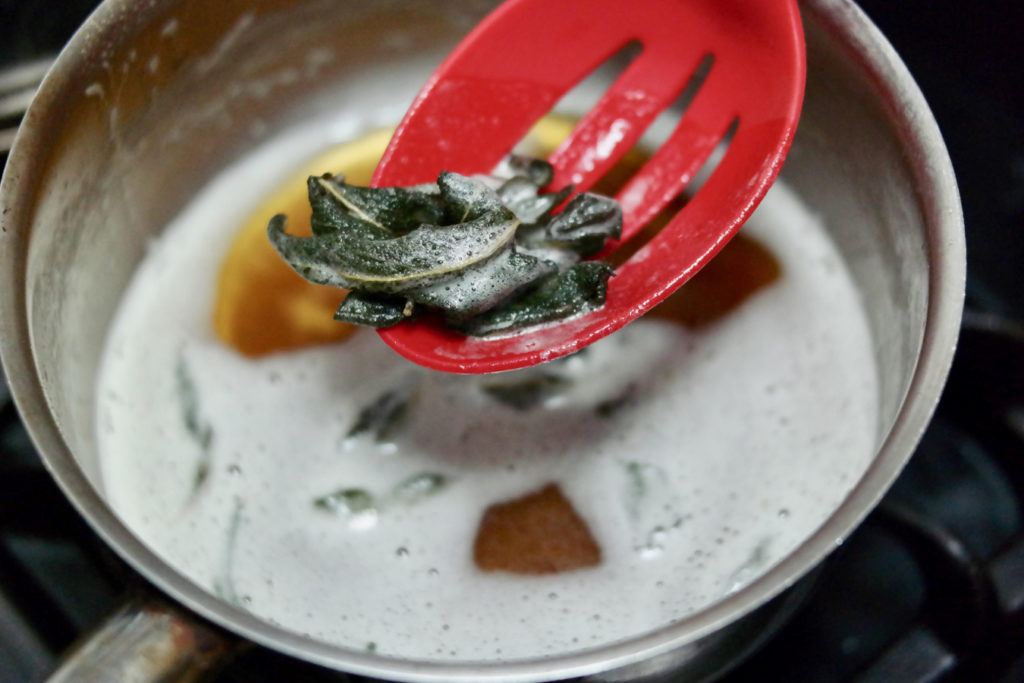 Keep the butter over the heat, now stirring continuously for another minute or so until it's browned but not burned.  Then pour the butter into a glass measuring cup that can withstand heat and let it sit for a few minutes until the solids in the butter start to separate from the liquid.  Pour out all but 1/4 cup of the butter into a bowl, and put the measuring cup in your fridge, keeping the bowl with the majority of the butter with you.
To start on your dough, whisk together 3 cups of flour with a tablespoon of sugar and 2 teaspoons of salt.  Pour in a cup of warm water and then 3 tablespoons of your melted butter (not what's in the fridge) and stir together until you have a solid dough.  Cover your bowl and let this sit for 15 minutes.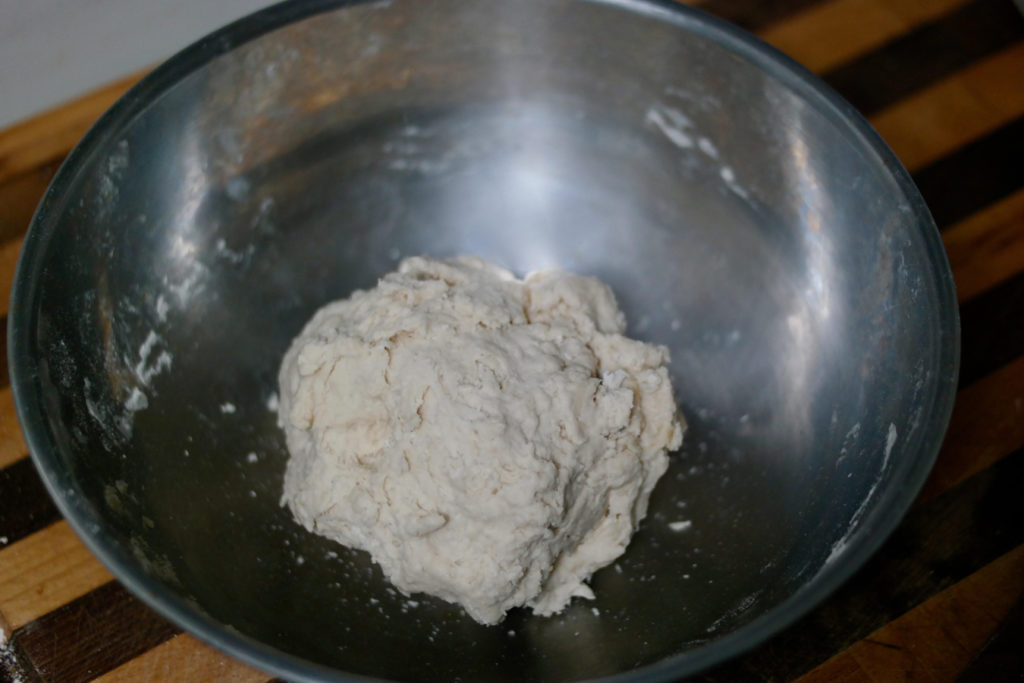 Then shape the dough into a smooth ball, and turn it onto a lightly floured work surface.  Knead it for 5-10 minutes, until it's smooth and stretchy.  Roll it into a ball, put it back into your bowl, and coat it evenly with a tablespoon of the melted butter.  Cover again and let rise for an hour, then use a large, sharp knife to divide it into 8 equal pieces.  Roll each piece into a ball, rub with more melted butter, then cover again to rest for 20 minutes.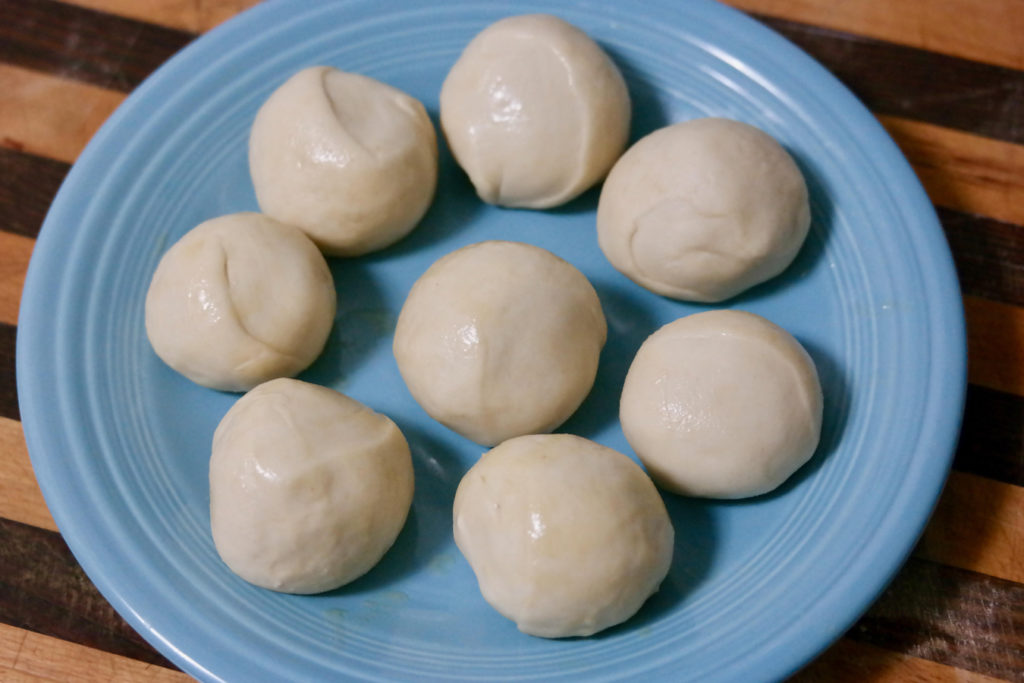 Now flour your work surface again and roll each dough ball out, one by one, as thin as you can get without putting holes in the dough.  Take out the butter you placed in the fridge and stir it until it's even and spreadable.  Rub the surface of each piece of rolled-out dough with about a teaspoon of butter, then crush up 3 sage leaves for each paratha and scatter over the butter.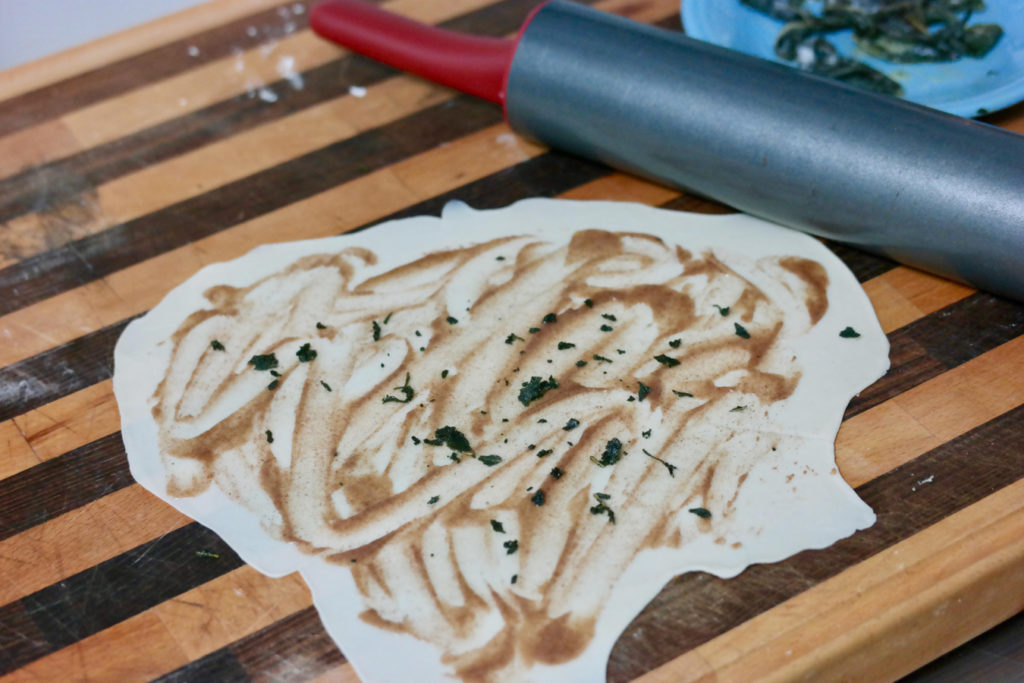 Now roll each paratha up like a scroll …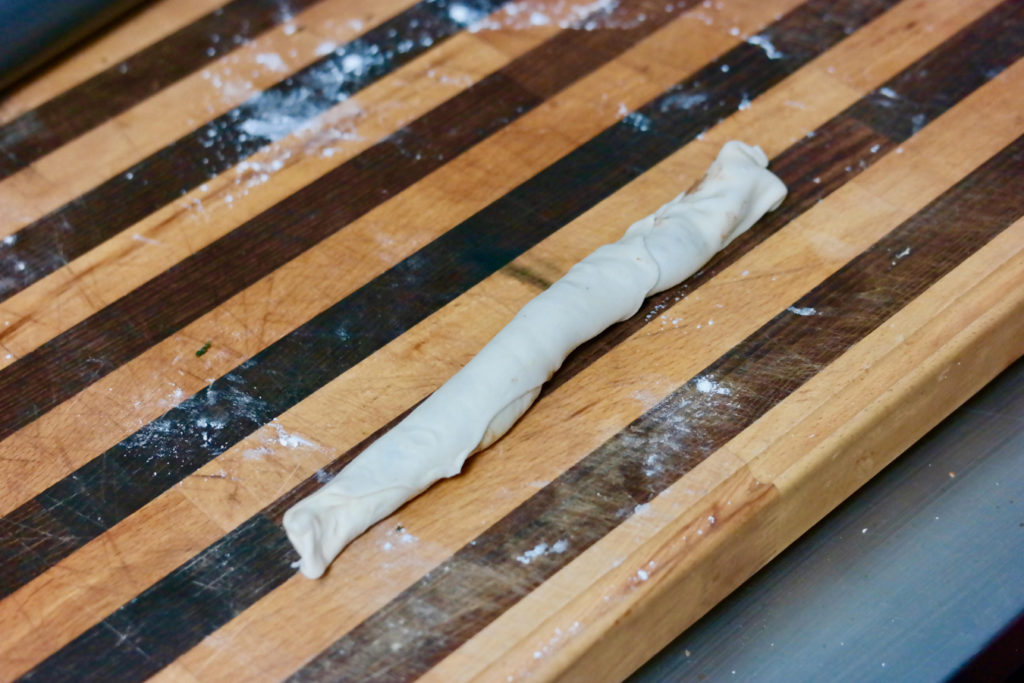 … and curl one end to the middle, then curl the other end in the opposite direction to the middle, like so: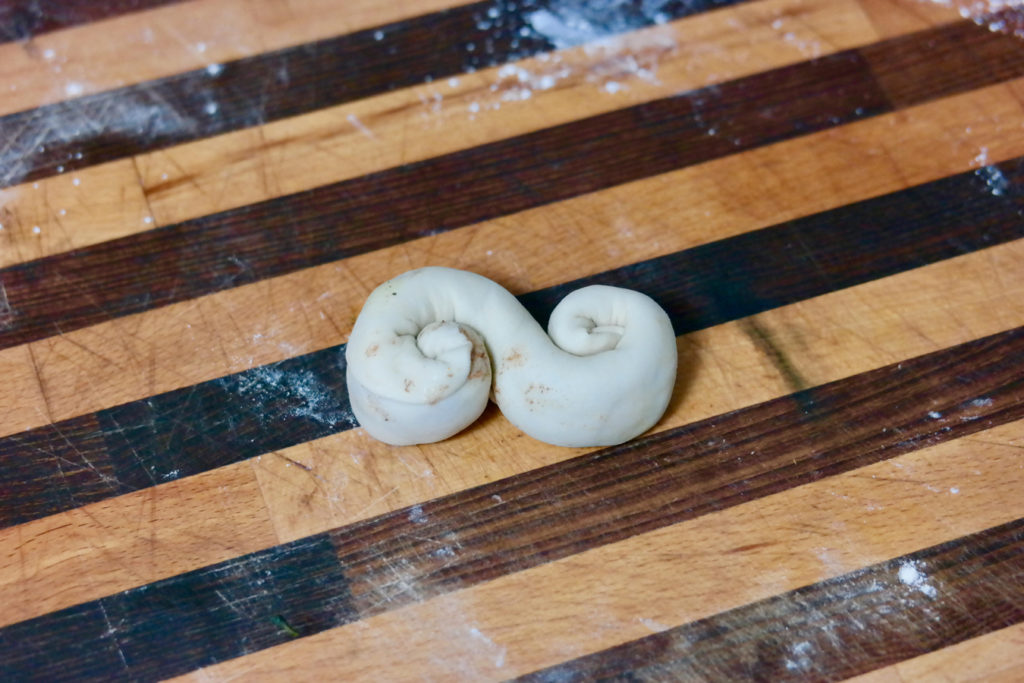 Fold each in half so the two circles are on top of each other and use the heel of your hand to smash the whole thing down into a flat disc.  Cover these and let them rise for 2 hours.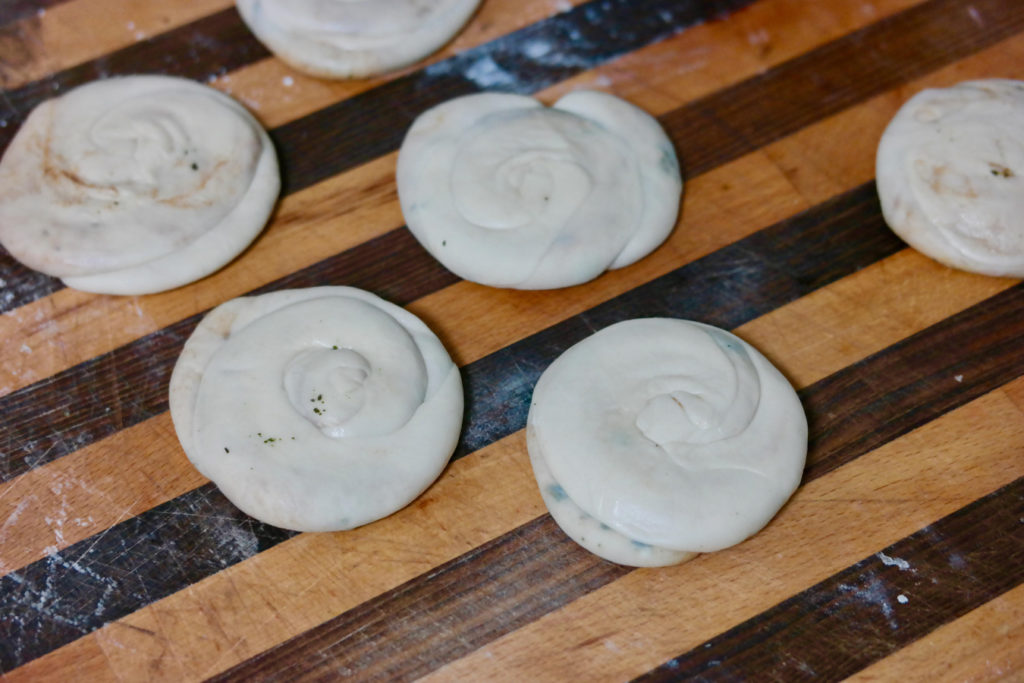 Once you're ready to cook the parathas, roll them out again on a floured surface to about 8 inches wide.  In a dry skillet over medium heat, cook them for 2 minutes on each side until they're no longer doughy but aren't really browned yet either.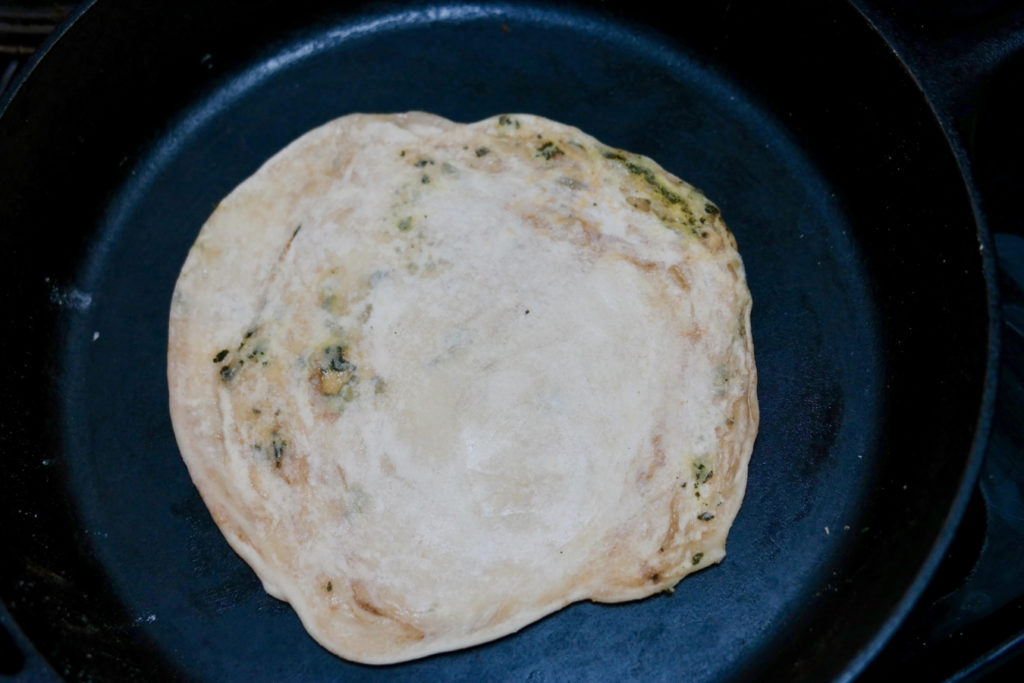 Now coat your cooking pan with some of the melted butter, and brush more butter on each side of each paratha.  Cook them for 30 seconds on one side, then flip to cook on the other side, then flip back over and over for 30 seconds at a time until both sides are nicely browned.  Continue this method, using up the rest of your butter, until all the parathas are cooked.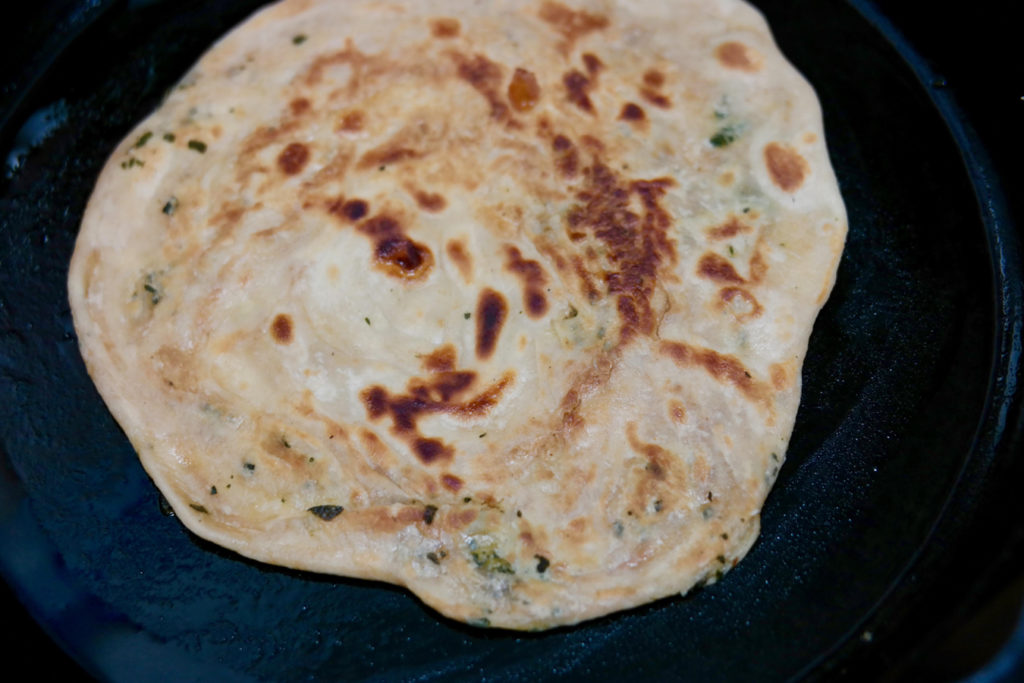 And then you can tear into your parathas and eat them!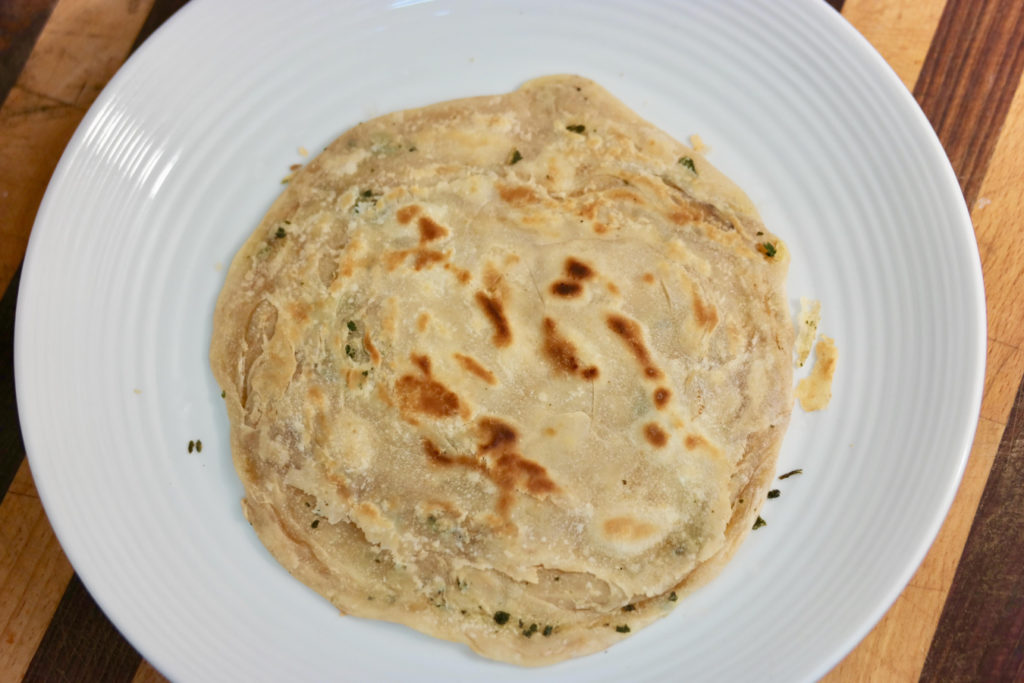 We didn't lie – these parathas take some amount of effort.  There's only a few ingredients you need, but it takes time to brown the butter and watch it carefully to make sure it doesn't burn.  Then you've got to let the dough rest at three different points in the process, plus you need to roll it out twice and do some shaping, before finally cooking each paratha one by one with two separate methods.  So this is probably not going to be your go-to bread, but it's a fun experiment:  rolling, curling, and then flattening the dough gives its signature layers, and using browned butter both inside the dough and on the outside of each paratha makes for a very rich flatbread with a complexity of flavors.  Truth be told, after putting so much effort into these we decided to eat them for dinner, all by themselves – they were certainly filling and satisfying enough to make an entire meal.  You'll probably be stuck inside at some point this winter, due to the cold or some snow or the pandemic, so maybe you can use your time  deliciously to try your hand at making these parathas.