Since our last two posts featured some pretty involved recipes, we thought it would be appropriate today to post something much easier – but no less delicious!  Al telefono is a type of sauce made with lots of mozzarella cheese which, when the sauce becomes warm, starts to melt and creates cheese strings that look like telephone wires.  That melty mozzarella, in a simple tomato sauce, pairs really nicely with thick and tender gnocchi, which makes it a simple, filling, and really tasty dish.  It's an easy lunch to whip up, although we recommend heading to an Italian food shop or a grocery store that has a good selection of cheeses and pasta to make sure you can get all the ingredients.  Check out this awesome cheese pull, and read on for the recipe.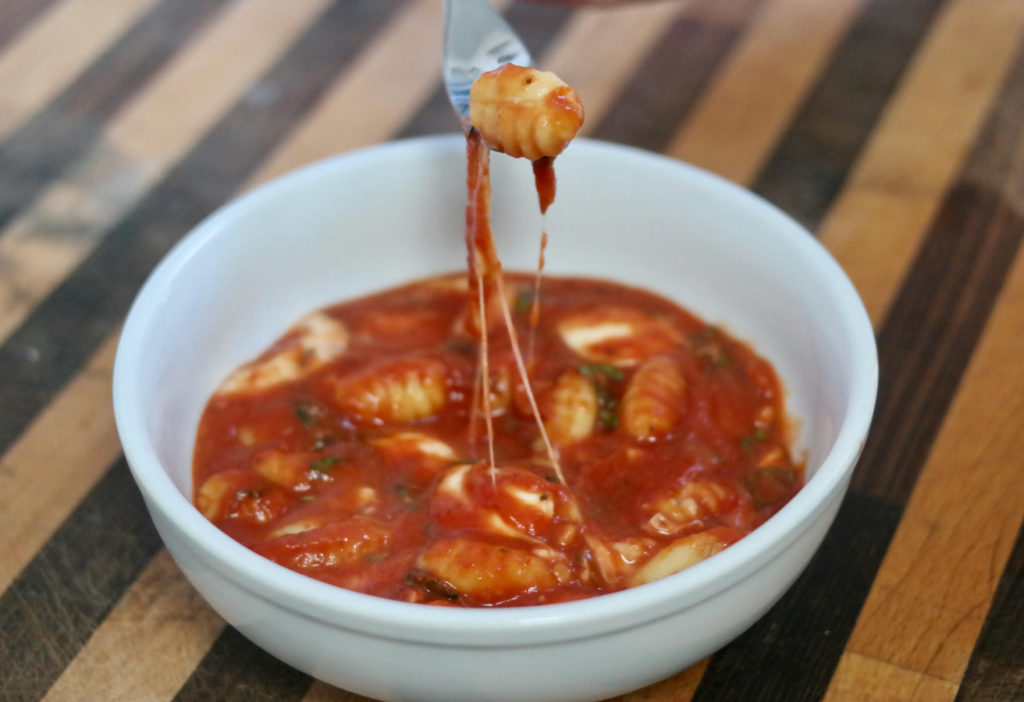 To make this, you'll need:
Olive oil
Red pepper flakes
Garlic
A 28-ounce can of crushed tomatoes
A 12-ounce package of fresh gnocchi
Basil
A package of Ciliegine mozzarella
You'll want to cook the gnocchi according to the package directions – typically, you just place them in boiling water until they float to the top, then use a slotted spoon to fish them out and drain in a colander.  Meanwhile, to make the sauce chop up two garlic cloves and cook them with 2 teaspoons of olive oil and a generous pinch of red pepper flakes in a Dutch oven over medium heat, just for a minute or so.  Pour in your crushed tomatoes and simmer for about half in hour, then add in 1/2 cup of chopped basil.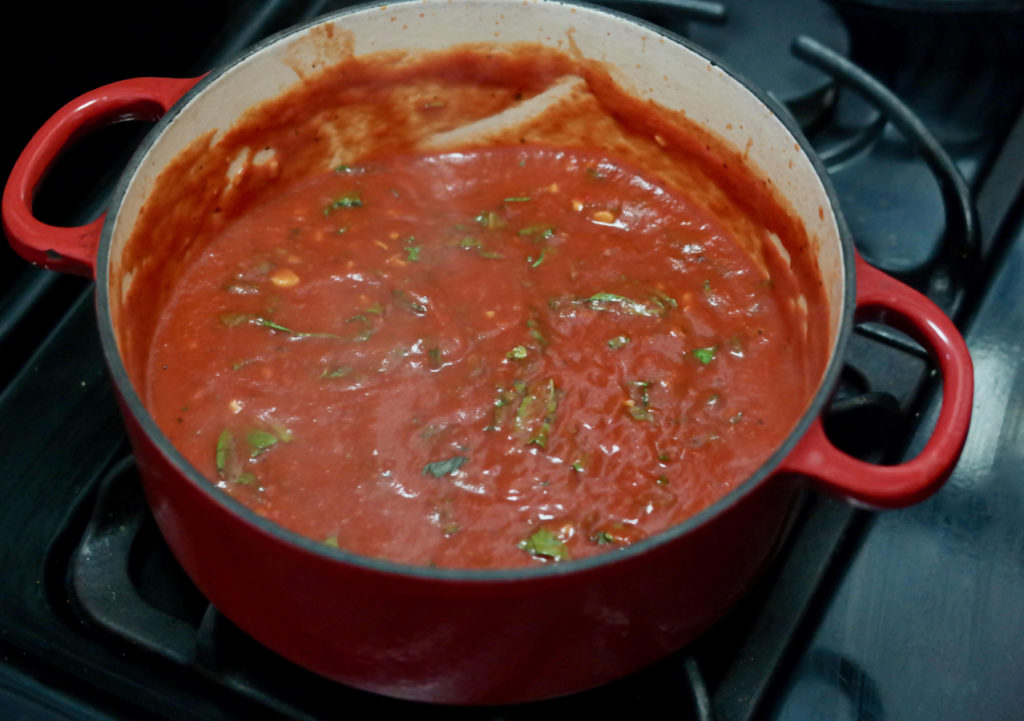 Stir in the cooked gnocchi and let them warm in the sauce for a few minutes.  Then cut all your mozzarella balls in half and stir them into the sauce …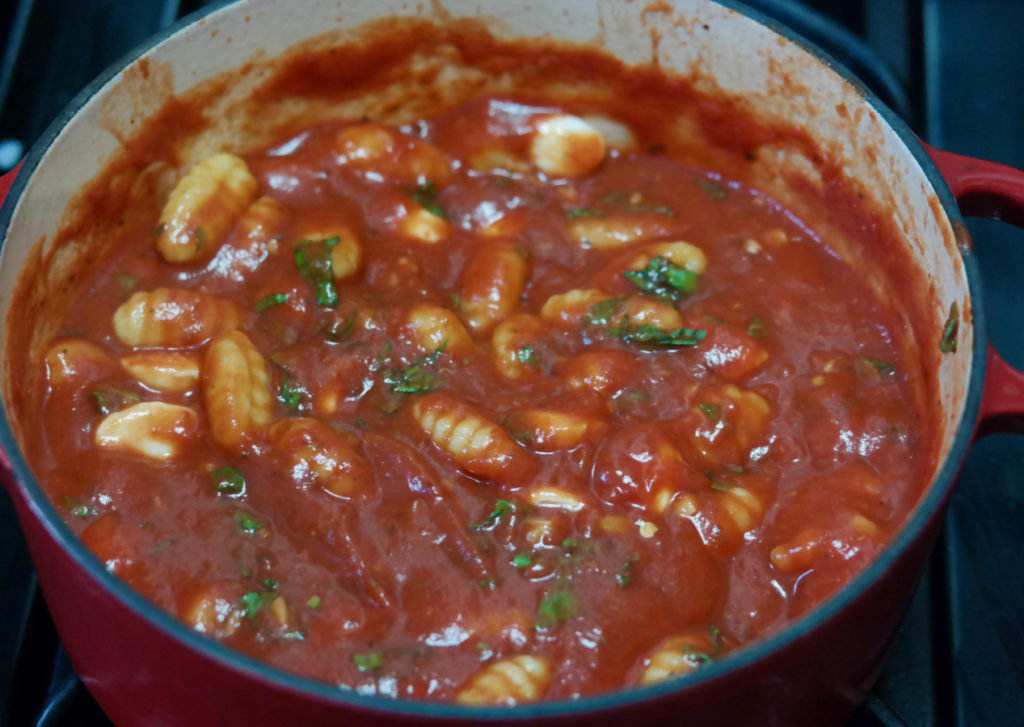 … and they should begin to melt.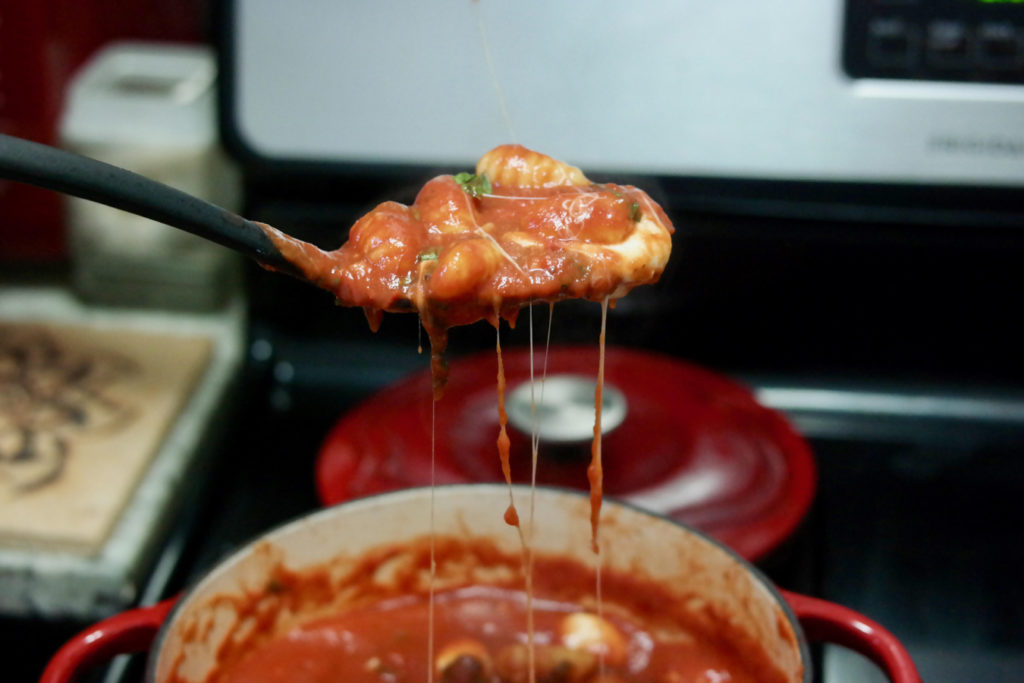 Now you can scoop our servings of gnocchi and sauce, and enjoy!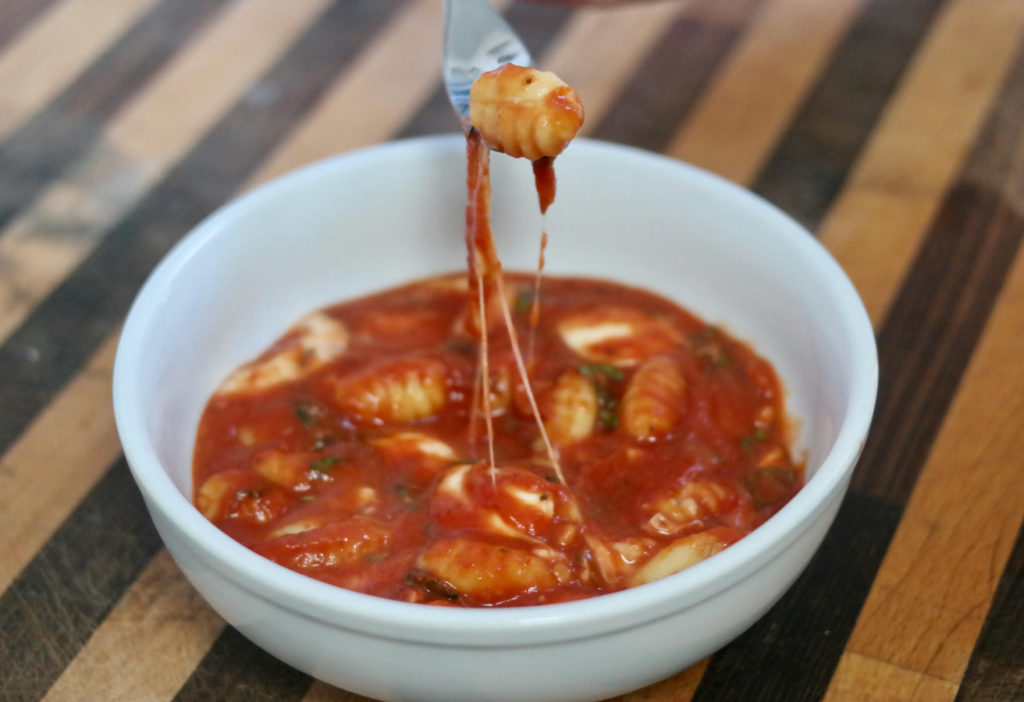 You really couldn't ask for an easier recipe:  the gnocchi cook up within minutes, the sauce involves just sautéing some garlic and stirring it, plus basil leaves, into a can of crushed tomatoes, then you mix in the halved Ciliegine mozzarella balls and bam!  Gnocchi al telefono.  Tomato sauce and mozzarella are a classic combination in Italian food, and here you get an extra and fun take on this with melty little strings of cheese.  We're the type of people who could eat pasta every day, but if you're looking for something new in your routine this is a great quick meal that's interesting, unique, and delicious.