It was Super Bowl Sunday three days ago, and that means we got creative and whipped up some fun vegetarian party food!  This week we'll feature the two things we made for the big game this year, starting with these crispy polenta treats.  Since fried food and buffalo sauce are game day classics, we decided to combine them using polenta as the base, which is really nice when you fry it because it takes on a crunchy outer shell while keeping the middle nice and soft.  These were great to eat as we were watching the game, but they were also good at room temperature the next day, so they're a food you can look forward to as leftovers.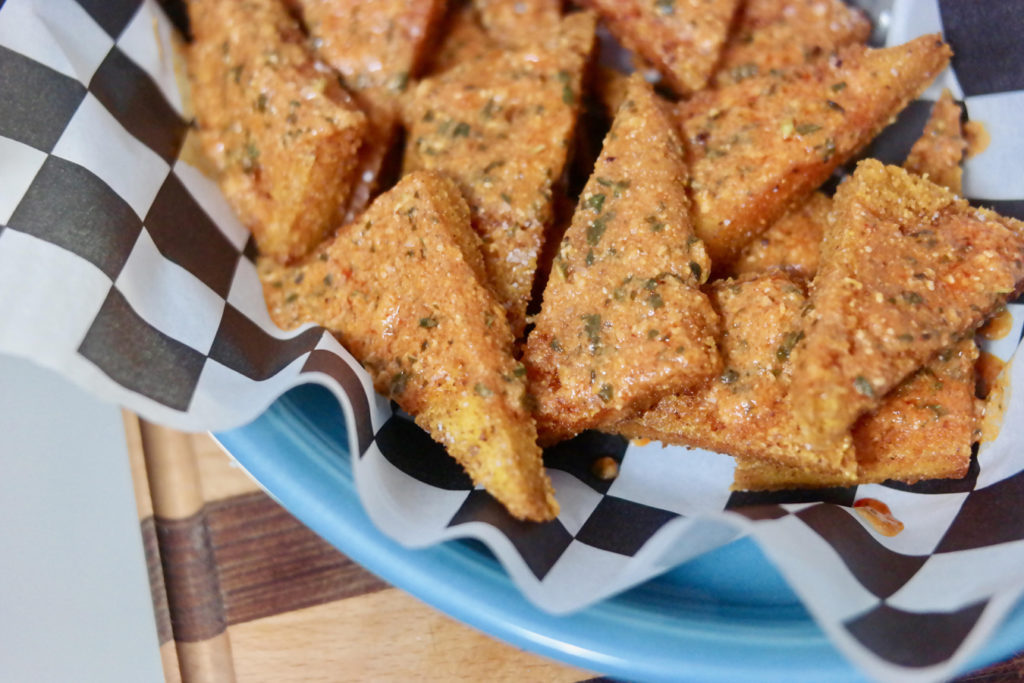 To make these, you'll need:
A 17.6-ounce package of cornmeal or corn flour (we used some from DeTacchi)
Butter
Parmesan cheese
Cooking spray
Vegetable oil
Garlic
Basil
You'll want to prepare your polenta a day ahead of time:  bring 7 cups of water to a boil, then dissolve in your bouillon cubes.  Once you have a broth, gradually whisk in all of your cornmeal or corn flour, then turn the heat down to medium and cook for 5-10 minutes, until the polenta thickens and there are no lumps.  Stir in 2 tablespoons of butter, then grate 1/3 cup of Parmesan cheese and mix that in as well.  Coat a baking sheet with cooking spray and line it with parchment paper (the spray will help keep the parchment paper in place), then pour out the polenta onto the sheet and use a rubber spatula to spread it out evenly and smoothly.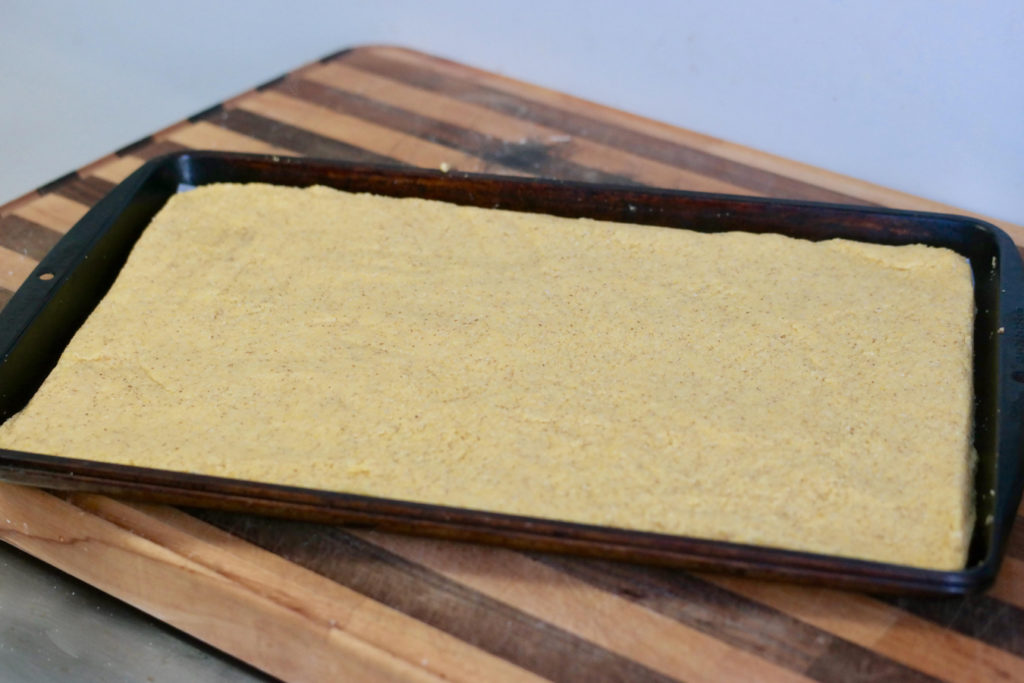 Bake at 350°F for 20 minutes, then take it out and let it cool for about an hour before placing your sheet in the fridge overnight.  When you're ready, slice your polenta into four equal vertical strips, then cut each strip into three cubes and cut again in half on the diagonal, so you have small triangles: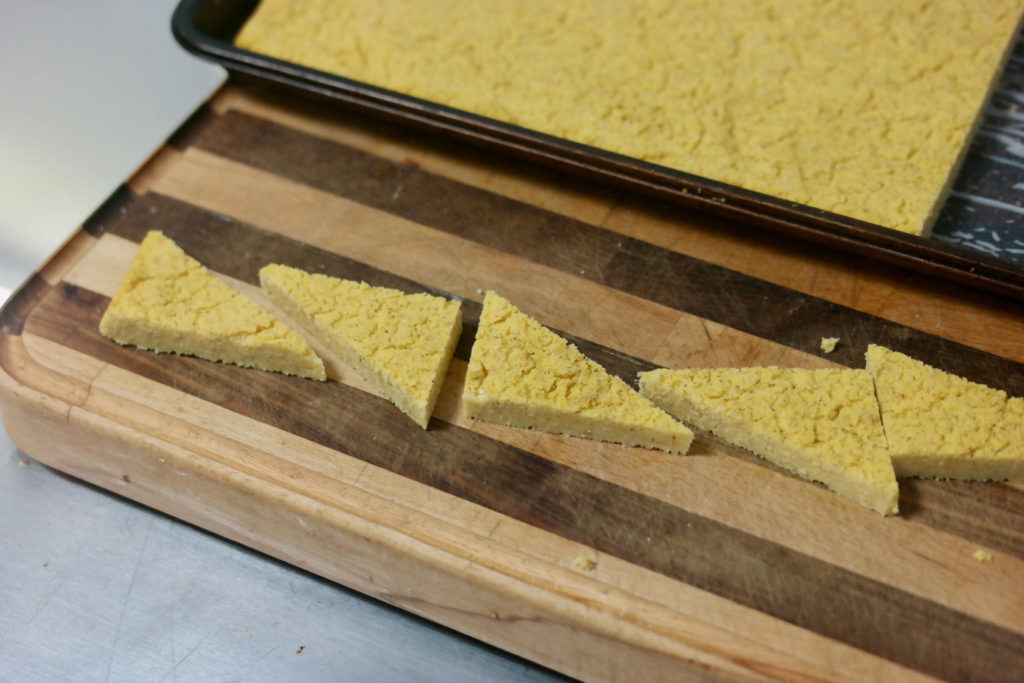 To fry them up, heat 3 cups of oil in a Dutch oven over medium-high heat.  When the oil comes to 365°F (you can use a meat thermometer to determine this), fry 5 to 6 polenta wedges at a time.  Once one side becomes browned but not too dark, flip them over to cook on the other side, then when they're done let them cool on a plate lined with paper towels.  Sprinkle them with some salt while they're fresh out of the oil.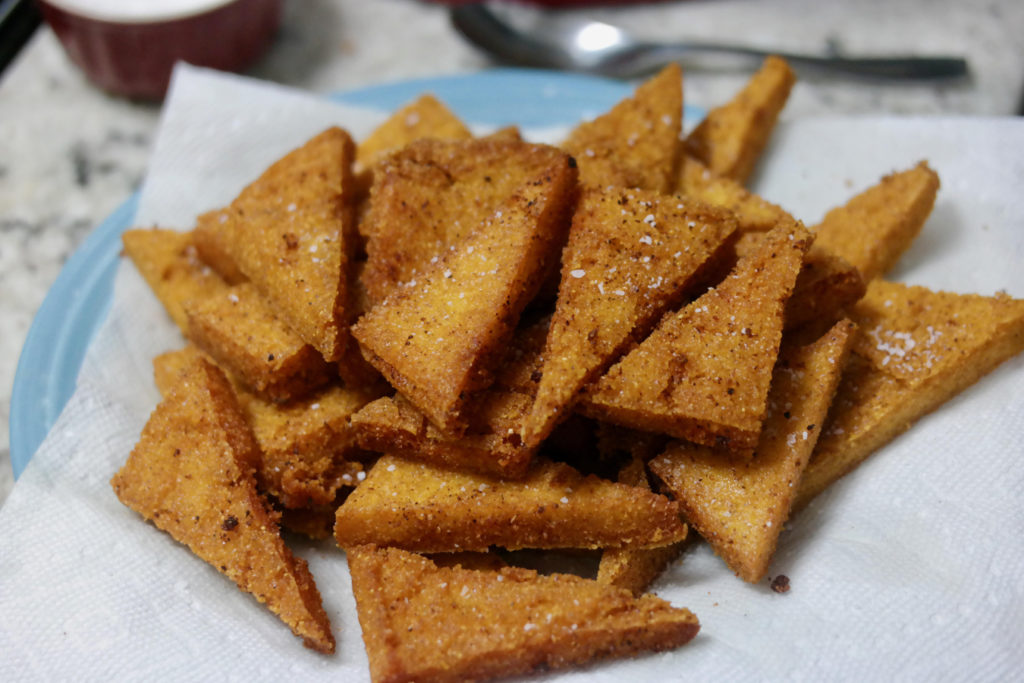 Once all of the polenta is fried, make a quick buffalo sauce by combining 1/2 cup of Frank's RedHot with 4 tablespoons of room temperature butter and a small handful of finely chopped basil leaves in a pot over medium heat.  Grate in 4 garlic cloves and let this mixture cook for around 5 minutes, until the garlic has softened.  Then lay the polenta wedges out on a platter and drizzle the buffalo sauce on top.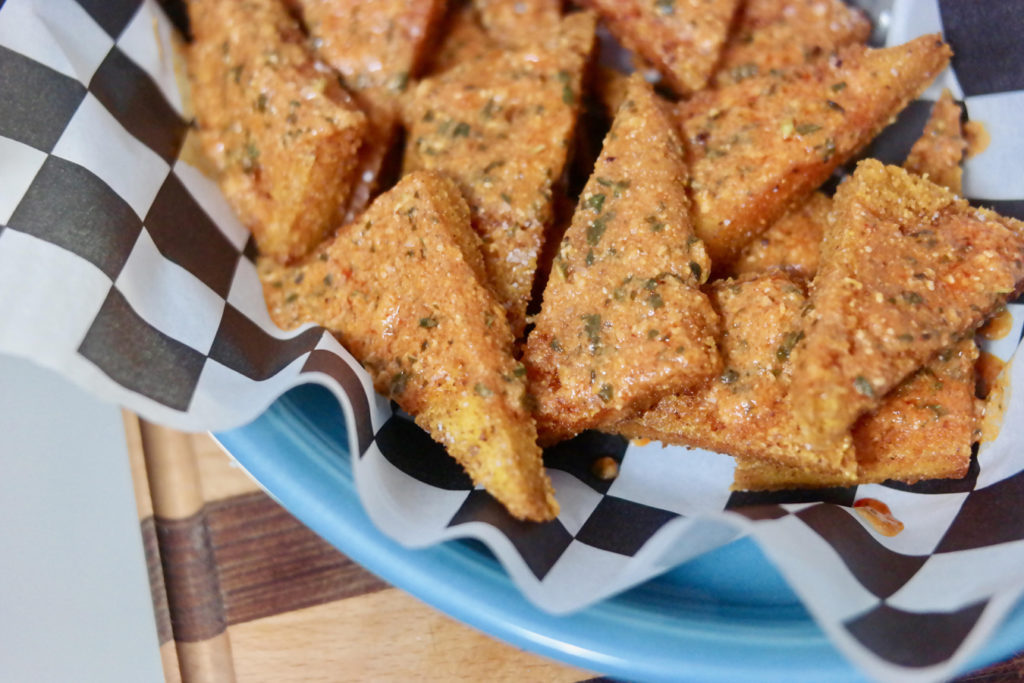 We'd had fried polenta before, but usually it's in the form of crispy sticks dusted with Parmesan cheese.  We had a hunch we could make polenta into something resembling buffalo wings, and it turns out that this version of polenta goes well with a homemade buffalo sauce on top.  It's an interesting texture to bite into something crispy on the outside, but with grains of cornmeal inside, and the polenta holds its shape well, even once it cools down, so it tastes great either hot or lukewarm.  You will have to plan ahead for these, as they require overnight refrigeration, but we're glad we fiddled with some polenta to come up with this great, unique Super Bowl snack.  Be sure to check back later this week to see what other creation we came up with.