A few days ago we showed you the buffalo fried polenta that we cooked up for the Super Bowl this past week.  Today we're featuring the other dish we made for ourselves on Game Day:  these subs with toasted ravioli as the filling.  We try to make one really crazy and involved Super Bowl snack each year, and this is what we came up with – we saw something like it on an Instagram video and were determined to try it for ourselves.  These sandwiches have a lot going on:  they're stuffed with fried ravioli and cheese plus pesto and vodka sauces, all on garlic bread.  They're definitely not a health food, and there's a lot that has to come together to make them, but they were interesting and tasty, and we managed to come up with a really fun and unique dish that honors the fried-food-and-cheese spirit of the Super Bowl food while also being vegetarian.  We got three sandwiches out of this recipe, plus a few extra toasted ravioli, so that should definitely be enough to feed your crowd.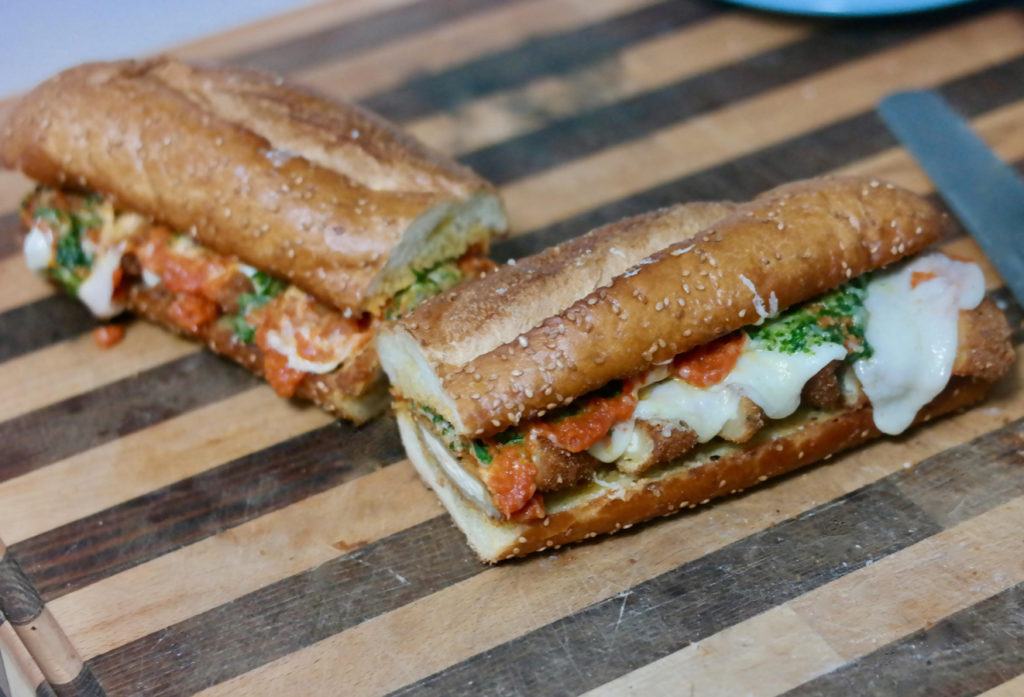 To make these, you'll need:
3 loaves of Italian semolina bread
1 1/2 sticks of butter
Garlic
Provolone cheese
2 packages of large-sized fresh cheese ravioli
Breadcrumbs
3 eggs
Vegetable oil
Vodka sauce – we used a jarred version, or if you want to make your own gather:

Celery
An onion
Carrots
A red bell pepper
Bay leaves
2 28-ounce cans of crushed tomatoes
A pint of heavy cream
Vodka
A bunch of basil

Pesto sauce – from a jar, or if you want a homemade version gather:

Pine nuts
Parmesan cheese
Olive oil
2 bunches of basil
You'll want to get started on these subs by doing a bunch of prep work – first, if you're making your own vodka sauce, follow our recipe here.
For the pesto sauce, if you're making it from scratch toast 1/3 cup of pine nuts in your oven at 350°F for 8 minutes, then place them in a food processor.  Grate in 1/2 cup of Parmesan cheese, then add 2 smashed garlic cloves.  Process everything together, then tear off the leaves from 2 bunches of basil and mix those in as well.  Then pour in 1/2 cup of olive oil and run the food processor again until you have an even sauce, adding in extra olive oil as needed to get the right consistency (the pesto should be spreadable but not runny).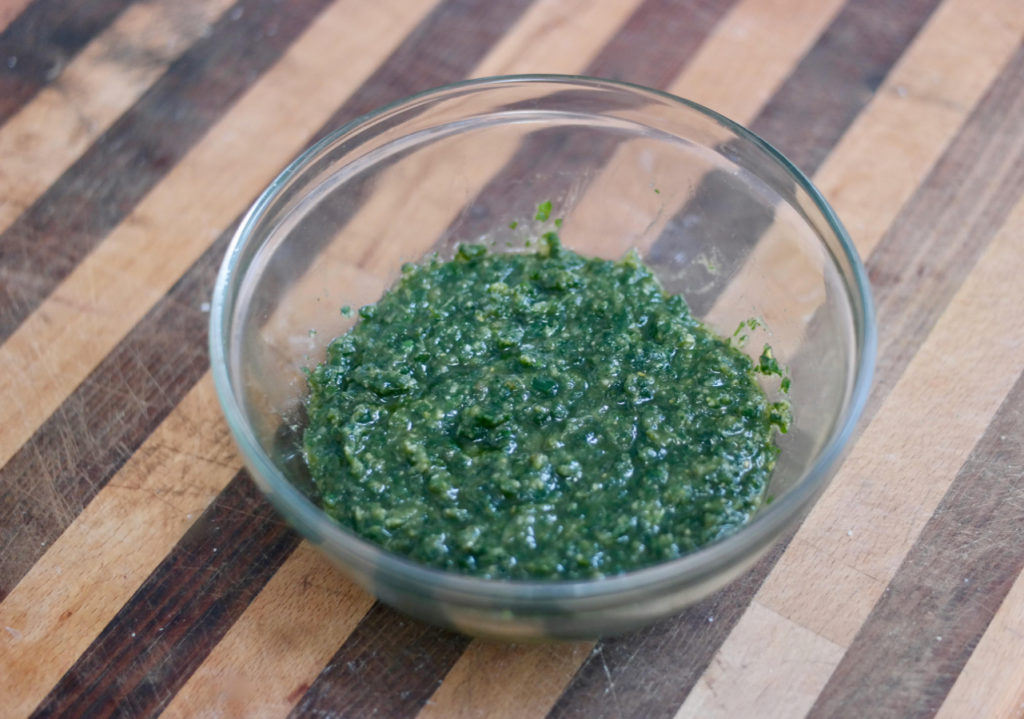 You can also make the garlic butter for the bread:  soften 1 1/2 sticks of butter in your microwave, then grate in 8 garlic cloves and mix the butter and garlic together.  Leave this garlic butter out so it can soften further.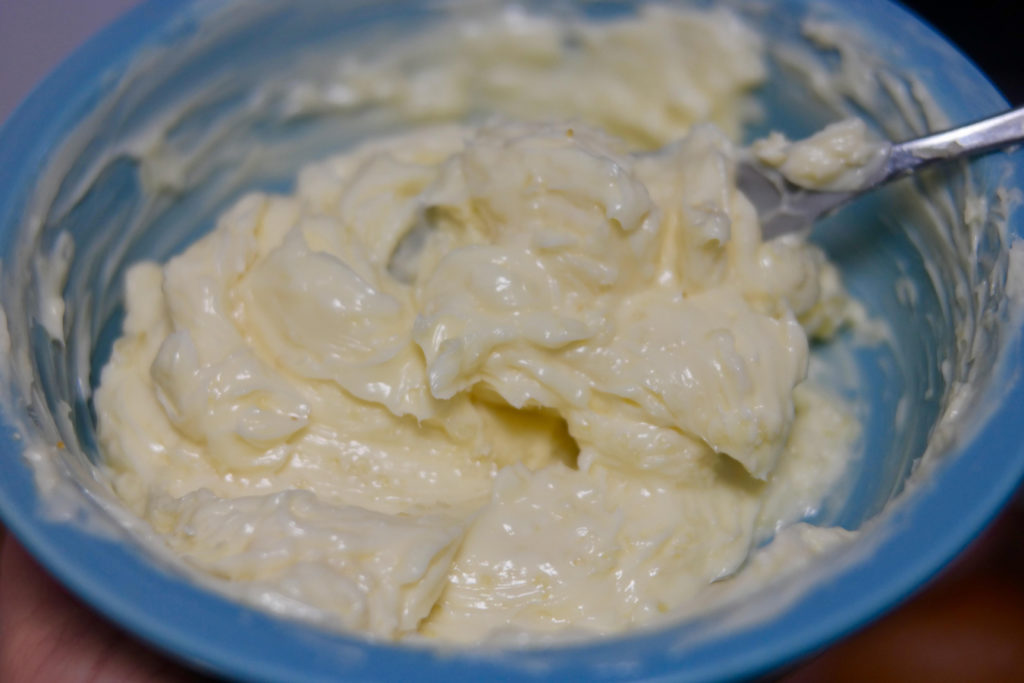 Slice your loaves of bread in half and generously spread the garlic butter on each half.  Place the bread on a baking sheet and toast at 350°F for 8 minutes.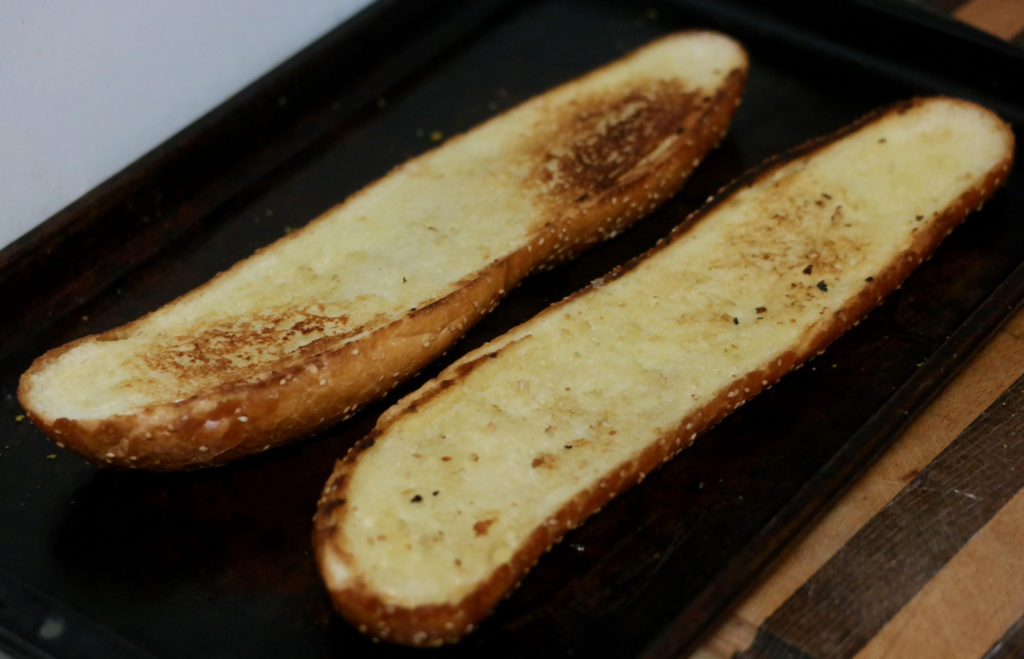 For the ravioli, take them out of your fridge and then whisk 3 eggs with a tablespoon of water in one pie tin and place a cup of breadcrumbs into another tin.  Coat each ravioli in egg, then breadcrumbs, then egg and breadcrumbs again – you can measure out more breadcrumbs if you need to.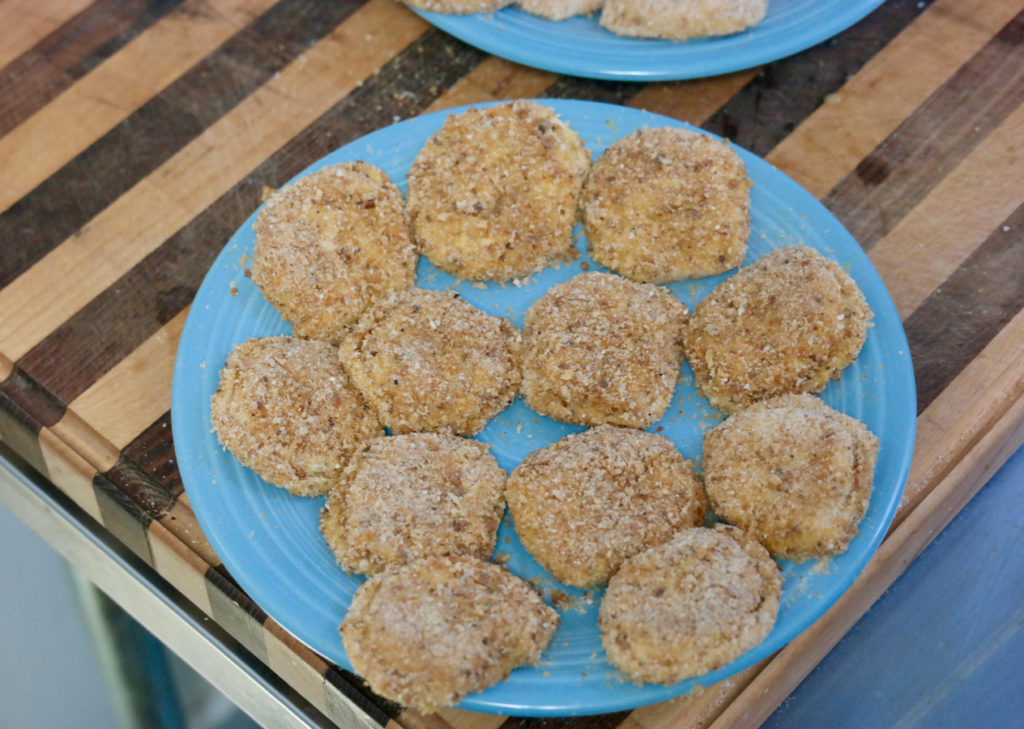 In a Dutch oven, heat about 1 inch of oil to around 365°F (use a meat thermometer to determine the temperature), then fry 4 ravioli at a time for 2 or 3 minutes on each side, until they're browned but not burned.  Place them on a plate lined with paper towels to drain, then once they're slightly cooled off slice each one in half and lay these halves down on one side of each loaf of garlic bread.  Keep your garlic bread on the baking sheets.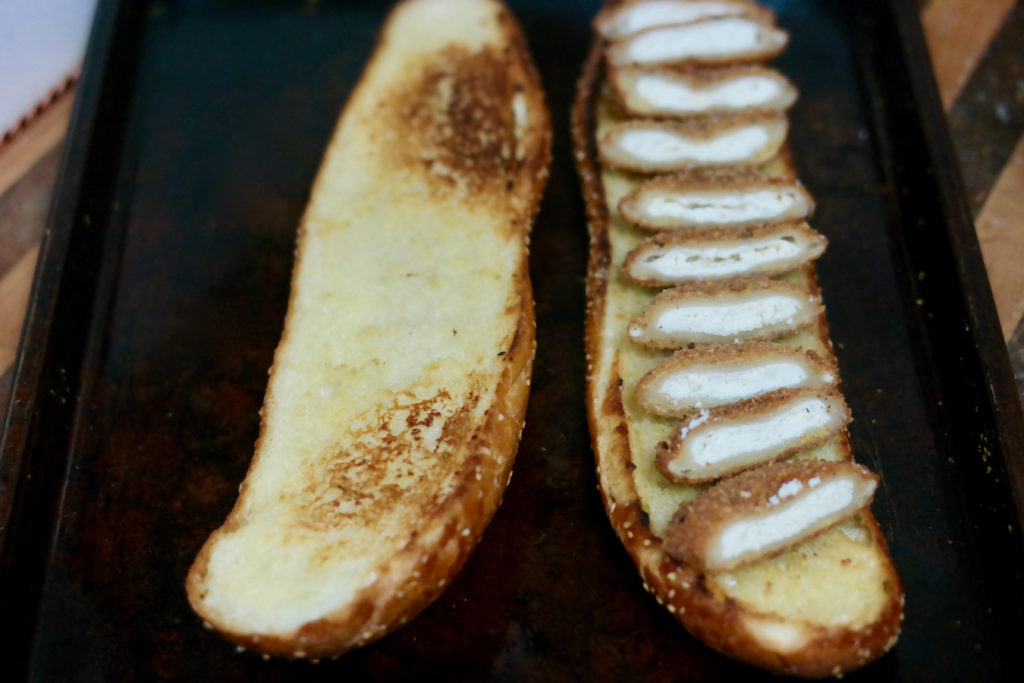 Cut your provolone into slices and place the cheese on top of the ravioli.  On the other side of each bread loaf, spread some vodka sauce and pesto sauce.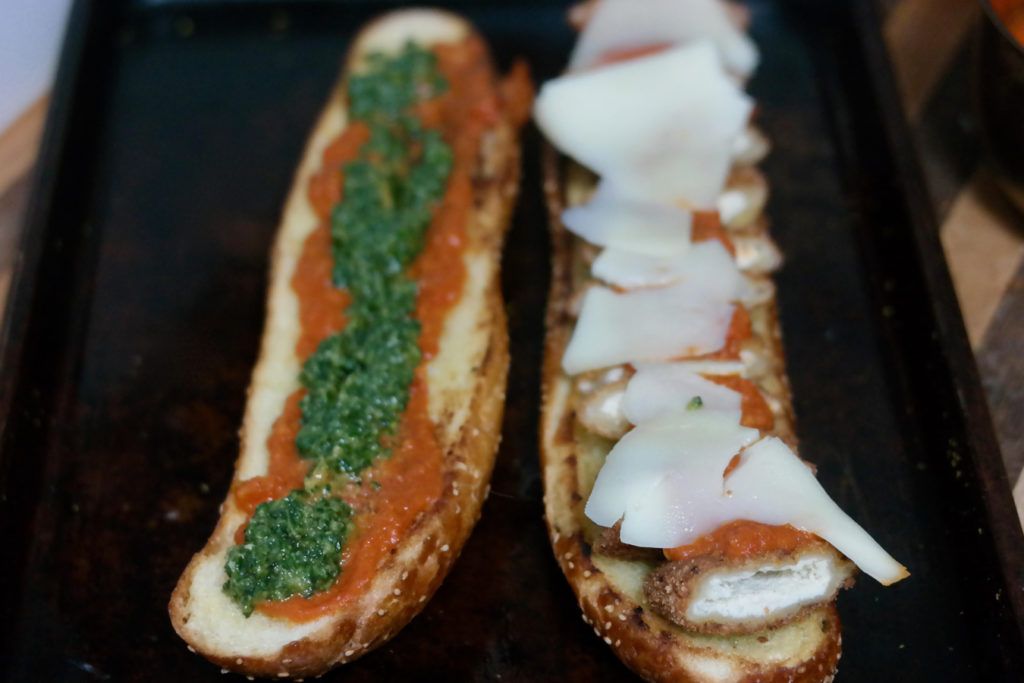 Turn your broiler on low and place the sandwiches in, open faced, for 3-5 minutes, until the cheese is melted and browned in spots, but make sure you don't leave them in too long or they'll burn.  Then you can close each sandwich, slice them in half, and serve!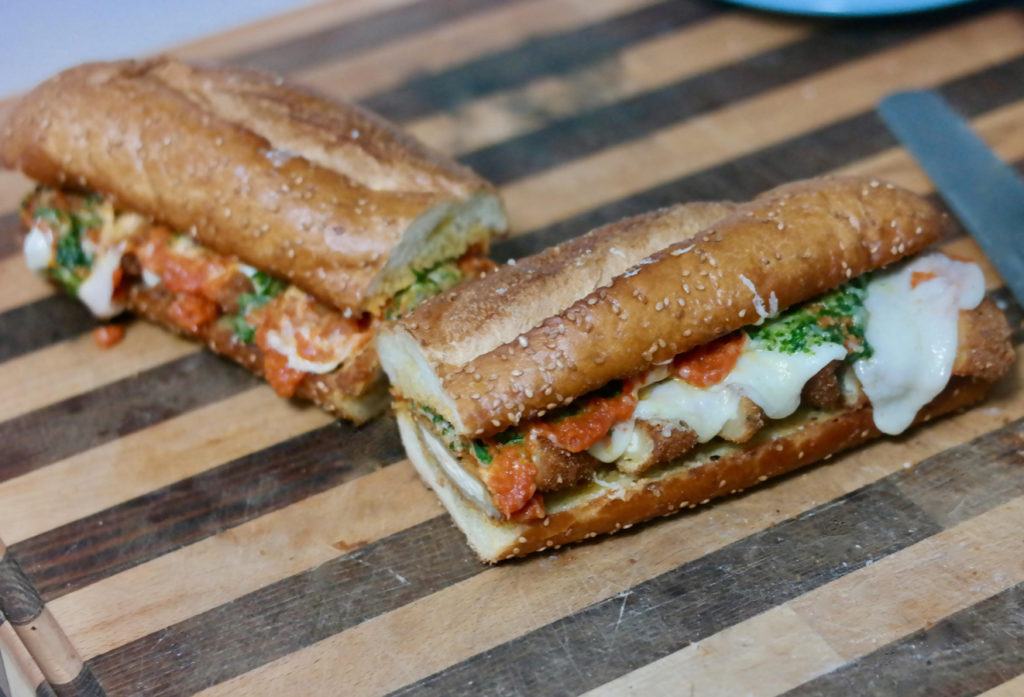 You've probably never thought to have ravioli on a sandwich before, and we wouldn't have either if we hadn't seen a video of a similar sandwich being put together.  There's a lot of different things here, with two sauces, garlic bread, and cheese in additional to the fried ravioli, but these work well together because they're all classic Italian-American flavors.  The centerpiece is the toasted ravioli, which might be a head-scratcher at first because who puts pasta on a sandwich?  But when you fry these ravioli up they're nice and crispy and firm on the outside, while still retaining their cheese-filled  goodness on the inside.  They're a lot like stuffed chicken cutlets, which are a pretty common sub filling, so they really are a good base for these sandwiches.  Of course this isn't something you'd want to eat everyday, but for the Super Bowl (and for leftovers several days afterwards) these are a perfect food to serve because they're unrestrained, a little over the top, and bring in the crispy, cheesy flavors we all expect for the big game.