After last week's Super Bowl food, we figured we would reward all the hard effort we put into the two recipes we posted by featuring some easier things to cook this week.  To that end, here's some great and easy potato soup, which we based on a recipe from the New York Times!  It makes for a quick lunch, and it combines the classic flavors that make potato soup a huge hit – cheese, potatoes, and a creamy broth – with some unexpected spice from jalapeños.  It's nice and warm, for these days when seemingly everywhere is getting hit by hard winter weather, and it's filling and delicious enough to make for an entire meal for two people.  So if you're still working from home, like we are, and looking for a good lunch you can cook up easily in the middle of the day, this is a good place to start for trying something new.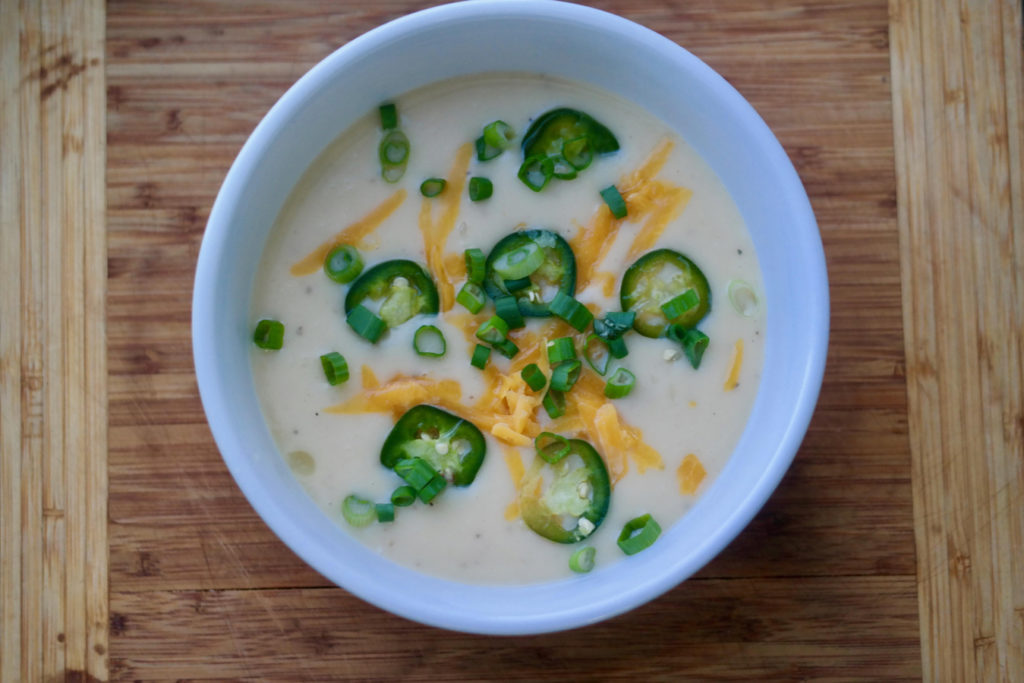 You'll need:
2 jalapeños
Butter
Celery
Garlic
2 1/2 pounds of potatoes
6 vegetable bouillon cubes
8 ounces of cheddar cheese
Half-and-half
Scallions
To get started on your soup, thinly slice 2 stalks of celery and chop up 4 cloves of garlic.  Melt 3 tablespoons of butter over medium heat in a stock pot and cook the celery for 10 minutes, until it's very soft.  While you're waiting you can cut your potatoes into one-inch chunks, and bring 5 1/2 cups of water to a boil and then dissolve in your bouillon cubes.  Once your celery has cooked, stir in the garlic and sauté for just a minute or so, then pour in your broth and add in the potatoes and cook everything at a simmer for 40 minutes.  Then remove your pot from the heat and use an immersion blender to make a smooth soup.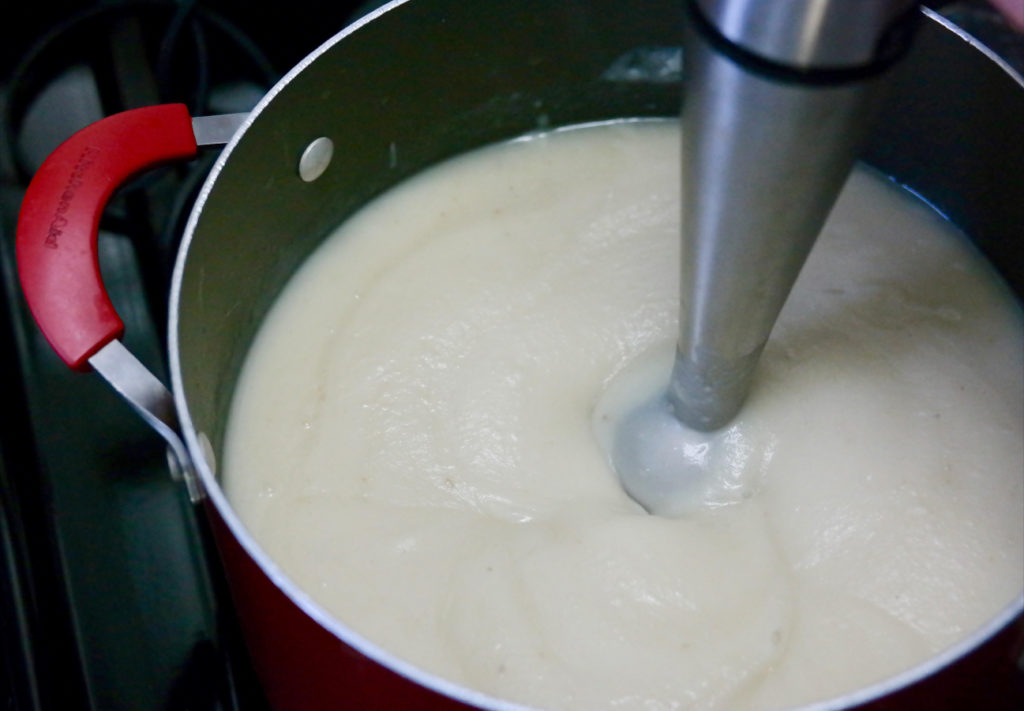 Place the soup back on a medium-low heat and stir in a cup of half-and-half.  Grate up your cheese and add most of it in as well, then cook the soup for a few minutes until the cheese and half-and-half are well mixed in.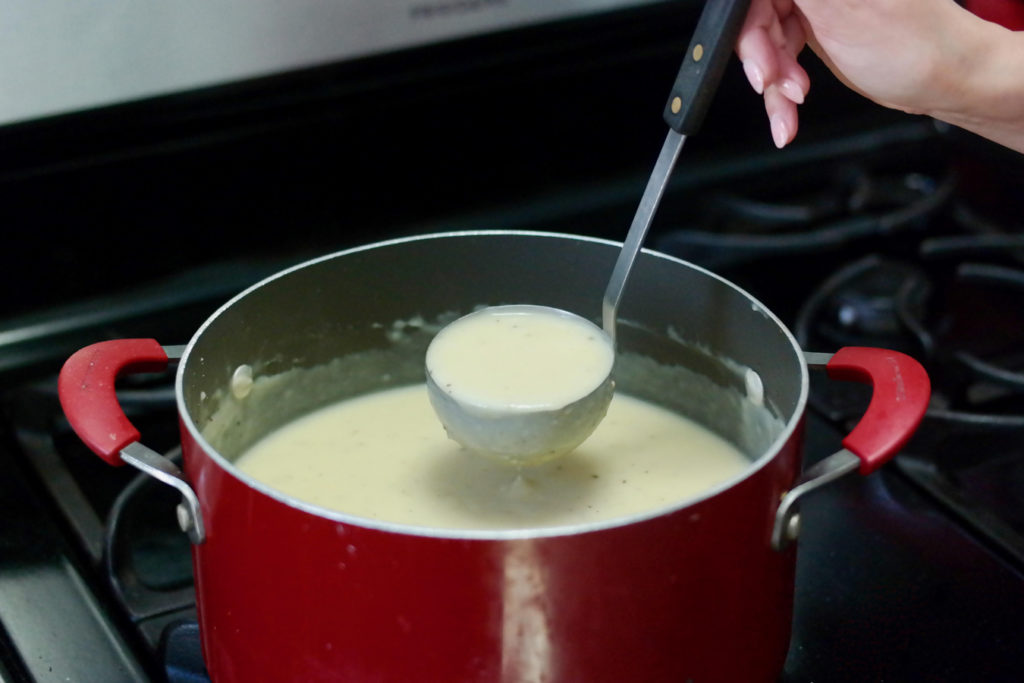 Finally, slice up your jalapeños and 3 scallions.  Ladle the soup into bowls and top with the jalapeños, scallions, and some extra cheese.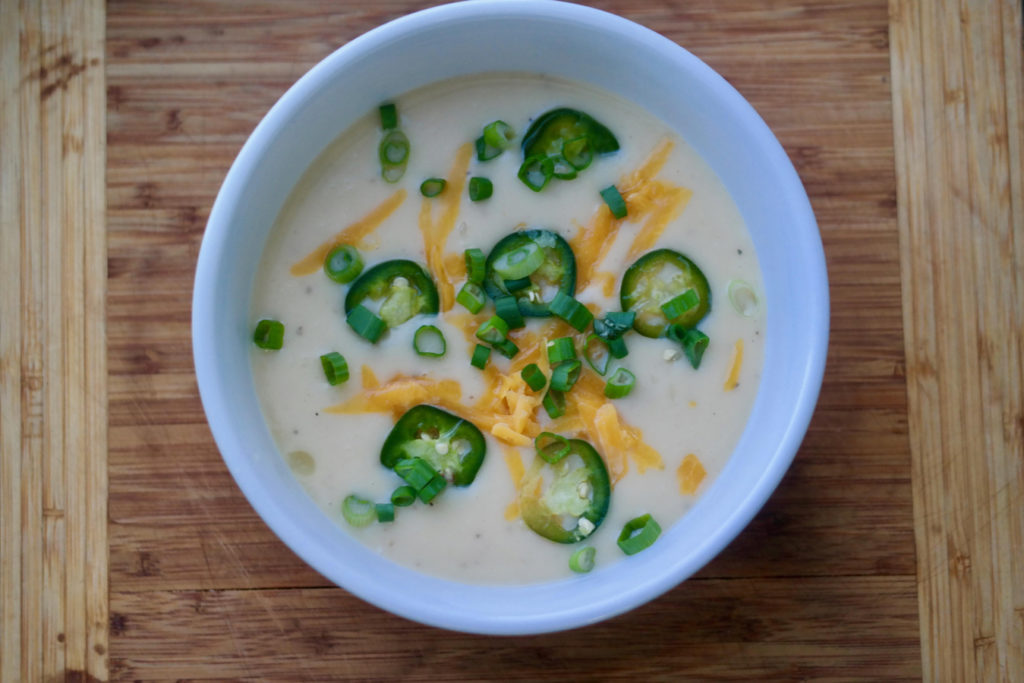 All in all, this is a pretty simple soup:  you just chop a few vegetables, let everything simmer and cook for a while, then blend and mix in some cheese and half-and-half and top with a few garnishes.  What you end up with is a rich soup filled with some great, traditional flavors and some new ones as well – the jalapeños definitely add some interesting spice, and serving them and the scallions raw with warm soup makes for an interesting contrast of tastes.  If soup is what you're craving right now on these cold days, this is a great, easy and tasty recipe to put to good use while we wait for spring to arrive.