Adobo is a dish you can find on menus all around the Spanish-speaking world, in different variations: in Mexican cuisine, it's a spicy sauce made with chiles; in Puerto Rico, it's a type of seasoned salt sprinkled on foods as they cook; and in the Philippines, where the humid tropical climate means needing to find tasty ways to preserve foods, adobo is a classic dish featuring meats cooked in a soy sauce, vinegar, and garlic marinade.  That's where today's post comes from – while Filipino food is notoriously meat-heavy, this recipe takes a traditional chicken adobo and applies the same cooking method to cauliflower, giving you a tasty vegan meal.  We were inspired to make this based on a recipe in the New York Times, and we decided to pair it with some Filipino fried rice, called sinangag.  We'll show you here how to make both things, so that you can get a taste of Filipino food for yourself, meat-free.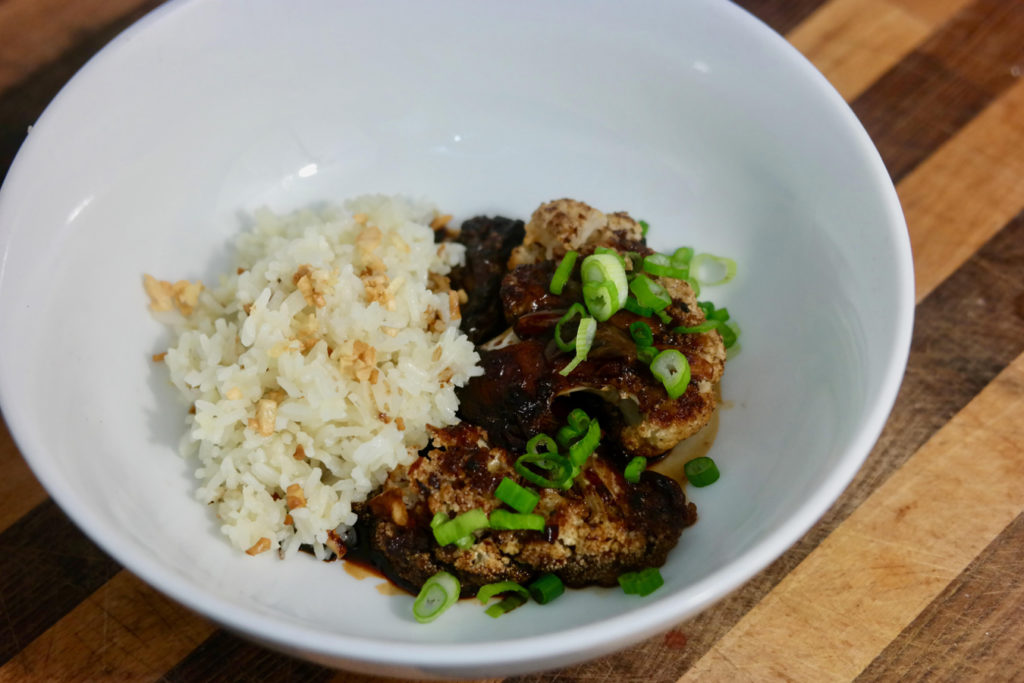 You'll need:
A large cauliflower
Vegetable oil
Vinegar
Soy sauce
Brown sugar
Garlic
Bay leaves
A spicy chile
Scallions
Rice
For the cauliflower, you'll want to tear off the leaves from the head, then hold the cauliflower upright and cut it in half, then cut each half into four equal wedges.  Sweep any extra pieces that fall off into a bowl and sprinkle your 8 pieces with salt and pepper.  Then in the largest pan you have, warm 3 tablespoons of oil over medium-high heat and place half your cauliflower pieces in to cook, cut side down, for 4 minutes until that one side is browned.  Place these aside while you cook the rest of the cauliflower similarly.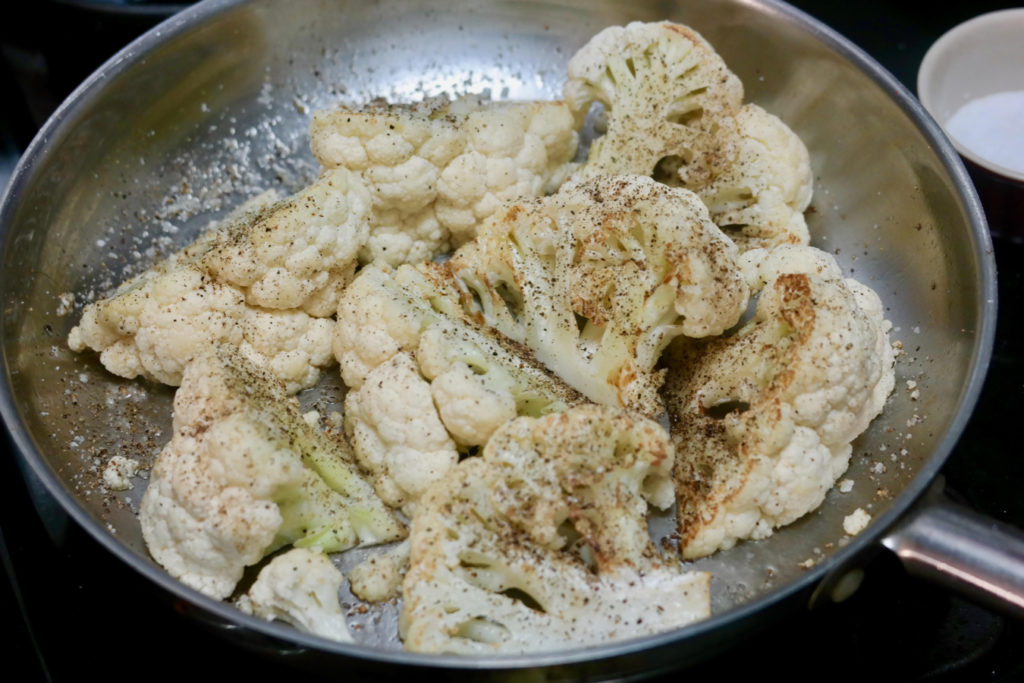 Flip the cauliflower in your pan over to the uncooked side and put the rest of the cauliflower wedges in as well, also with the uncooked side down.  Pour 1/4 cup of water, 1/2 cup of vinegar, and 5 tablespoons of soy sauce into the pan.  Add in the extra little cauliflower pieces, a very generous sprinkling of pepper, 3 bay leaves, 6 smashed garlic cloves, and 2 teaspoons of sugar.  Finally, chop your chile and stir that in too.  Cover your pan, turn the heat down to medium, and let all this cook for around 5 minutes.  Then uncover the pan and cook for another 10 minutes, until the sauce is thickened and mostly sticking to the cauliflower.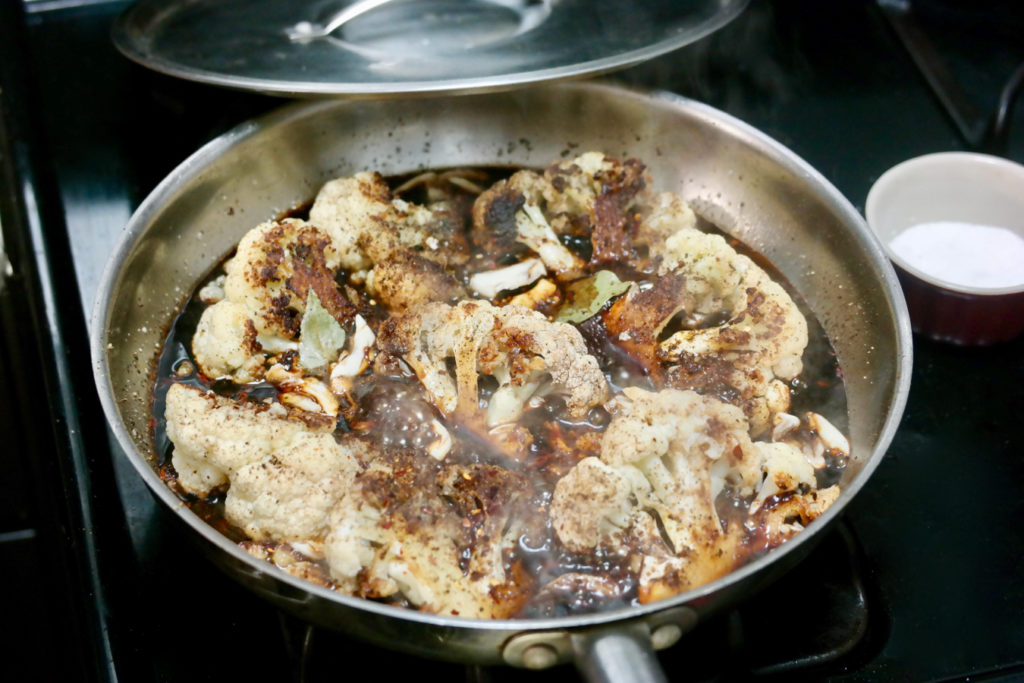 Meanwhile, you can start making your rice by simmering a cup of rice in 1 3/4 cups of water for 15-20 minuntes, until the rice is fully cooked and tender.  While you're waiting, finely chop an entire head of garlic.  In a wok, warm 1/4 cup of oil over low heat and cook the garlic, stirring a few times, until it just starts to brown.  Take these garlic pieces out with a slotted spoon and let them cool on paper towels.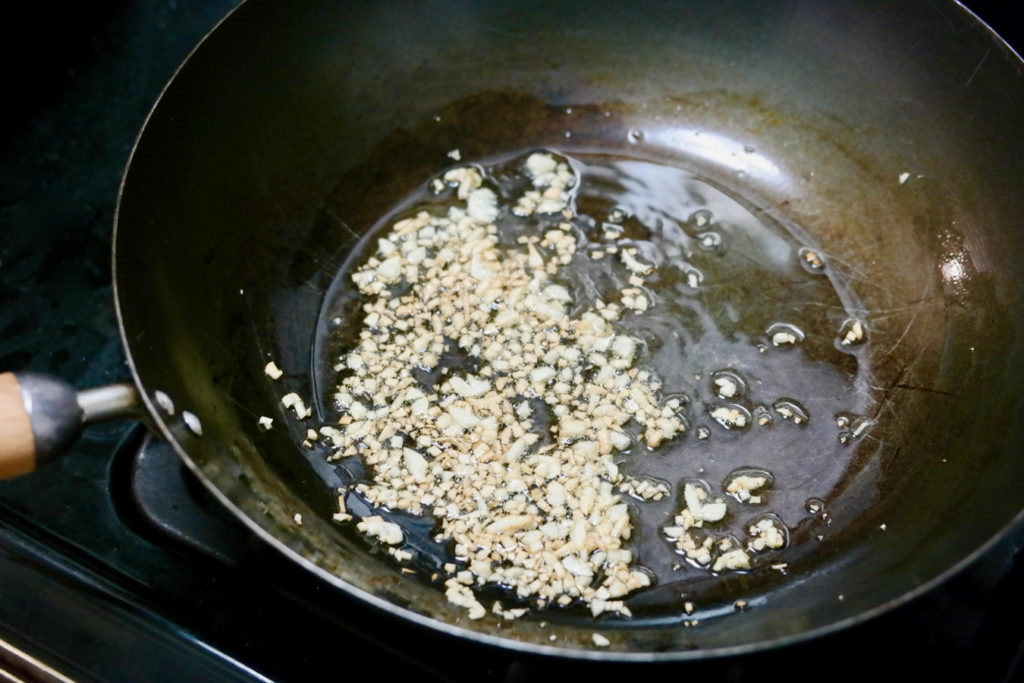 Then place the cooked rice into the wok and spread it out across the pan.  Turn the heat up to high and let the rice fry for 30 seconds, then stir it all around and let it fry again for half a minute.  Repeat this process several more times until the rice is fried to your liking, then sprinkle in most of the garlic.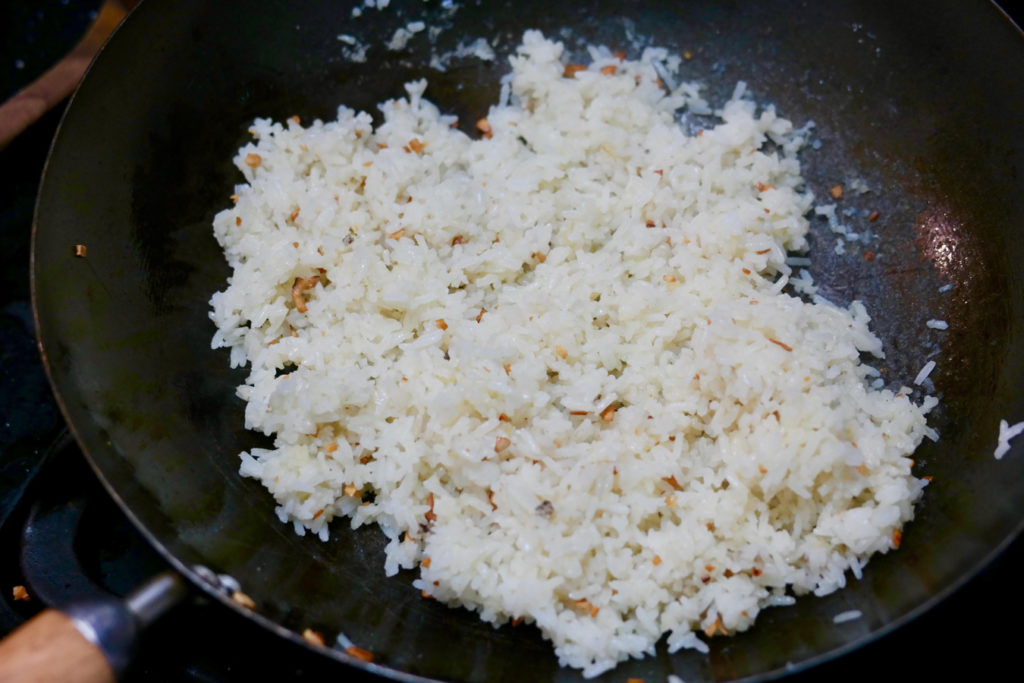 To serve, place your cauliflower in a bowl and drizzle with some of the sauce left in the pan.  Put some rice on the side and top with the extra garlic and some sliced scallions.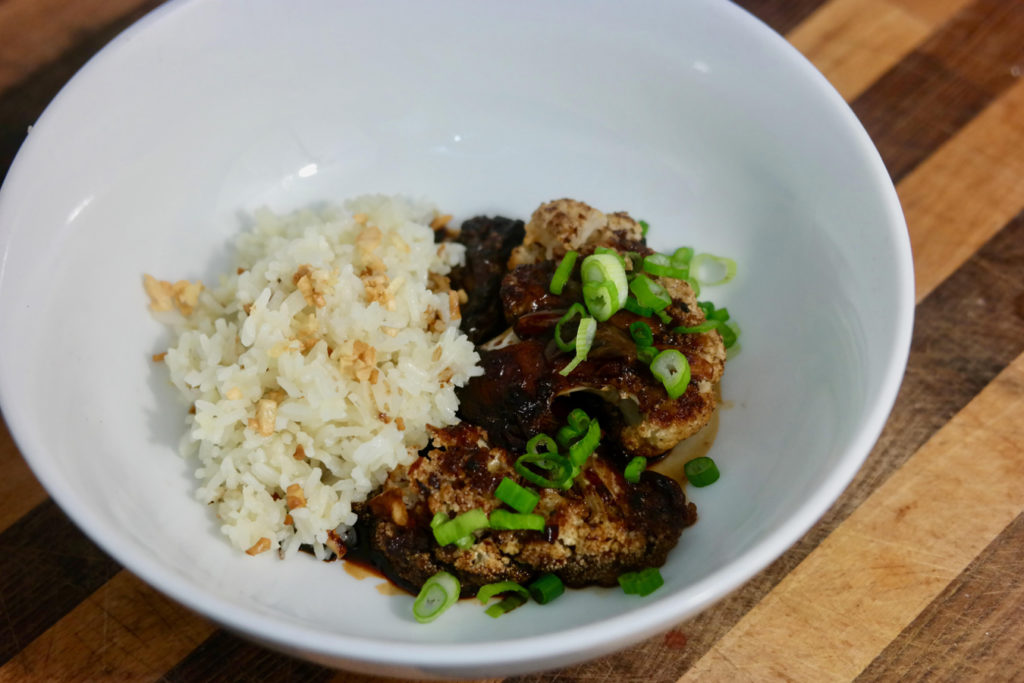 We'd never really had Filipino food before, because it's hard to find meatless dishes and it's also not a common cuisine here on the East Coast, so we were excited to be able to try this version of adobo.  And we really liked it!  The adobo sauce is nicely salty and savory, and the cauliflower absorbs it well as a substitute for chicken or other meats.  We also liked making this variation of fried rice, which comes packed with one of our favorite flavors – lots of garlic.  And overall, this is a fairly easy dish to make, as there's only a small amount of vegetable prep you need to do and then the cauliflower basically cooks itself in the adobo sauce.  So if you've been longing to try Filipino food but have never found something suitably vegetarian, this is a great way to get those adobo flavors in an entirely vegan meal.