We know, we know – we make a lot of pasta.  But honestly, pasta is so versatile and easily adaptable to vegetarian tastes, so we're always up for trying a new noodle dish.  That why, when we came across this recipe in the New York Times, we decided to try and adapt it for ourselves.  We liked having the chance to experiment with a new pasta cooking technique – here, pan frying bundles of fettuccine before sautéing them in a pan with other ingredients to cook them to tenderness.  It's an unusual way to prepare pasta, but it worked out well and allowed us to make our pasta right in one dish, to delicious effect.  This pasta also happens to be vegan, so try it for yourself and see how you too can prepare some pan-cooked pasta.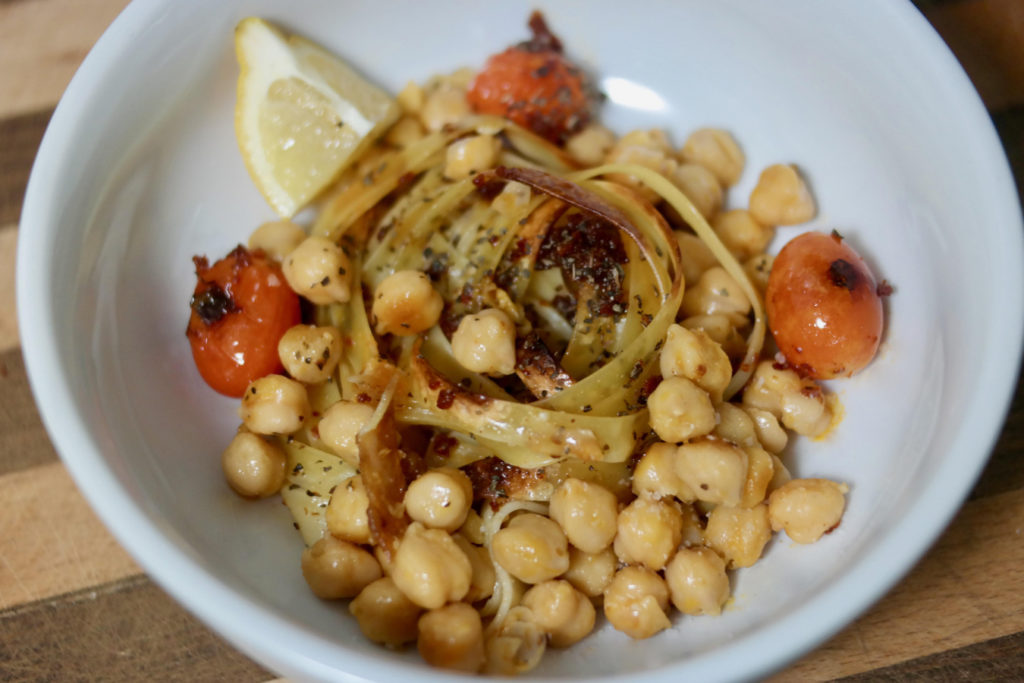 To make this, you'll need:
A half-pint package of cherry tomatoes
Olive oil
Tomato paste
Red pepper flakes
Paprika
Fettuccine nests (we used some from Colavita)
A 29-ounce can of chickpeas
Garlic
2 lemons
Dried oregano
First, you'll want to make the sauce for the pasta:  place your tomatoes in a pan over high heat and let cook for about 5 minutes, pushing them around in the pan until they're blackened in spots but not shriveled.  Then take the pan off the heat and add in 1/2 cup of olive oil, a tablespoon of tomato paste, 1 1/2 teaspoons of paprika, and a generous sprinkling of red pepper flakes.  Stir everything together and let it all warm over medium-low heat for 15 minutes.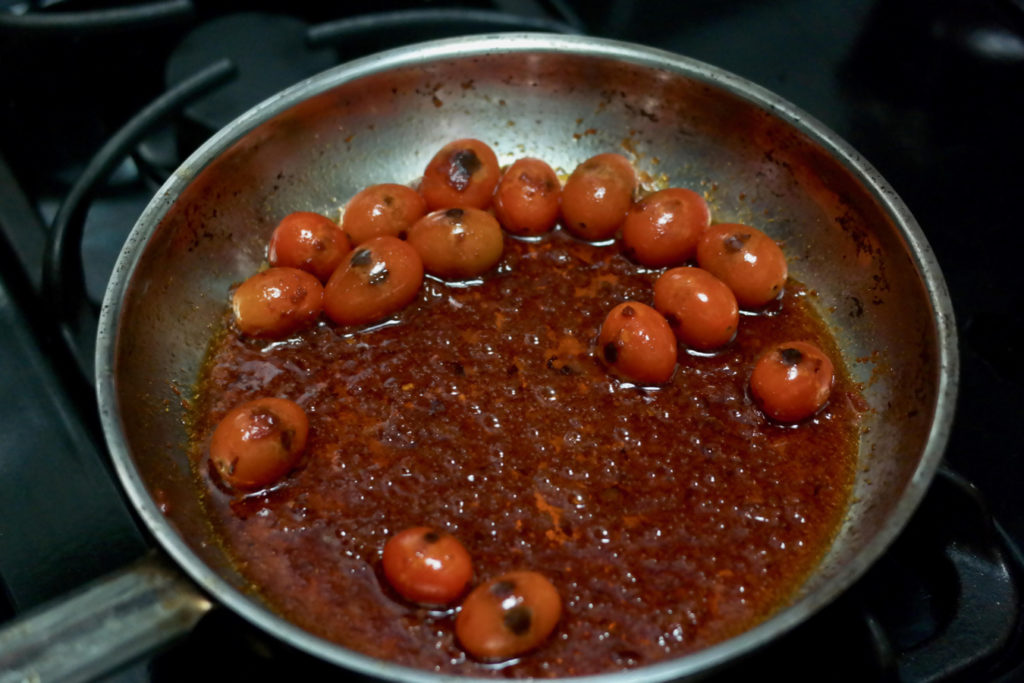 Meanwhile, in a large cast iron pan bring 2 tablespoons of olive oil to medium-high heat and add in 8 fettuccine nests.  Let them cook for 2 minutes on each side, until they brown and crisp up a little.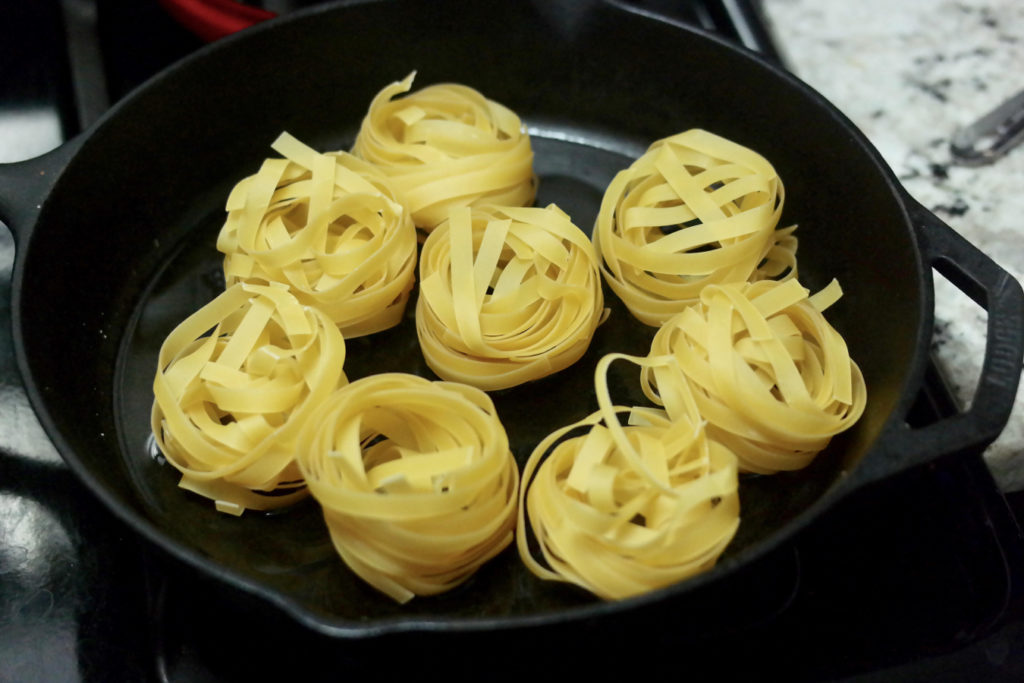 Then take the pasta out of the pan and set it aside.  Pour all of your chickpeas into the pan, then fill the empty can with water and add that in as well.  Chop up 2 cloves of garlic and stir those in, then place the fettuccine into the water.  Cover the pan with a lid, and let the pasta and chickpeas cook for 10 to 15 minutes, until the pasta is tender.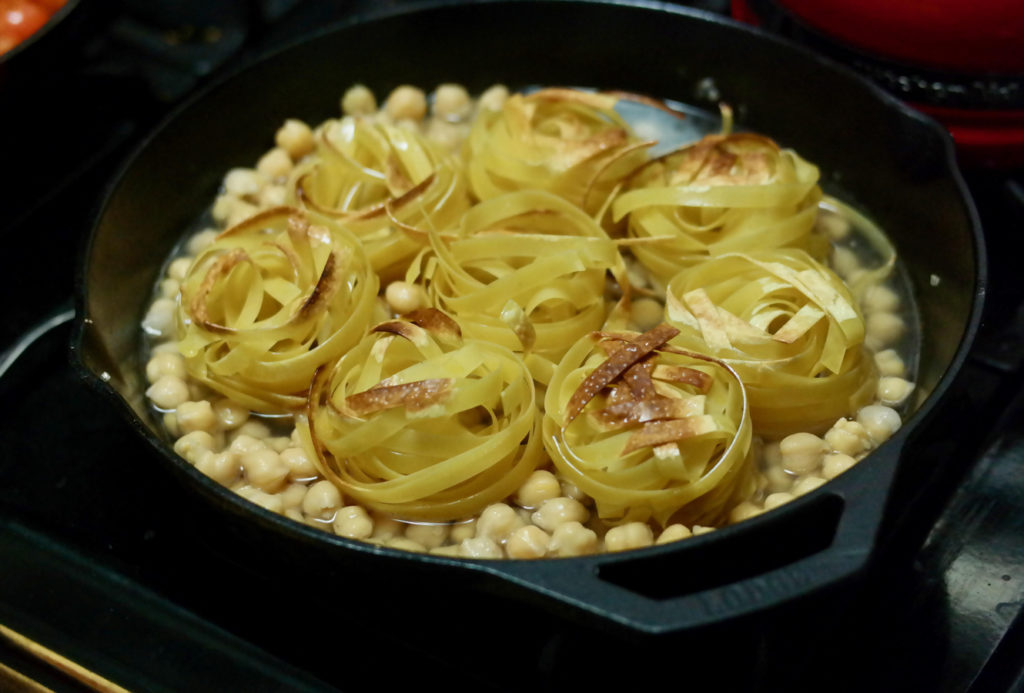 Once your pasta is cooked, pour the tomato sauce over everything.  Squeeze the juice from one of your lemons over the pasta, then sprinkle dried oregano over the whole thing.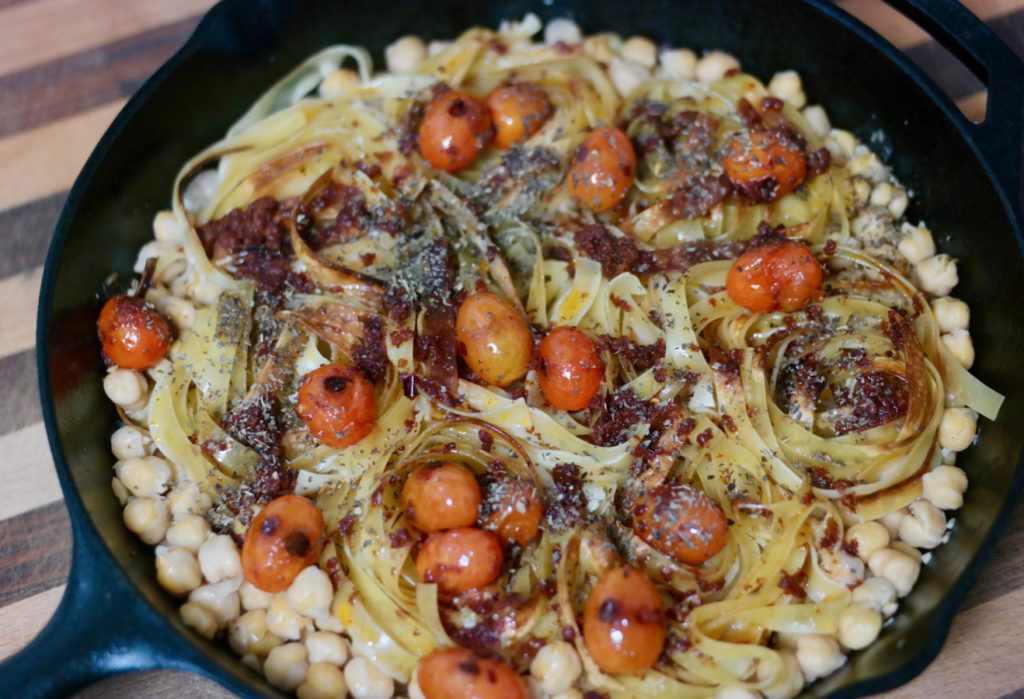 And then you can scoop up individual portions of the pasta with chickpeas and serve, with extra lemon wedges.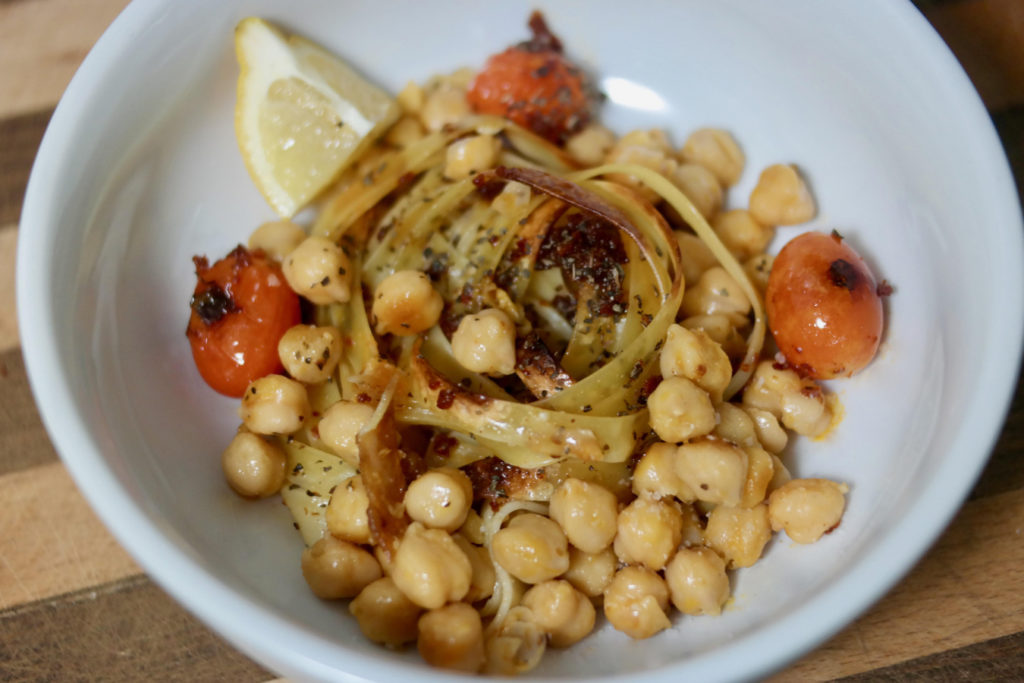 We were initially skeptical about this pasta – we worried that cooking it right in the pan, rather than boiling it in a pot of water as we normally do, would result in some underdone, tough pasta.  But it works out, provided that you add enough water, and it adds in an extra taste when you simmer the pasta in the chickpeas and their liquid.  The sauce, too, was pretty inventive:  rather than douse some noodles, this lightly tomato-flavored topping sits on top, adding hints of flavor to the pasta and chickpeas along with some fresh tomatoes.  Put it all together and you get some tender pasta and chickpeas, topped off with a simple sauce, and portioned out nicely with the fettuccine nests.  Trying out a new pasta variation was a treat for us, and if you're looking for more pastas to place in your vegan rotation, this one is a worthy addition.