We've made plenty of traditional lasagnas before, and like Garfield we enjoyed all of them because lasagna is a classic Italian-American dish that combines a bunch of things everyone loves:  pasta, red sauce, and lots of cheese.  But we recently came across this recipe and were intrigued – we've had polenta plenty of times, most recently with our buffalo-sauced fried version for the Super Bowl, but we would have never thought of it as a substitute for noodles in a lasagna.  It makes sense, though, because polenta is a common food in parts of Italy, so subbing it for pasta isn't that crazy.  It makes for a hearty lasagna with an interesting texture in between all the other ingredients, and it was great to try during the days at the beginning of this month when we were stuck inside due to the snow because it was so rich that it fed us for two whole days.  If you're willing to try something new and switch up your preconceived notions about lasagna, read on!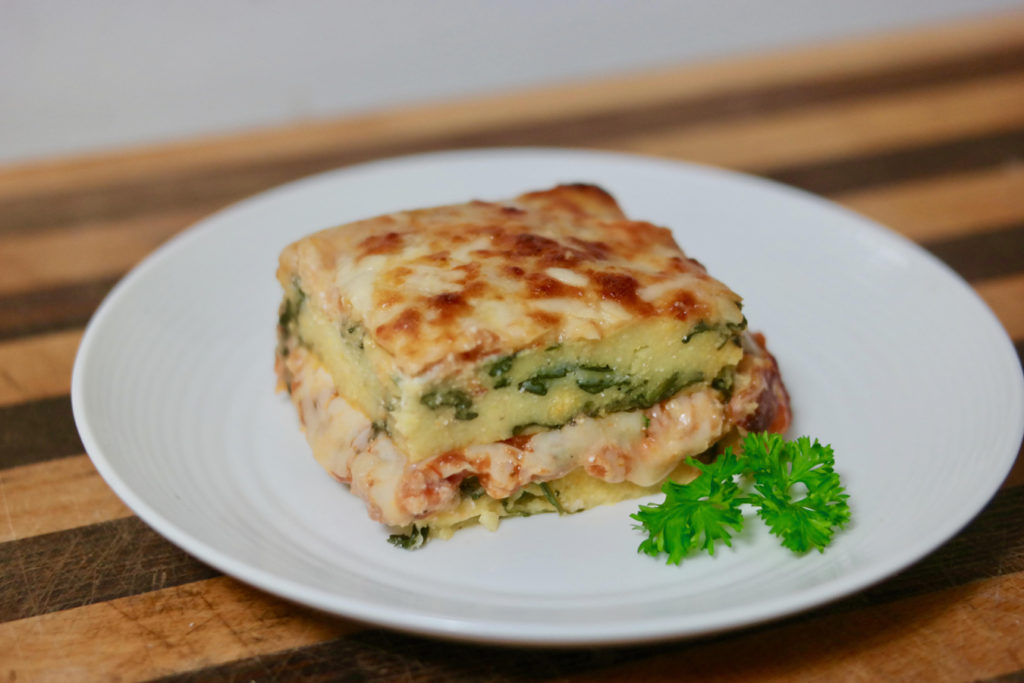 You'll need:
Butter
Cornmeal
A 5-ounce bag of spinach
Parmesan cheese
A 15-ounce container of ricotta
Parsley
An egg
Nutmeg
Red pepper flakes
Dried oregano
Garlic
A pound of mozzarella cheese
Marinara sauce – either a 25-ounce jar of store-bought sauce, or if you're making it for yourself gather:

A 28-ounce can of crushed tomatoes
An onion
A carrot
Celery
Basil
You'll need to prepare the polenta well ahead of time, so start by boiling 6 cups of water with a pinch of salt, then slowly whisking in 2 cups of cornmeal with the heat turned down to medium.  Cook the cornmeal, whisking frequently, for about 10 minutes, until it's thickened and not lumpy.  Stir in half a stick of butter, then all of the spinach, and mix until the spinach is wilted.  Take the polenta off the heat, grate up a cup of Parmesan, and stir that in as well, then grease a large baking sheet and pour in the polenta.  Smooth out the polenta into an even layer, then grate another 1/2 cup of Parmesan and sprinkle that on top.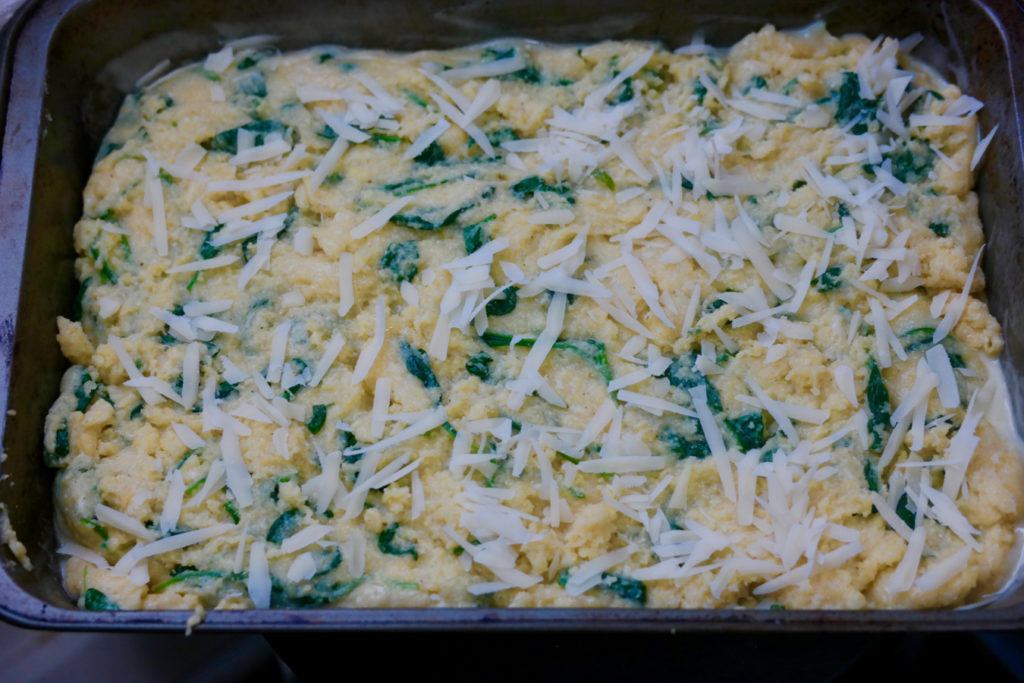 Bake at 425°F for 18 minutes, then take the polenta out of the oven to cool for an hour.  After that, keep it in your fridge until you're ready to make the lasagna.
You'll also want to prepare the sauce:  if you're making it from scratch, follow the first two steps here.  If you're using a jarred version, pour the sauce into a saucepan and keep the sauce warmed over low heat for the moment.  In either case, grate a garlic clove into the sauce, then stir in some dried oregano and red pepper flakes.
Now take your polenta out of the pan and cut it in half vertically.  Grease a large casserole dish and place one half into the bottom.  In a bowl mix all of your ricotta with a large handful of chopped parsley leaves, 1/4 teaspoon of nutmeg, an egg, and salt and pepper.  Spread half of the ricotta on top of the polenta, then cover with half the sauce.  Shred your mozzarella and sprinkle half of that over the sauce.  Then place the other half of your polenta on top of this first layer, topped with the rest of the ricotta, the rest of the sauce, and the rest of the mozzarella.  Finally, grate another 1/2 cup of Parmesan and scatter that over top of everything.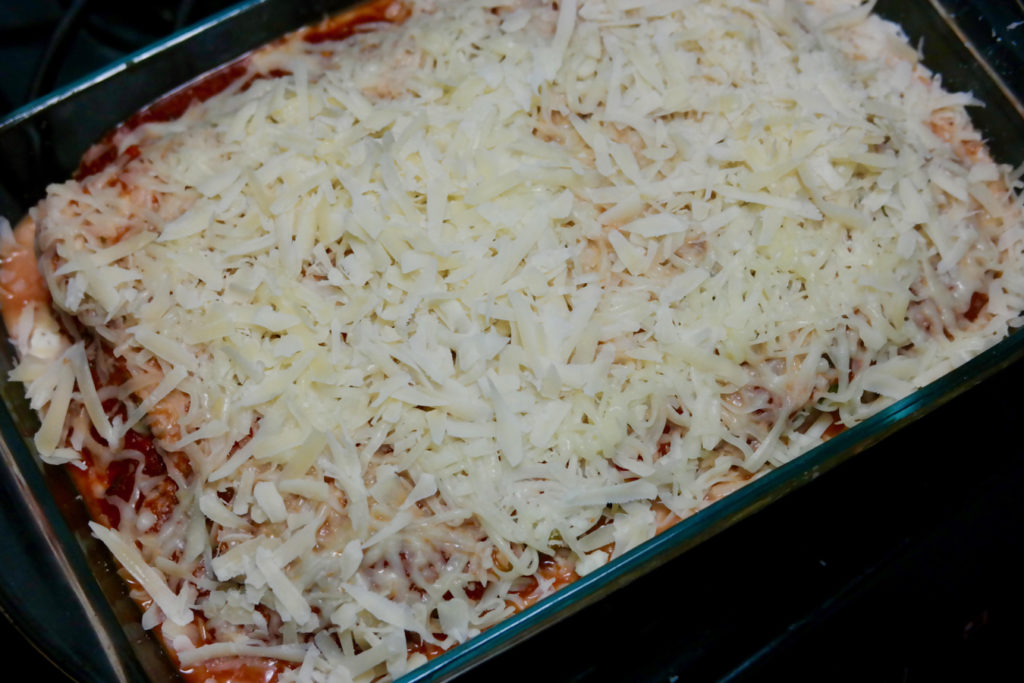 Bake the lasagna at 400°F for 30 minutes, then stick it in your broiler on high for 1 minute.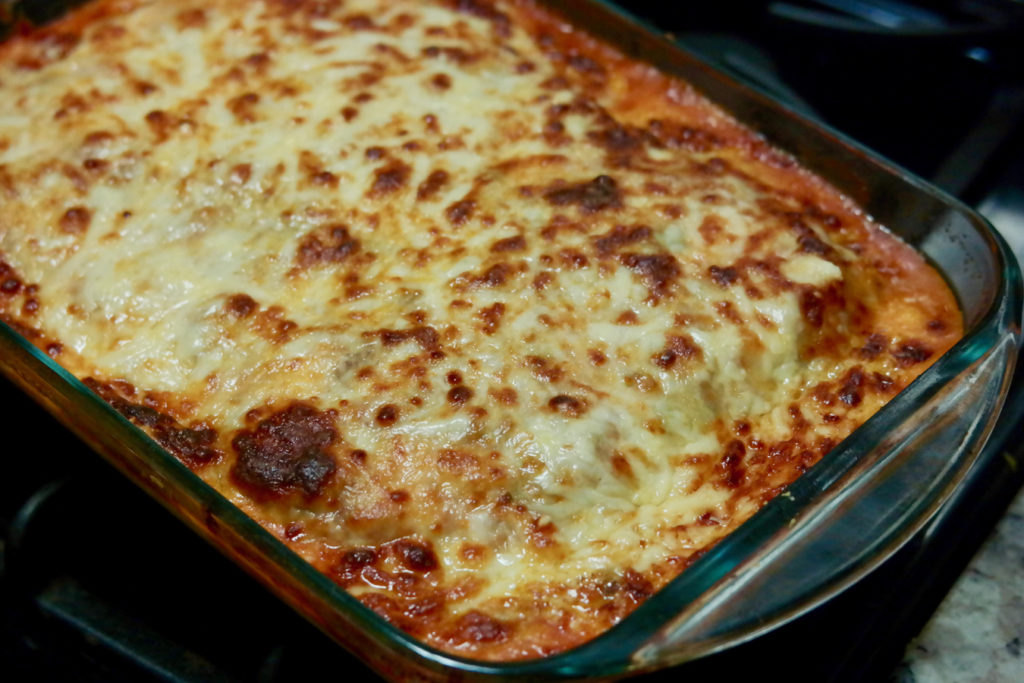 Once it comes out of the oven, let it sit for 15 minutes to cool and set, then cut it into squares and serve with extra parsley.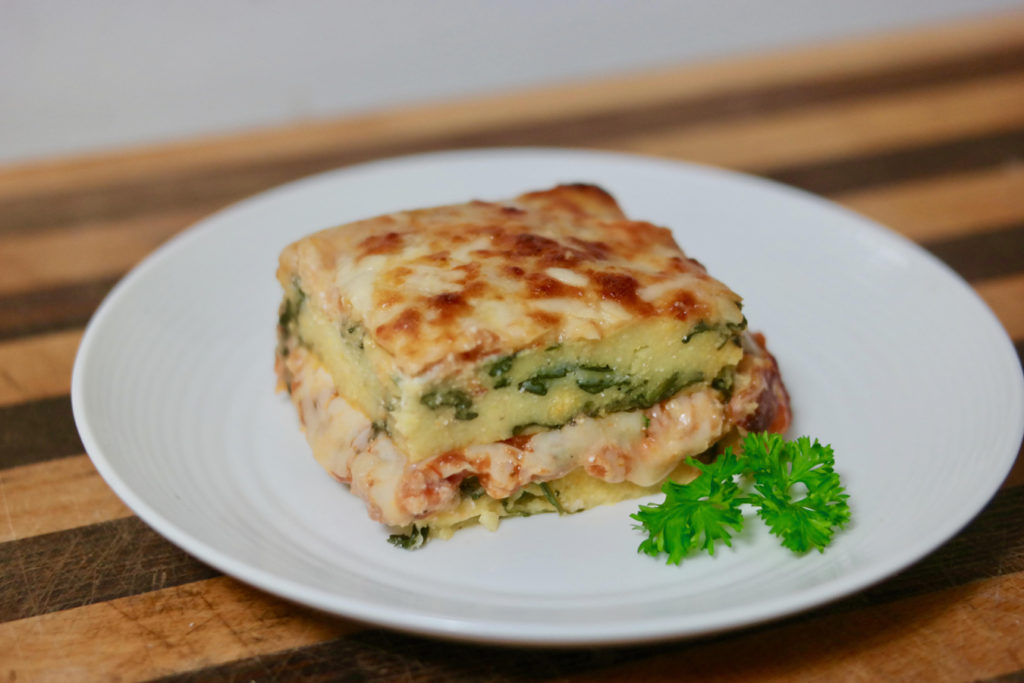 You can see that you've got all the classic tastes of a typical lasagna here:  layers of melty cheese, ricotta, and sauce.  But sandwiched in between everything are some chewy slabs of spinach polenta, and they make a great addition to this dish.  The polenta is thick and firm and great to sink your teeth into, and it pairs well with the creamy, warm cheeses and marinara sauce.  It's definitely interesting to take a bite of lasagna that has some unexpected ingredients in the middle.  You will need to plan ahead for making this dish, since the polenta has to be baked and then cooled before you assemble the whole thing, but if you're stuck at home and you've got some time to plan and bake, this is an interesting way to experiment with flavors and try out a whole new version of lasagna.