Earlier this week we showed you how to make some awesome cinnamon-sweet muffins, and today we're continuing with that theme of baked goods by featuring a cupcake recipe!  Cupcakes are basically muffins without the frosting, so we figured we';d show you another great way you can put your baking tins to work.  We came up with these after finding this recipe in the New York Times, which looked interesting but also a little complex in its original cake format.  Since cupcakes are easier to make and also just more fun and cute, we adapted the recipe to make these instead – read on to see how to make both the cupcakes and the frosting from scratch.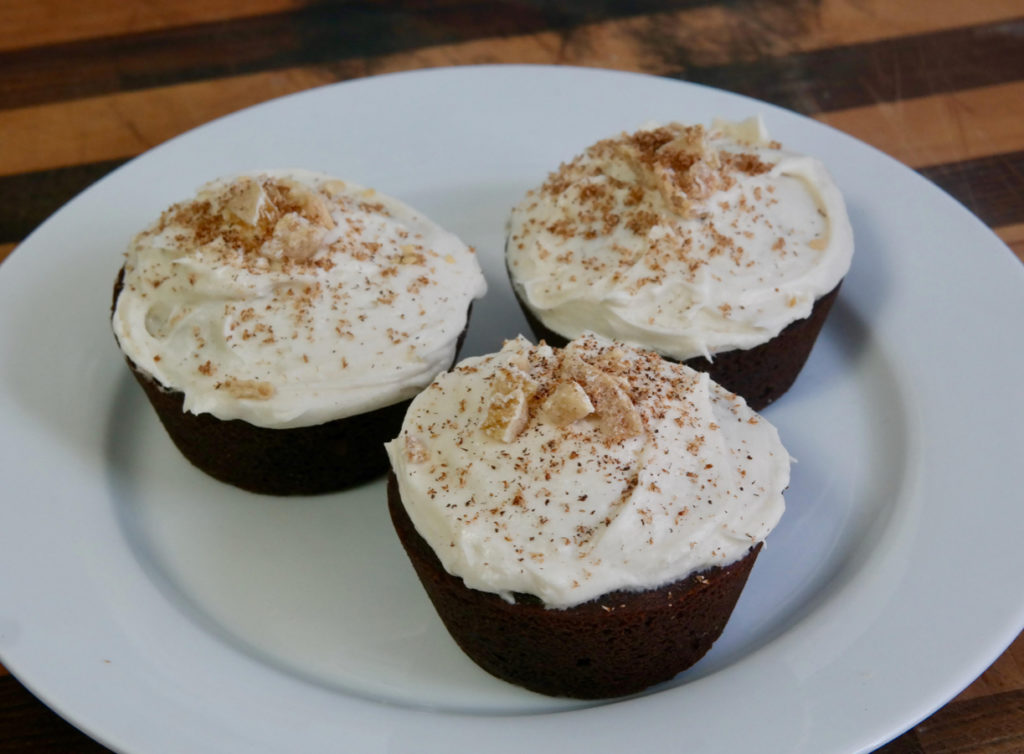 You'll need:
Flour
Cinnamon
Ground cloves
Ground nutmeg
Ground ginger
Butter
Brown sugar
2 eggs
An orange
Molasses
Baking soda
Apple juice
Cream cheese
Vanilla extract
Powdered sugar
Cooking spray
A whole nutmeg
Candied ginger
First we'll start with the batter:  in a bowl measure out 2 1/4 cups of flour, a teaspoon of cinnamon, 1/4 teaspoon of ground ginger, 1/2 teaspoon each of ground cloves and ground nutmeg, and a pinch of salt.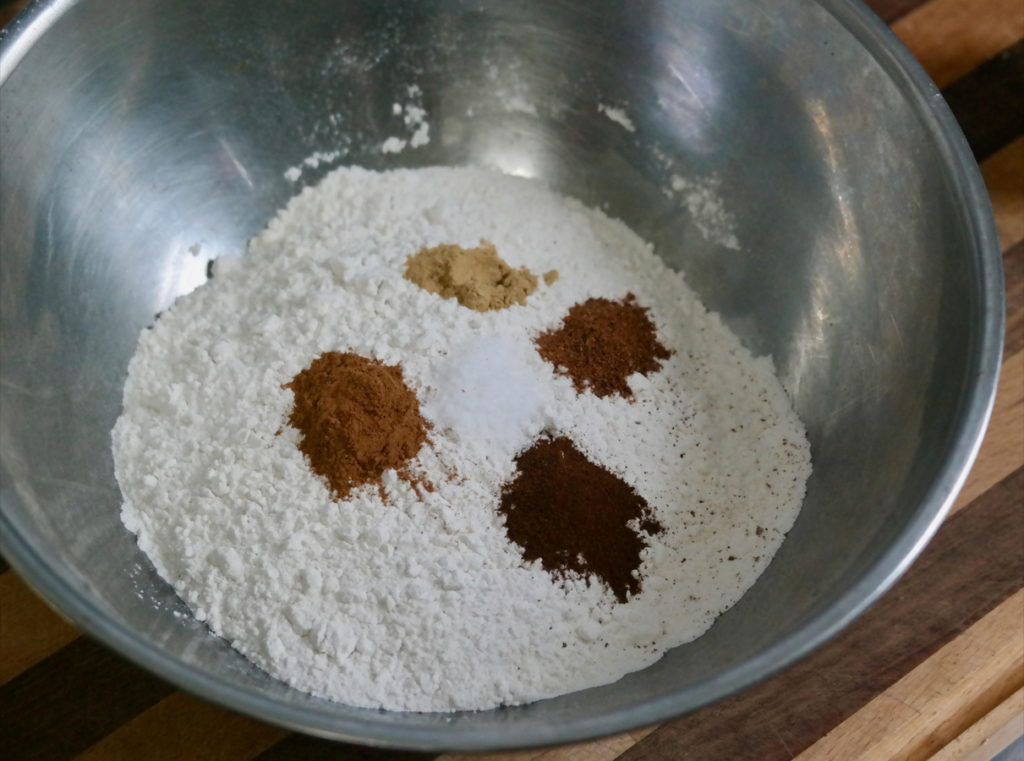 Stir those all together, then set that bowl aside.  In a stand mixer fitted with a paddle attachment, combine 2 whole sticks of butter with a cup of brown sugar on a medium speed for about a minute, then add in the 2 eggs and the zest from your orange and combine at a medium-high speed for another minute.
Meanwhile, pour 3/4 cup of molasses into a heat-proof bowl and stir in 1/2 teaspoon of baking soda.  In a small pan bring 1/2 cup of apple juice to a boil, then pour it into the molasses – it will bubble up, so use a whisk to mix everything together into an even liquid: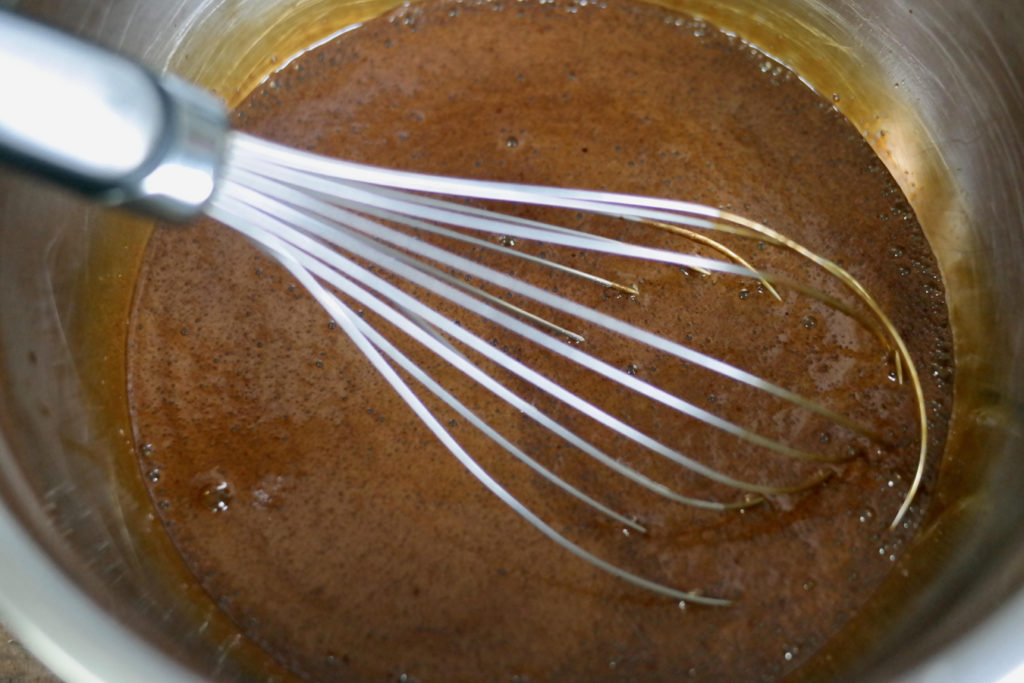 Now take your bowl with flour and spices and add about a third of that into the bowl of the stand mixer and combine at a low speed.  Pour in half the molasses mixture and combine, then another one-third of the flour mixture, then the rest of the molasses, then the remaining flour, making sure each addition is mixed in well before adding in the next set of ingredients.  Now you should have your batter: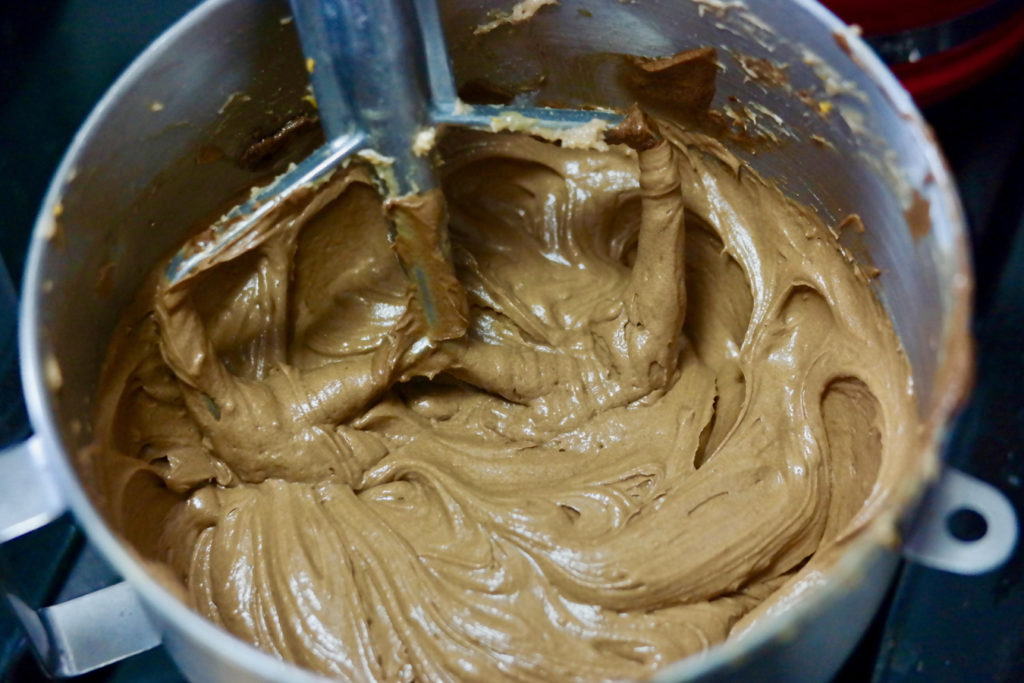 Spray a muffin tin with cooking spray and fill each cup about 2/3 of the way full.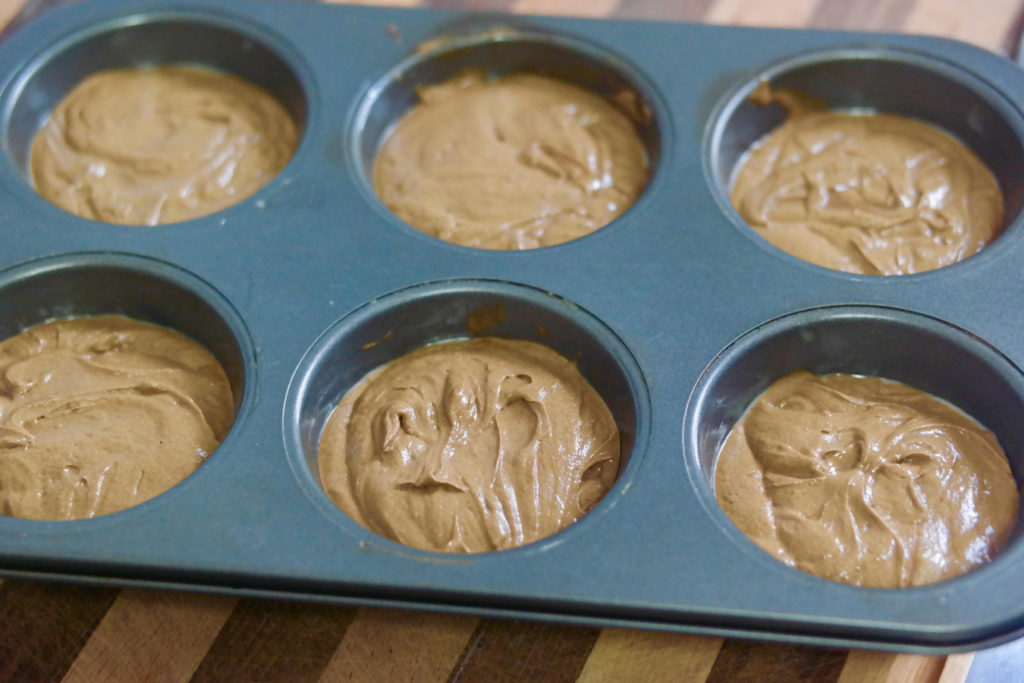 Bake the cupcakes for 25-30 minutes, until you can stick a toothpick into the middle of each one and it comes out clean.  Let the cupcakes cool in the pan for 15 minutes, then carefully pry them out and let them fully cool.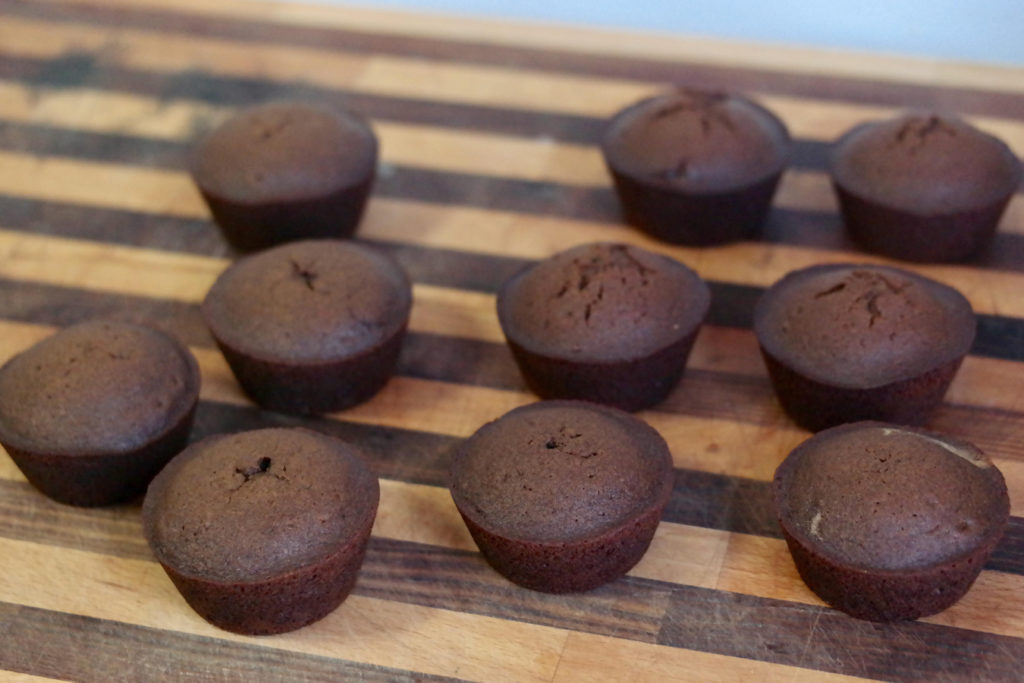 For the frosting, clean out your stand mixer and the paddle attachment, then place 3 ounces of cream cheese into the mixer and beat on a medium speed until it's whipped and light.  Add in 3 tablespoons of butter and mix until it's evenly combined with the cream cheese, then add in a teaspoon of vanilla and a pinch of salt.  Measure out 1 1/2 cups of powdered sugar and mix a third of it in until it's fully incorporated, then add in another third and mix, then add in the final third and mix until you have a smooth frosting.  Once the cupcakes are completely cool to the touch, frost each one.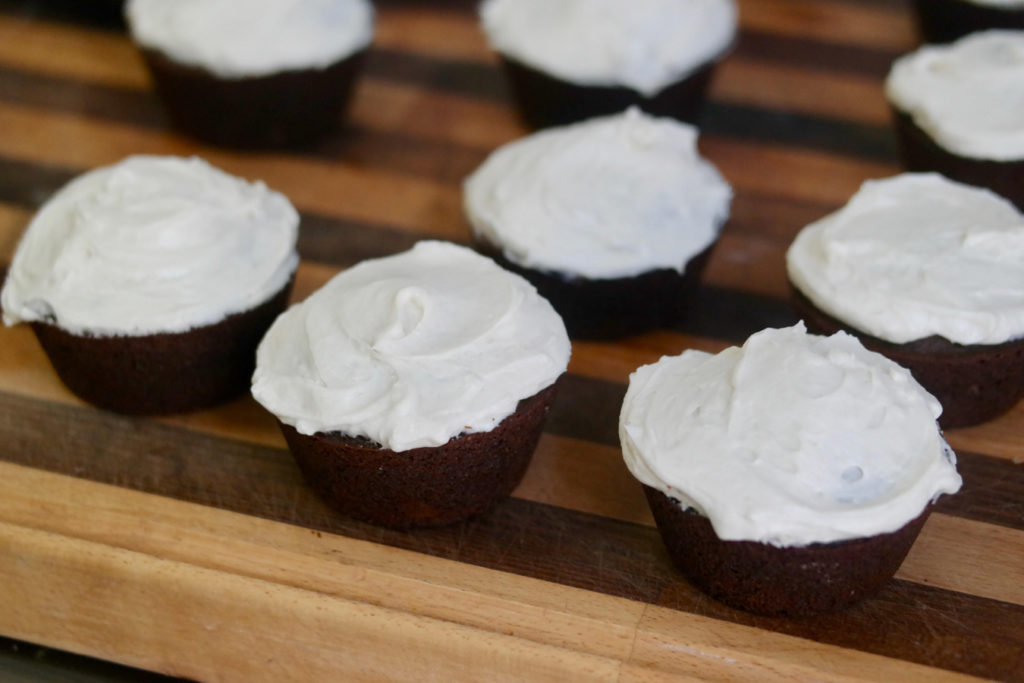 Finally, chop up some candied ginger and sprinkle over the cupcakes, then grate a nutmeg on top of everything.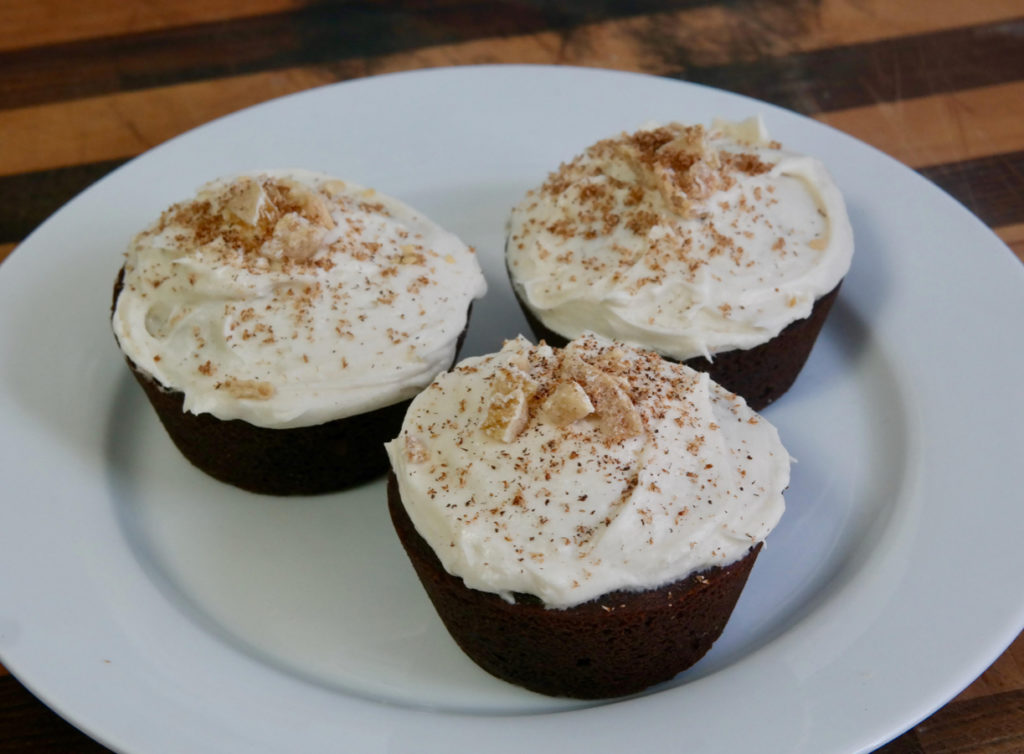 These are fun and slightly unusual cupcakes, as you can see!  Spice cake isn't a flavor you typically find in cupcakes, but it's a very interesting combination of tastes with the four spices and the orange zest in the batter and the extra ginger and nutmeg on top, paired with a classic cream cheese frosting.  This definitely makes for a more elevated cupcake, and they also just look really cool.  So if you've got some event you need to bring a dessert for, or you just have a hankering for something homemade and sweet, these spice cupcakes are a great baked good to try your hand at.