We've been showcasing recipes for desserts recently, like these cinnamon muffins and some spice cupcakes, and today we're going to feature another interesting recipe, this time for brownies.  No, these aren't made entirely from white chocolate, as you can see – instead they've got white chocolate baked into each square and drizzled on top as well.  We based these on a recipe from the New York Times but adapted them for our own tastes, namely Cyril's dictate that all brownies must contain nuts.  These were fairly easy to make and gave us an interesting twist on a classic sweet, so we really enjoyed them – and here's how we made them!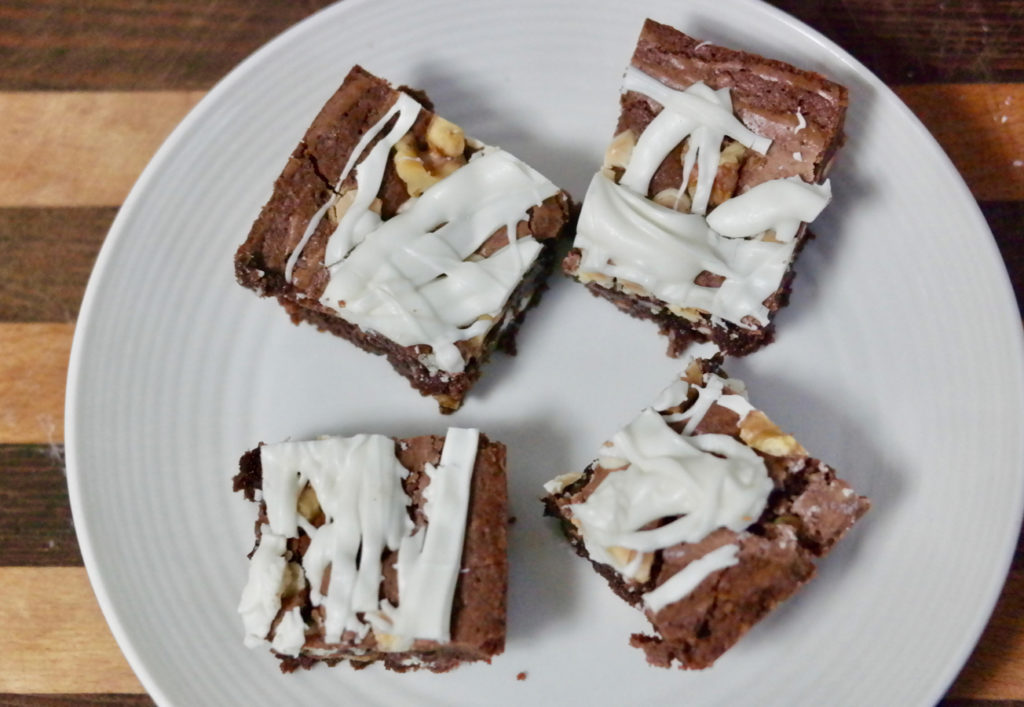 You'll need:
Butter
2 ounces (half a bar) of bakers chocolate
Vegetable oil
Sugar
Flour
Cocoa powder
2 eggs
Vanilla extract
An 11-ounce bag of white chocolate chips
Walnuts
Cooking spray
For your batter, you'll want to start by melting your bakers chocolate and 5 tablespoons of butter in a small pan over low heat, making sure your stir continuously to help the process along.  Once the chocolate is completely liquid, pour it into a heat-proof bowl and whisk in 1/3 cup of vegetable oil and 1 1/2 cups of sugar, and let this cool for 5 minutes.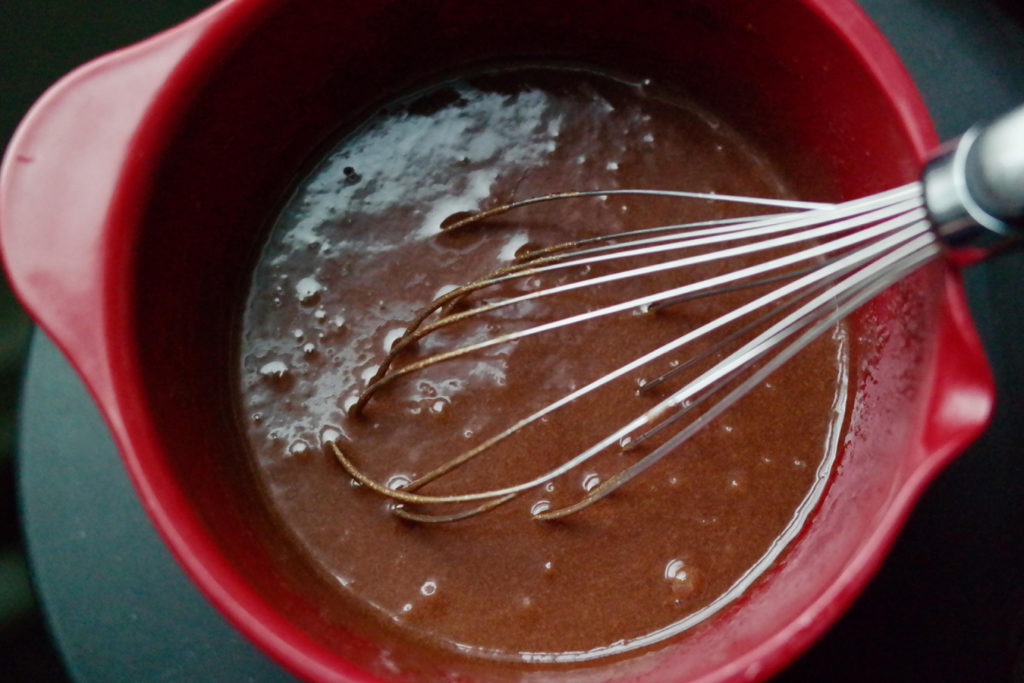 Then whisk in your eggs and 2 teaspoons of vanilla.  In a different bowl, whisk together a cup of flour, 1/4 cup of cocoa powder, and a pinch of salt, then gently stir this into the chocolate mixture.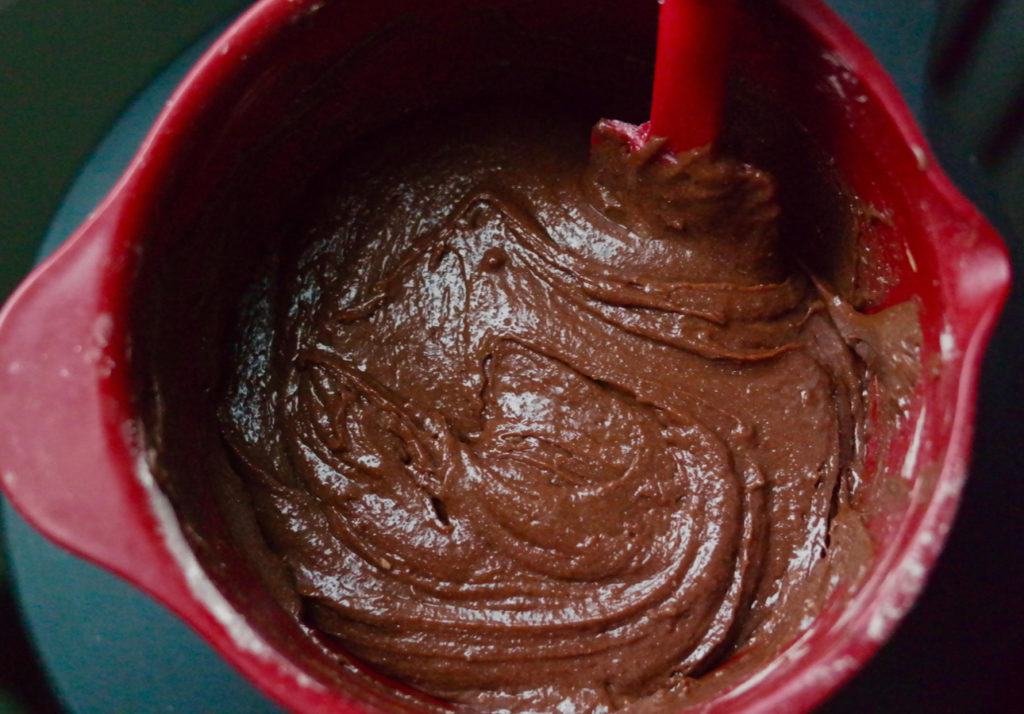 Pour out about 1/4 of the bag of white chocolate chips.  Mix most, but not all, of these chips into your brownie batter.  Measure out 1/2 cup of walnuts and roughly chop them in a food processor, then stir those in as well.  Coat a square baking pan with cooking spray and spread the batter evenly into it, then scatter some extra white chocolate chips on top.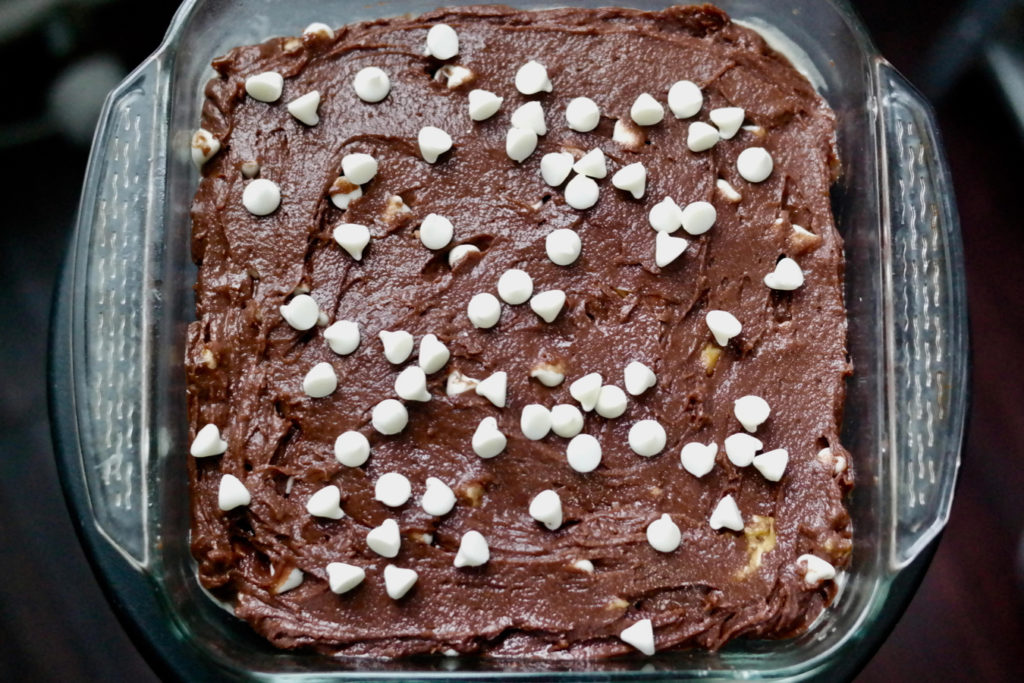 Bake the brownies for about 20 minutes at 350°F – you'll know they're done once the top has firmed up and you can stick a toothpick into the center and it comes out clean.  Let the brownies fully cool.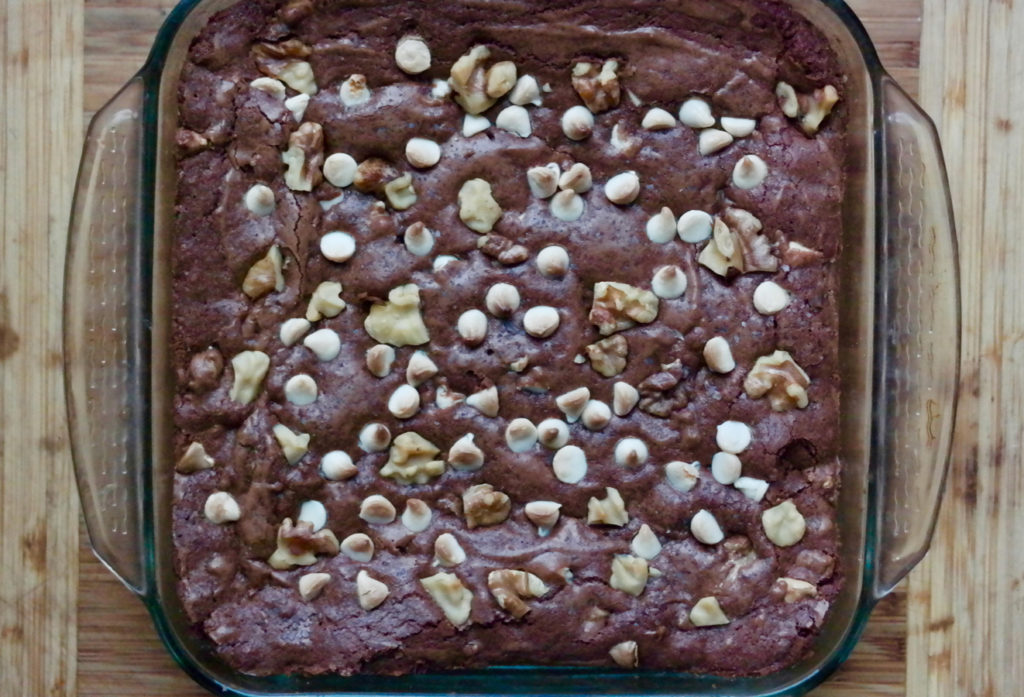 Then take the rest of your white chocolate chips and place them in a microwave-safe bowl.  Microwave the chips for 20 seconds at a time until they are fully melted into a liquid.  Drizzle the melted chocolate over the brownies, then let this cool and harden before slicing up your brownies.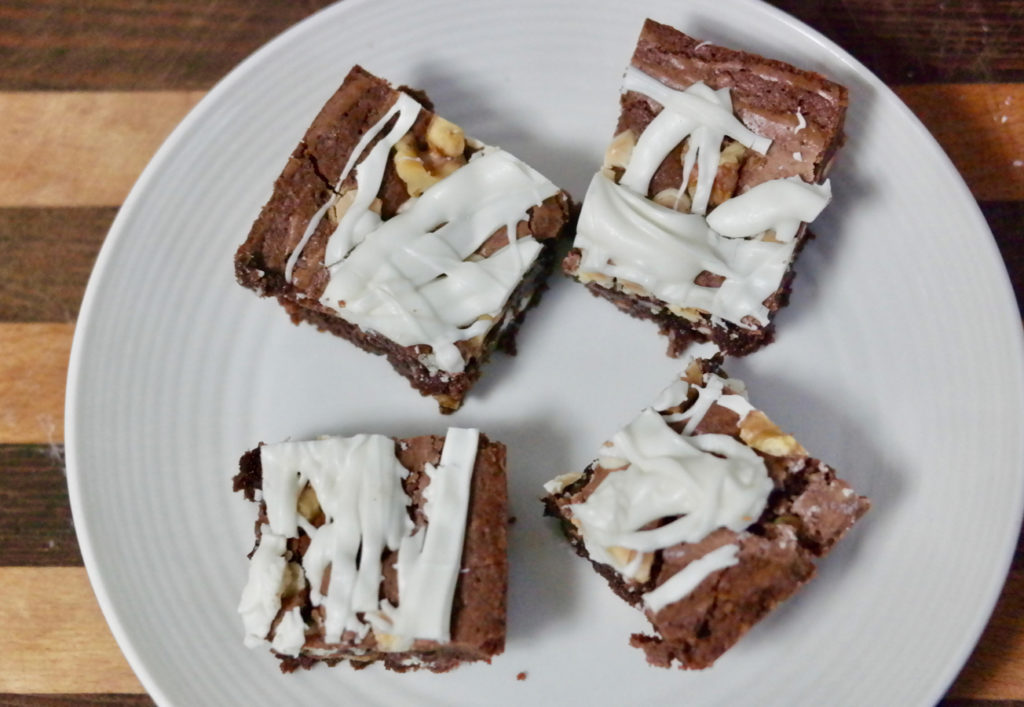 We really liked a lot about these brownies:  first, the combined flavors of classic chocolate and white chocolate make for a really unique brownie.  We also liked having these brownies be kind of chunky, with the walnuts and the whole white chocolate chips inside and some extra chips on top, which browned up nicely in the oven.  The drizzle is a nice touch to bring everything together, and it adds in an extra sweetness as well as a nice contrasting texture on top.  And like all good brownies, these were nice and firm at the edges but soft and chewy in the middle.  They're really not hard to make, which is always an added bonus when you're baking up a dessert.  So if you want some interesting brownies but don't want to break a sweat while you're in the kitchen, this version is pretty cool and pretty tasty.