After all the effort we put into the rainbow cake we showed you earlier this week, we thought we'd feature something much, much easier today.  To that end, here's a really simple and delicious soup that you can throw together in just about half an hour for an easy meal.  It's based on a recipe we found in Bon Appétit, which we adapted to be meat-free, and it's great not just for its simplicity but also because it's packed with veggies and lots of flavor and it happens to be vegan.  The only thing you may have trouble with is finding the green curry paste – we have a local grocery store that is Korean-owned, so that's the type of place where you can find an excellent selection of Asian ingredients like this Thai staple.  That and just a few other things come together in a pot to make this delicious soup – so let us show you how!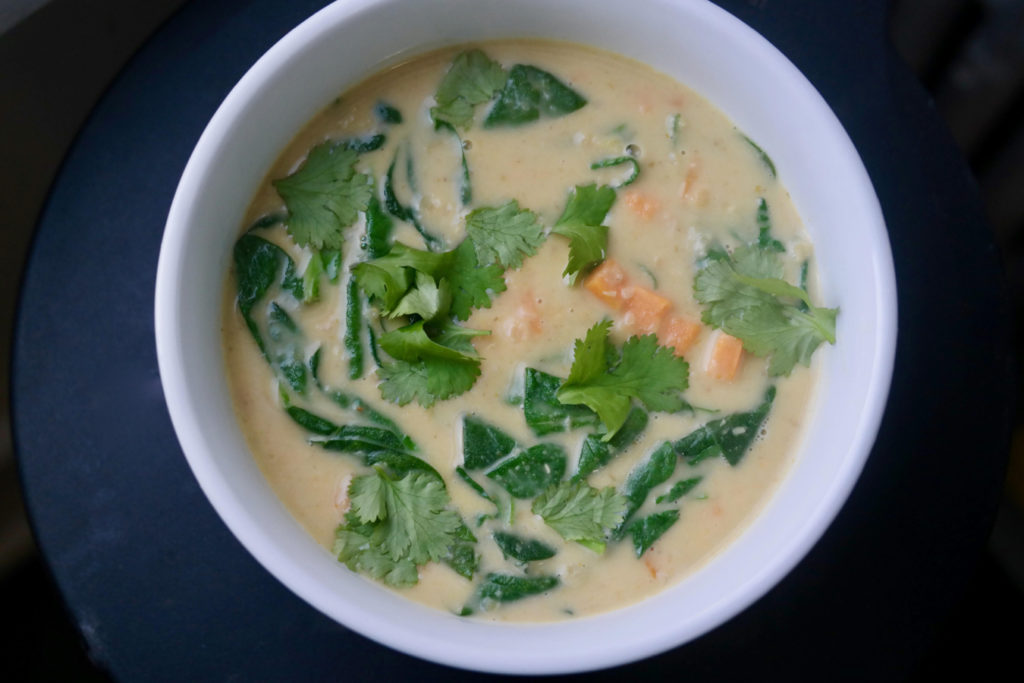 You'll need:
Vegetable oil
Garlic
Ginger
Green curry paste
A sweet potato
Lentils
A quart of vegetable broth
A 13.5-ounce can of coconut milk
A 5-ounce bag of spinach
Vegetarian Worcestershire sauce (our favorite is from Bourbon Barrel Foods)
Cilantro
To prep the ingredients in your soup, mince 2 garlic cloves and a peeled thumb-sized piece of ginger, then peel and cut your sweet potato into small pieces.  Cook the garlic and ginger in 2 tablespoons of oil in a large pot over medium heat for about 3 minutes, then add in 1/4 cup of curry paste and mix with the garlic and ginger, cooking for another 3 minutes.  Add in the sweet potato and 3/4 cup of lentils and stir to combine.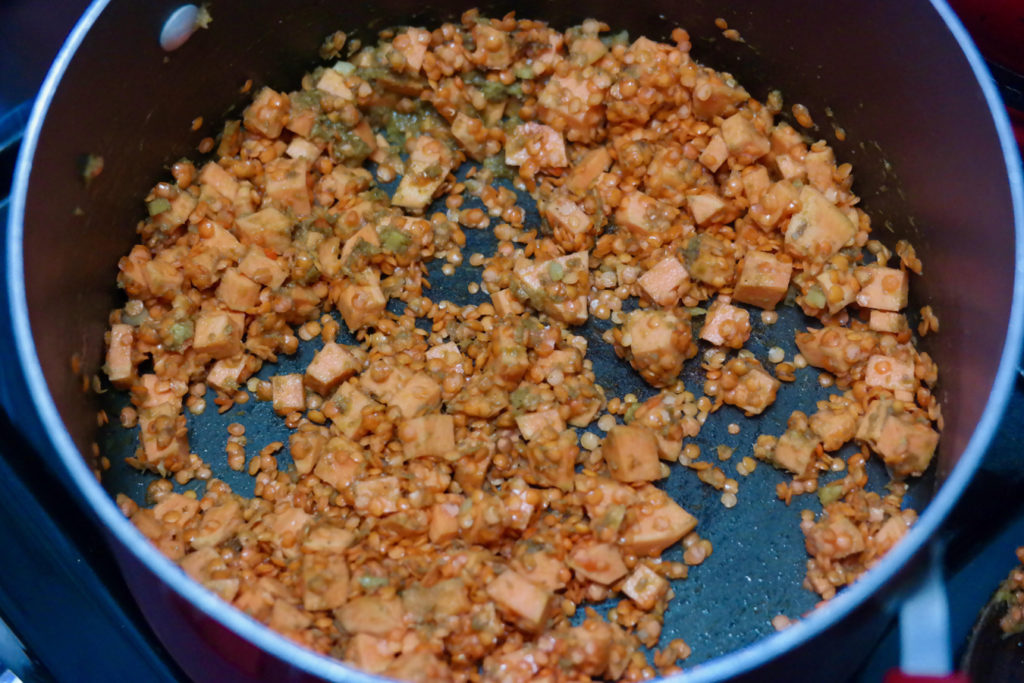 Then pour in all your vegetable broth, bring to a boil, and turn the heat down to a simmer to let everything cook for 20-25 minutes, until the sweet potato pieces are soft.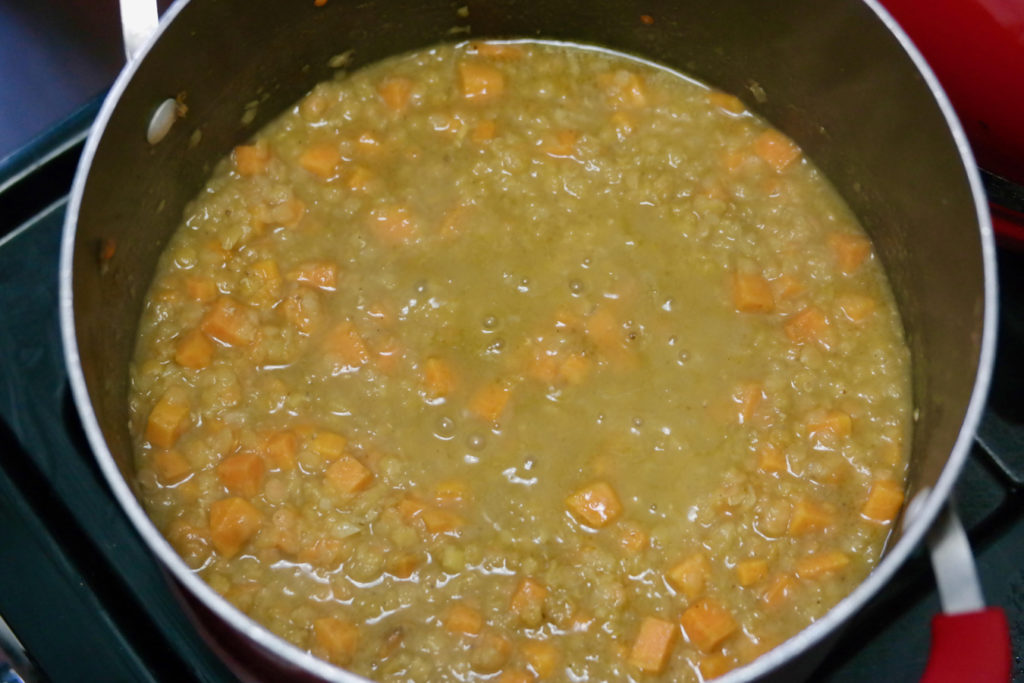 Add in your can of coconut milk, and when the soup simmers again stir in the spinach and 1/2 teaspoon of the Worcestershire sauce.  Stir the spinach around just until it's wilted.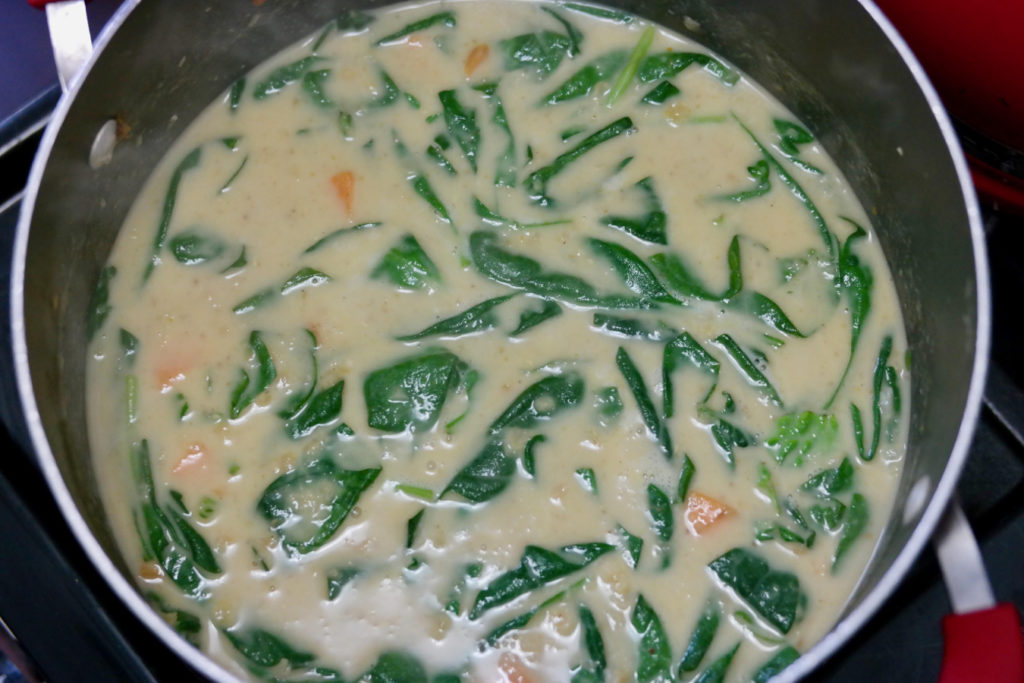 Now you can serve up the soup topped with cilantro leaves.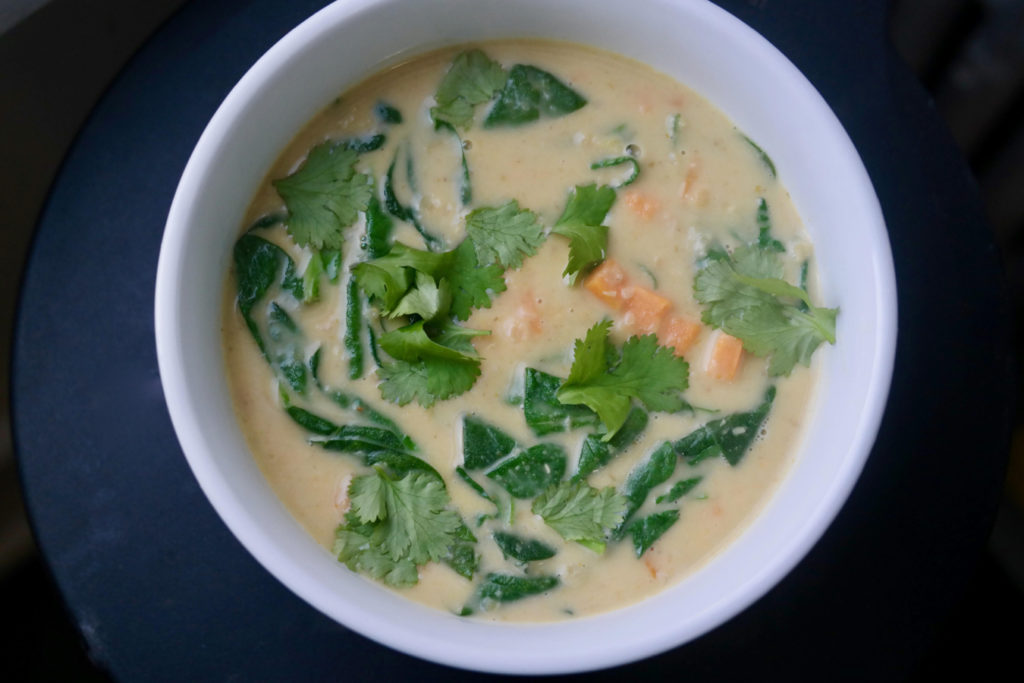 You can see that this is a really colorful soup, and all those colors represent some excellent flavors coming together:  the wilted spinach and the cilantro on top are some nice greens, the sweet potato and lentils add in a bit of heartiness, and the coconut milk gives a little creaminess with using dairy.  The green curry paste blends in with everything and the flavor really stands out to give this soup a definite spiciness.  And like we said, this is a super easy since you only need to cut up a few vegetables at the beginning and then you just pour things into a pot and let them cook on their own.  So now during this last bit of cold for the season you can throw this soup together and let it warm you up for a quick, healthy, and tasty lunch.