Lately we've been on a noodle kick, because we've discovered that Asian-inspired noodle dishes are easy to whip up for a quick meal in the middle of a work-from-home day – and they're also delicious!  To that end, we've been seeking out noodle recipes and we recently came across this one in Bon Appétit and thought it looked good.  We decided to change it around a little, though, to give it a bit of a protein boost and also because Miriam doesn't like cucumbers.  The result was a really good lunch that's a breeze to make and also happens to be vegan.  We'll show you how to whip these noodles up in no time.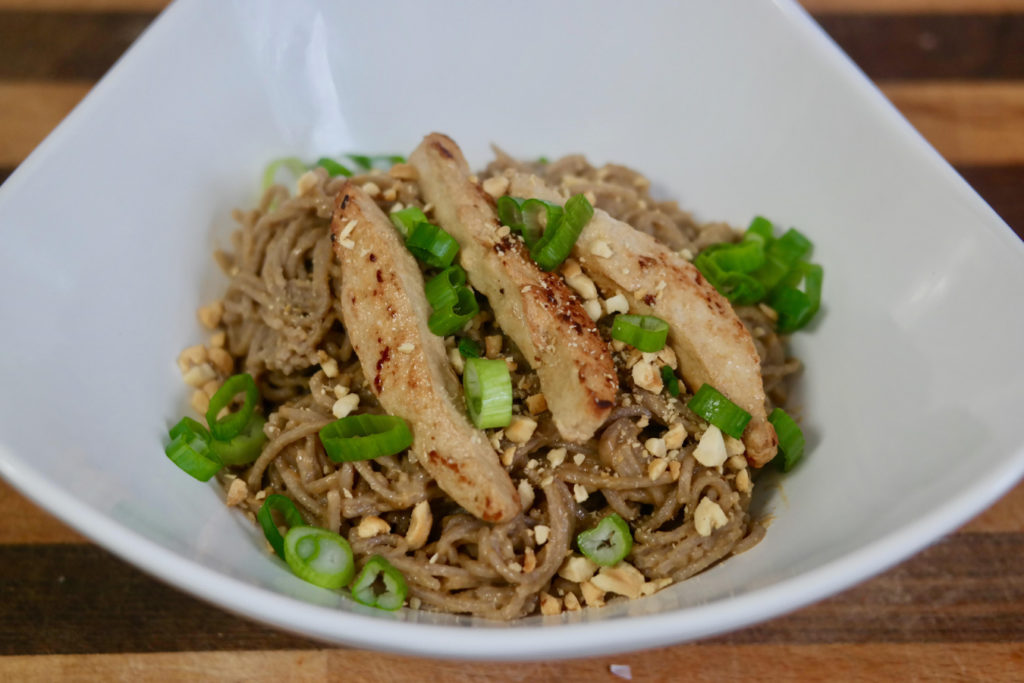 You'll need:
12 ounces of soba noodles
Creamy peanut butter
Honey
Soy sauce
Black vinegar
Garlic
Scallions
Peanuts
Meatless, unbreaded chick'n strips (we like using Gardein)
Vegetable oil
Start by cooking your soba noodles according to the package directions, and while you're waiting on that make your peanut sauce by whisking together 1/2 cup of peanut butter, 2 tablespoons of vinegar, 4 teaspoons of honey, a teaspoon of soy sauce, and 1/4 cup of warm water.  Grate a garlic clove in and stir everything together until you have a smooth sauce.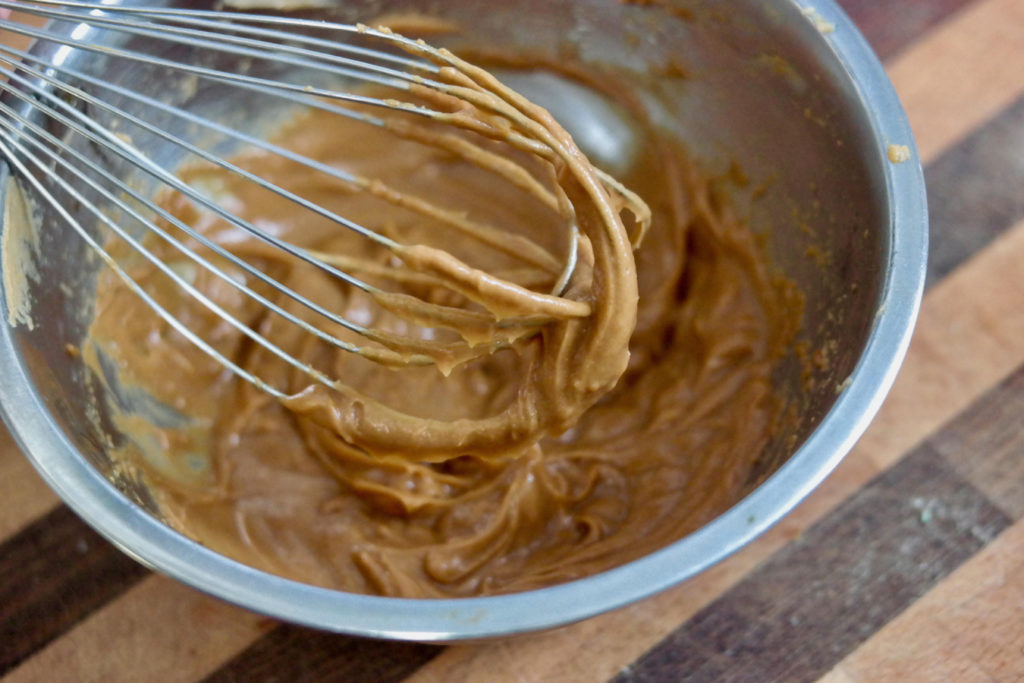 Then in a large pan warm a tablespoon of oil over medium-high heat.  Spread out your chick'n strips in the pan and cook for 2-3 minutes on each side, until both sides are nicely browned (if you bought chick'n strips that come with a sauce packet, don't use that here – save it for another recipe).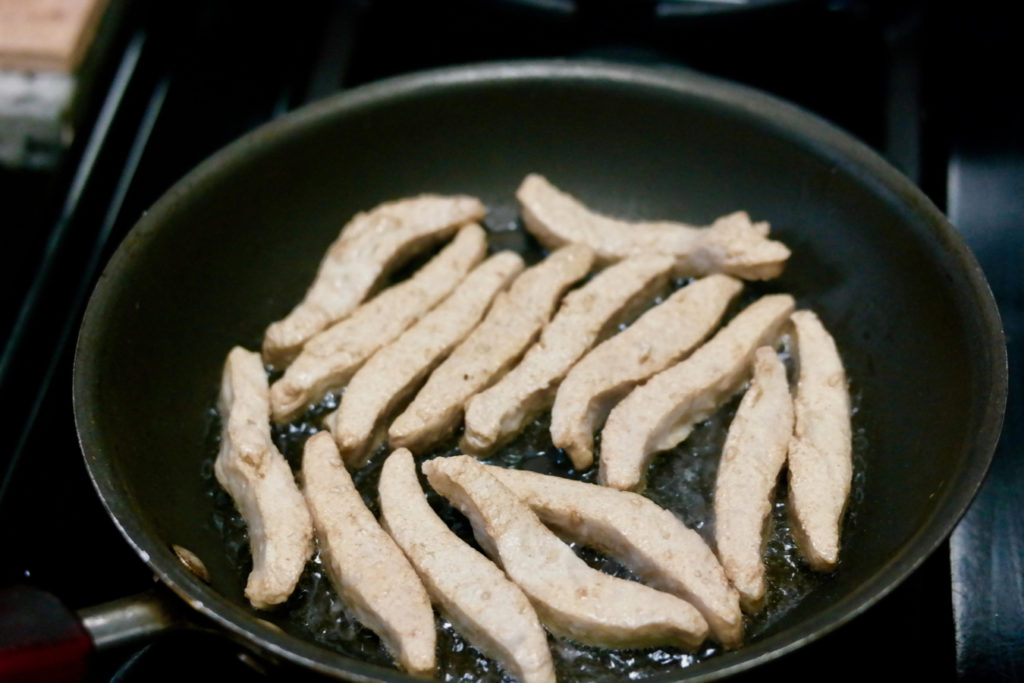 Finally, slice 2 scallions and place 1/3 cup of peanuts into a food processor to roughly chop them.  Once the noodles are done, mix them with the sauce and then stir in the chick'n strips.  Serve up the noodles in bowls topped with the scallions and peanuts.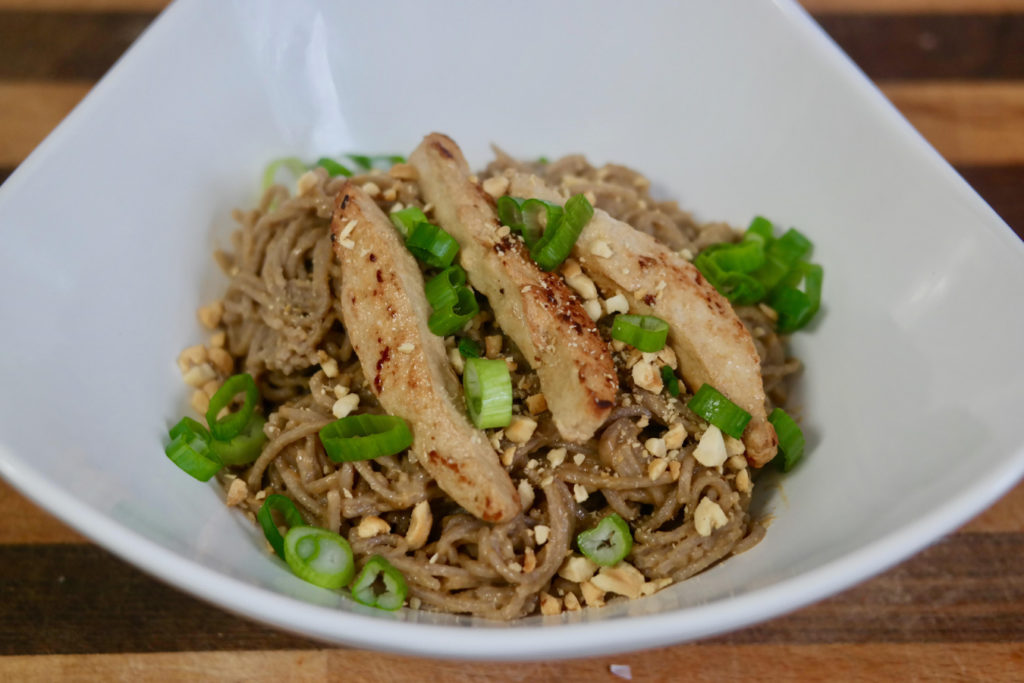 These noodles were ridiculously easy – the chick'n cooks up in just a few minutes and the sauce is only a matter of measuring out a few things and whisking them together, and you can do both of these steps while you wait for your noodles to cook.  And when everything comes together, the result is really good:  peanut sauce is a classic for noodles, the chick'n gives this dish a hearty boost, and the scallions and chopped peanuts make for an excellent crunchy and green topping.  We liked this recipe so much we've now put it into our regular lunch rotation, and we think it's great proof that vegan food can be very accessible and, above all, very tasty.