Eggplant parm is pretty much the powerhouse meatless Italian-American meal, the one dish that nonnas will always whip out for their vegetarian grandkids.   So you can think of eggplant rollatini as parm's lesser-known counterpart:  it uses many of the same ingredients, but in a different and interesting variation.  We've had eggplant rollatini many, many times at restaurants and family dinners, but we realized we had never actually made it for ourselves.  So to rectify that, here's our recipe for how you can this right at home.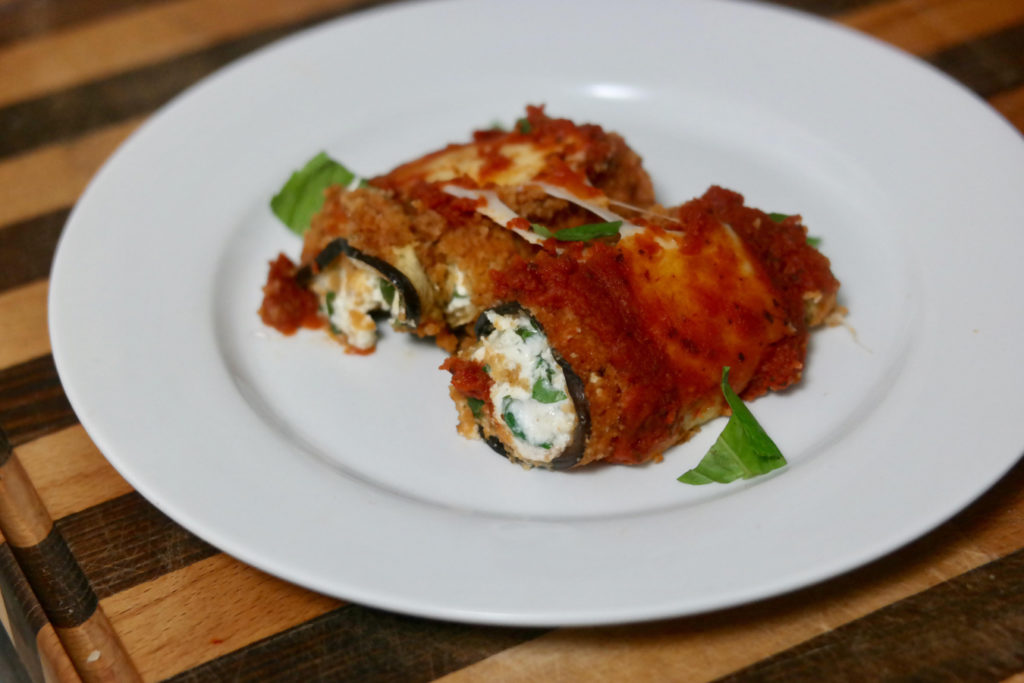 You'll need:
A large eggplant
3 eggs
Breadcrumbs
A 15-ounce container of ricotta cheese
Basil
6 ounces of mozzarella cheese
Marinara sauce – either a 23-ounce store-bought jar, or if you want to make it from scratch gather:

A 28-ounce can of crushed tomatoes
An onion
A carrot
Celery
First, if you're going to be making some homemade marinara, follow the first two steps in this recipe.
Then you'll want to prepare your eggplant:  hold it upright and slice it thin vertically, then lay all the slices on paper towels so they don't overlap and sprinkle a generous amount of salt over them, to help them release their water.  You'll want to leave them like this for at least 20 minutes, but we set them aside for several hours to get the slices as dry as possible – so you might want to cut up the eggplant in the afternoon if you want to eat this for dinner.
Then in one pie dish measure out a cup of breadcrumbs, and in a second pie dish beat two eggs.  Lay one eggplant slice in the breadcrumbs and coat each side, then in the beaten eggs, then again in the breadcrumbs, so that you're double-breading each slice.  Lay the slices aside while you bread the remainder of the eggplant, pouring out extra breadcrumbs as needed.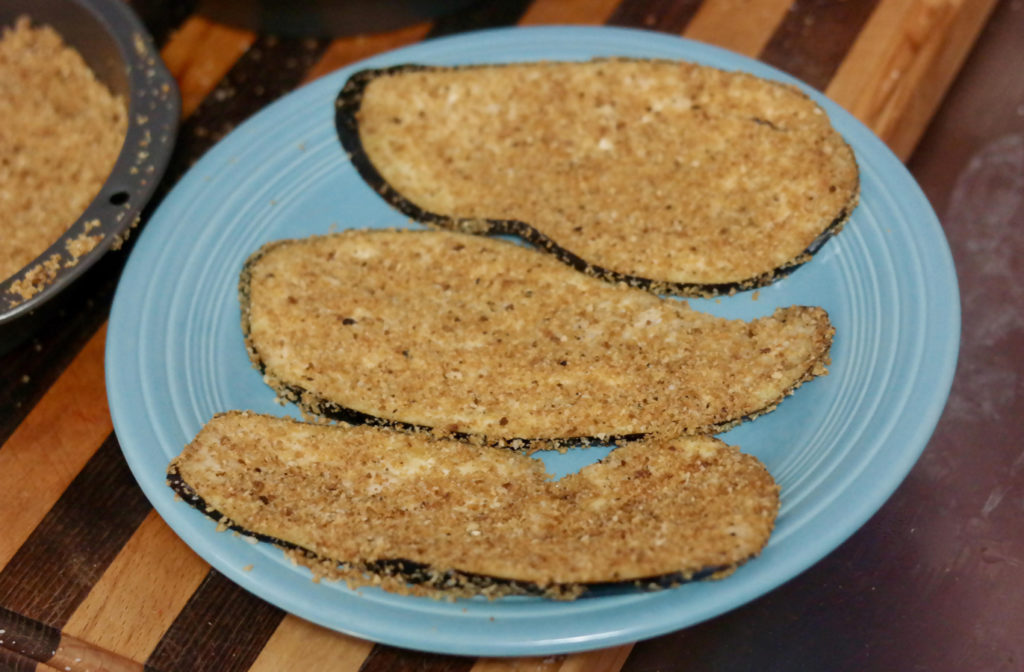 Now in a bowl mix all of your ricotta with an egg and a handful of chopped basil leaves.  Gently spread the ricotta mixture on each eggplant slice.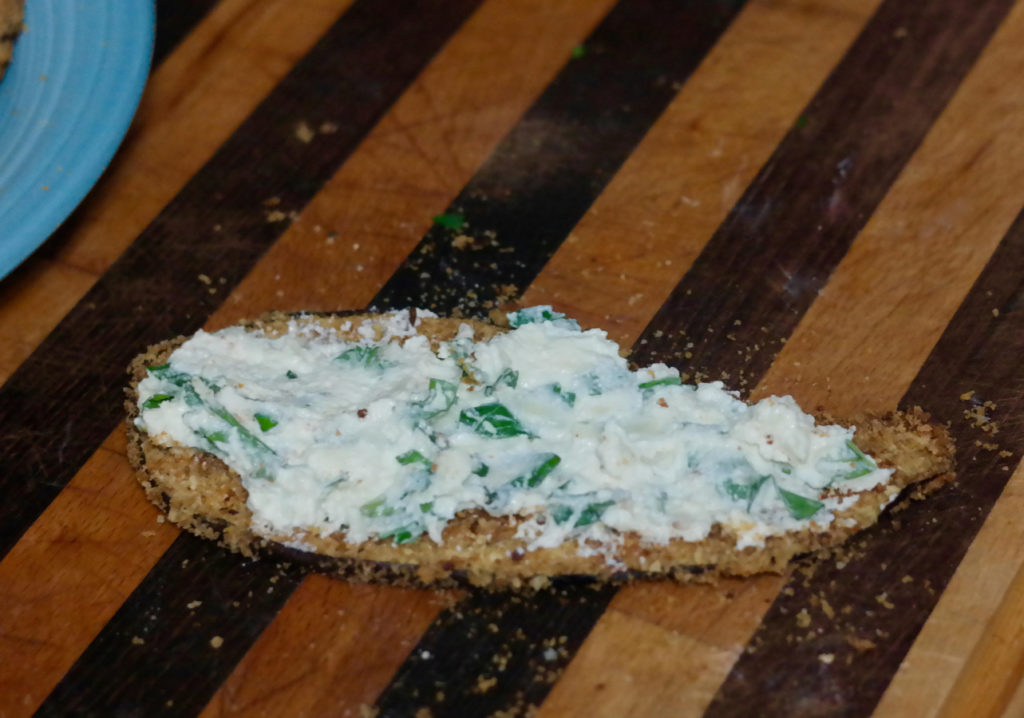 Then roll each slice up tightly.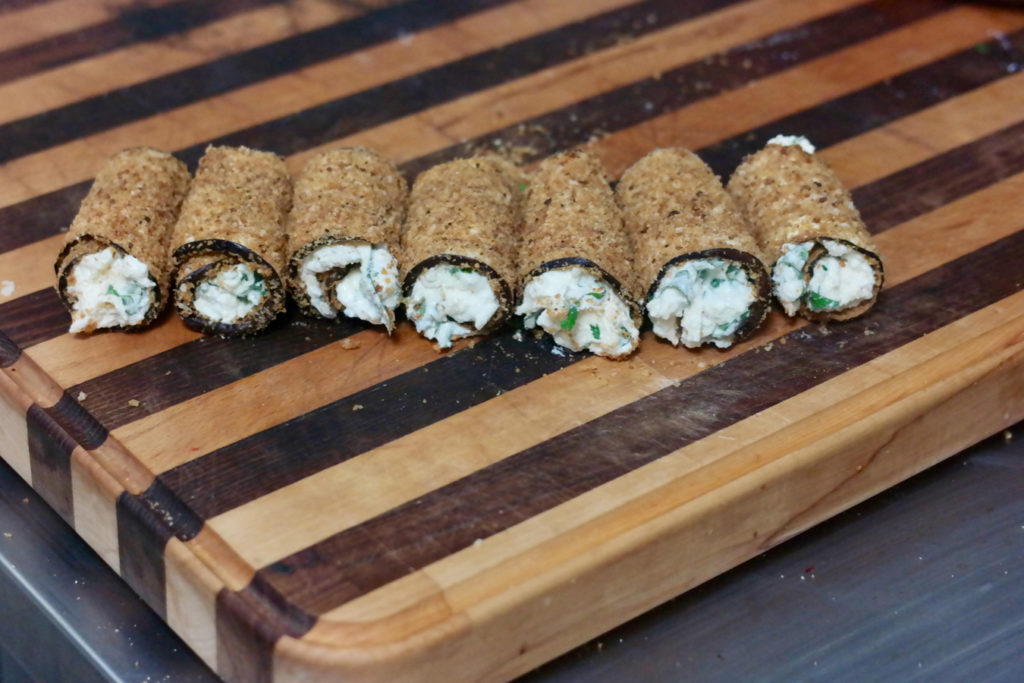 Lay the slices out in a square casserole dish and cover with sauce.  Thinly slice your mozzarella and lay that on top of everything.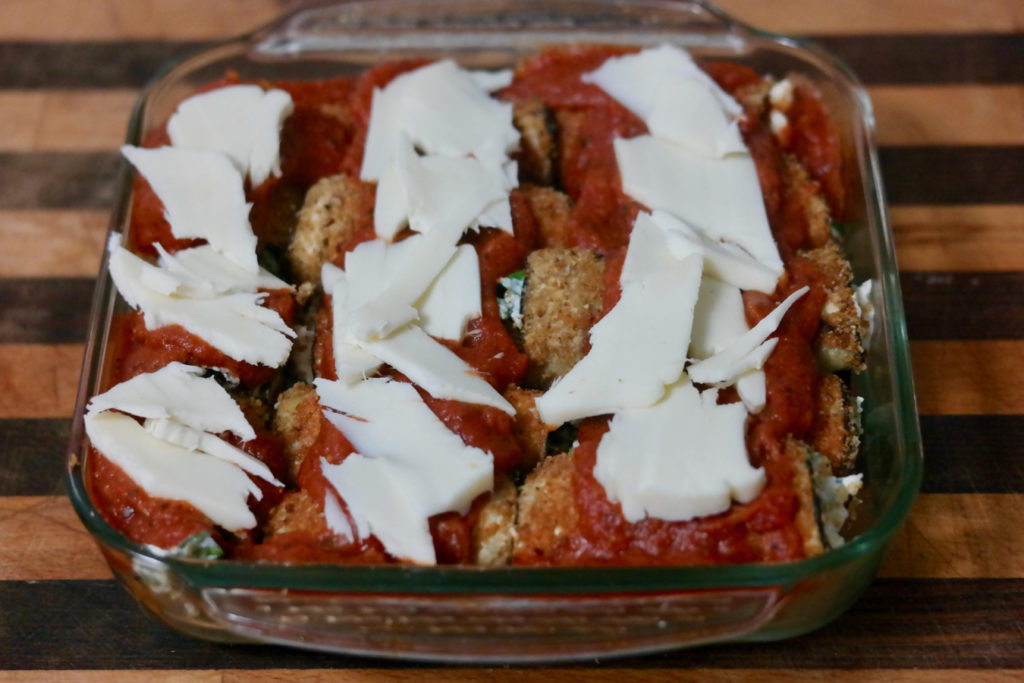 Bake the eggplant at 350°F for 30 minutes, until the cheese is melted and the sauce bubbles.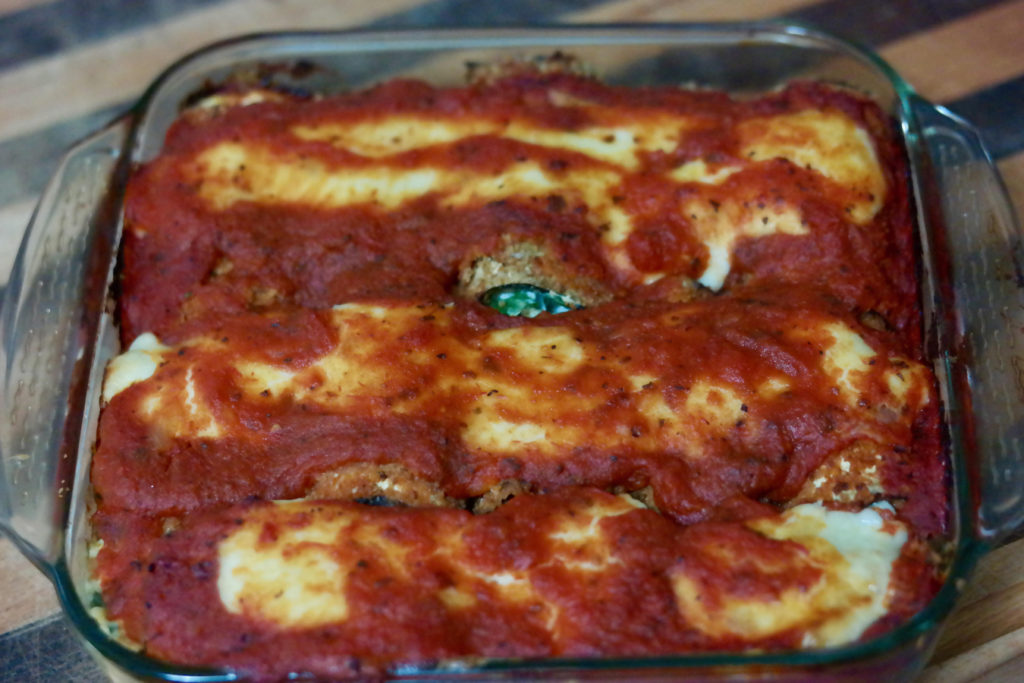 Then you can scoop up some eggplant and serve with extra basil.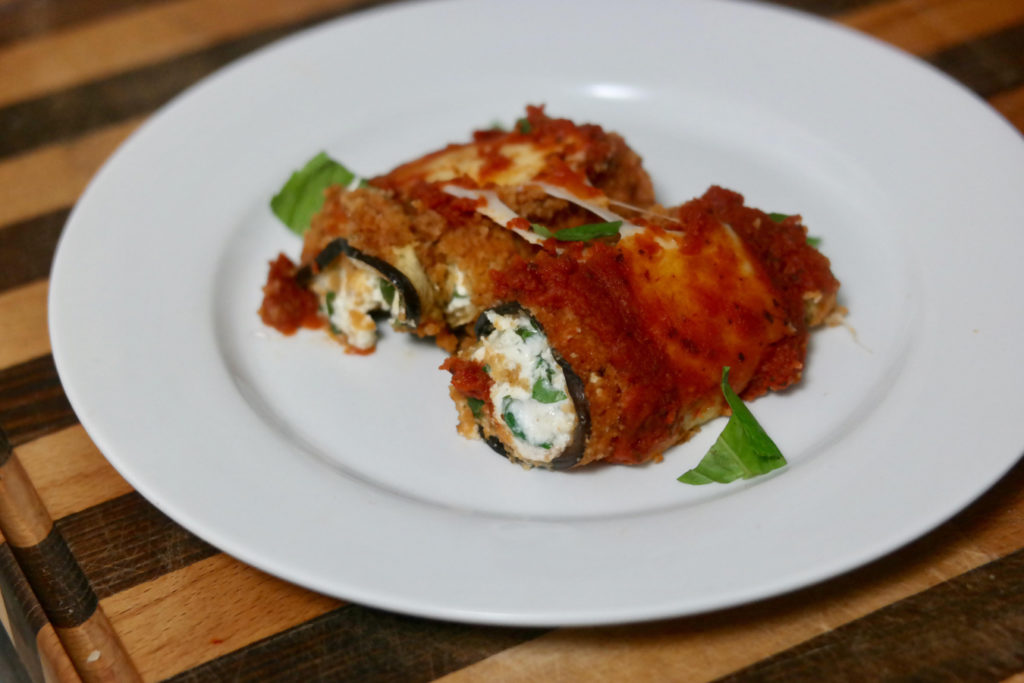 We really like this version of eggplant rollatini that we came up with, because it's a good compromise between being light and being flavorful:  unlike the most traditional rollatini versions, we don't have you fry the eggplant slices, but we also don't skip out on the breading as some healthier recipes do.  Instead we make the eggplant crispy without it being weighed down by oil, so that lets the other ingredients – the cheeses and the sauce – stand out.  It's really fun to have ricotta baked into the middle of each serving of eggplant then and topped with some melty mozzarella and a delicious sauce, and it makes for an unusual yet tasty dish.  So go ahead and slice your eggplant, roll it and bake it and out of your oven comes your own version of an Italian-American classic.