Two weekends ago it was Passover, and that means matzos!  Miriam grew up in a heavily Jewish area where the grocery stores would give away free boxes of matzos in the weeks leading up to this holiday, so she's grown accustomed to snacking on matzo in the early spring.  Because of that, we decided to pay homage to Passover by coming up with our own matzo recipe – and we settled on nachos!  Here crispy broken matzo sheets take the place of tortilla chips, and you can load them up with all kinds of traditional nacho ingredients.  So here's how we made this unique take on a Tex-Mex staple, all from scratch.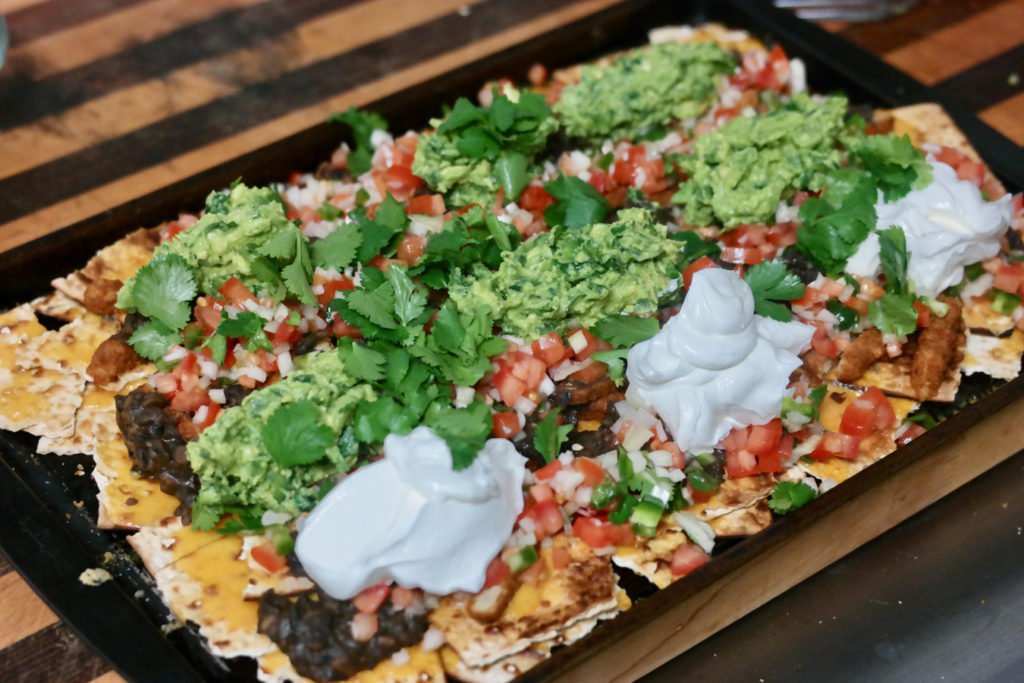 You'll need:
8 sheets of matzo
Butter
An 8-ounce block of cheddar cheese
A 15-ounce can of black beans
A large tomato
An onion
Cilantro
2 jalapeños
An avocado
A lime
Sour cream
Chili powder
Onion powder
Garlic powder
Some meatless chick'n strips or nuggets – we used Nuggs
First, to make your matzo crispy like chips, melt 2 tablespoons of butter and brush it on the tops of your matzo sheets, then stick them in the oven at 350°F for 10 minutes.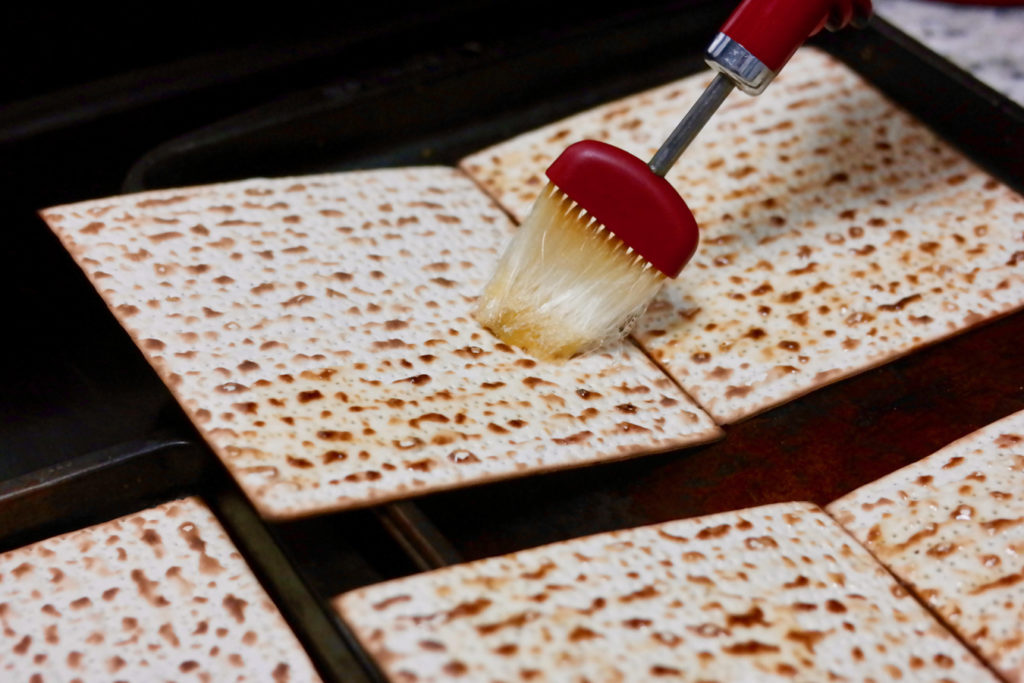 While you're waiting on that you can make some of your toppings – for a pico de gallo, finely chop half of your onion (you can save the other half for something else), your tomato, one jalapeño, and a large handful of cilantro leaves.  Mix all this together with the juice from half of your lime and a pinch of salt.
And for some guacamole, place your avocado in a bowl and add in your second chopped jalapeño, the juice from the other half of the lime, and a pinch of salt.  Mash everything together with a fork.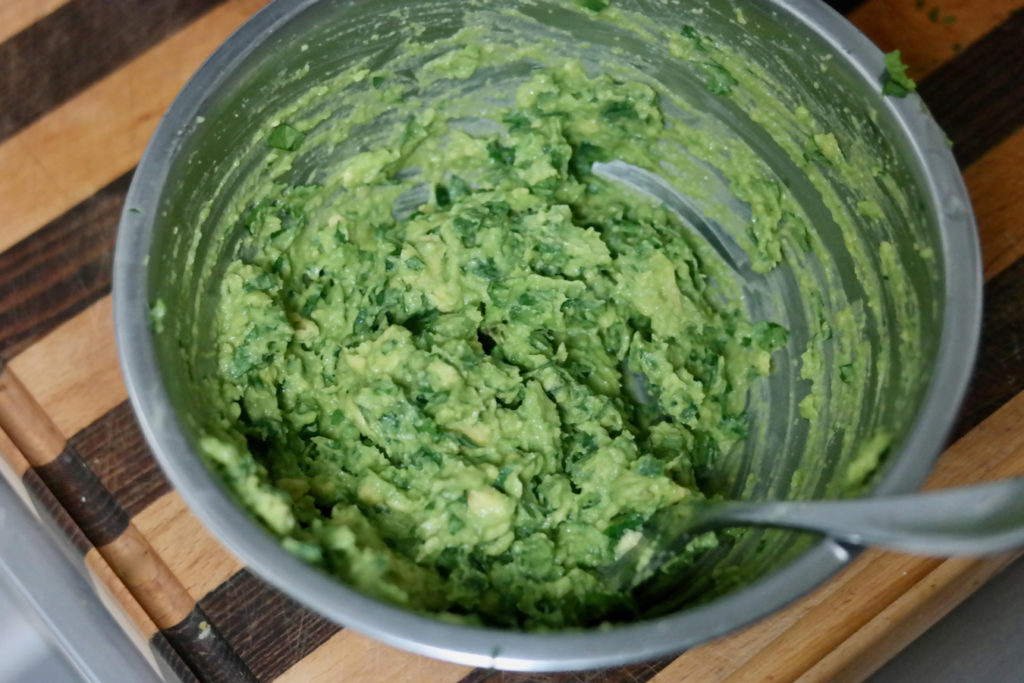 Once your matzos are ready, break them into chip-sized pieces and place half of them on a baking sheet.  Shred your cheese and scatter half onto the matzos, then place them back in the oven for 5 minutes to melt the cheese.
Meanwhile, place your black beans with their liquid in a pot along with 1/2 teaspoon each of chili powder, onion powder, and garlic powder and cook over medium heat for about 10 minutes, until the beans are thickened and not much liquid remains.  You'll also want to defrost your chick'n, and if you're using nuggets slice them into strips.  Now place the chick'n on top of the melted cheese on the matzos, then place the black beans on top of that.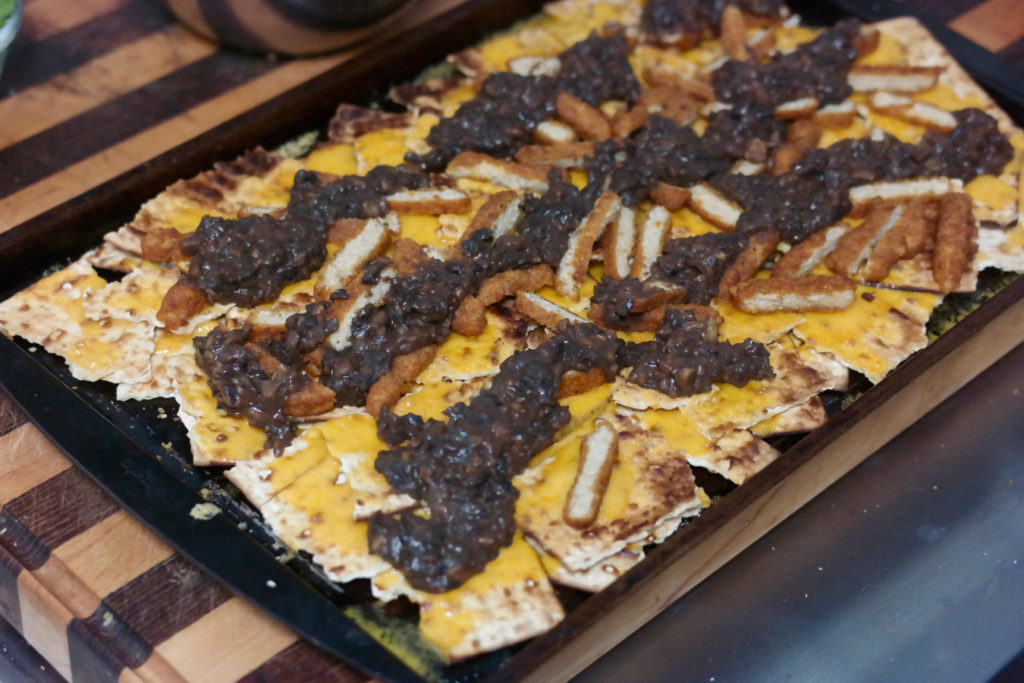 Now do another layer of the rest of your matzos topped with the rest of your cheese and place back in the oven for 5 more minutes to melt this cheese.  When the nachos come out, top with the pico de gallo, the guacamole, dabs of sour cream, and some extra cilantro leaves.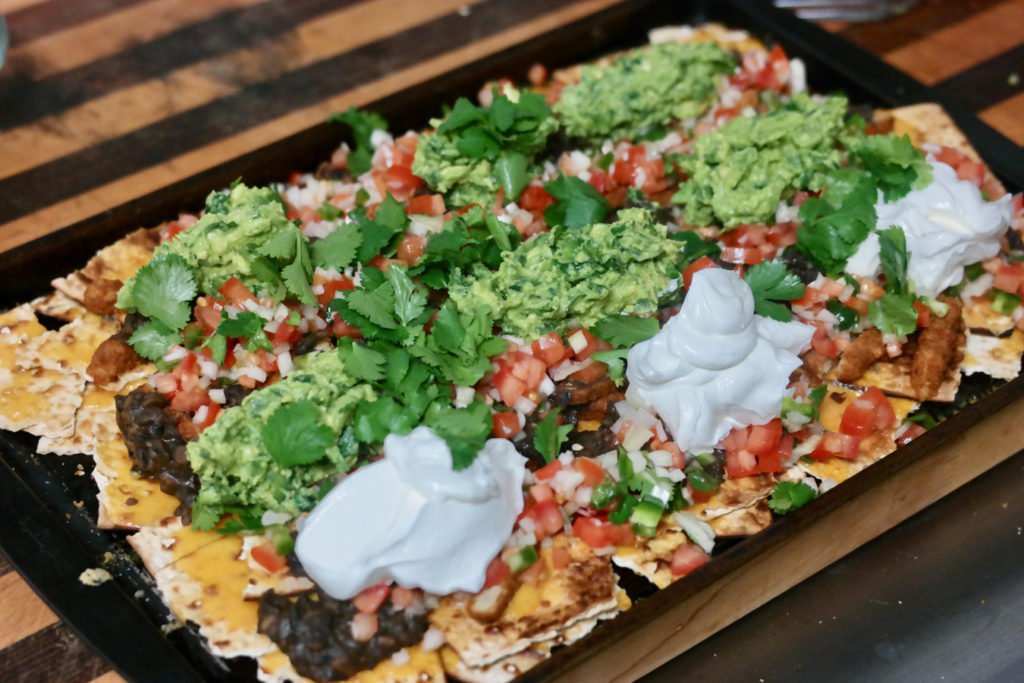 Now you can dig into some matzo nachos!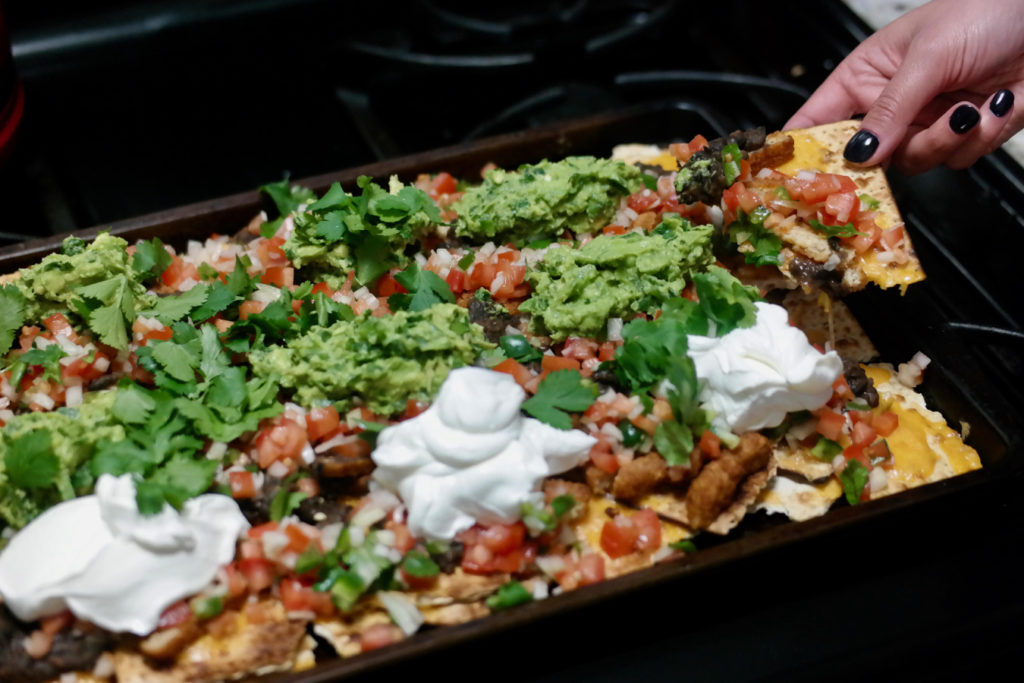 Of course everyone loves nachos (at least, we assume so), and it's fun make a homemade batch and use some interesting ingredients.  Using matzos was a fun variation because they're sturdy enough to stand up to all these ingredients piled on top, and when you brush them with butter and bake them beforehand they turn out nice and crispy like chips.  And then you can put all the classic nacho ingredients on them – beans, pico de gallo, guac, cheese, and sour cream.  The Nuggs were something new to us, but we saw them in a local grocery store and decided to give them a try here, and we think that cutting them into chick'n slices added an extra flavor and heartiness to these nachos.  It's a little extra effort to make everything from scratch, instead of buying premade guacamole and jarred pico de gallo, but it's really satisfying to work for your nachos and have them be totally homemade.  So if you want to chow down Kosher-style, these nachos are an interesting and creative way to eat your box of matzo.