We've featured baked ziti on here before, because it's an Italian-American classic that just happens to be meat-free, but today we want to show you an alternative you can make.  This version is stuffed with some good veggies, which helps balance out all the carbs and cheese, and it's also crafted with two different kinds of sauces so it's a new and interesting departure from traditional baked ziti.  We adapted this from a recipe from the New York Times and it was a great, warm comfort food that we felt good about eating because of the broccoli and cauliflower in it – and since you get such a huge and filling casserole out of this, it also made for some good leftovers the next day.  So follow along as we show you how to make some new and improved baked ziti!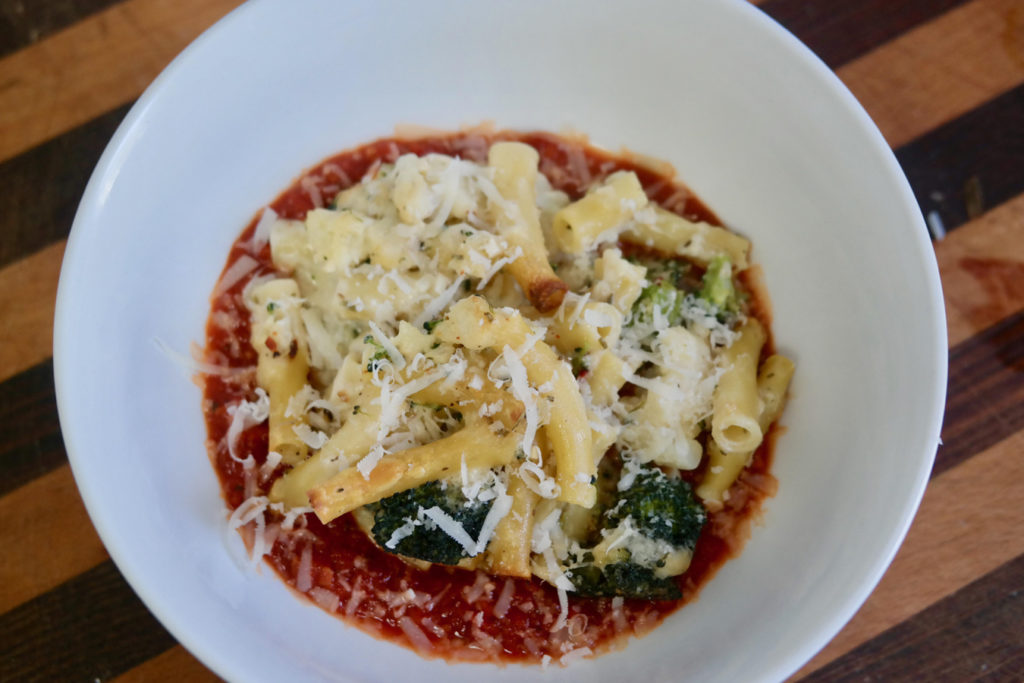 You'll need:
Olive oil
Flour
Whole milk
Nutmeg
2 bay leaves
A 28-ounce can of crushed tomatoes
Garlic
A pound of ziti
A cauliflower
A bunch of broccoli
Red pepper flakes
3 ounces of provolone
Parmesan cheese
You'll want to start by boiling some water and cooking the ziti in it for exactly 7 minutes.  While you're waiting, make your first sauce by whisking together 3 tablespoons of olive oil with 3 tablespoons of flour over medium-high heat and letting it cook for just a minute before whisking in a cup of milk.  When the mixture simmers, add in another cup of milk and let it simmer before adding in a final cup of milk.  Once this sauce is thickened, add in a bay leaf and 1/4 teaspoon of nutmeg and let the sauce cook over low heat for 10 minutes, stirring it around every so often.
When the pasta is done boiling, fish it out of the water with a strainer and set it in a colander to drain.  Chop your broccoli into florets and let it boil in the same water for 2 minutes, then fish it out as well to drain.  Cut up the cauliflower into bite-sized pieces  and let it boil for 2 minutes as well, then strain out and drain.  Dump out the cooking water and place the broccoli and cauliflower into the empty pot along with a sprinkling of red pepper flakes and 2 tablespoons of olive oil.  Dice up 3 garlic cloves, add those in, and mix everything together.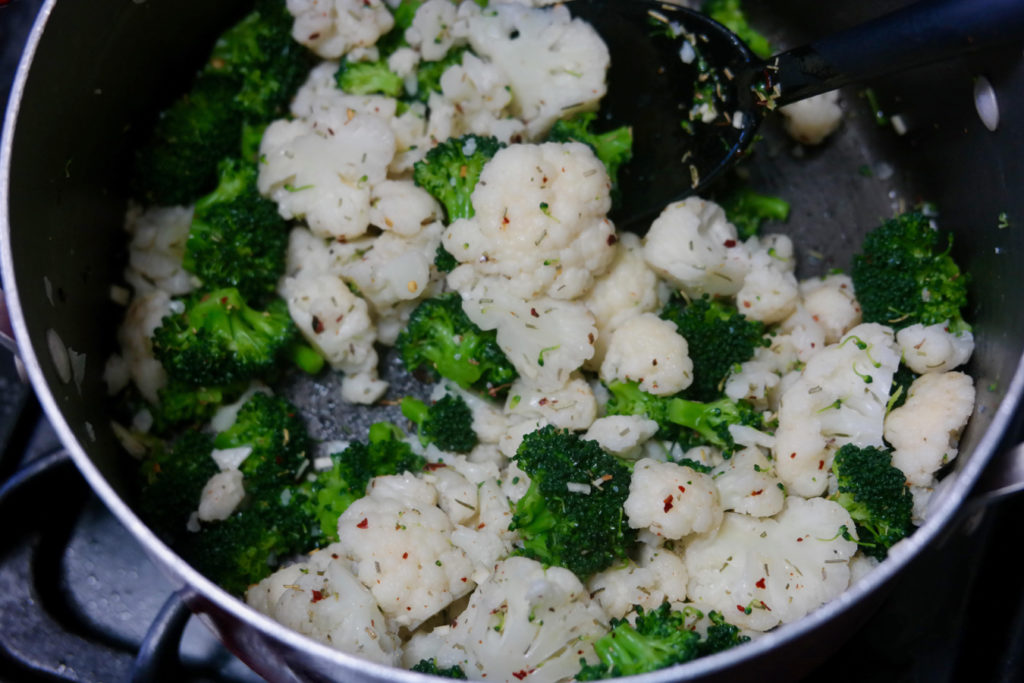 Mix in the pasta and the white sauce (with the bay leaf taken out).  Shred up your provolone and grate a cup of Parmesan and stir those in, then turn the whole mixture into a large casserole dish.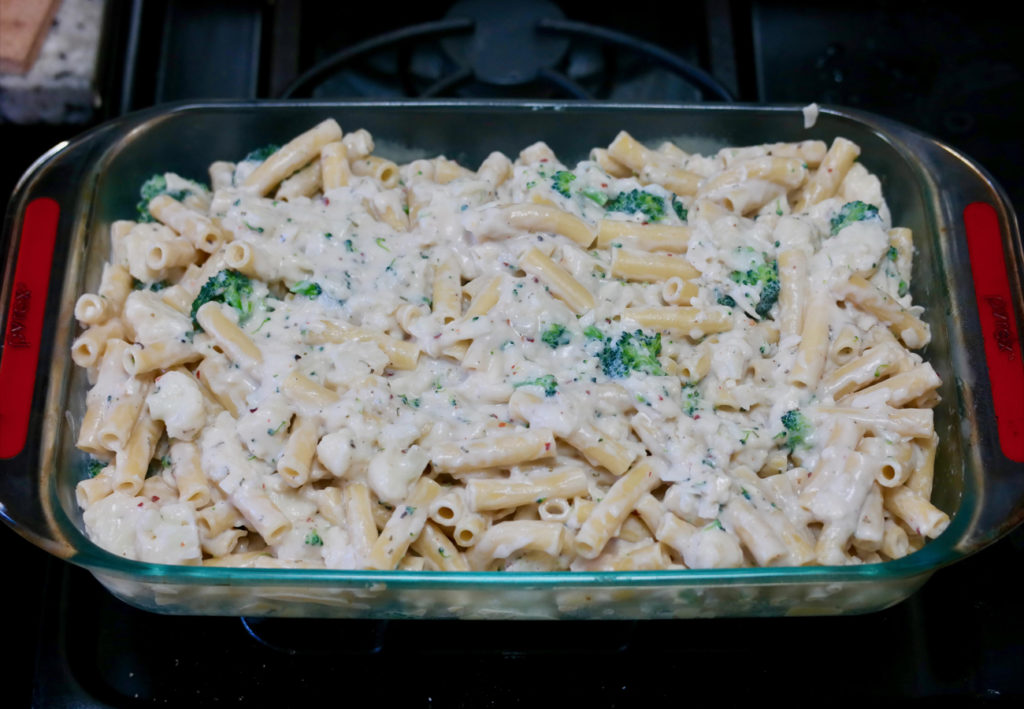 Bake at 400°F for 40 minutes.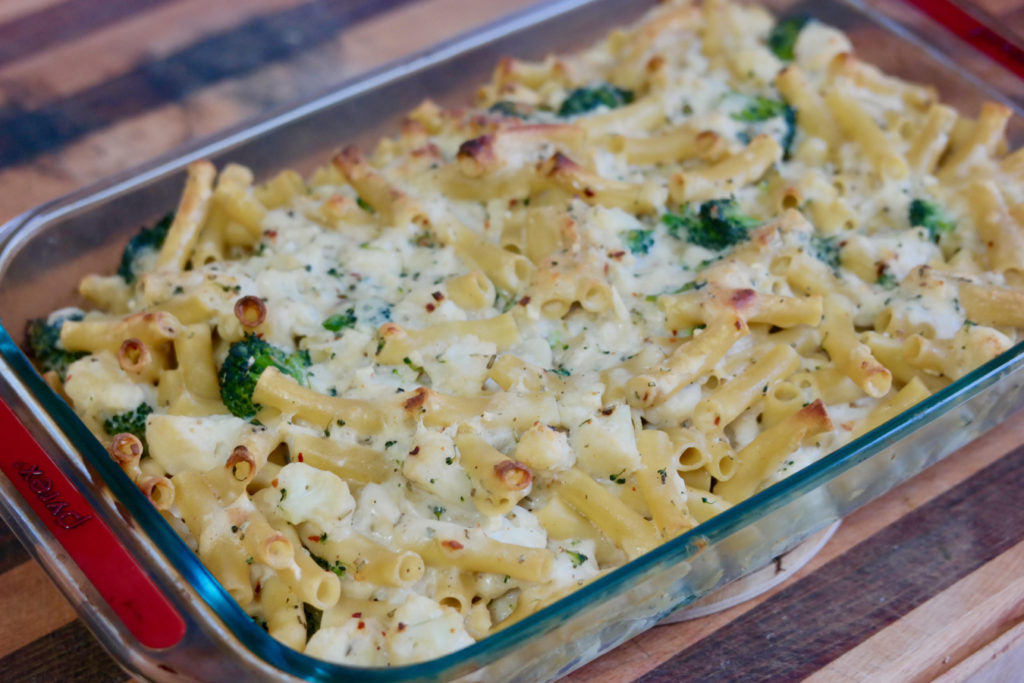 While you're waiting on the pasta to bake, make your second sauce by placing the crushed tomatoes in a pan along with 3 diced garlic cloves, 2 tablespoons of olive oil, and a bay leaf.  Bring everything to a boil and then simmer on low for 10 minutes.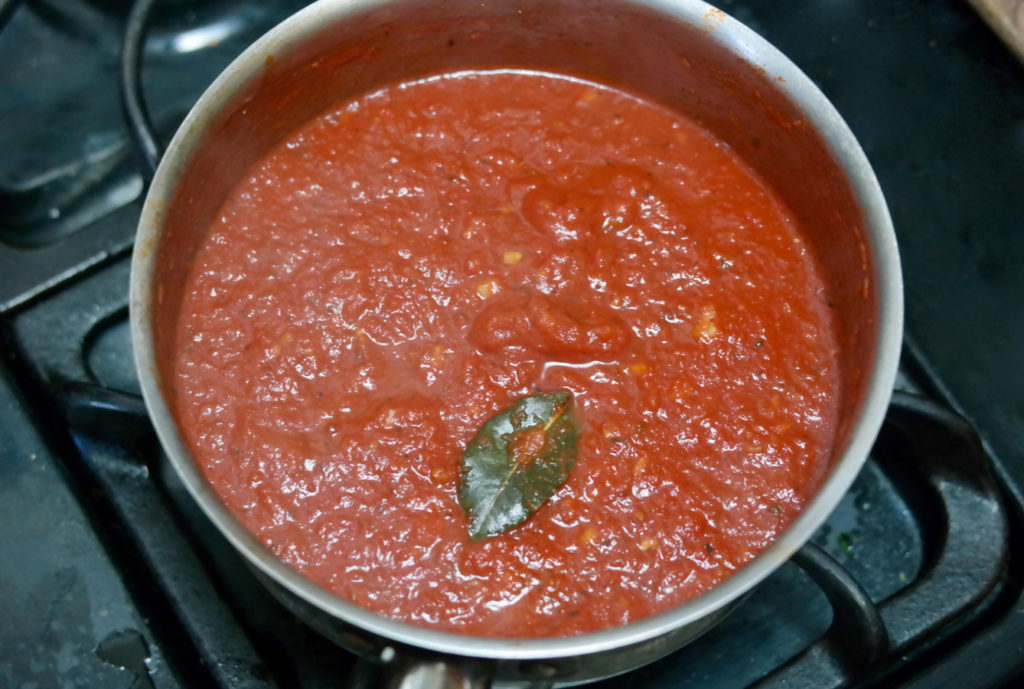 Once the pasta comes out of the oven, let it cool for 10 minutes.  Then dish out red sauce into the bottom of bowls and scoop out the pasta to nest in the sauce.  Top with extra grated Parmesan, and enjoy!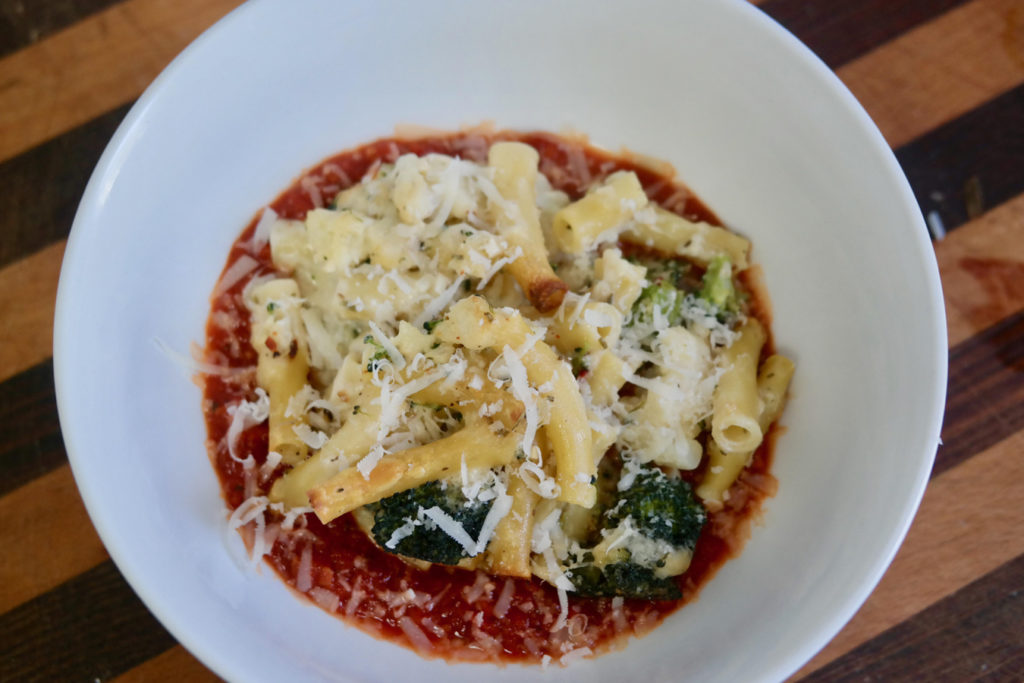 What we really like in this dish – apart from the pasta, of course – was all the interesting ways that it differs from your usual baked ziti:  it has broccoli and cauliflower in it along with the noodles, it uses provolone instead of mozzarella as the cheese to bind everything together, and it's baked with a white sauce in addition to your standard red.  This all makes for an interesting and delicious take on something you might have eaten a thousand times and never thought to change up.  But change is sometimes a good thing, and we think this tasty and hearty meal proves that so well.