Grilled cheese is a classic, easy meatless sandwich that we come to love as children and then carry over into our adult years in the form of fancy, elevated finger food.  We've previously made some overstuffed grilled cheeses, but we're always looking for a new way to cook up this comfort food classic – so we were delighted to come across this recipe from Bon Appétit.  We experimented and adapted it for ourselves and were very happy with the cheesy, hearty, delicious result.  Below, we'll walk you through how to make this interesting take on grilled cheese and get four sandwiches of your own.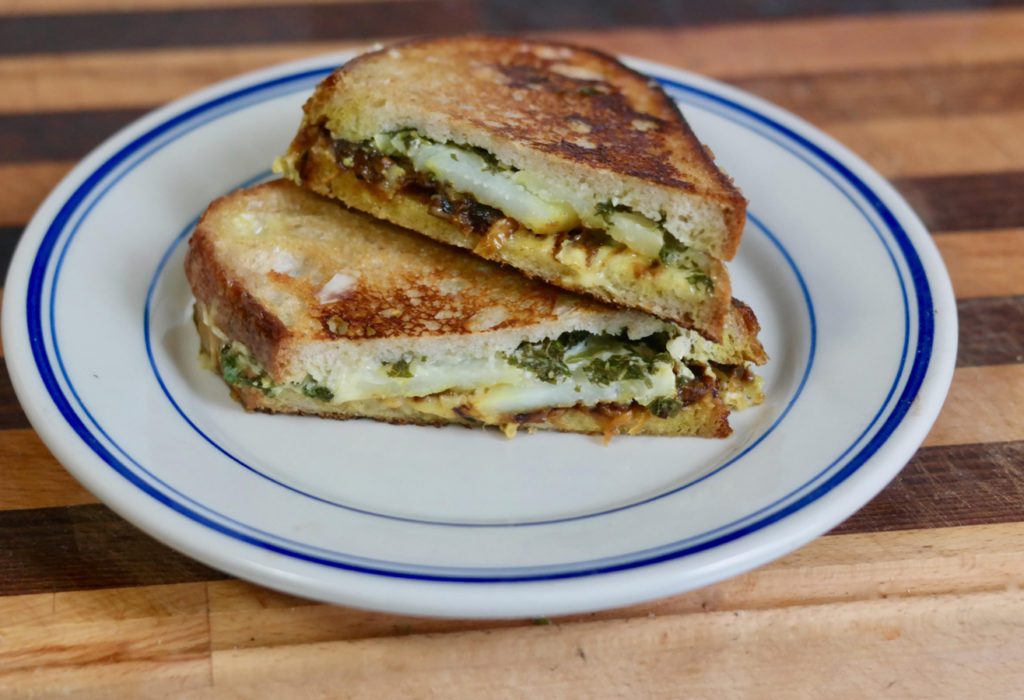 You'll need:
Vegetable oil
Mustard seeds
Turmeric
An onion
Scallions
A serrano pepper
Garlic
Ginger
Cilantro
Mint
A lemon
2 Yukon gold potatoes
6 ounces of Monterey Jack cheese
6 ounces of sharp white cheddar cheese
Curry powder
Butter
Half a loaf of sourdough bread
You'll want to start by prepping the sandwich ingredients:  first, place your potatoes into a pot, cover them with at least an inch of water, sprinkle a generous amount of salt into the water, and bring this all to a boil.  Turn the heat down and simmer the potatoes in the water for 35 minutes, then strain them out of the water and onto a towel and once they've cooled peel the skins off (the skin should come off in strips when you pinch it).  Let the potatoes cool for another 5 minutes or so, then cut them into 1/4-inch slices.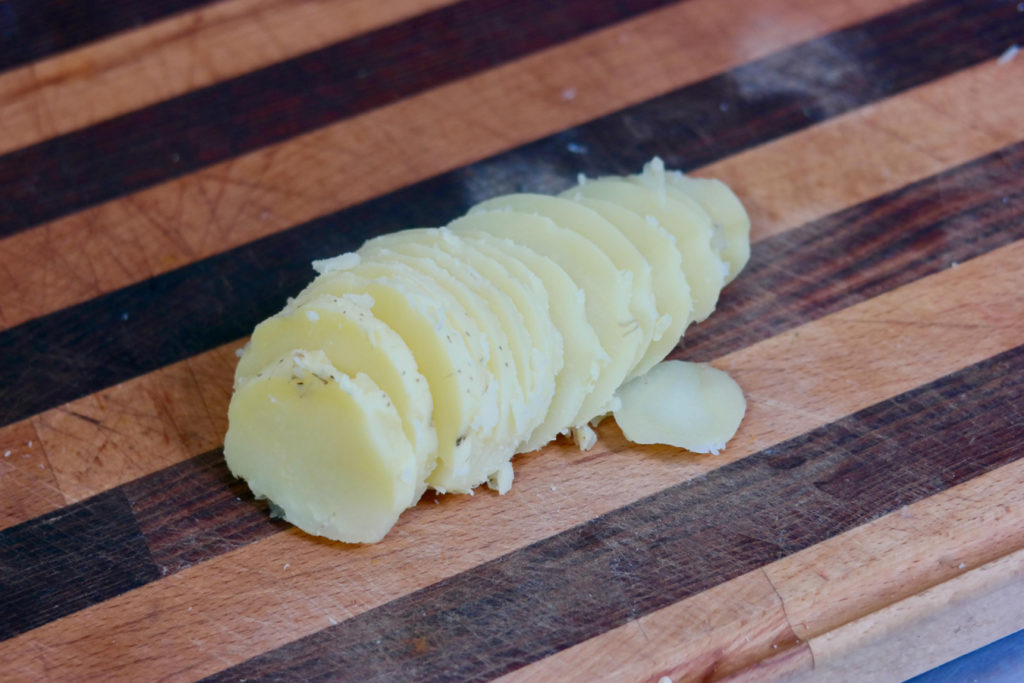 While you're waiting on the potatoes you can slice your onion thinly, then in a skillet measure 2 tablespoons of oil and 1/2 teaspoon each of mustard seeds and turmeric.  Cook these spices over medium-high heat for a minute, stirring continuously, then add in the onion and cook for 4 minutes while stirring everything around occasionally.  Turn the heat to medium-low and continue cooking the onions for 15 minutes, stirring every 2 minutes to make sure they aren't sticking to the pan or burning.  The onions should be done once they're very soft and clumping together.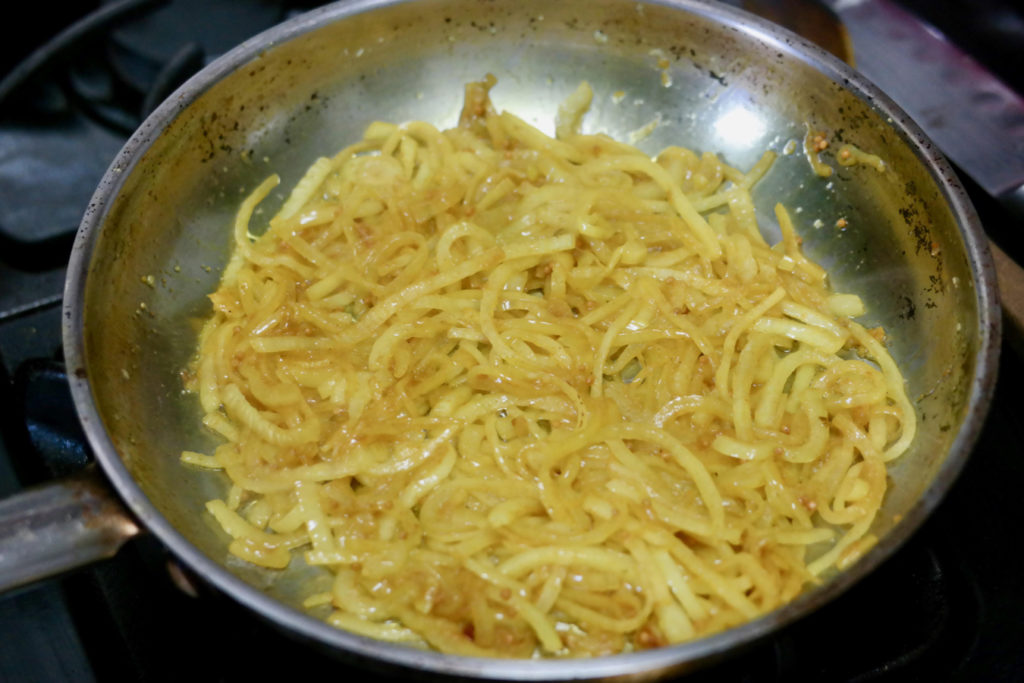 Finally, make a spread for the sandwiches by chopping 2 scallions, your serrano pepper, a small piece of peeled ginger, and 1 1/4 cups of cilantro leaves and placing them in a food processor.  Smash a garlic clove and add that in along with 1/2 cup of mint leaves, 2/3 cup of water, the juice from half your lemon, and a pinch of salt.  Puree everything together into a smooth mixture.
Now you can cut your bread into 8 slices and place the green spread on 4 slices.  Grate up both your cheeses and distribute half of each cheese among those four slices, layering it over the spread.
Then on top of that first layer of cheese, place overlapping potato slices and sprinkle them with curry powder.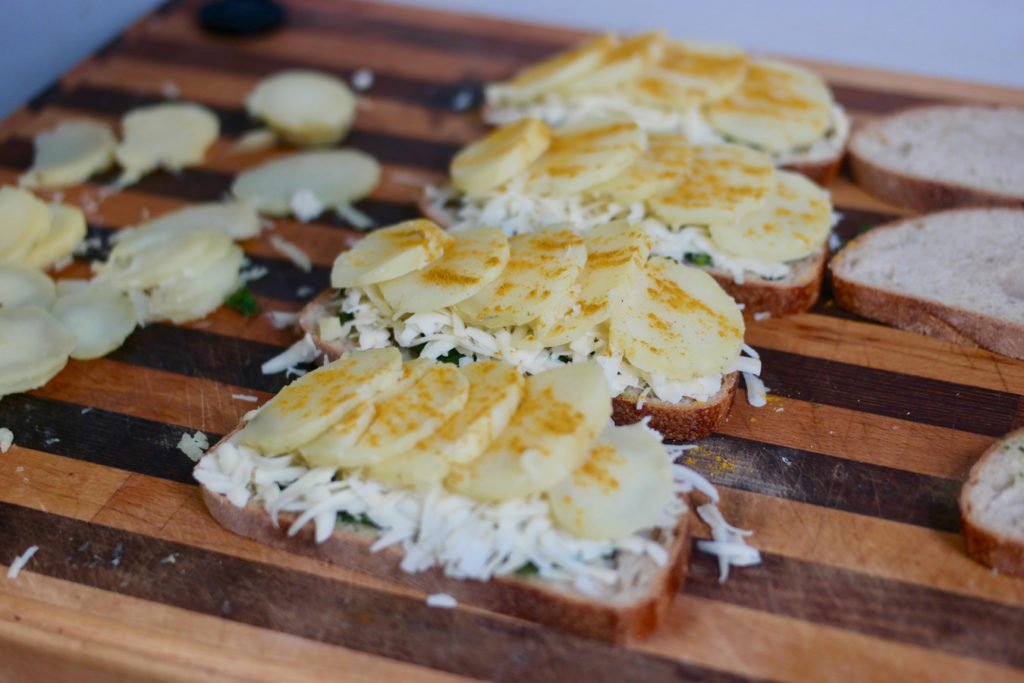 Top with some onions and the remaining cheese.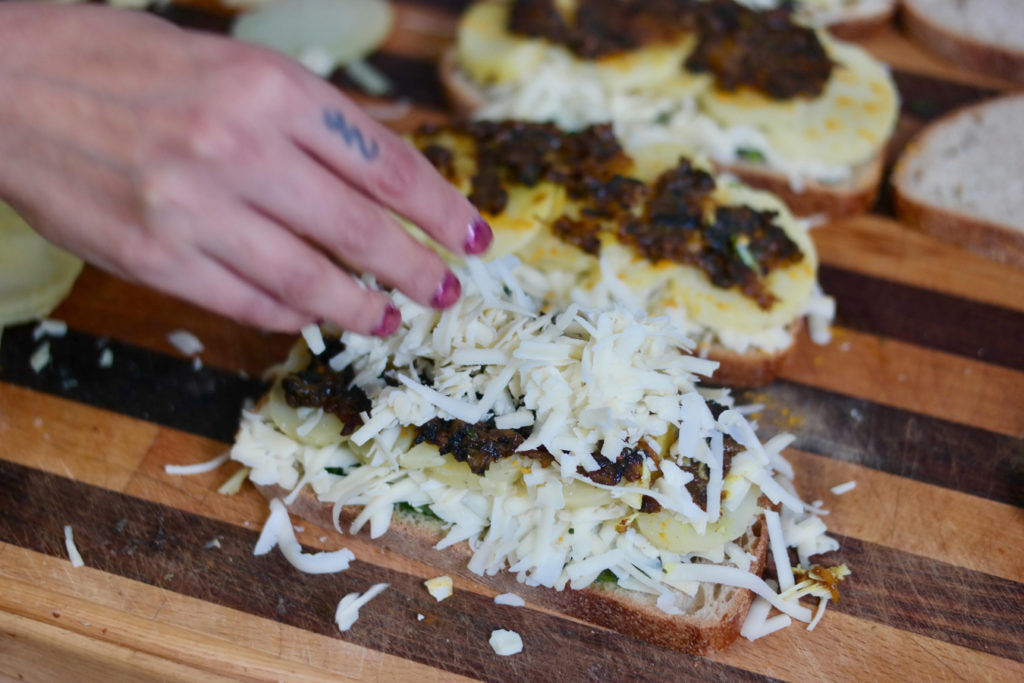 Close each sandwich with the rest of the bread slices.  In a large skillet melt a tablespoon of butter over medium heat and place in two sandwiches.  Place a baking sheet or something else heavy on top of the sandwiches and cook for a few minutes until the bread browns but doesn't burn.  Flip them over and cook on the other side, again weighing them down into the skillet.  When they're done, take them out, add another tablespoon of butter to the skillet, and cook your other two sandwiches the same way.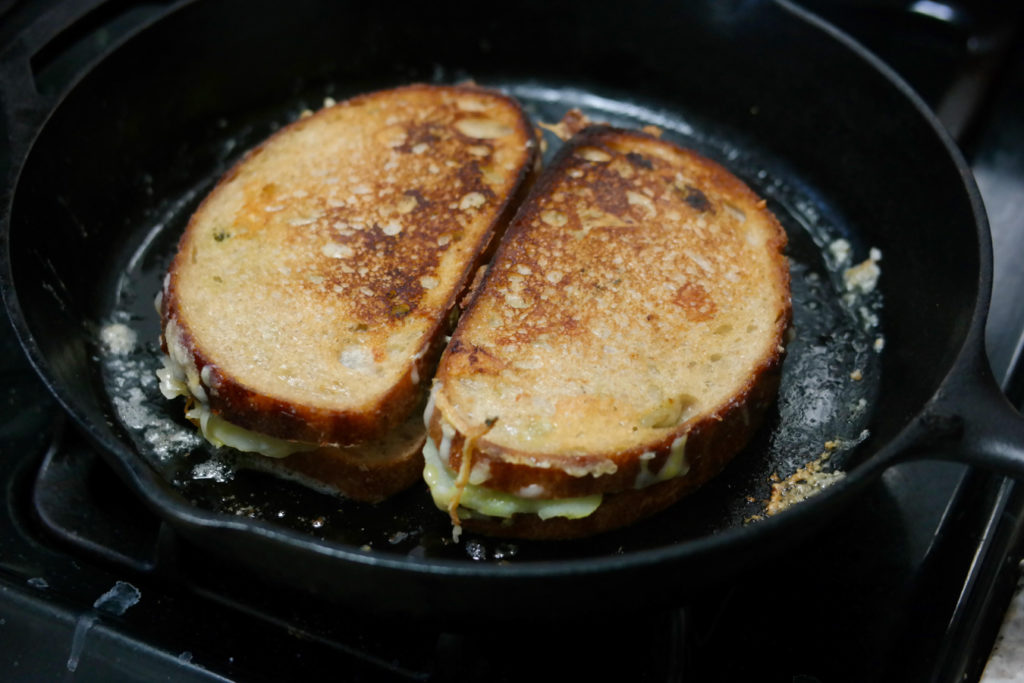 Once your sandwiches are cool enough to handle, you can cut them in half to eat!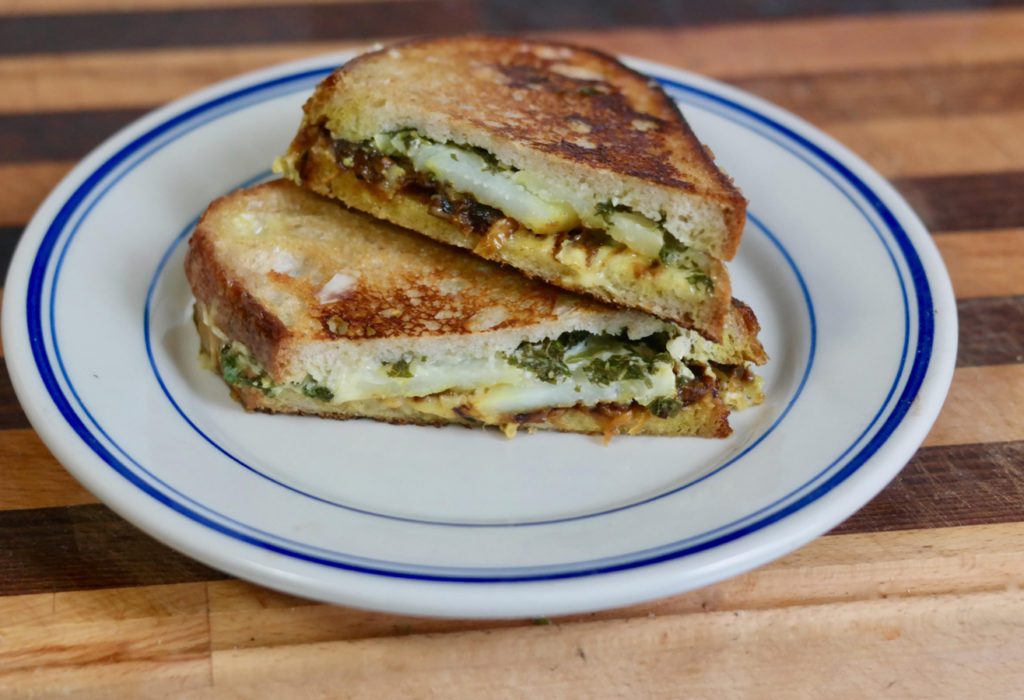 This is definitely an interesting take on a grilled cheese:  it's stuffed with curried potato slices, an herbed spread, and spiced onions, along with two delicious types of cheeses.  It might seem odd at first to stick potatoes inside a grilled cheese sandwich, but Yukon golds have a reputation for being rich and buttery, so they pair well with the plentiful cheese.  The onions, cooked until soft with two different spices, and the spread made from several different types of greens add to the many flavors all contained in these sandwiches.  These definitely take more time to prepare than your normal grilled cheese, and require a bunch of ingredients, but the time and effort is worth it to get these amazing, cheesy, tasty sandwiches.