We had some extra polenta sitting around in our kitchen from when we made these buffalo polenta bites for the Super Bowl this year, and we were wondering what to do with it – and then we came across this recipe in the New York Times.  We thought it sounded like a great way to put the rest of our polenta to use, along with some cheese and tomato sauce we already had lying around, so we adapted it for ourselves.  This isn't just a regular old polenta casserole, though:  as you can see above, it takes some careful arranging of all the ingredients to get this masterpiece.  Not only is it super cool looking, it's also really tasty, as you might expect from a dish made with creamy polenta and two different kinds of cheeses.  It'll take some time and effort to put this whole thing together, but follow along with us and we'll walk you through it.
T0 make this, you'll need:
Milk
Garlic
Olive oil
Cornmeal
Parmesan cheese
An onion
Red pepper flakes
Oregano
A 29-ounce can of crushed tomatoes
7 ounces of Fontina cheese
Parsley
The first step is to prepare your polenta:  finely chop 3 garlic cloves and place them in a pot along with 2 3/4 cup of milk, 1 1/2 tablespoons of olive oil, and a generous sprinkling of salt and pepper.  Bring all this to a gentle simmer over medium-high heat, then turn the heat down slightly and gradually whisk in 1 1/3 cups of cornmeal.  Whisk until the mixture is smooth, then cook for another few minutes while stirring with a spatula until the polenta is thickened and starts unsticking from the pot.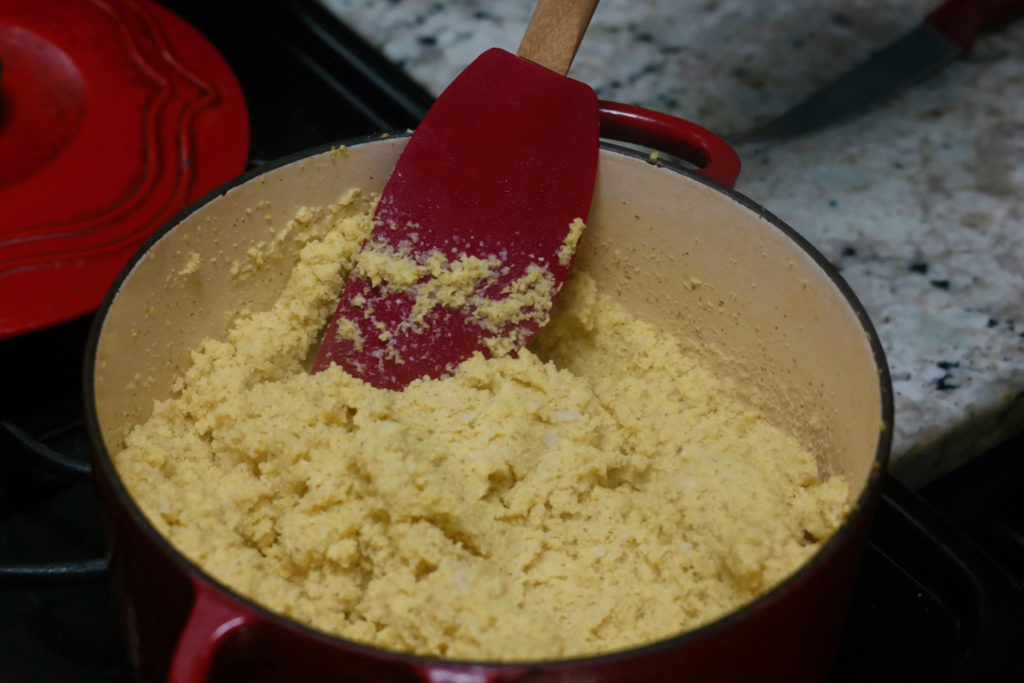 Grate 2/3 cup of Parmesan and mix that in, then take the pot off the heat.  Cut a piece of parchment paper that's 16 inches long and about a foot wide and place the polenta into the center.  Shape the polenta into an even tube that's about 13 inches long, then roll the parchment paper around the polenta and twist the ends around to secure the polenta inside.  Let the polenta cool in your fridge for at least an hour.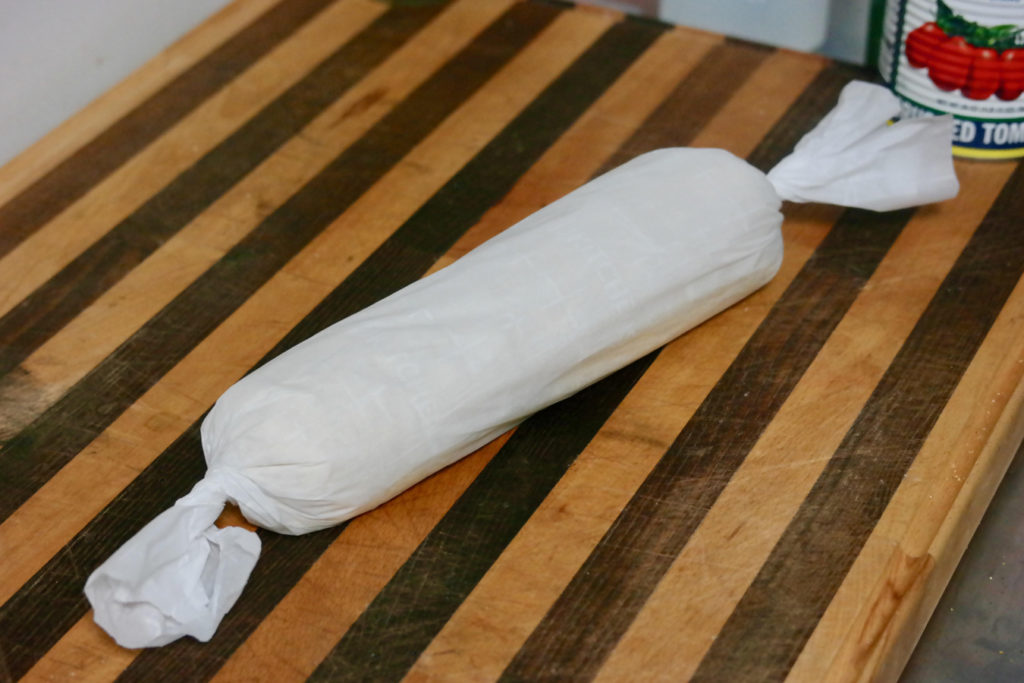 A few minutes before you're ready to pull the polenta out of the fridge, you can make your sauce by warming 1/4 cup of olive oil over medium-high heat in a large, wide, oven-proof pan.  Chop up your onion and add that in to cook for about 5 minutes, until it's softened and just starts to brown.  Dice up another 6 garlic cloves and stir those in to cook for a minute or so, along with a sprinkling of red pepper flakes and 1/3 cup of oregano leaves.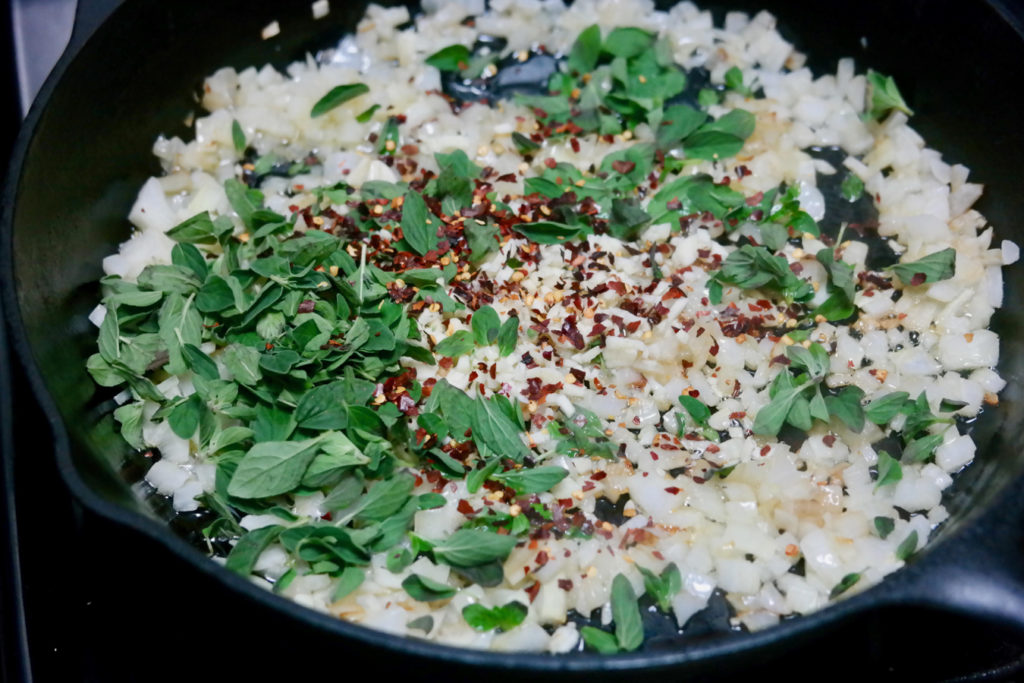 Then pour in your crushed tomatoes, add in a teaspoon of sugar and some salt and pepper, and stir everything to come to a simmer over medium-high heat.  Bring the heat down slightly and let the sauce cook for 20 minutes, stirring every so often.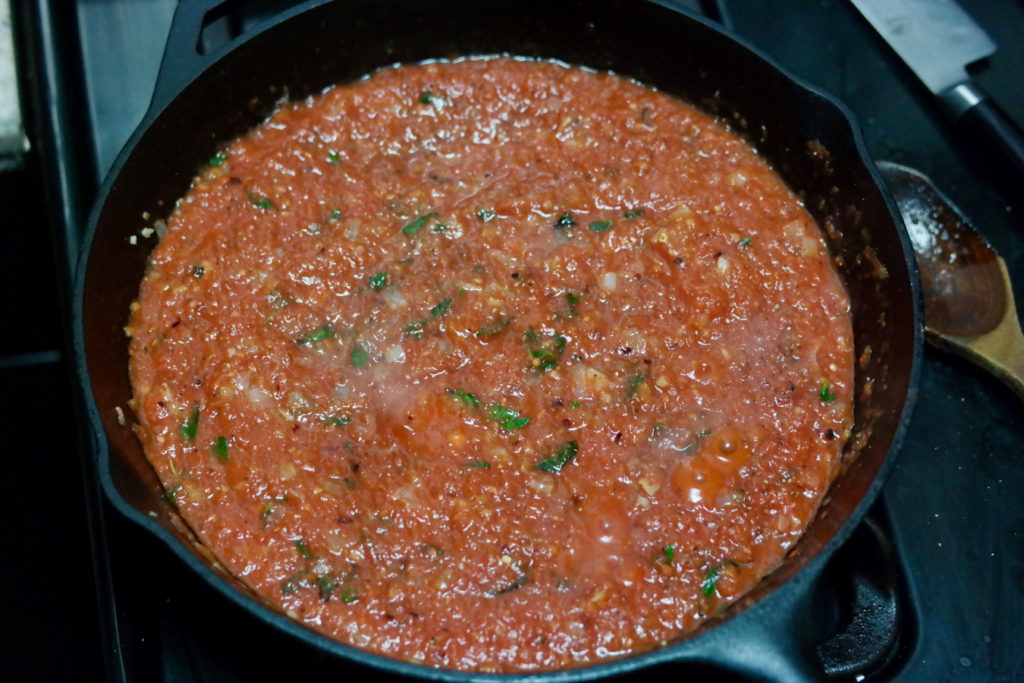 When you're ready, unwrap the polenta and cut it into slices that are about 1/3-inch thick.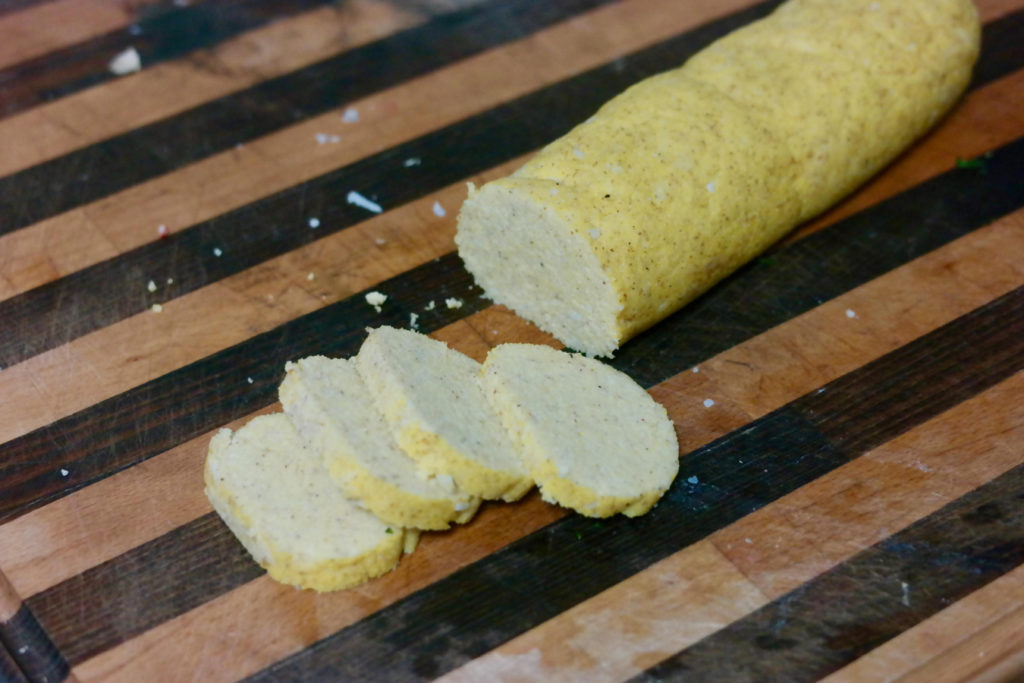 Cut your fontina cheese into slices that are as thin as possible, then array them on top of the sauce.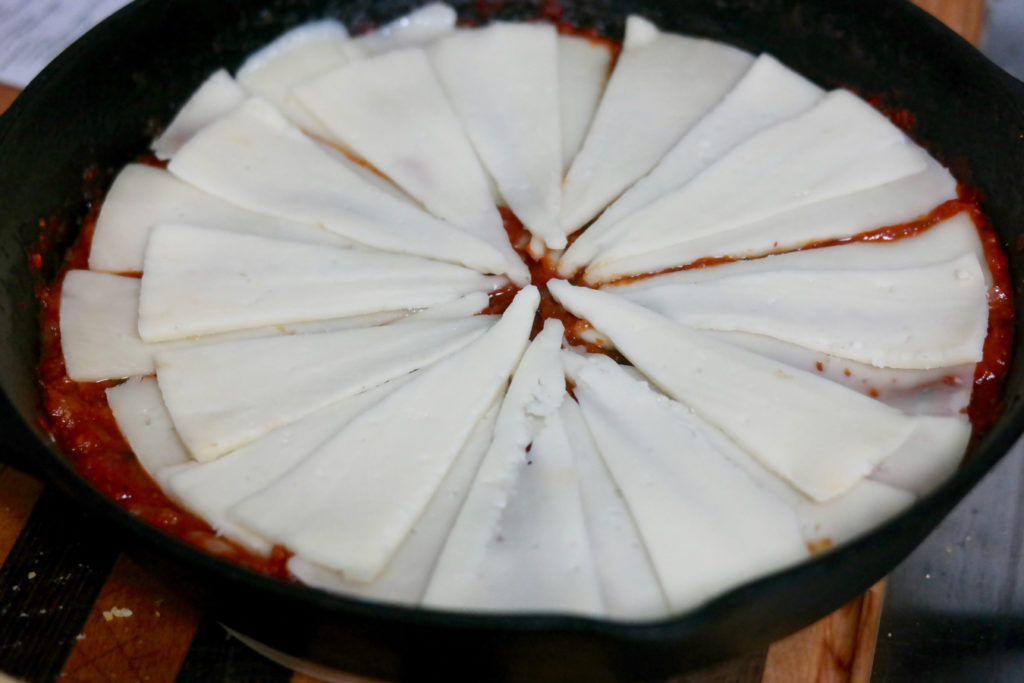 Top with the slices of polenta, set out in a spiraling pattern.  Pour 2 tablespoons of olive oil evenly over everything.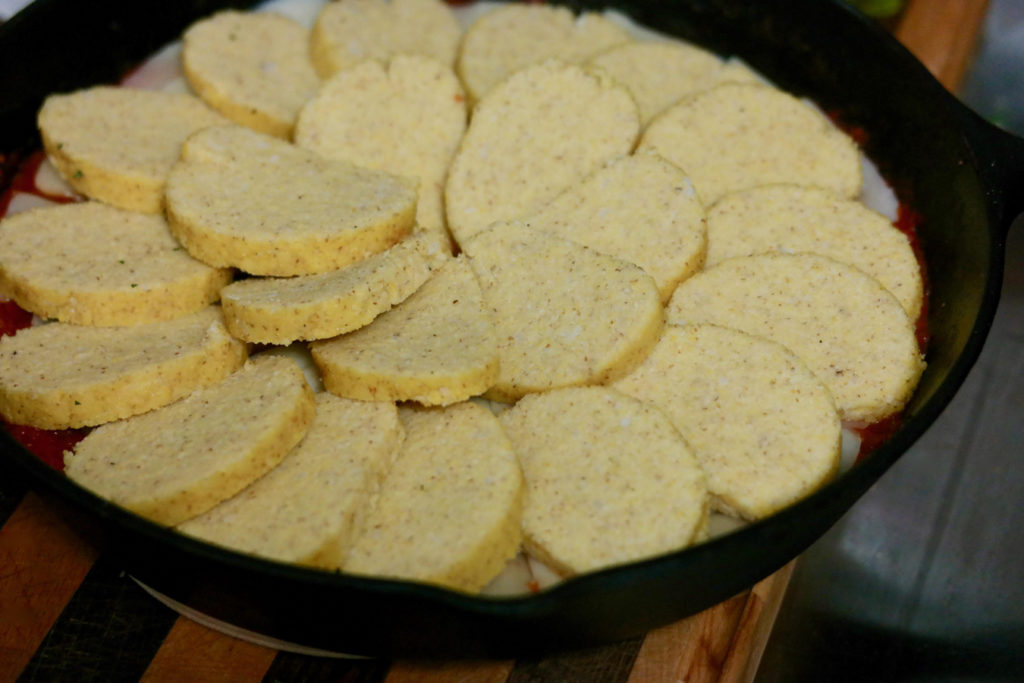 Bake at 450°F for 30 minutes or so, until the polenta is browned in spots.  When it comes out of the oven, let the whole thing cool for 10 minutes, then mix 1/3 cup of shredded Parmesan with some red pepper flakes and 2 tablespoons of chopped parsley leaves.  Spread this on top of the polenta.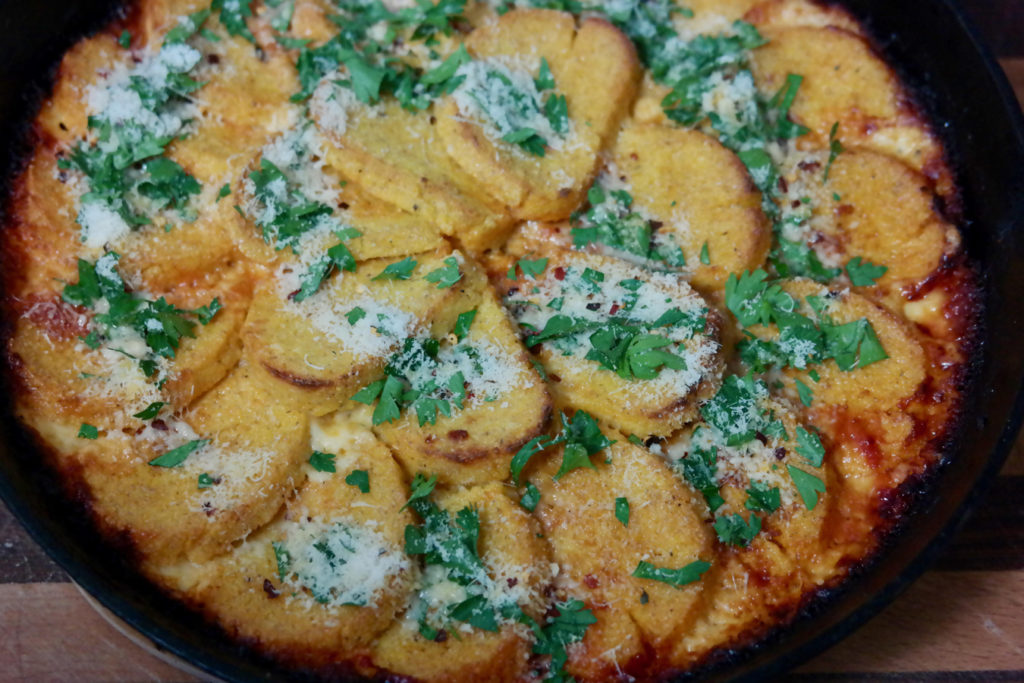 Now you can scoop out servings of polenta to eat!
If nothing else, we really liked the way this looked coming out of the oven, with the polenta slices swirled on top of each other, with herbs and Parmesan scattered about, and with tomato sauce peeking out from underneath.  But food doesn't get by on looks alone, so we were also happy with how delicious this turned out to be.  Cheese and red sauce is a classic combo, and here it pairs well with the polenta slices that are made crispy in the oven – plus, using Fontina instead of your typical mozzarella adds an interesting new dimension of flavor.  It takes some planning ahead to make this dish, since you need to set aside time for the polenta to chill, but we're glad we tried this because it was an impressive and tasty comfort food meal for us.