Well, we did it – we finally made the viral feta and tomato pasta.  In case you didn't hear about this, here's a recap:  back in January, a Finnish food blogger named Jenni Hayrinen uploaded a video to TikTok of a super easy pasta she made by baking tomatoes and a block of feta together.  The recipe became so popular that it caused shortages of feta around the world (here's a good article about the whole phenomena).  So we decided to try it for ourselves now, and we can report back that it's both delicious and insanely easy – and if you want to make it for yourself, we'll show you in four easy steps.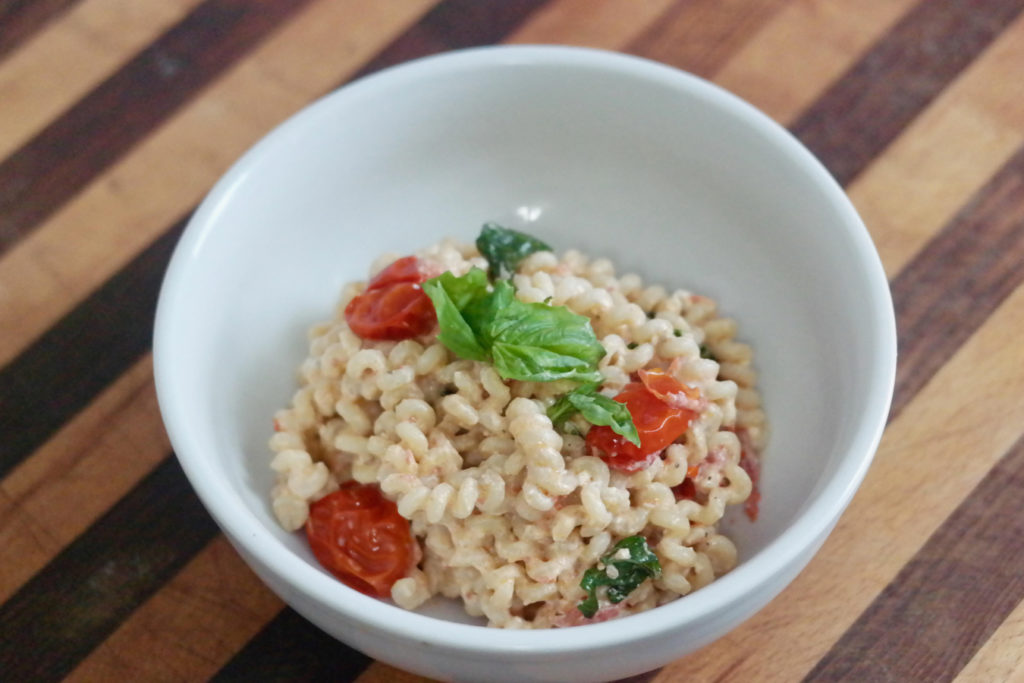 You'll need:
2 pints of cherry tomatoes
Olive oil
An 8-ounce block of feta cheese
Garlic
Basil
A pound of pasta – we used some long fusilli that we found at Pastosa Ravioli
To start, place all of your tomatoes into a baking dish and mix with 1/2 cup of olive oil.  Make a space in the center of the dish and place in the feta, flipping it over several times to coat it in olive oil.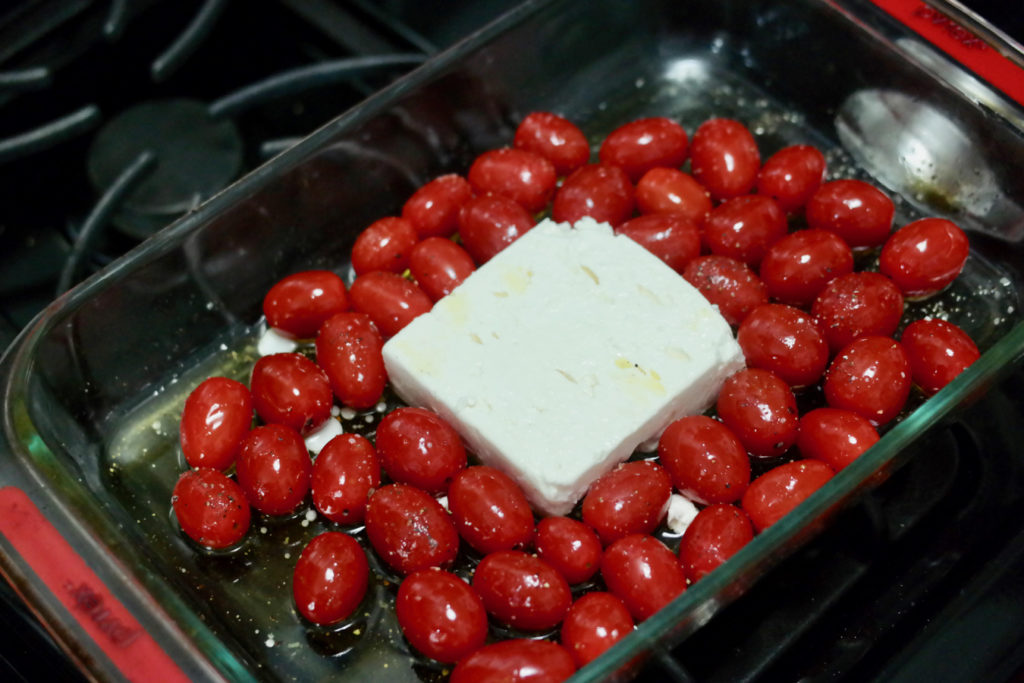 Bake at 400°F for 35 minutes, and while you're waiting cook you pasta.  When the tomatoes and feta come out of the oven they should look something like this: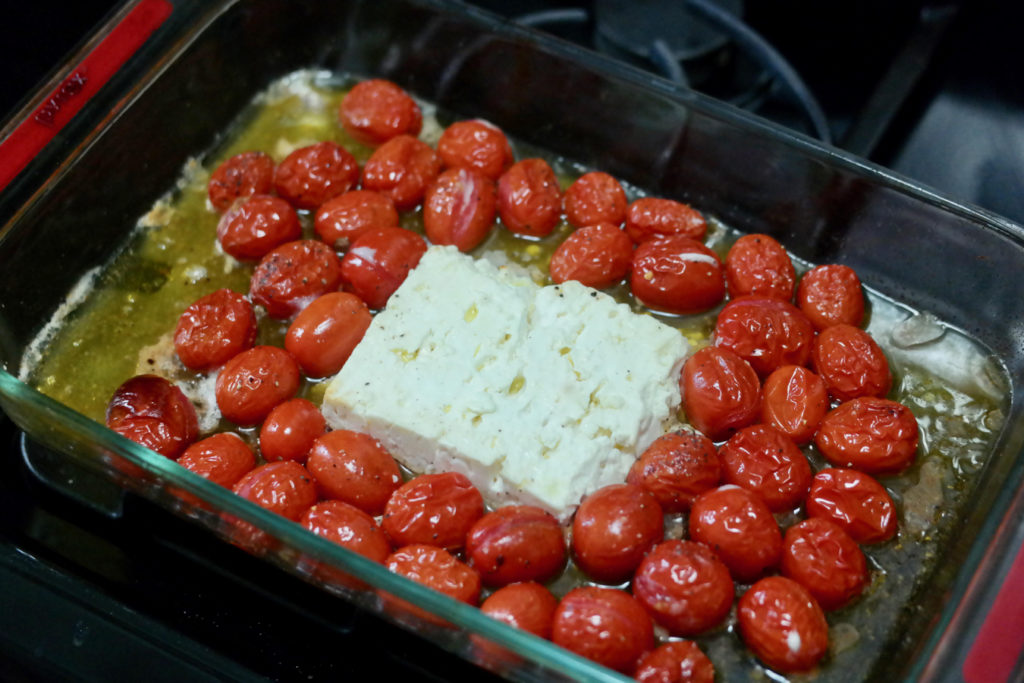 Chop up 2 garlic cloves and around 1/4 cup of basil leaves and sprinkle those in, then stir the tomatoes, garlic, basil and feta together until the feta is completely melted, some of the tomatoes pop, and everything comes together into a sauce-like consistency.  Pour your pasta into the pan and mix with the sauce.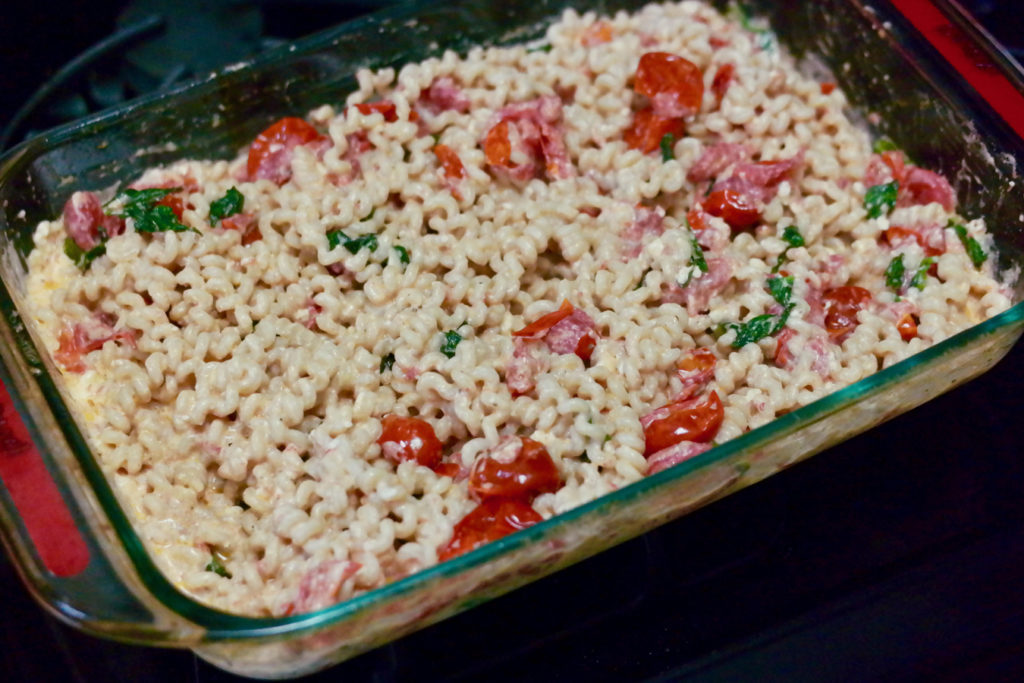 Now scoop up the pasta and serve with extra chopped basil on top.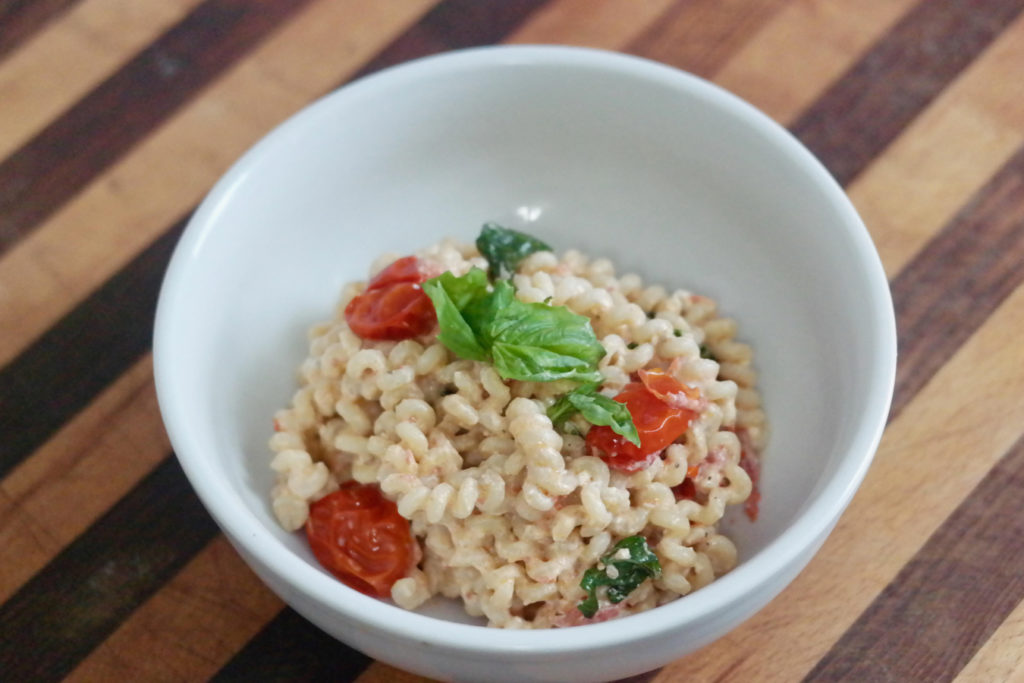 We'll admit that before this, we'd never thought to make a pasta sauce by baking things together in the oven.  But feta works especially well in its block form for this technique, because it melts down and blends nicely with the burst tomatoes and olive oil.  Some people also try to cook the pasta in the baking dish as well, but we thought that would be a bit too much and might risk the pasta coming out still crunchy – so we think it's a good compromise to boil the pasta on the stovetop and then mix with the oven-baked sauce.  This all turned out very easy, since your oven does most of the work and you only need six ingredients.  The tomatoes and salty feta come together very well to make for a creamy sauce, plus the long fusilli was a really fun shape and the sauce clung nicely to all the coils.  So if you're in the mood for a tasty, very easy, and very popular lunch, this is it!