Caprese is a style of Italian cooking that uses tomatoes, basil, and fresh mozzarella in a dish.  These ingredients are meant to invoke the three colors – red, green, and white – of the Italian flag.  You'll commonly see caprese salads, but there's lots of other things you can caprese as well – for example, in this recipe the three ingredients are paired with gnocchi.  We were intrigued but we also wanted to adapt this recipe for ourselves, specifically to use some pesto agnolotti that we got recently from a mega shopping trip at Pastosa Ravioli (that's where we also found the long fusilli we used in our tomato feta pasta).  We discovered that agnolotti subs in well for gnocchi, so we'll show you here how to make this simple, unique and tasty pasta for yourself.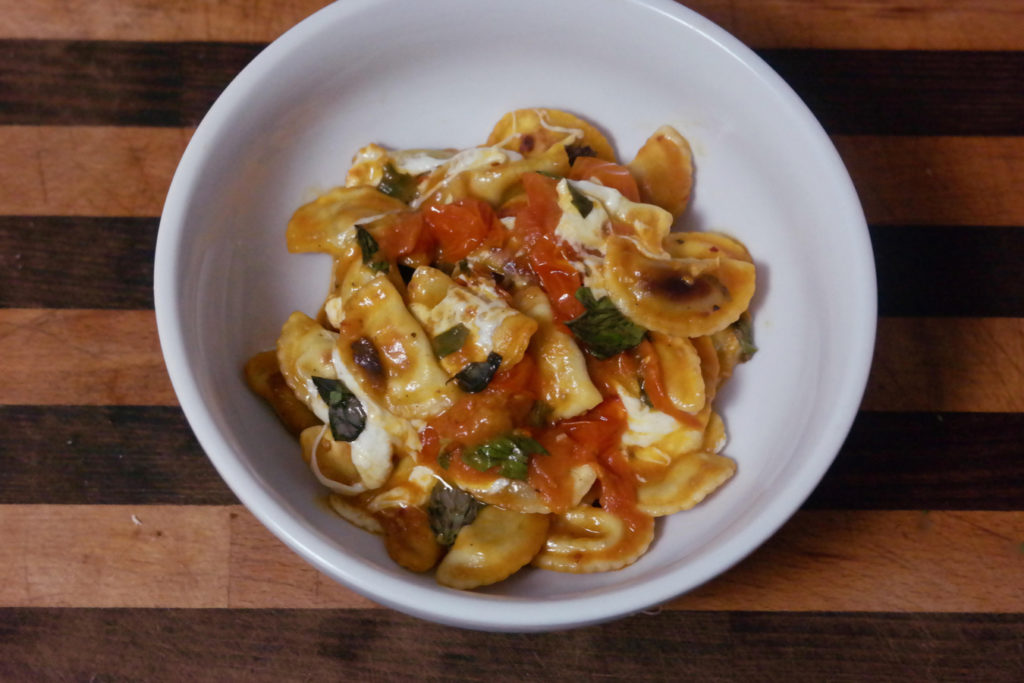 You'll need:
A 16-ounce package of fresh agnolotti
Olive oil
Butter
Garlic
Red pepper flakes
2 pints of cherry tomatoes
Basil
An 8-ounce package of fresh mozzarella
First you're going to pan fry the agnolotti:  in a large oven-safe pan, warm a tablespoon of olive oil over medium-high heat and swirl it around to coat the entire bottom of the pan.  Place half of the agnolotti into the pan, cover with a lid, and let them cook for 3-4 minutes until they start to brown on the bottom.  Take the agnolotti out and repeat this process with the remaining pasta.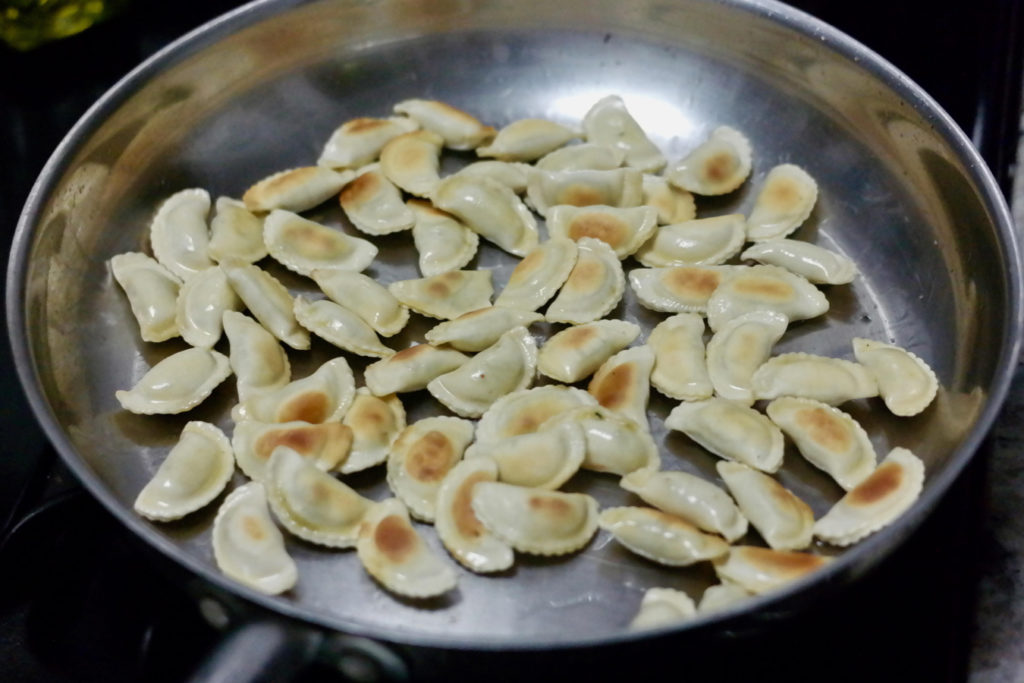 Place all the agnolotti in a bowl to set aside, then in the same skillet melt 4 tablespoons of butter (that should be half a stick).  Add in the tomatoes, a sprinkling of red pepper flakes, 3 tablespoons of water, and some salt and pepper.  Slice 4 garlic cloves thinly and stir those in as well and let everything cook together for about 5 minutes, swirling the pan every so often to prevent things from sticking to the bottom and also smashing in the tomatoes once they soften.  You'll want a sauce that's somewhat thickened, like so: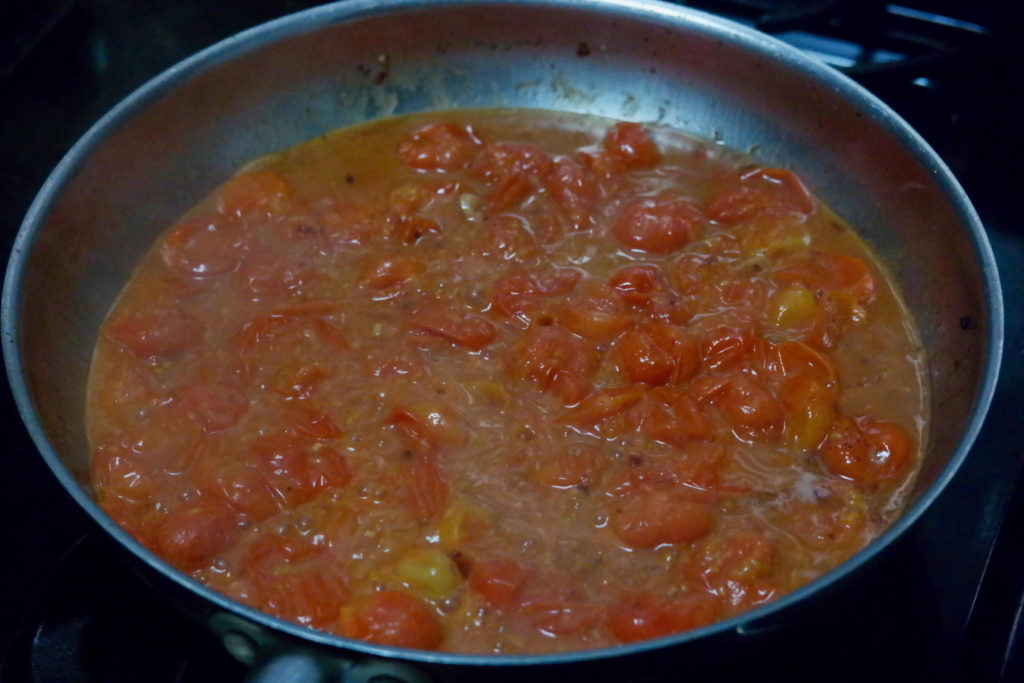 Then stir in the agnolotti and 1/4 cup of torn basil leaves.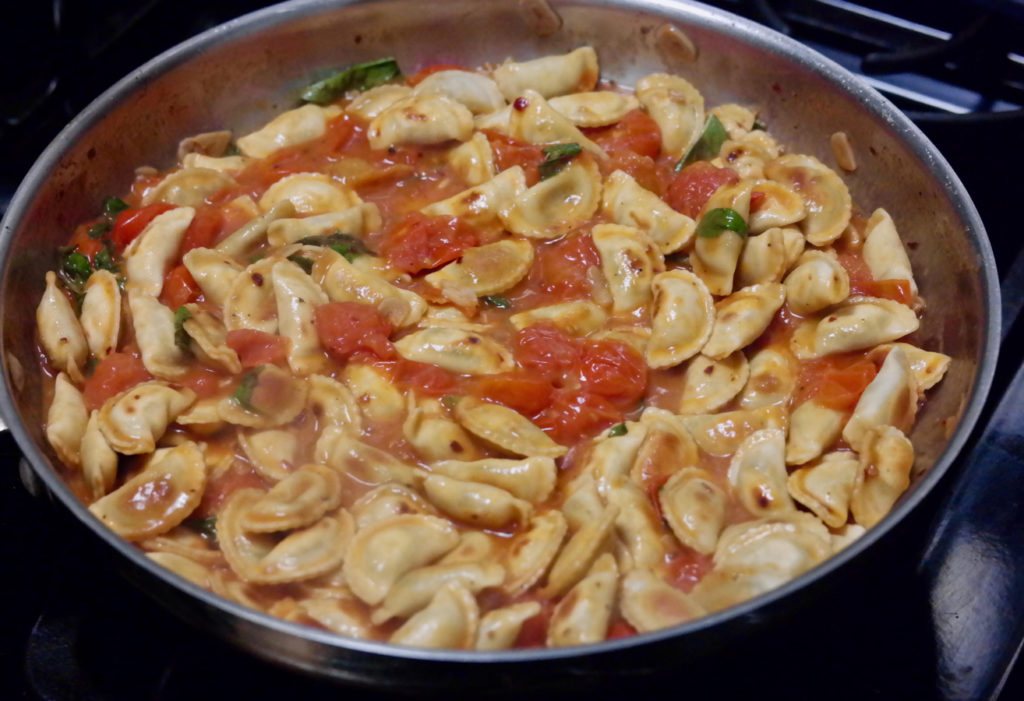 Cut your mozzarella into dice-sized pieces and scatter them around on top of the agnolotti, then stick the whole pan in your broiler on low for 2 minutes to melt the cheese (just make sure you watch it carefully so nothing burns).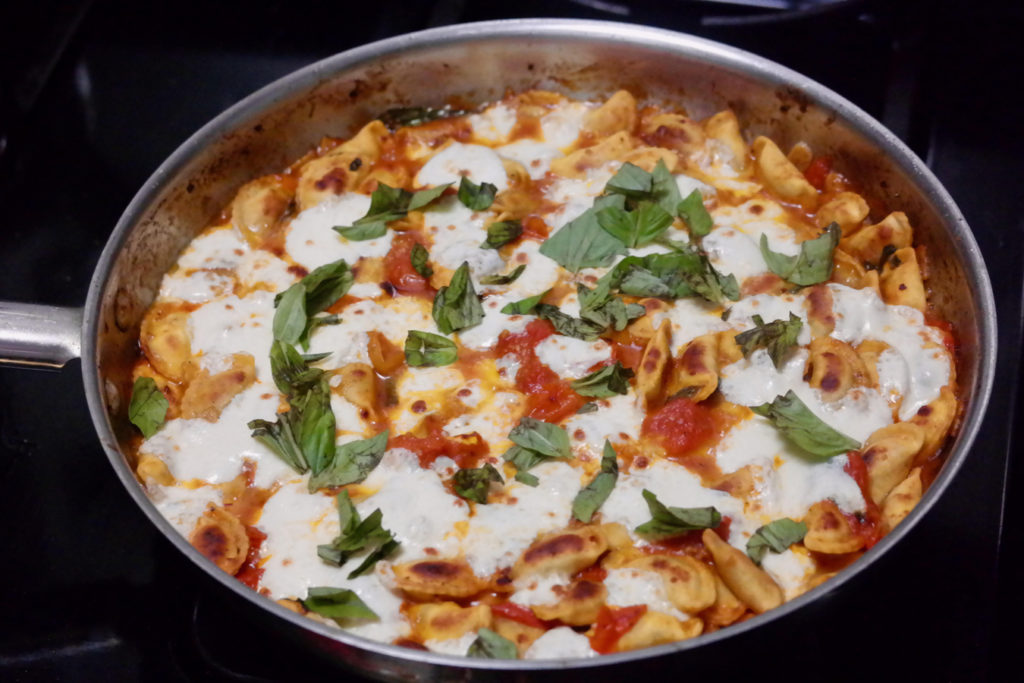 Now scoop your agnolotti up and serve with extra basil on top.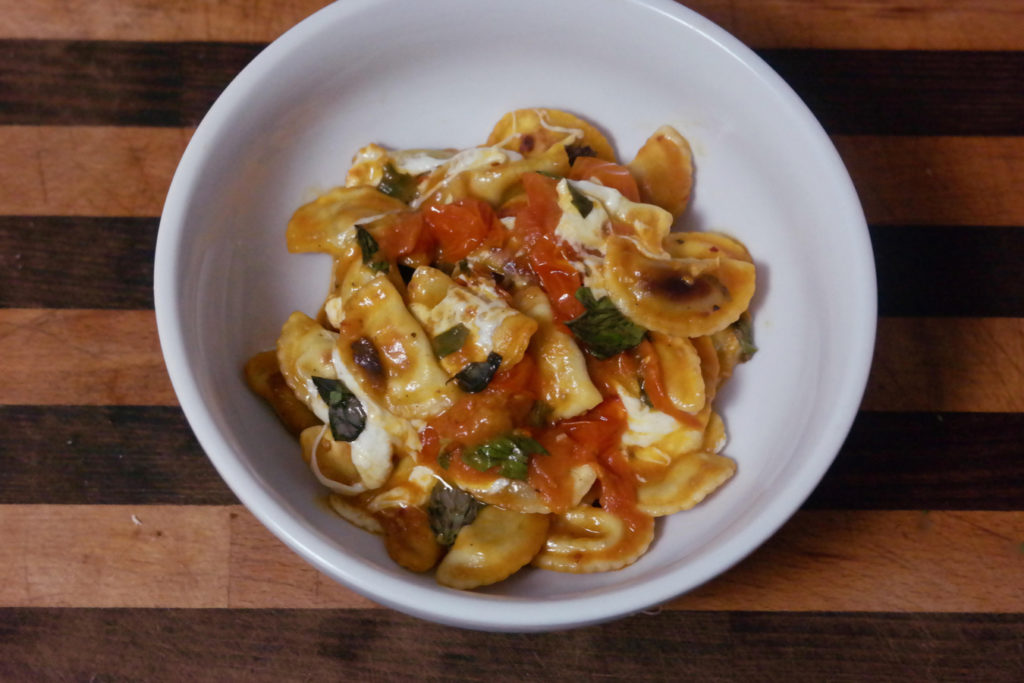 We thought this was an excellent way to put our agnolotti to use – they pan fry very well, and it's an interesting change of pace to prepare agnolotti this way rather than boiling them.  The simple tomato and basil sauce and the melted fresh mozzarella are a great topping, and all three components of the sauce go together well as a classic caprese.  We enjoyed making agnolotti in this new and interesting way, and you can really sub in any ravioli, tortellini, or another dumpling-shaped filled pasta to make yourself this delicious, cheesy meal.