Cajun food is very distinctive because it uses three signature ingredients:  bell peppers, onions, and celery.  These things, along with seasonings and often meat items like sausage or chicken, let you know you're tasting some of this classic Louisiana cuisine.  We've used this combination of vegetables before in making a vegan gumbo and we decided to try them out again, this time in a pasta dish.  You can find various dishes calling themselves Cajun pasta on many restaurant menus, but they often have meat in them – so we decided to try out some meatless sausage to recreate this dish as a vegetarian-friendly meal.  Read on to see how you can make some meat-free Cajun pasta for yourself!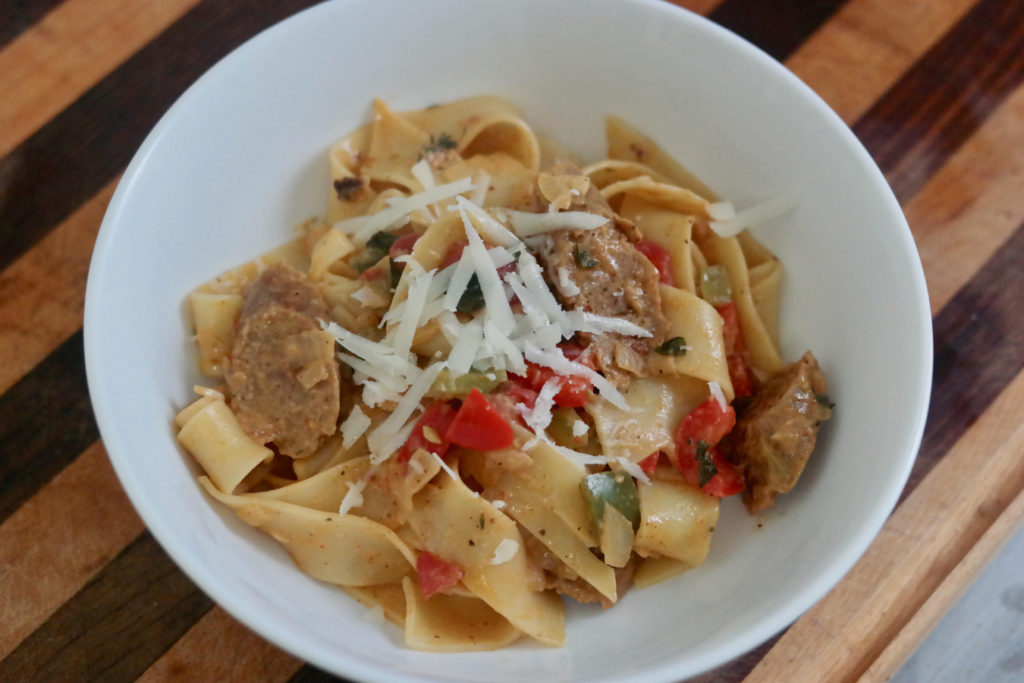 You'll need:
A pound of pasta
A red bell pepper
A green bell pepper
A small onion
A stalk of celery
Thyme
A package of 4 meatless sausages (we used Field Roast's Italian Garlic & Fennel variety)
Cajun seasoning
Butter
Garlic
Flour
Half and half
Olive oil
Parmesan cheese
Of course you'll want to start by boiling your pasta, and while you're waiting on that dice up your bell peppers, thinly slice your celery, finely chop your onion and 3 cloves of garlic, and pluck the leaves off of a few stalks of thyme.  In a large pot melt 2 tablespoons of butter over medium-high heat and add in all these vegetables, plus 2 teaspoons of Cajun seasoning.  Let everything cook for about 5 minutes, until all the vegetables are softened.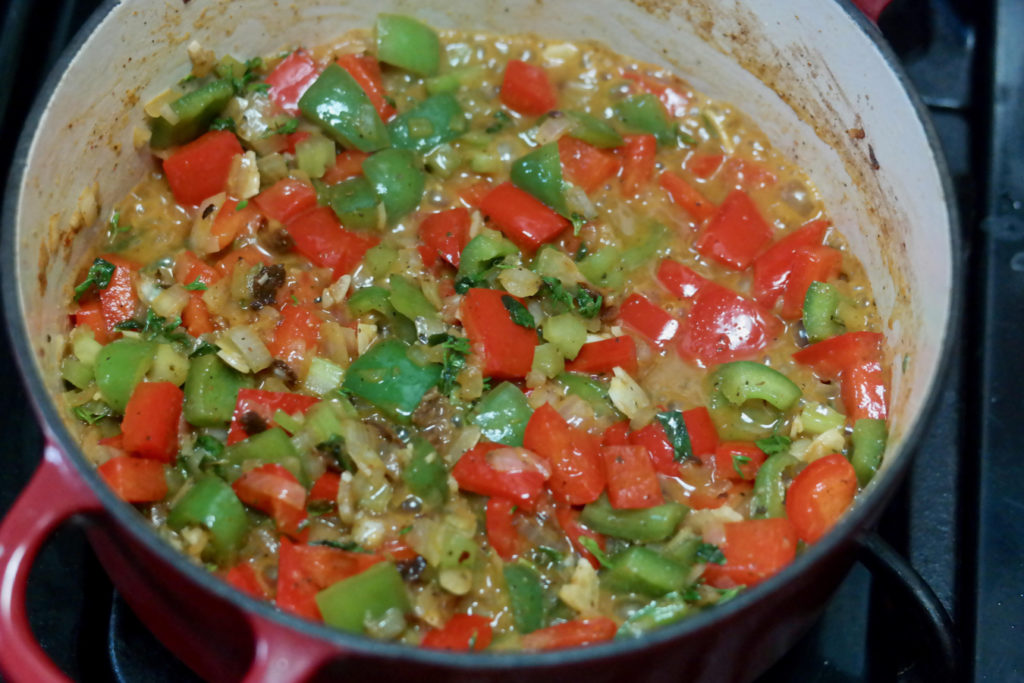 Stir in 1/4 cup of flour and let it cook for a minute of so to thicken, then pour in 3/4 cup of half-and-half and mix everything together, stirring occasionally to make a smooth sauce.  In a separate small pan, warm a tablespoon of olive oil over medium-high heat and cook all of your sausages for 6 minutes, rotating them around so they cook evenly on all sides.  Then take them out of the pan, cut them into thick diagonal slices, and stir them into your sauce.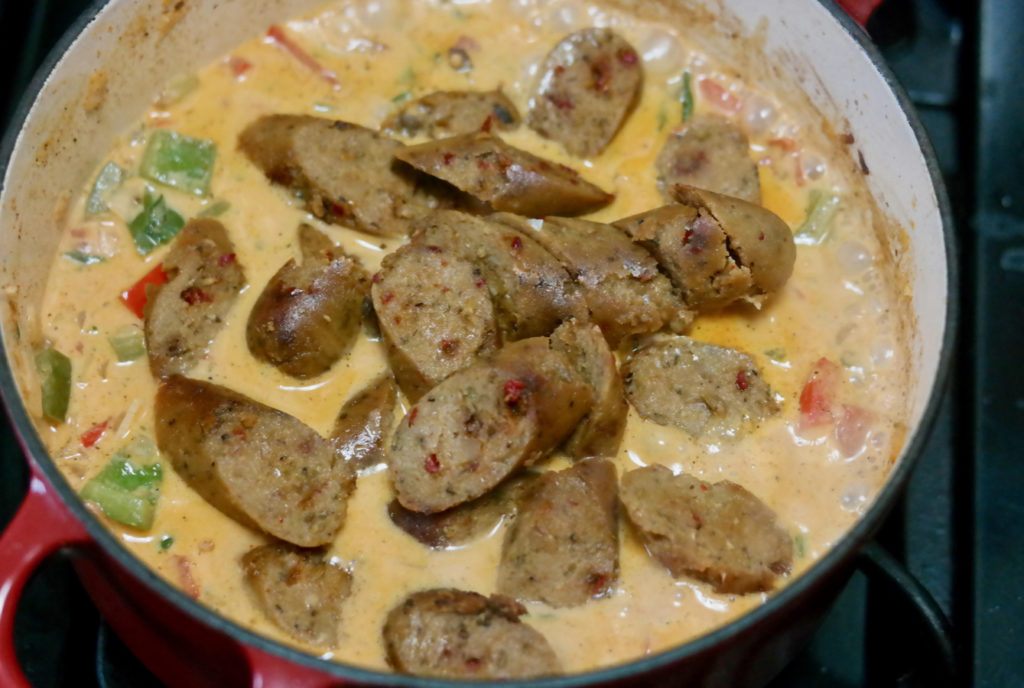 When the pasta is done, mix it with the sauce, veggies, and sausage.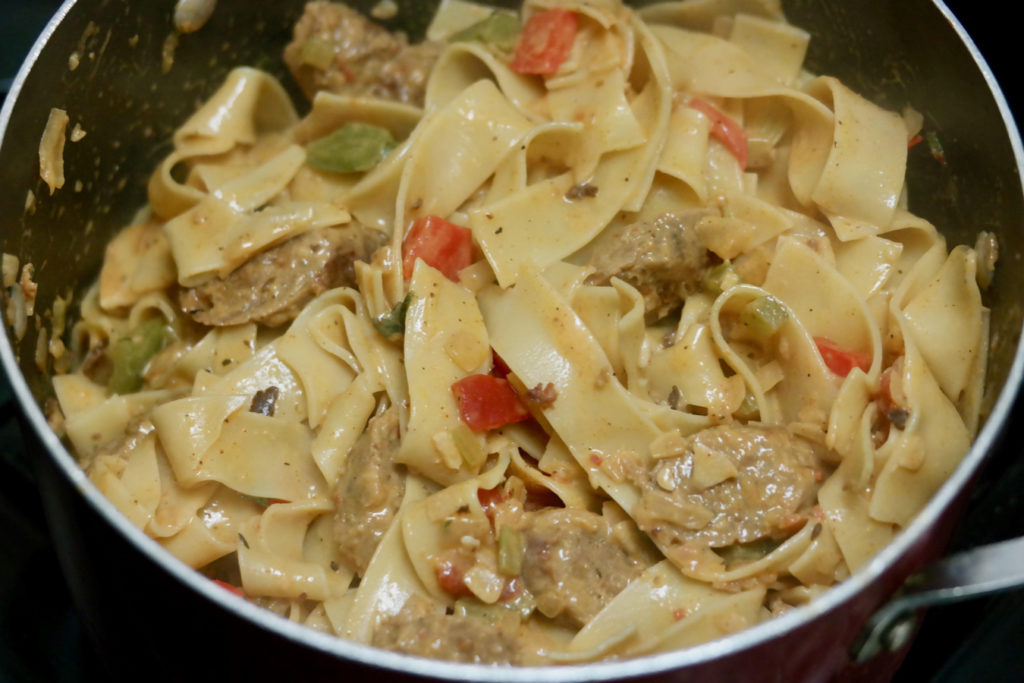 And serve with some Parmesan grated on top.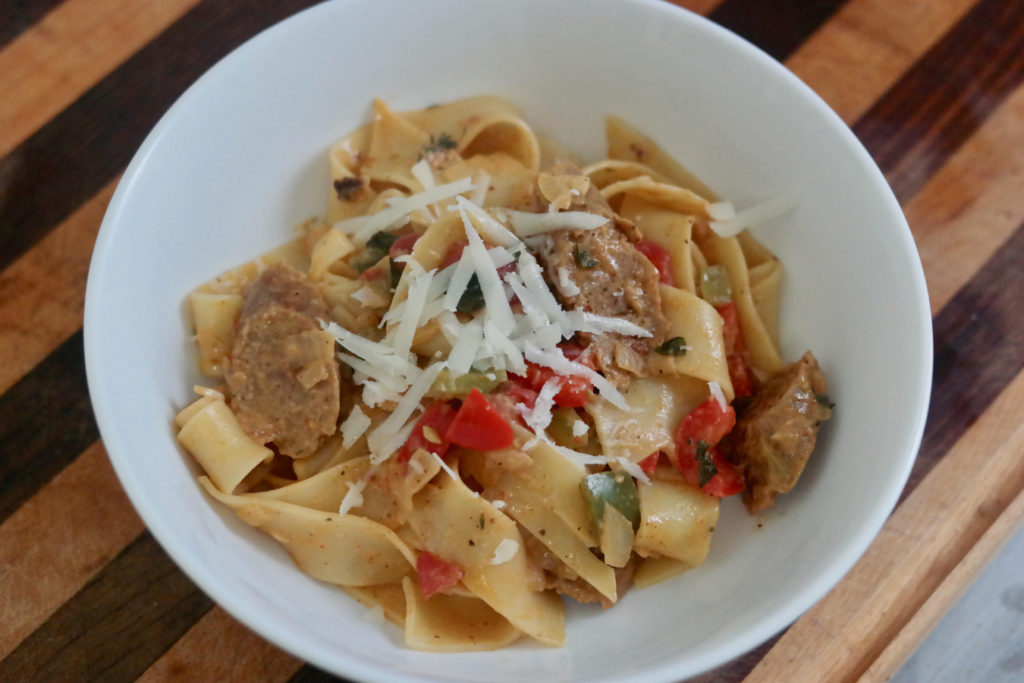 This was a really excellent dinner for us on a day when we were craving pasta but didn't feel like having any of the same old sauces we tend to make over and over again.  It was a nice change of pace to combine a creamy sauce, some good vegetables, and meatless sausage, all paired with pasta – we especially liked using a thick papparadelle as a hearty base to all these delicious ingredients.  We also got the chance to try a new variety of vegetarian sausage, and you can really use any type of plant-based sausage to get a great and tasty result.  So if you've looked longingly at a Cajun pasta, knowing it was out of reach because it was made with meat, now you've got the chance to try it for yourself in a delicious meatless variation.