Last week we made this very delicious agnolotti caprese, and we became so enamored with the flavors of caprese that we decided to try it again!  This time, we found a recipe in the New York Times that pairs tomatoes, basil and fresh mozzarella with cannellini beans, and we altered it a little to reflect our preferences and what we could source in some of our local grocery stores.  We loved what we came up with:  tomatoes and basil are great when fresh and paired with mozzarella, and everything goes nicely with some hearty white beans.  We also really enjoyed how easy this was, because unlike our last caprese dish this meal requires no cooking or sautéing, just a little bit of food prep and then mixing everything together.  So here's how you can whip this healthy version of caprese for yourself.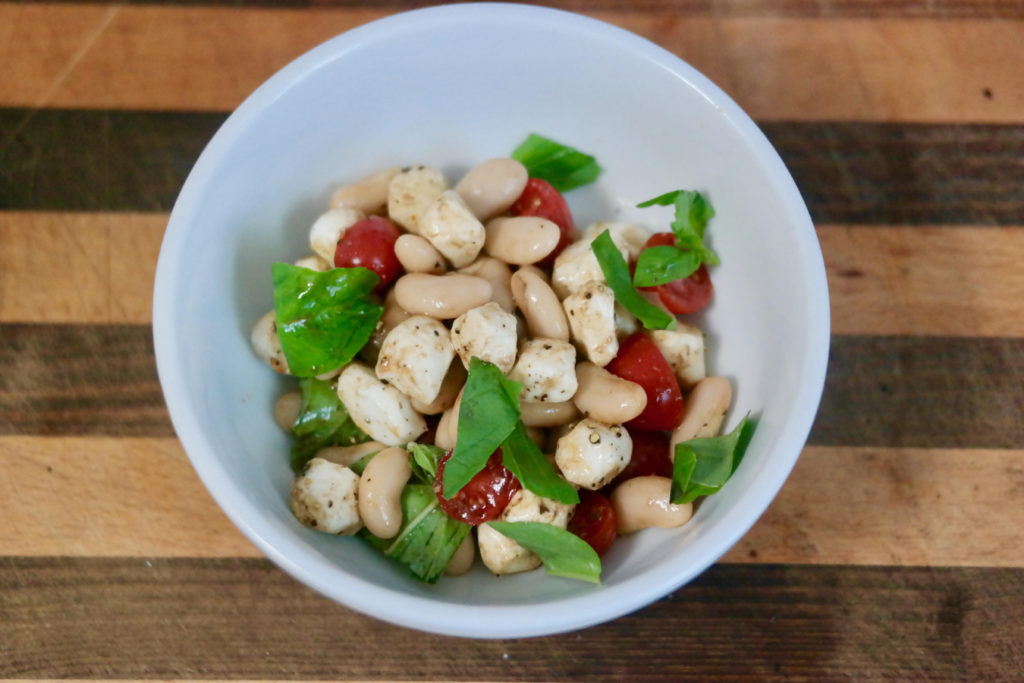 You'll need:
A 14-ounce can of cannellini beans
A pint of cherry tomatoes
Basil
Olive oil
Balsamic vinegar
A ball of pearled mozzarella – we found some made by Bel Gioioso
To prepare your vegetables, drain and rise your beans and place them in a mixing bowl, along with the individual pearls of mozzarella.  Then slice about 3/4 of your tomatoes in half (you can save the rest for another recipe) and tear 1/4 cup of basil leaves, and place those in the bowl.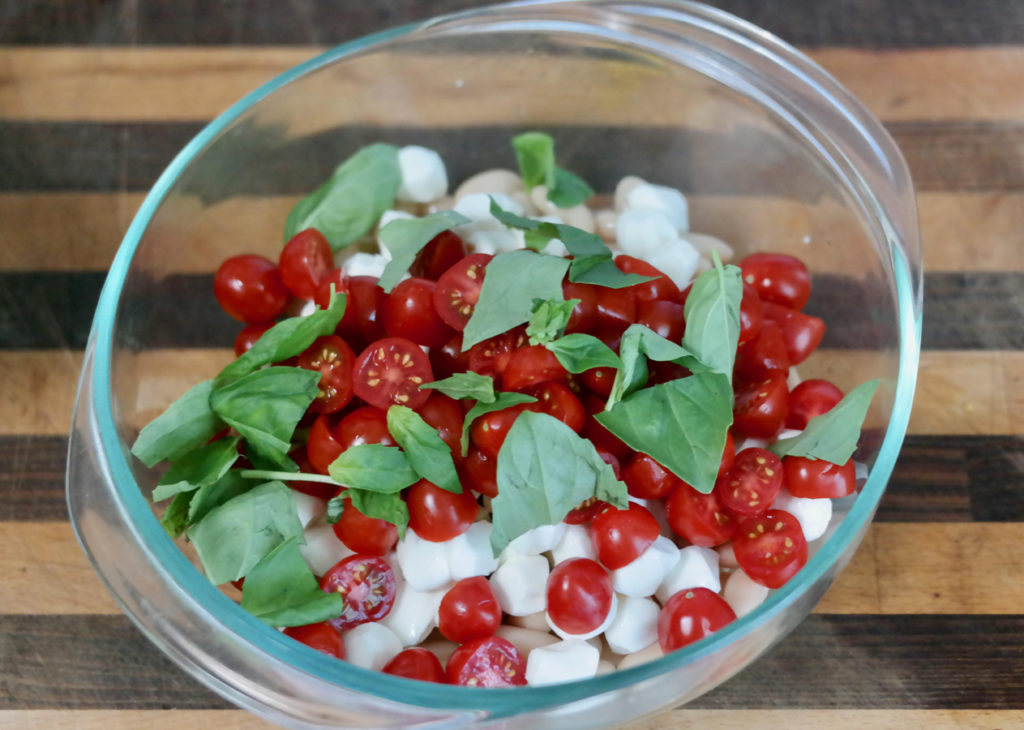 Mix everything with 2 tablespoons of olive oil and a generous sprinkling of salt and pepper.  Add in 2 teaspoons of balsamic vinegar and stir that in as well.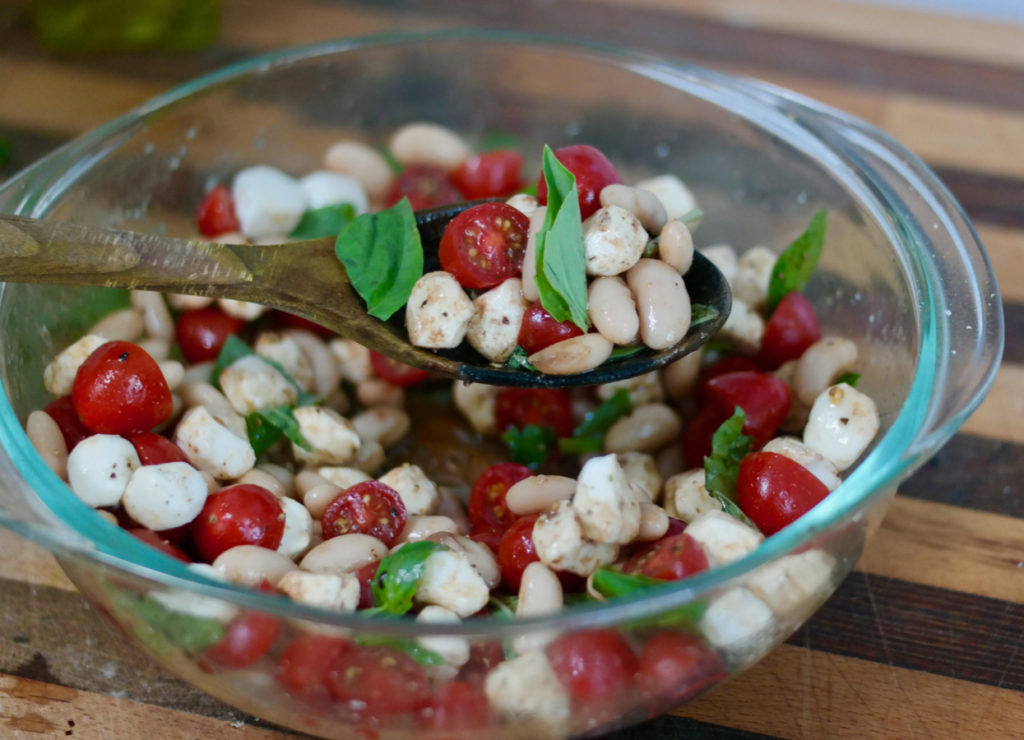 And that's it!  Just scoop up portions of your caprese beans and serve!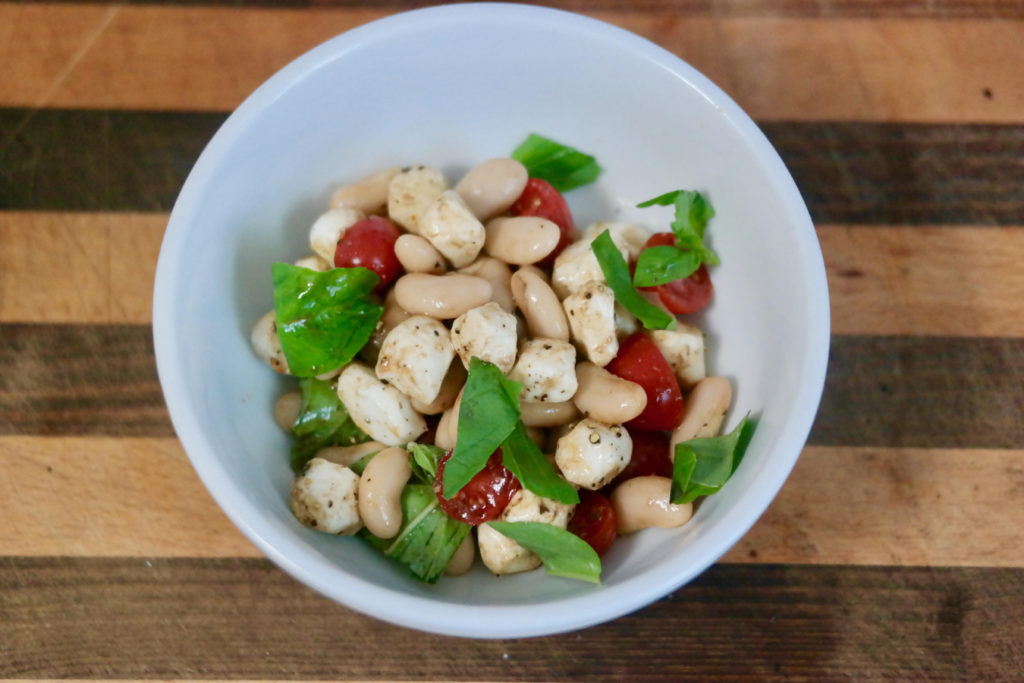 Really, it couldn't be any easier – we made this recently on a very busy day and it was refreshing how quick and simple it was to prepare this homemade lunch.  And we loved what we got to eat:  cannellini beans, tomatoes, basil and mozzarella are all staple ingredients in Italian cooking, so putting them altogether mixed with olive oil and balsamic vinegar produced delicious results.  We had never previously used pearled mozzarella before, but we liked how easy it was to have bite-sized bits of cheese already on hand for this recipe, and we were inspired to use this form of mozzarella again in another recipe (we'll post that one soon!).  We know we sometimes post rather elaborate foods, but it's nice to also have easy some vegetarian recipes on hand, and these beans serve that purpose well.