As we've mentioned before, we bought a lot of rice to get us through the pandemic, since it's inexpensive and shelf-stable and very versatile in recipes.  By this point, however, it can sometimes feel like we've tried every single variation of rice dishes that could possibly exist in this world – so we get excited when we find a new way to prepare this staple food.  We recently came across this recipe in the New York Times and decided to change it up a little to put our rice stockpile to use, and it turned out to be a great adaptation because the rice subs in nicely for the farro in the original dish.  This also happened to be pretty simple to make, and we were able to easily throw it together for a mid-working day lunch.  If all of this sounds intriguing, follow along for our guide on how to make it for yourself.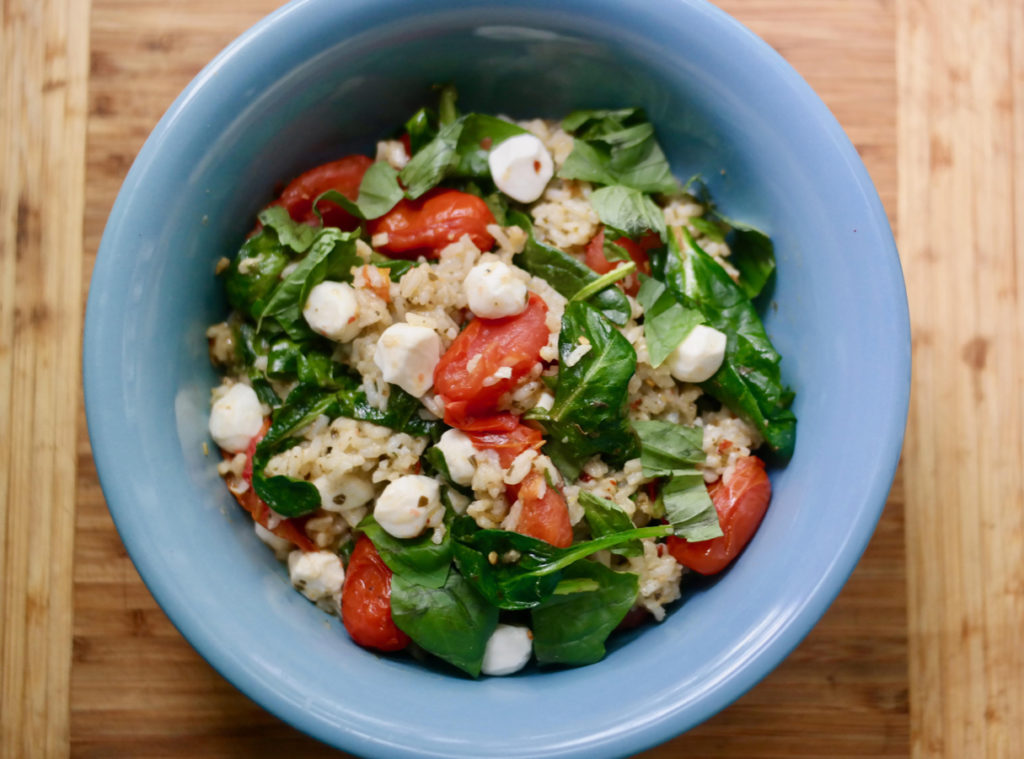 You'll need:
Rice
2 pints of cherry tomatoes
Olive oil
Red pepper flakes
A lemon
A small bag of spinach
Pearled mozzarella (we like BelGioioso brand)
Pesto sauce – you can use a store-bought version, or if you want to make your own gather:

Basil
Mint
Parmesan cheese
Garlic
You'll first want to prepare your rice, as well as the pesto if you're making it yourself.  For the rice, in a pot stir a cup of rice into 2 cups of water and bring this to a boil, then cover the pot and turn the heat down to low to simmer your rice for 18-20 minutes.  Once the water is absorbed and the rice is tender, turn the heat off and leave the rice covered and undisturbed.
If you want to prepare the pesto from scratch, follow the first two steps in this recipe.
Now for the tomatoes:  mix them with 2 tablespoons of olive oil and a generous sprinkling of salt, pepper and red pepper flakes, then place them in a baking dish evenly spread out.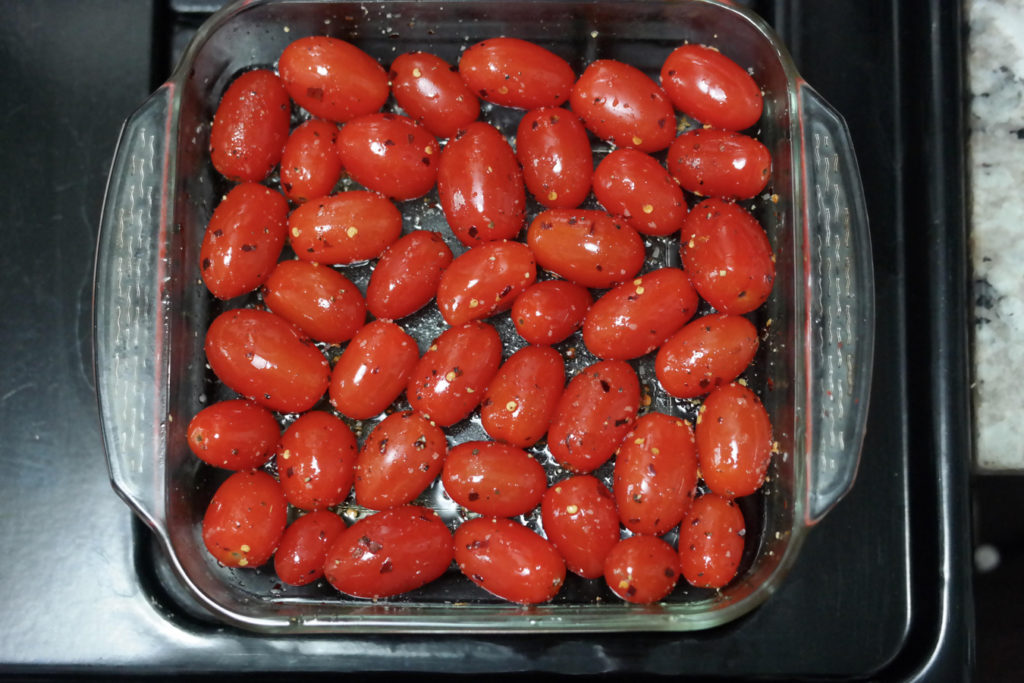 Roast them at 400°F for 35 minutes, until they're wrinkly and lightly cooked in places.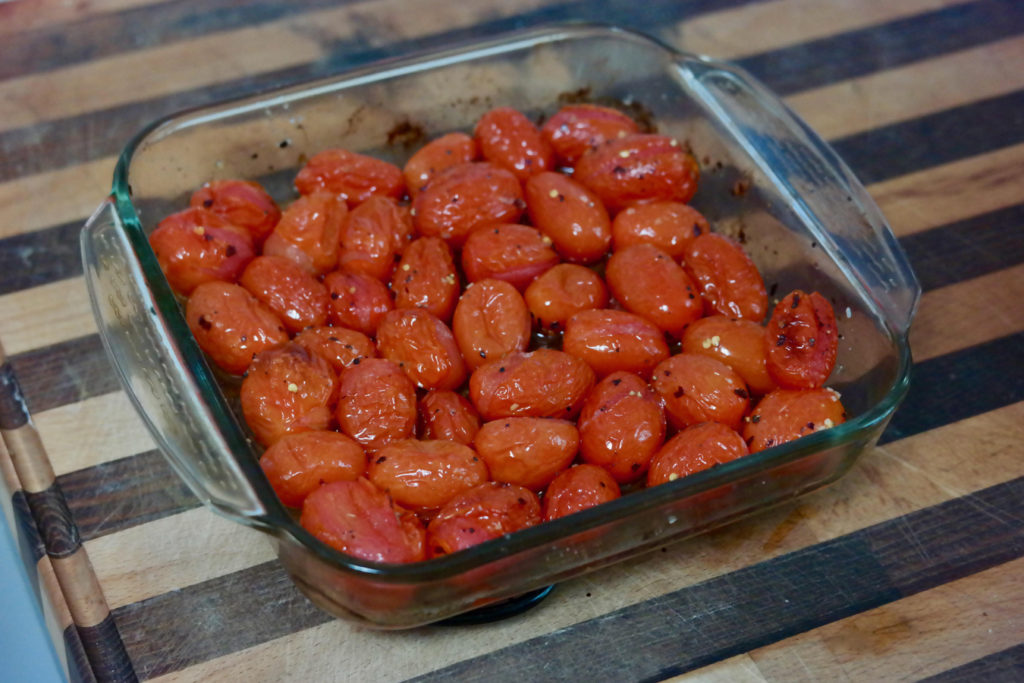 Now place your rice in a large mixing bowl and stir in 1/4 cup of pesto (you can save the rest for another meal), plus olive oil as needed to make the pesto into a smooth sauce.  Add in the tomatoes and the juice from your lemon, then measure out 2 packed cups of spinach leaves and mix all this in with the rice.  Finally, break up your pearls of mozzarella and gently stir those into the rice.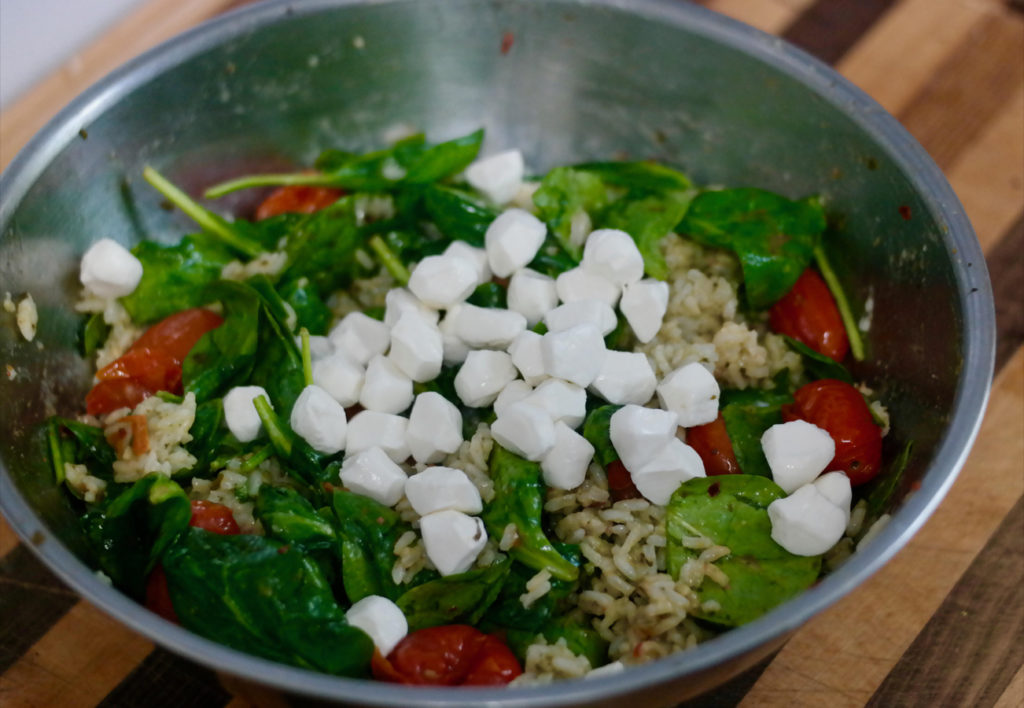 Then turn it all into a serving bowl, and you've got yourself a nice rice dish!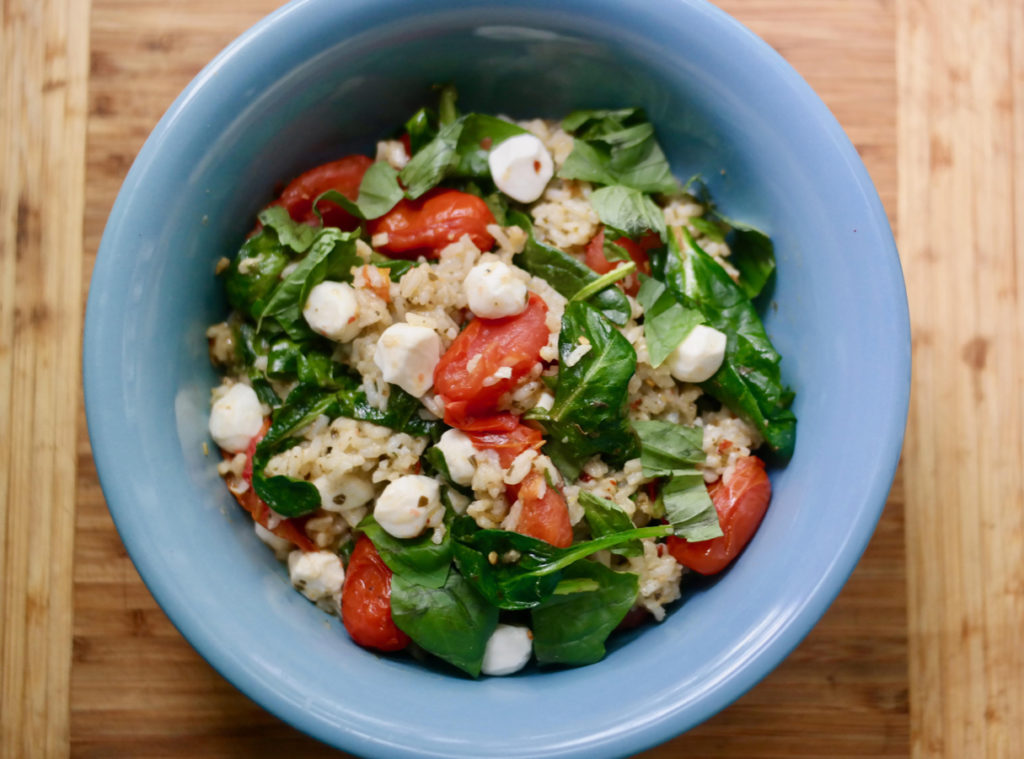 There's a lot of deliciousness going on here:  you've got cheese, you've got two different vegetables, you've got some rich pesto sauce, and you've got rice as the base of it all.  Altogether that makes this dish healthy, hearty, and really tasty.  What's even better is how easy this is, because all you have to do is roast your tomatoes, prepare your rice, and then stir everything together.  You can whip this up in no time and it makes for a creative and delicious way to put some rice to use.  We think our version of this recipe came out great, and you can definitely turn this into a creative way to serve up a simple grain.