If you recall from some posts over the past month, we recently discovered an amazing fresh pasta shop here in Brooklyn called Pastosa Ravioli.  Miriam went a little hog-wild while visiting there and bought a ton of really unique pastas that we've been making into interesting vegetarian recipes.  Today we're going to show you the last of how we prepared these pastas – this time with a stuffed rigatoni we found.  We were wracking our brains trying to figure out a new and interesting pasta sauce to try, one we'd never had before, and then we remembered that at a few Italian restaurants we've gotten to try a red pepper pesto.  We decided to recreate that sauce at home with our rigatoni, and this was the result:  it was delicious and simple, and we'll take you through the recipe here.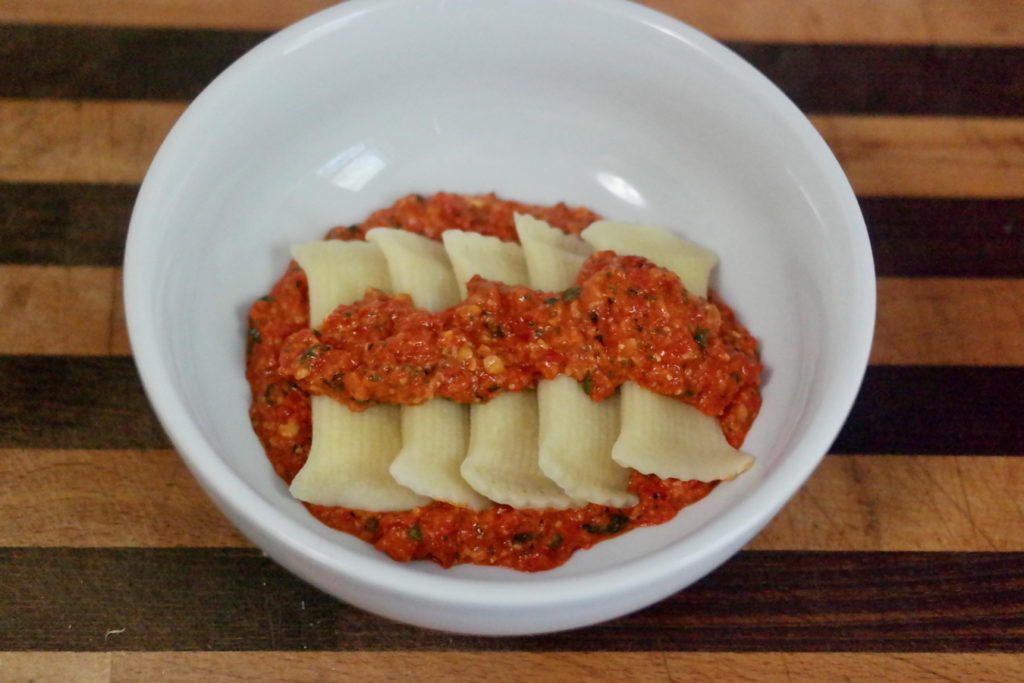 To make this, you'll need:
A 16-ounce jar of roasted red peppers
Olive oil
Parmesan cheese
Basil
Pine nuts
Garlic
A 16-ounce package of pasta
Of course you'll want to cook your pasta according to the package directions, and while you're waiting on that measure out 1/4 cup of pine nuts and place them in a small dry skillet.  Toast them over medium-low heat for 3-4 minutes, shaking the pan around constantly, until they start to brown in spots but don't burn.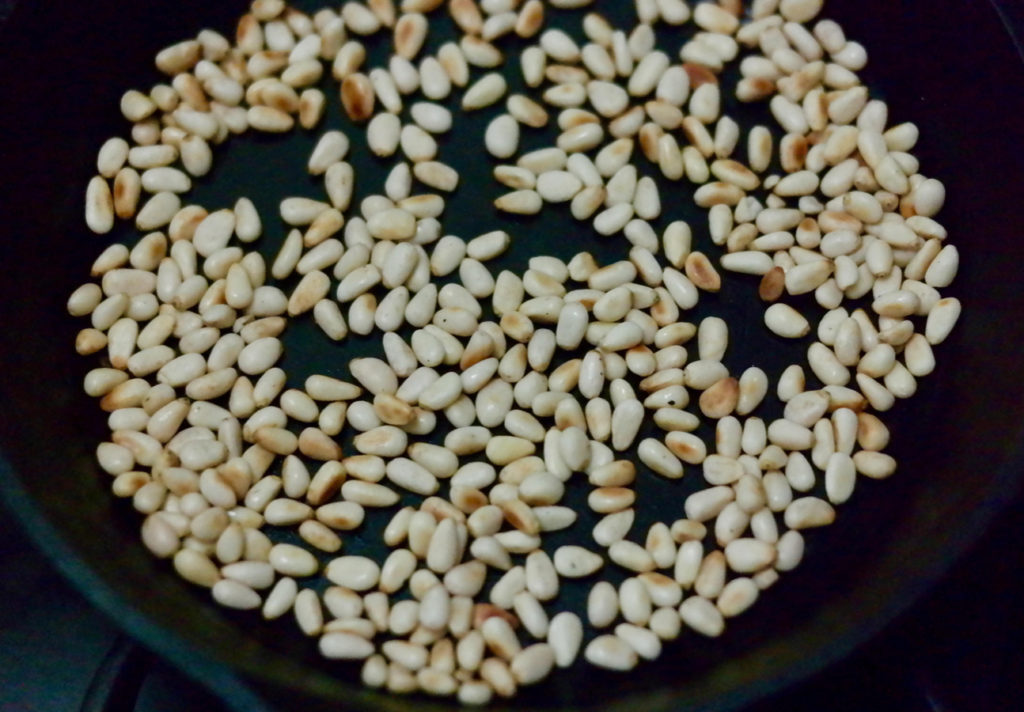 Now in a food processor place your drained red peppers, 1/2 cup of grated Parmesan, a garlic clove, and a large handful of basil leaves.  Once the pine nuts have cooled slightly, add those in too, along with some salt and pepper, and begin blending everything together.  Gradually pour in 1/3 cup of olive oil and run the processor until you have an even and mixable pesto.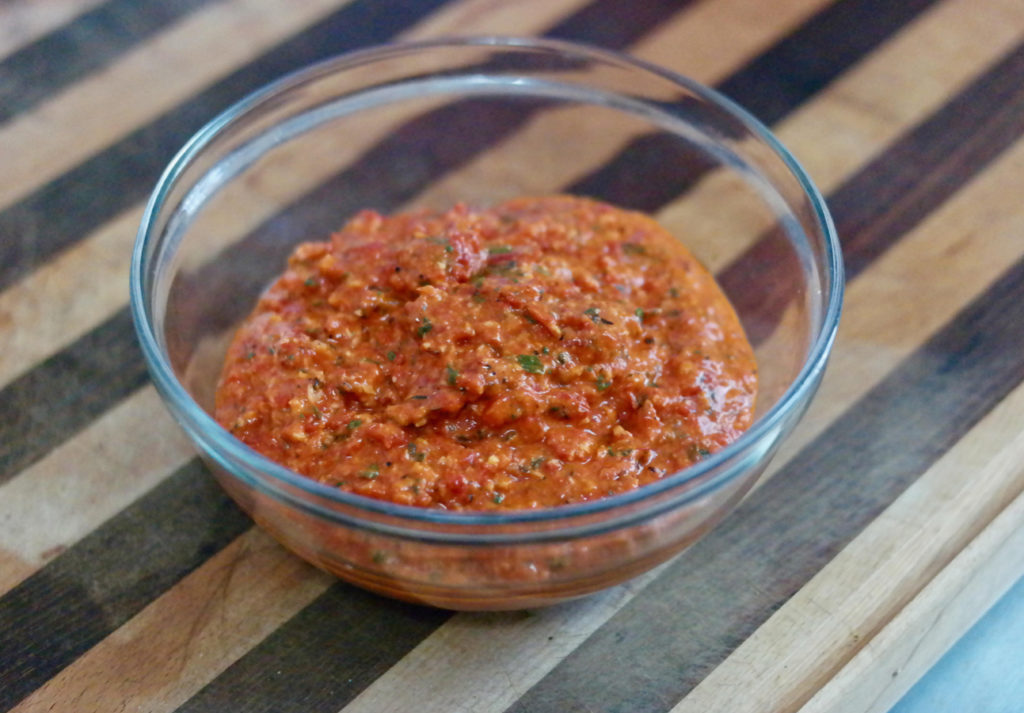 And now once your pasta is done you can serve it with your pesto – we decided to place a few spoonfuls of sauce into the bottom of a bowl, then put the stuffed rigatoni on top and spoon a little extra pesto over the pasta.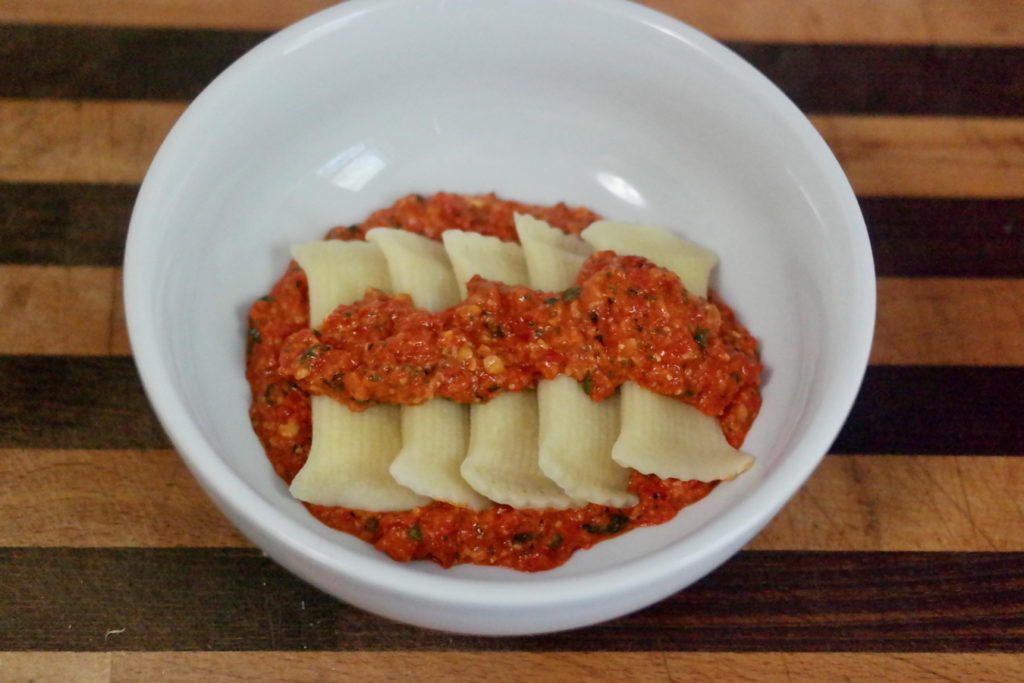 So here's another quick and easy pasta recipe for the books – you only need to toast your pine nuts and then blend them with a few other ingredients and you've got yourself a delicious sauce.  This pesto adds in an extra ingredient – the roasted red peppers – to make for a sauce with an extra flavor dimension and a lot of color.  It paired well with the nice, thick stuffed rigatoni, but really any pasta would do well here.  So no matter what noodle shape strikes your fancy, try it out with this version of pesto that's simple in execution but definitely not in taste.