This is certainly an apt recipe, because primavera in Italian means "spring", and this recipe uses some vegetables that are just now coming into season in this part of the year – plus all the green in this recipe reminds you of the trees coming into bloom right about now and the lush grass that's beginning to grow.  Primavera is a fairly common pasta preparation, but we based this dish specifically on a recipe we found in the New York Times, which we decided to adapt in a little more creative fashion.  We used some cheese we love and our favorite pasta shape – farfalle – but you can really try any type of noodle you like in this creamy, vegetable-based dish.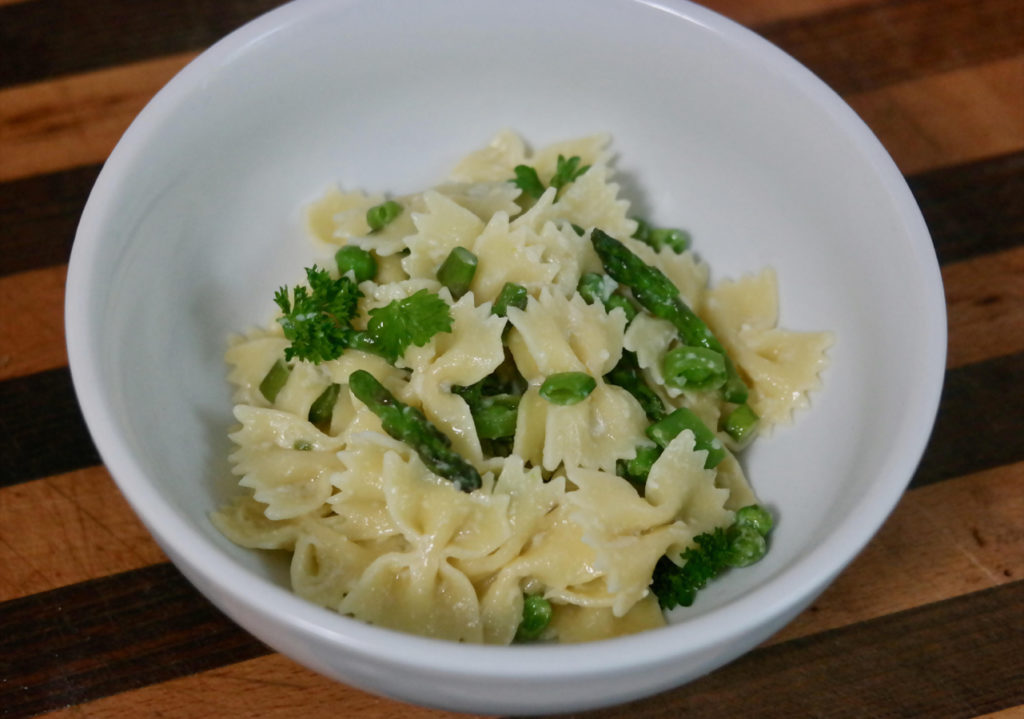 To make this, you'll need:
Snap peas
Asparagus
Frozen peas
Garlic
Butter
A 12-ounce box of pasta
Parmesan cheese
Mascarpone cheese
Parsley
Start by boiling your pasta, and while that's going on measure out around 8 ounces of asparagus and 4 ounces of snap peas.  Cut the white ends off the asparagus stalks and discard them, then slice off the tips of the asparagus and cut the remainder of each stalk into small pieces.  Cut the ends off the snap peas and them slice them thinly as well.  Measure out 3/4 cup of peas and defrost them in the microwave, and then chop 2 garlic cloves.  In a large pan melt 2 tablespoons of butter over medium-high heat and add in the peas, snap peas, and asparagus tips and pieces and cook for 5 minutes, then place the garlic in and cook for just another minute.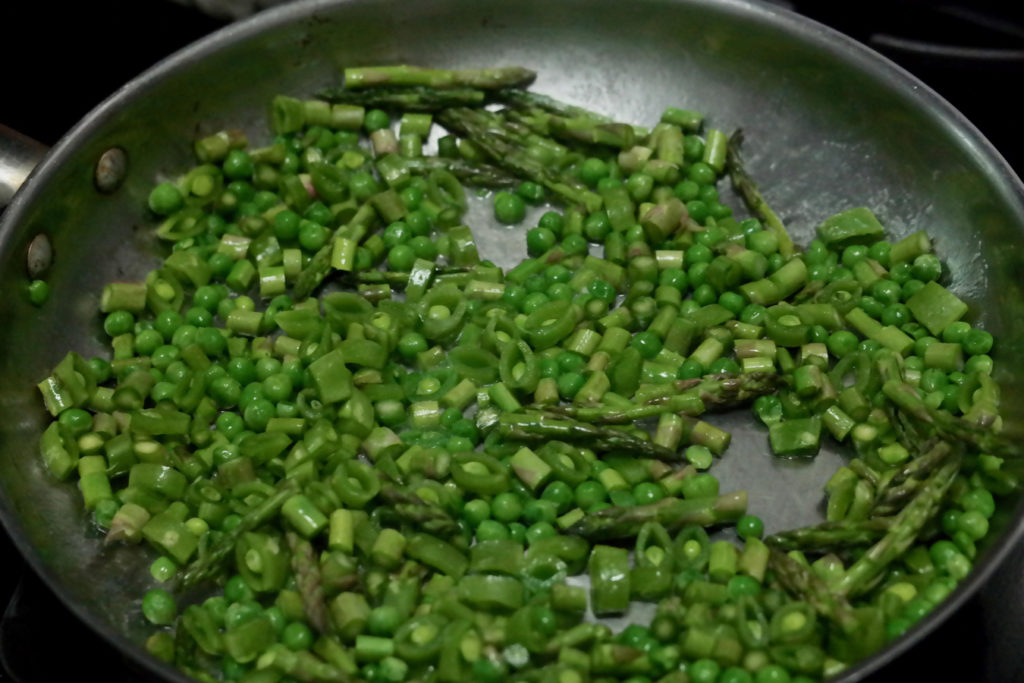 Set the vegetables aside when they're done, and once you've drained your pasta mix it with 1/2 cup of mascarpone cheese and 2/3 cup grated Parmesan.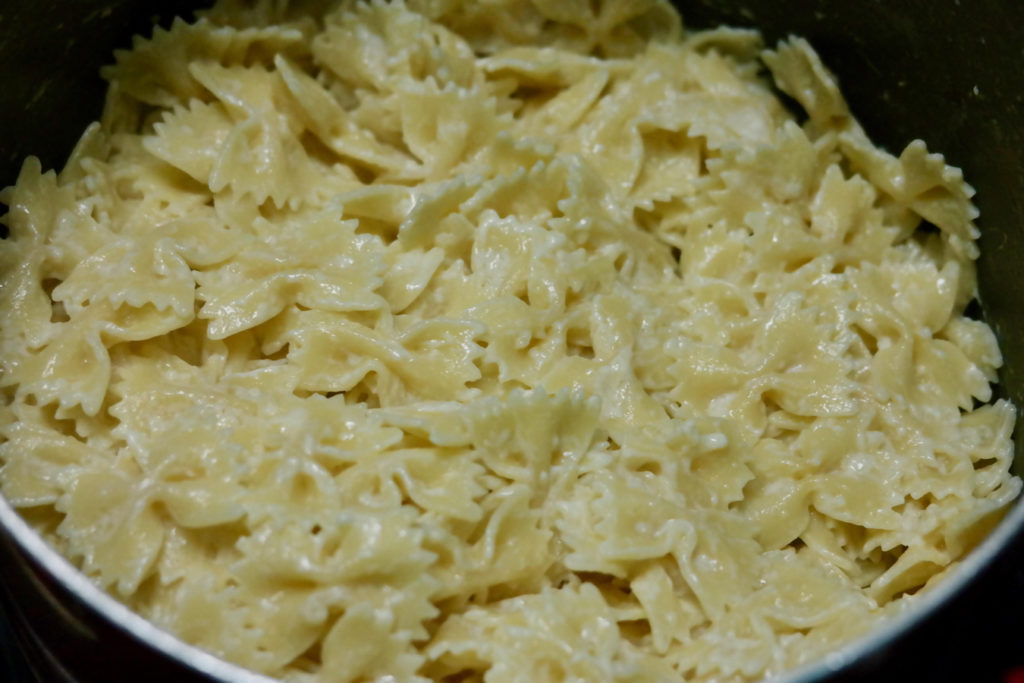 Then stir in the vegetables, along with 1/4 cup of chopped parsley leaves.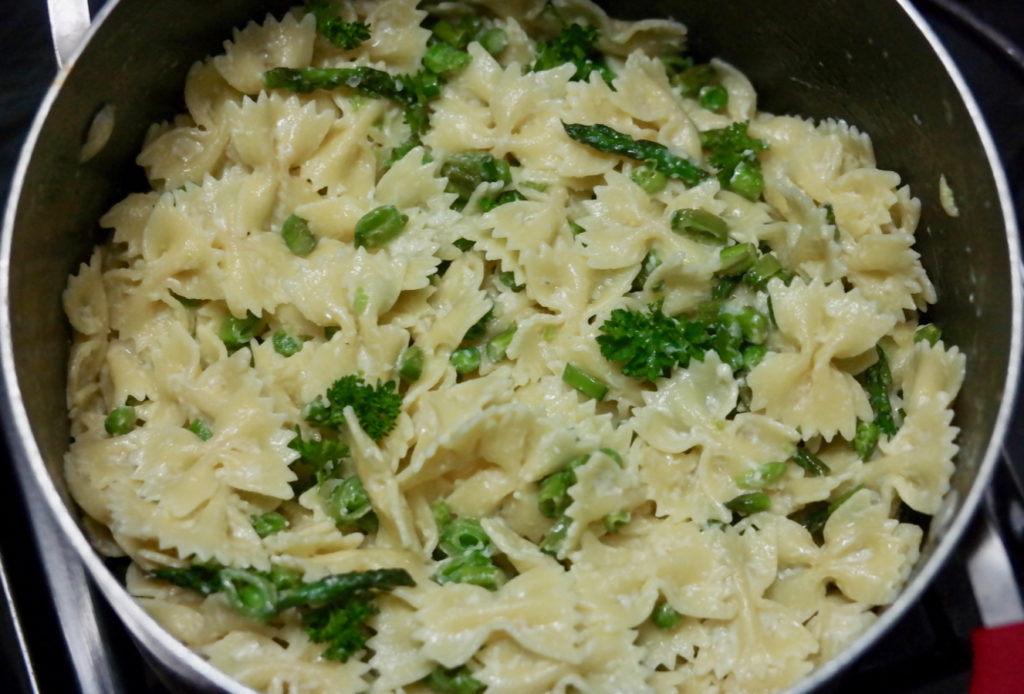 Now you can scoop up servings of pasta to eat.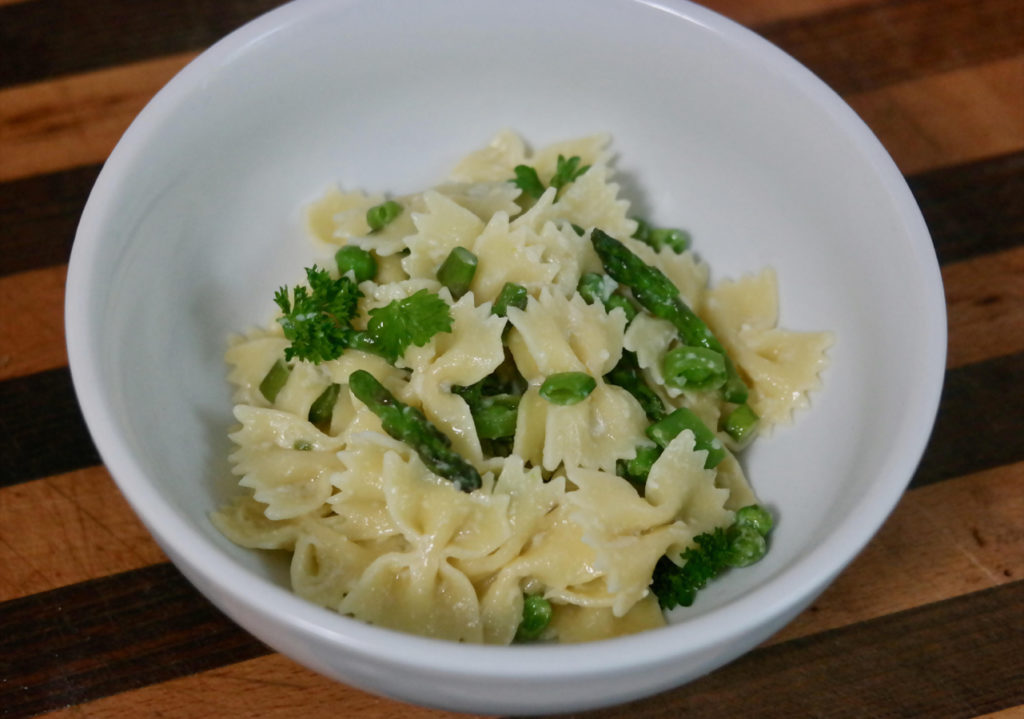 All in all this is a pretty simple pasta recipe:  there's some vegetable prep involved, but after that the veggies cook quickly and you only need to boil some pasta, mix with two cheeses, and then stir in the vegetables and you're done!  We liked all the greens here, and we thought the Parmesan and melted mascarpone cheese made for a great and simple sauce to coat the pasta and pair with the asparagus and two types of peas.  This is a really fresh and seasonal pasta that has just the right amount of cheese to satisfy your creamy dairy cravings, so try this recipe out while it's still primavera weather.