If you know us, you know we're always down to try any vegetarian pasta recipe that comes our way.  Sometimes it can feel like we've made just about every pasta under the sun, but then we come across something new and interesting and we decide to give it a try and it turns out great!  That's the case with today's pasta, which we adapted from a recipe we found in the New York Times.  It combines a bunch of fresh green vegetables with a creamy sauce and three – yes, three – types of cheeses and then lets your oven do the work of making this into a nice baked meal.  It turned out to be interesting and delicious, which is exactly what we're looking for when we try a new pasta, and it made for a fairly easy and hearty weeknight dinner.  So follow along with us as we show you this great pasta!
You'll need:
A 5 to 6-ounce package of mixed spinach and arugula
Parsley
Scallions
A pound of pasta
Butter
Garlic
Ricotta cheese
4 ounces of mozzarella cheese
A 4-ounce package of feta cheese
You can start by prepping all your veggies:  place the spinach and arugula into a large mixing bowl and add in a cup of parsley leaves and 6 sliced scallions.  Sprinkle everything with a generous amount of salt and pepper and mix gently with your hands.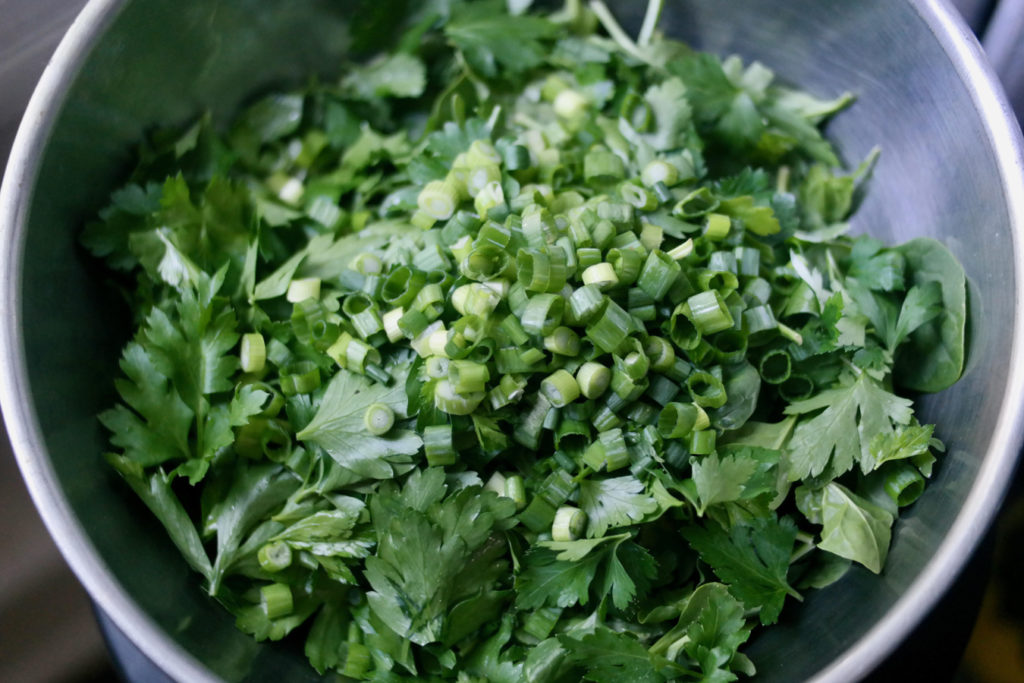 Now cook your pasta for 6 minutes, and right before you drain it scoop out a cup of the water it's cooking in.  Set the pasta aside, and in the pot you boiled it in melt 2 tablespoons of butter.  Slice 4 garlic cloves thinly and cook them in the butter for about 5 minutes, until they're softened, then measure out a cup of ricotta cheese into the pot and stir into the garlic.  Add in the pasta water and mix into a smooth sauce, then add in all the vegetables.  Shred your mozzarella and stir half of it in, along with half of the feta, until you have an even sauce.  Finally, mix in the pasta and stir until the veggies are wilted and the sauce coats all the pasta.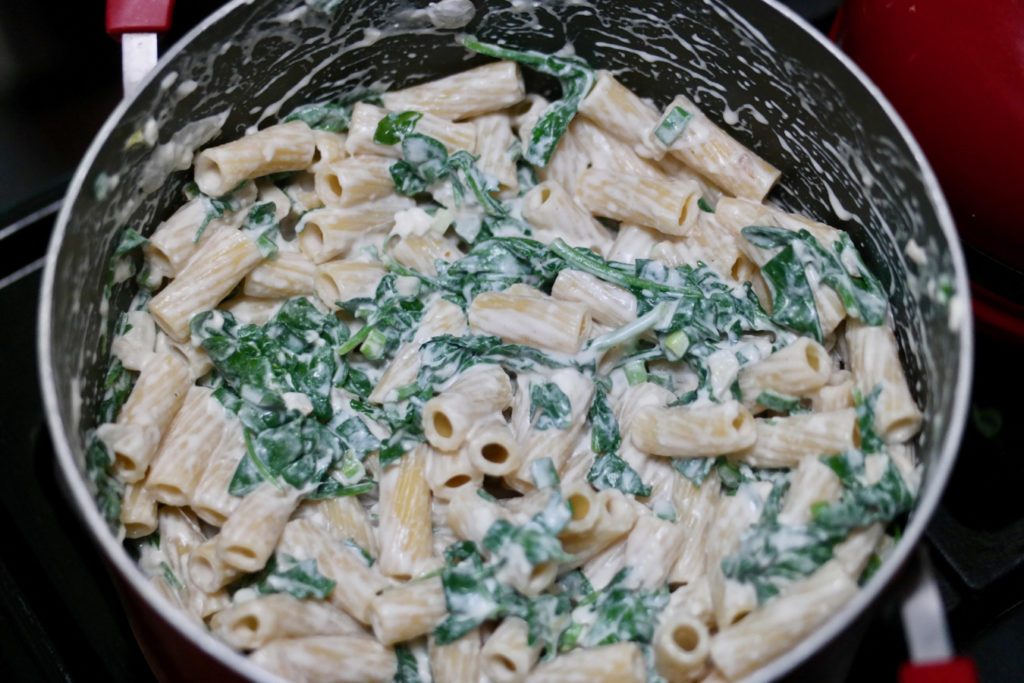 Turn the pasta into a baking dish and sprinkle with the rest of the mozzarella and feta.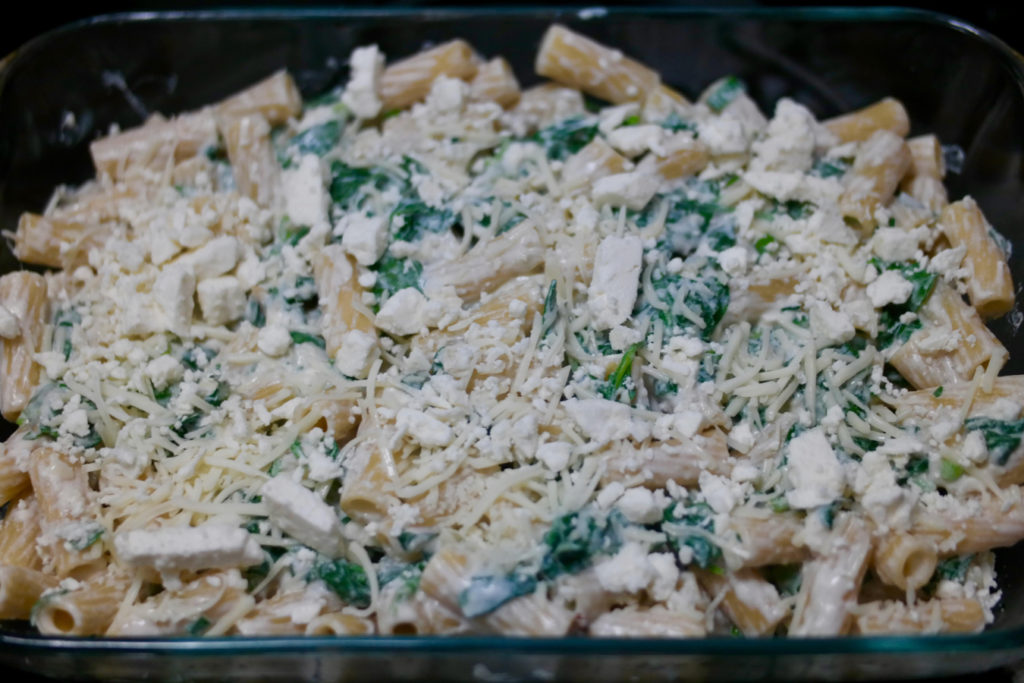 Bake at 450°F for 15 minutes, until you have a thick sauce and some of the pasta is browned in spots.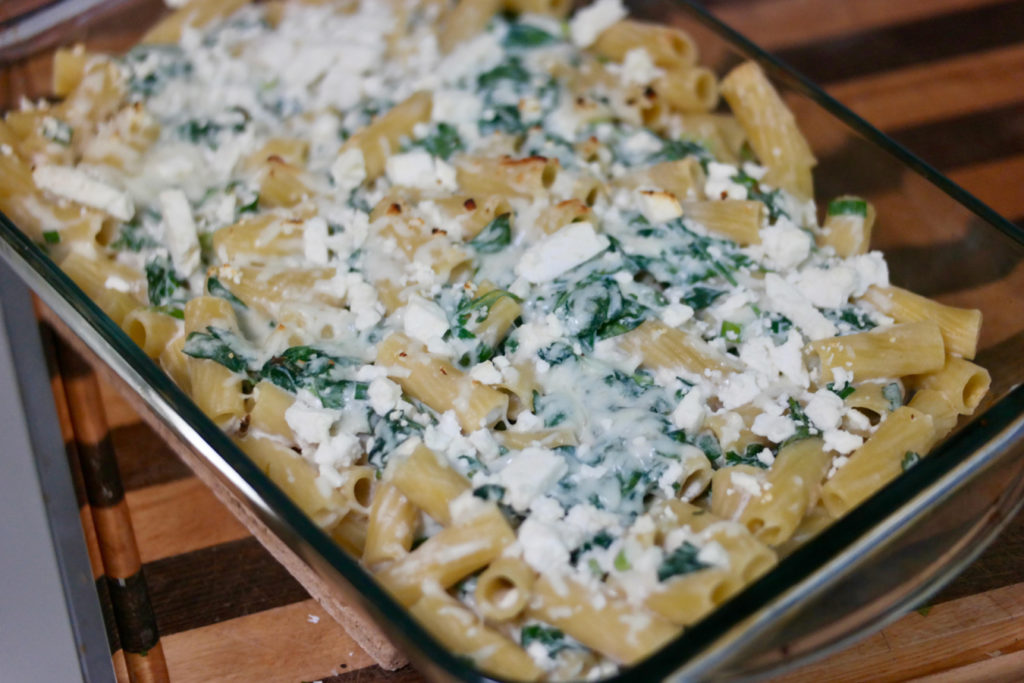 Now you can scoop up servings of pasta.
There were a couple of things we liked about this pasta – first, it felt like just the right amount of effort for a baked pasta dish.  There's only a little bit of vegetable prep you need to do, and then the sauce comes together quickly and your oven does the rest of the job.  But more importantly, there were so many good flavors here:  you've got four different kinds of green veggies and three types of cheeses, and they all meld together to make for an interesting baked pasta.  This dish is both creamy and packed with greens, so it feels like quite the healthy treat.  We definitely enjoyed sampling this, and it's a great new take on pasta that you can try your hand at too.