In the past few years Cyril has become a little bit obsessed with halloumi cheese.  Halloumi comes from Cyprus, and while it's popular in Europe you really can't find it easily in North America – probably because vacationing in Cyprus isn't at all common here, whereas Europeans can easily visit the country and its beautiful beaches.  We've only had halloumi a handful of times anywhere in the U.S., so this cheese has taken on an almost mythical status for us.  You can imagine, then, how happy we were to see this recipe in the New York Times, which combines halloumi with grains and some other tasty ingredients.  We tracked down a block of halloumi at Murray's Cheese and then went about adapting the recipe for ourselves, and this is the result:  rice, cheese, chickpeas, zucchini, herbs and spices, all broiled together to make for a very interesting meal that we'll show you how to make.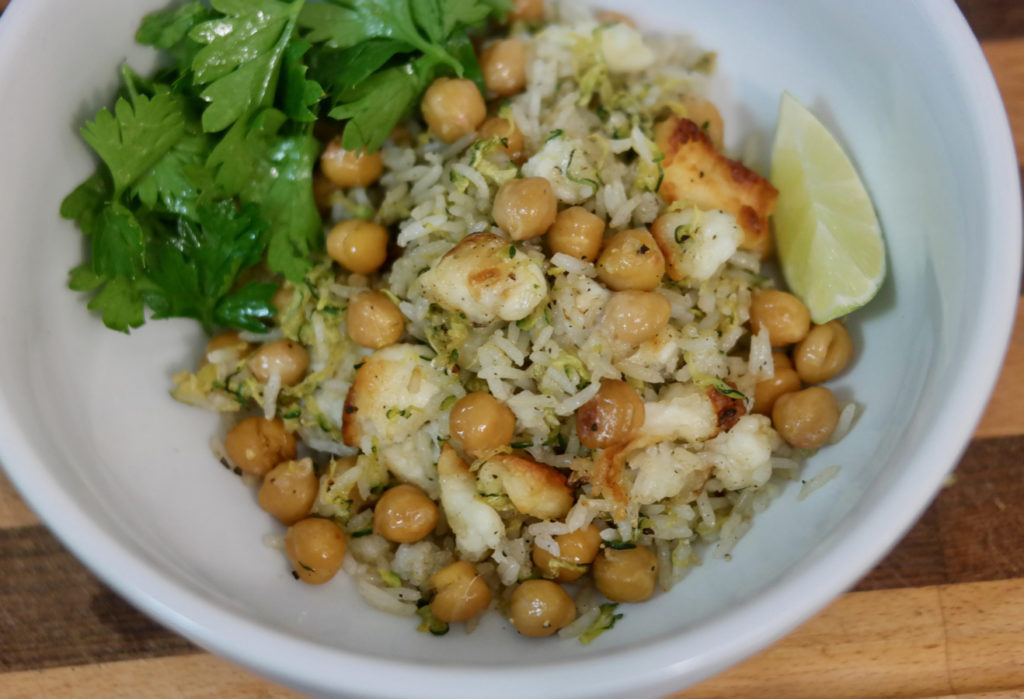 You'll need:
Rice
A 9-ounce package of halloumi
A 15-ounce can of chickpeas
A lime
Parsley
Olive oil
Cumin
A large zucchini
You'll want to start by prepping some of your ingredients:  cook 1 cup of rice according to the directions on the package, and when it's done spread it out on a piece of parchment paper to cool and dry out.  Also use a cheese grater to shred your zucchini, tear your halloumi into bite-sized pieces, and drain and rinse your chickpeas.  Then stir together the rice, zucchini, halloumi and chickpeas with 1/4 cup of olive oil and a teaspoon of cumin, plus salt and pepper, and spread the entire mixture out on a baking sheet.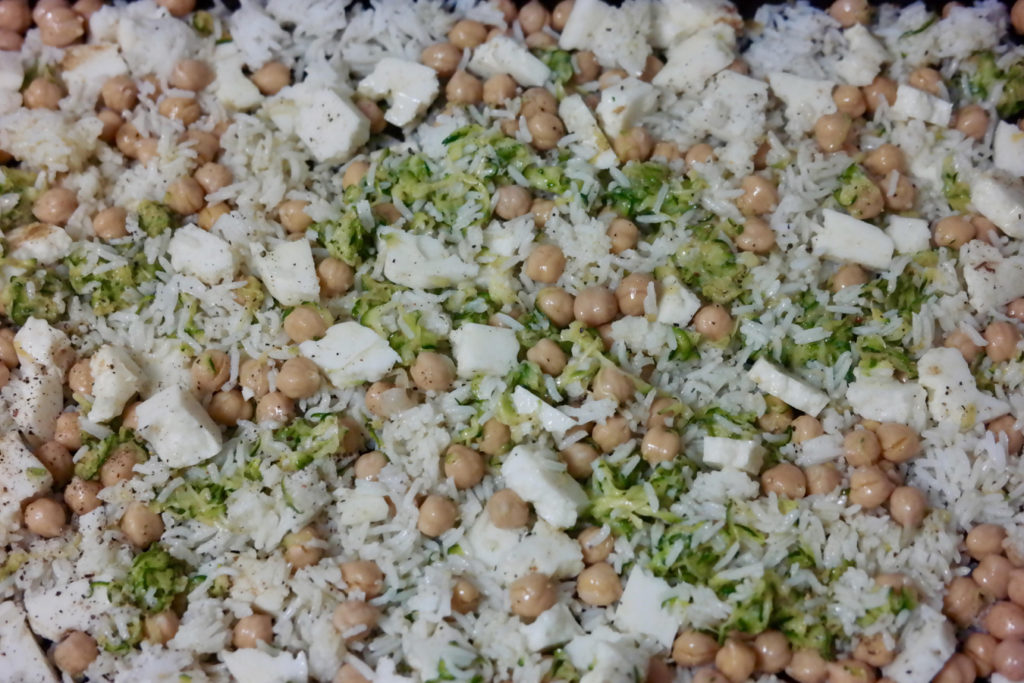 Turn your broiler on high and place in the baking sheet.  Broil for 2 minutes at a time, then check to make sure nothing is burning and shake the pan around to keep anything from sticking to it.  You'll want to broil everything in total for 10 to 15 minutes, until the cheese and chickpeas are browned and the rice crisps up.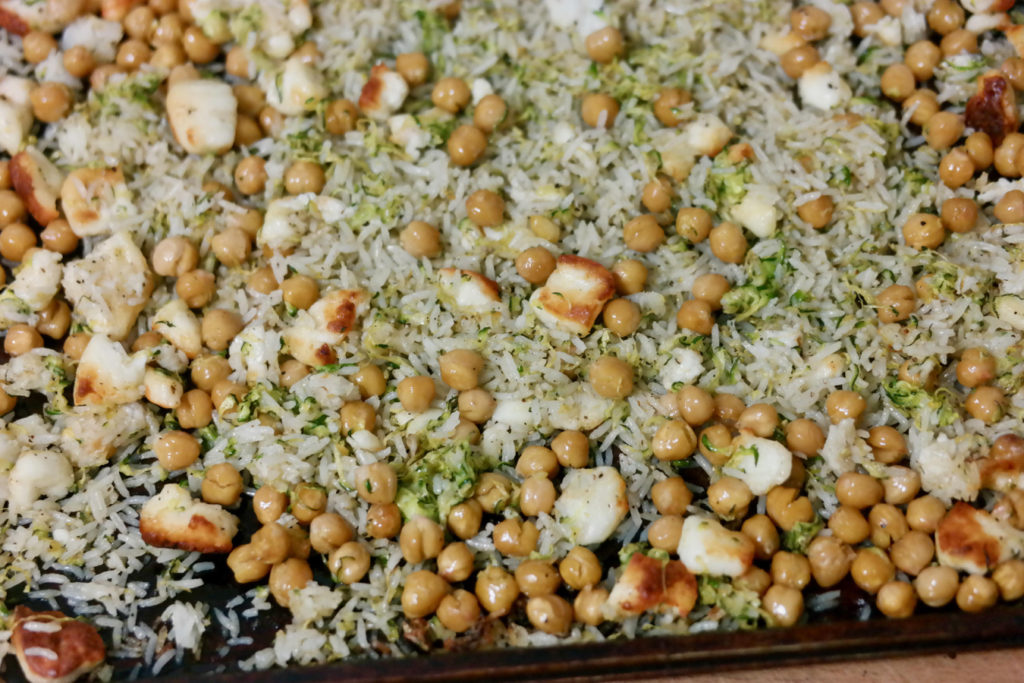 Finally, pluck 1/2 cup of parsley leaves and mix them with a teaspoon of olive oil and the juice from half your lime.  Scoop up servings of rice and top with the parsley and some wedges of lime.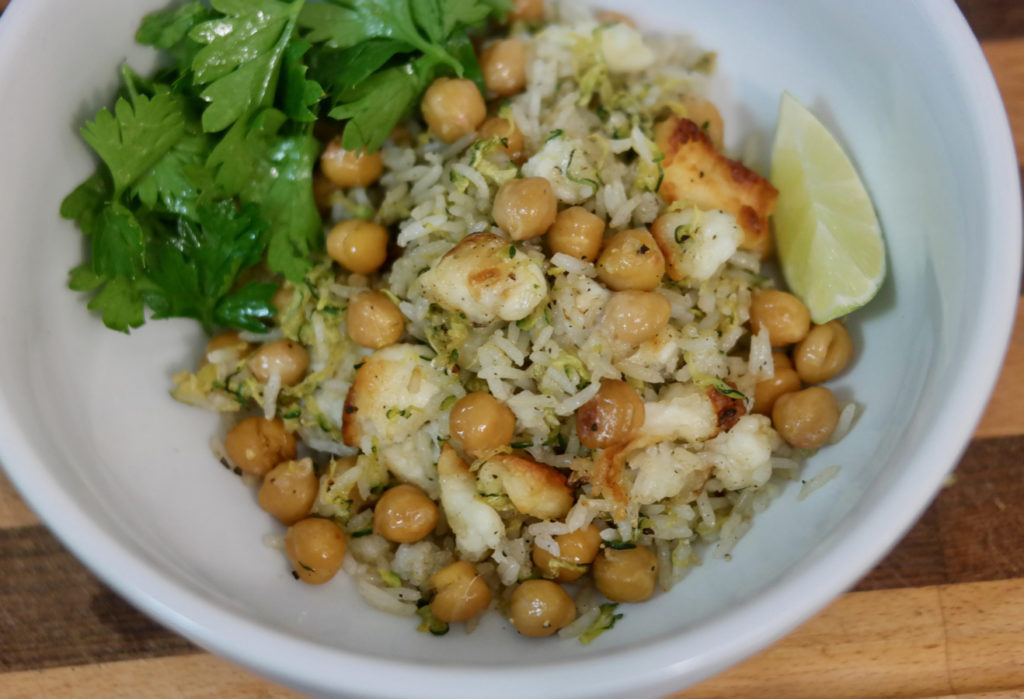 We thought this recipe was really unique:  for the cheese it incorporates, for the fact that it uses broiling as a cooking method, and for the other interesting items we added in to round out the whole thing. This cooks up quickly, since you're using high heat, and there's only a handful of ingredients you need, so really the hardest part of this recipe is tracking down the halloumi.  If you're able to find it, and you want to give this cheese a try, this is an excellent and fairly easy way to try a food you might not have otherwise encountered.