It's been a while since we took a break from our recipes to show you some of the good food we've been eating in New York (and beyond!), but in the past month or so, as things open up more and more, we've been checking out a lot of cool places.  We're going to spend the next few posts showcasing some of these great spots, starting with today – today we're focusing on pizza!  A bunch of new and interesting pizza places have opened up recently and we've gone all over the city to track them down.  We'll show you four places today where you can get some interesting and tasty pies – just be warned that a few of the pizzas we'll show here have meat on them.
The first three places we got to check out are pizza pop-ups operating out of larger, existing restaurants.  For example, Stretch Pizza makes pies out of the Breads Bakery location near Union Square.  Chef Wylie Dufresne, who's also the man behind Du's Donuts – which we visited a few years ago – is using this opportunity to make some really creative pizzas.  The catch is that they're only available for pick up, and only from 5pm to 8pm Tuesdays, Wednesdays and Thursdays.  As you can imagine, with such limited hours you need to reserve your pizza several weeks in advance, so we put in an order well ahead of time for this pizza:  the Couch Potato, topped with fingerling potatoes, mozzarella, Parmesan, rosemary, scallions, and a sour cream sauce.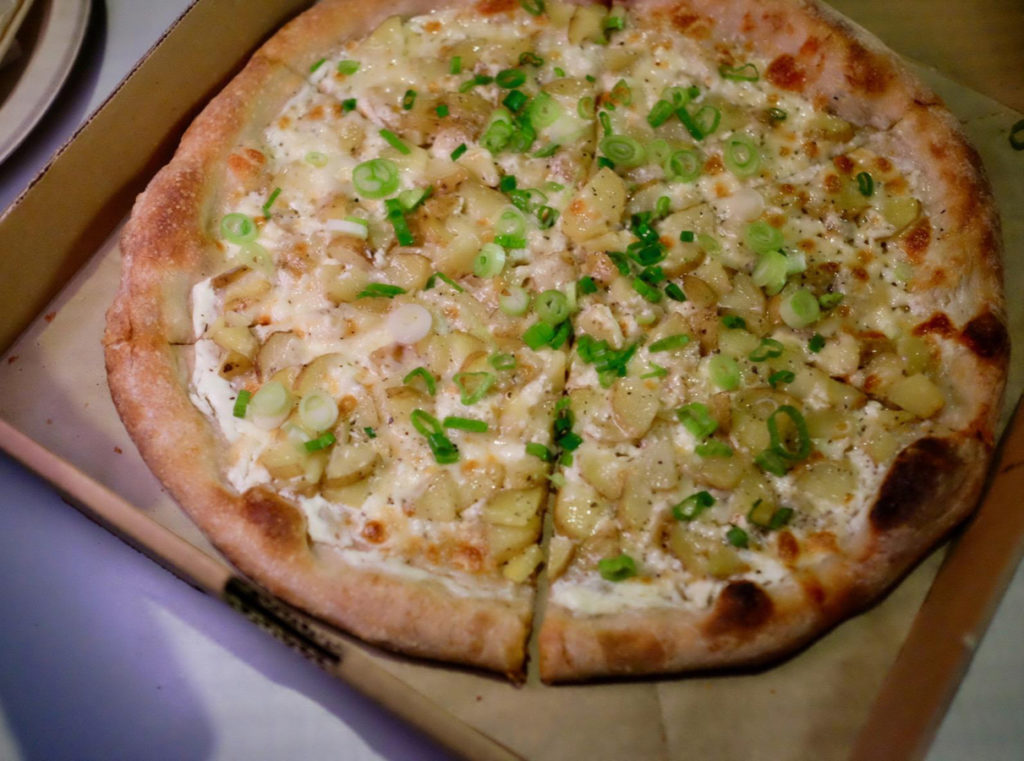 Then a few blocks away we got to check out Black Seed Pizza, a spinoff of Black Seed Bagels, which we've also been to before.  A few months ago they were operating out of the 1st Avenue location in the East Village (they're now on hiatus so you can check back in the fall) and serving up individual-sized pizzas.  Miriam got the Green Pie, which is made with four cheeses – mozzarella, grana padano, pecorino and scamorza – plus kale, artichoke, banana peppers, and a pesto sauce.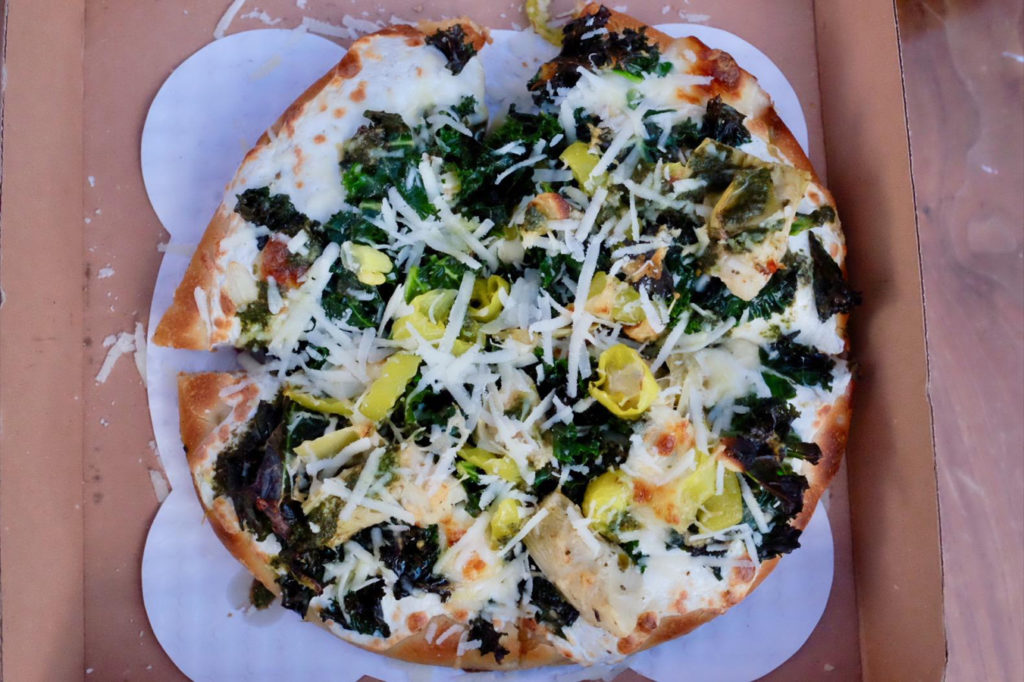 And Cyril had Bob's Pie, which pairs sopressata, olives, banana peppers and a chimichurri sauce with mozzarella, grana padano and pecorino cheeses.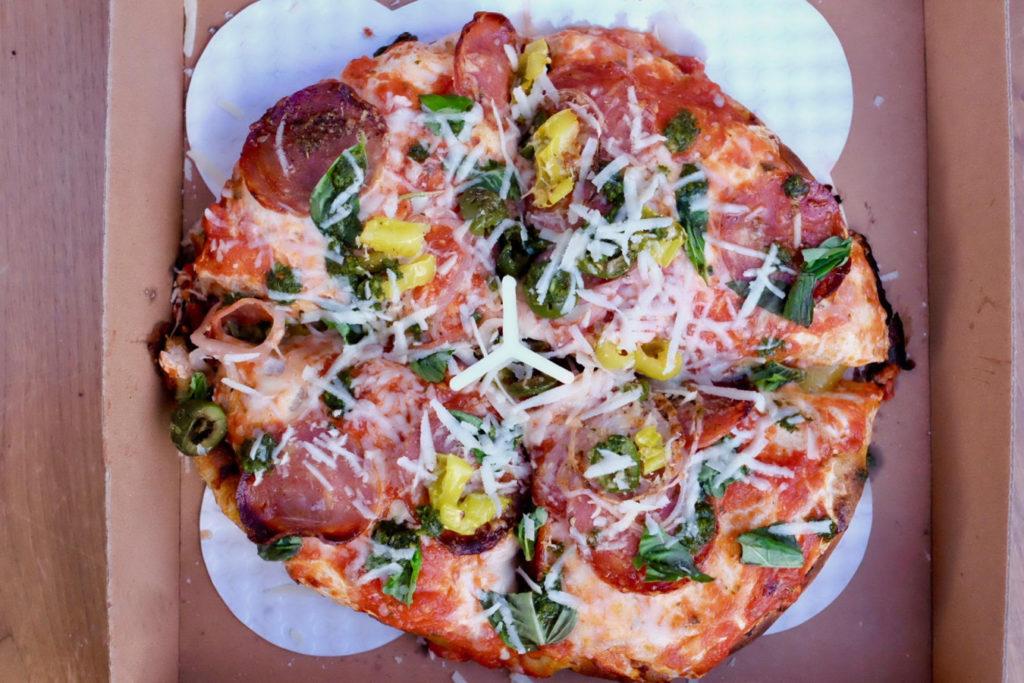 And just a few blocks away is Washington Squares, operating out of Loring Place – which, you guessed it, we went to a while back.  As you might be able to guess from the name, they're serving up square grandma-style pizzas, so we got one to go:  this is the Plain Jane, with mushrooms added on top.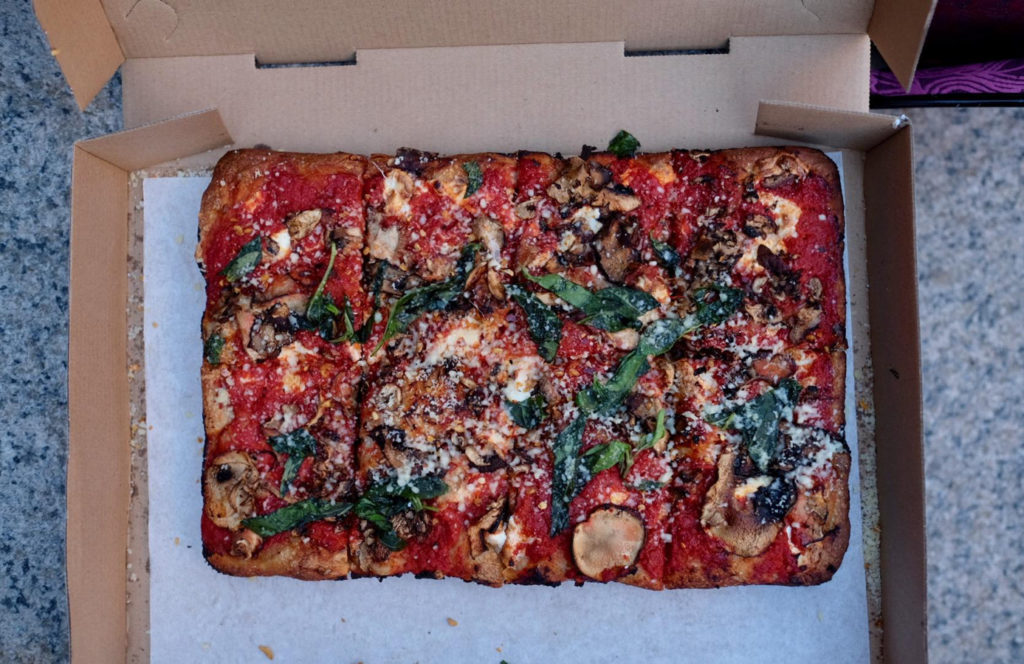 And finally, we went to a pizza spot that was 100% new to us, and also way down at the bottom of Prospect Park in Brooklyn.  There, at Wheated, we decided to try two pizzas:  for Miriam it was the Bay Ridge, made with a vodka sauce and topped with basil and fresh mozzarella.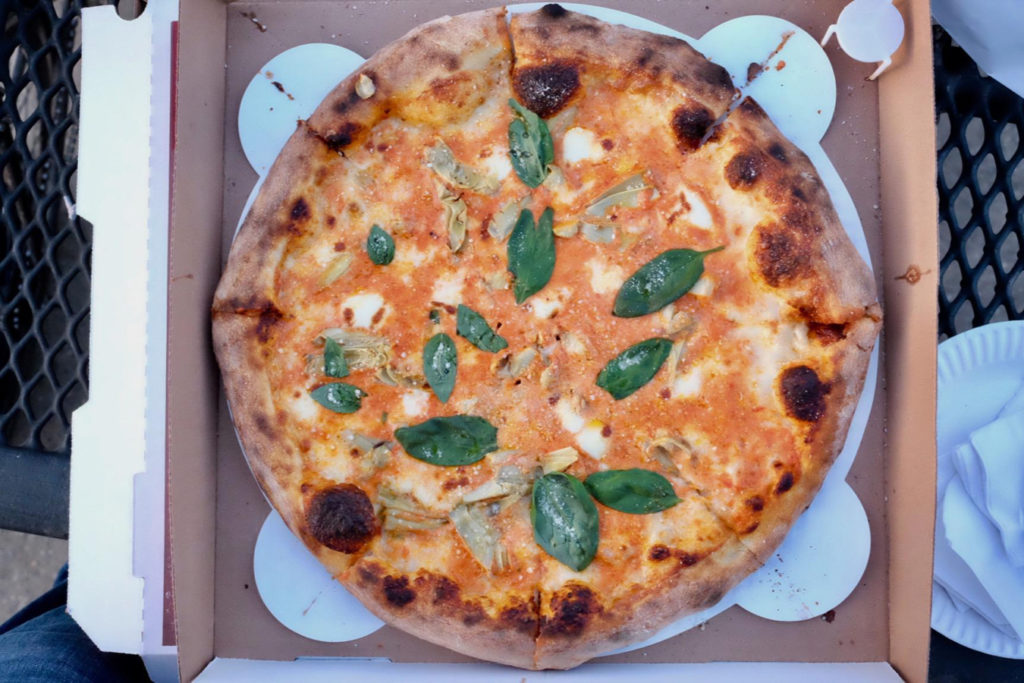 And Cyril had the Supreme Pizza, topped with pepperoni, fennel sausage, olives, onions, mushrooms, and basil.
As you can see, our spring involved a lot of pizza.  It was interesting seeing restaurants and chefs that we're familiar with trying their hand at pizza and seeing what inventive pies they could come up with.  And we also enjoyed making a trip farther south into Brooklyn to check out Wheated's storefront – that Bay Ridge pizza was one of the best we've tried recently.  Some of these places might not be around for much longer, since they're pop-ups, so you should try them out now.  Black Seed Pizza is taking a break at the moment, so you can visit them again in a few months.  And Wheated seems to be here to stay, so grab a pizza any time and take it to Prospect Park for a delicious picnic.  We're a pretty big fan of New York's classic pizza places, but we're always down to try something new and these spots are a great example of the pizza innovation in this city.