We've been meaning to visit Memphis for a long time – since April 2020, in fact.  We had originally booked a weekend there last spring, but as you can imagine the pandemic killed that trip.  We rebooked for June 2020, then pushed the trip to July, but we didn't feel like it was a good idea to travel at that time so we rescheduled for spring of 2021.  After three different sets of flight cancellations, a few delays, and one sprint through Chicago-O'Hare, we finally touched down in Memphis two Fridays ago.  And of course, we ate our way through the city.  We're not going to lie, it's a little hard to find vegetarian food there – barbecue and Southern food dominate, and since those cuisines are pretty meat-centric we didn't find a ton of options at the places we visited.  But we made due, and so we're going to show you some of the things you can eat if you want to check out Memphis and still stick to vegetarian fare.  But as a warning, there's also a lot of meat featured in our images here.
Let's first introduce you to the two barbecue joints we visited in Memphis.  First up was Central BBQ, which has several locations around Memphis and also in Nashville.  They actually did have a vegetarian offering:  this portabella sandwich, doused in barbecue sauce and topped with gouda cheese.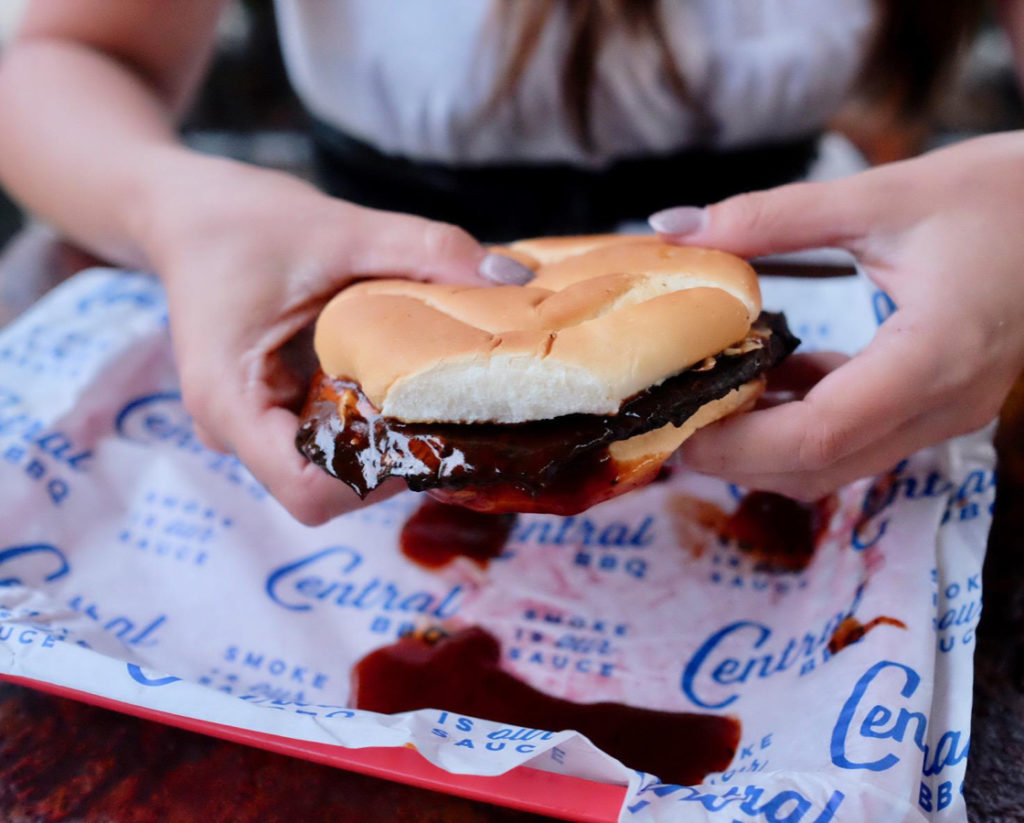 Meanwhile, Cyril got a slab of ribs half-and-half style (half dry, half wet) with sides of BBQ beans and mac and cheese.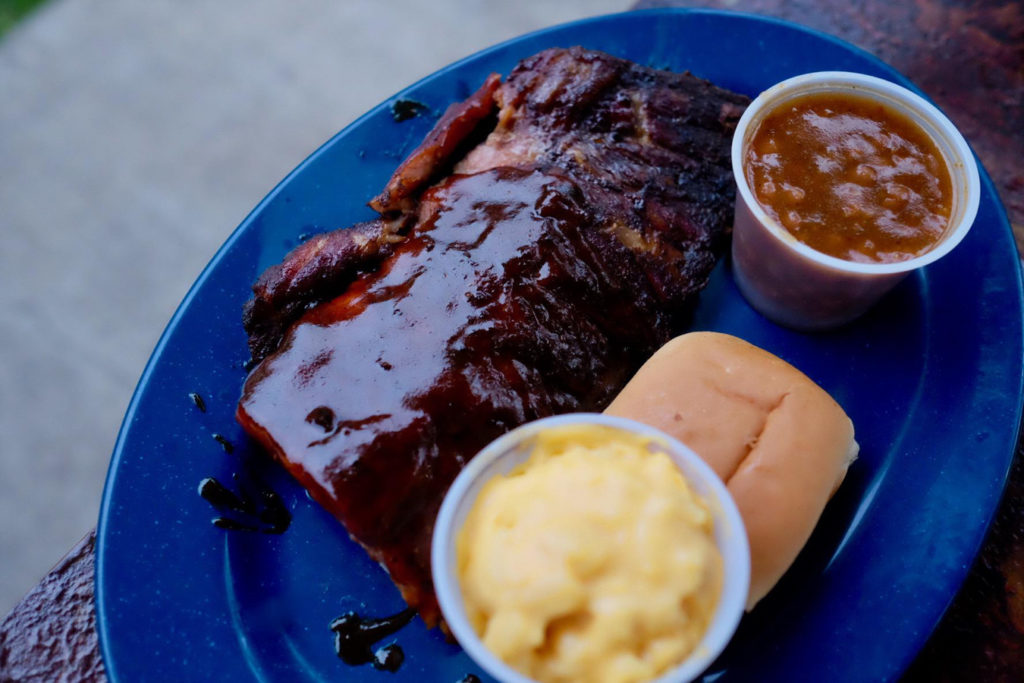 And we also shared an order of nachos – they typically come with a smoked meat on top, but we asked them to substitute smoked portabella mushrooms instead.  They're also piled with barbecue sauce, shredded cheese, cheese sauce, and jalapeños.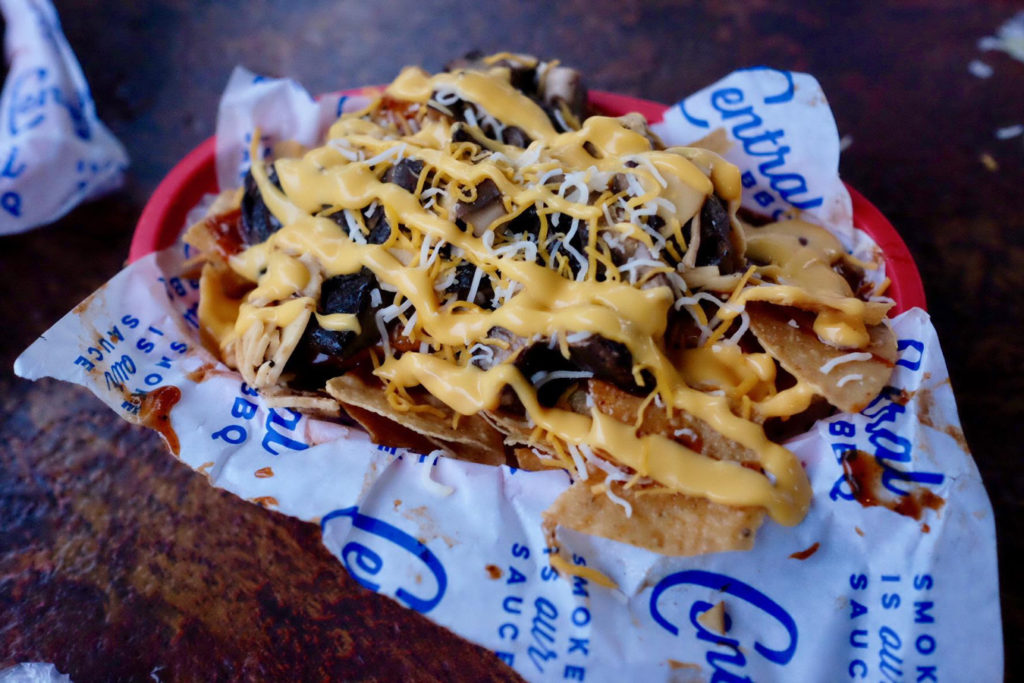 We also decided to go check out Tom's Barbecue, near the airport.  Miriam had some mac and cheese there …
… but Cyril got a half slab of pork spare ribs, with sides of baked beans and coleslaw …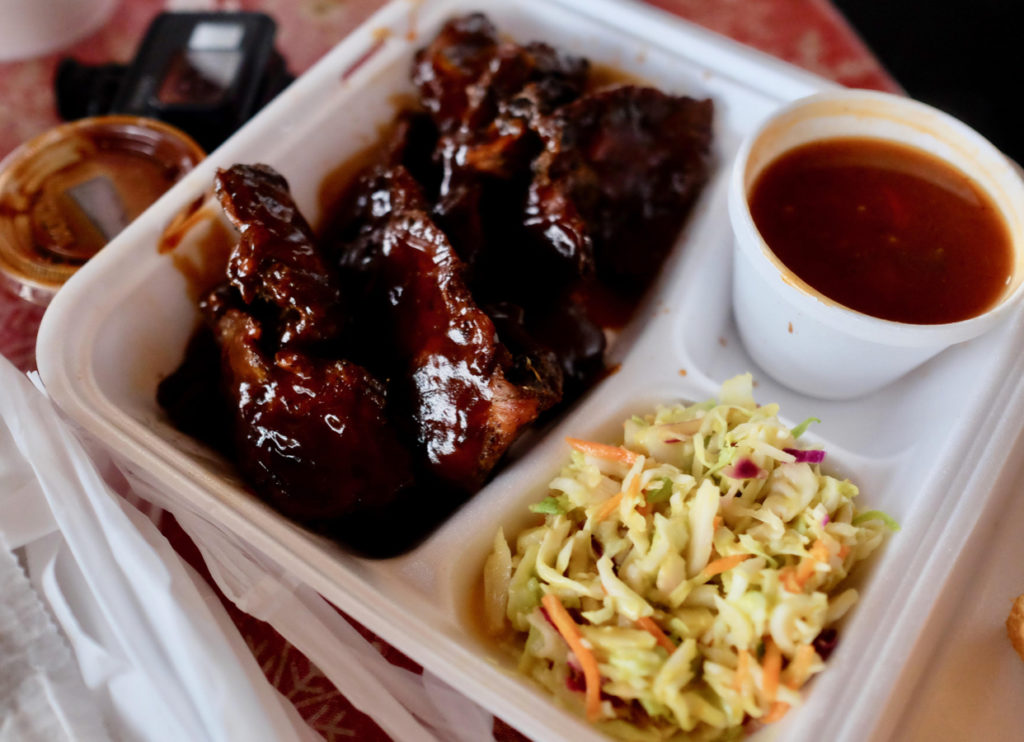 … and also an order of smoked wings.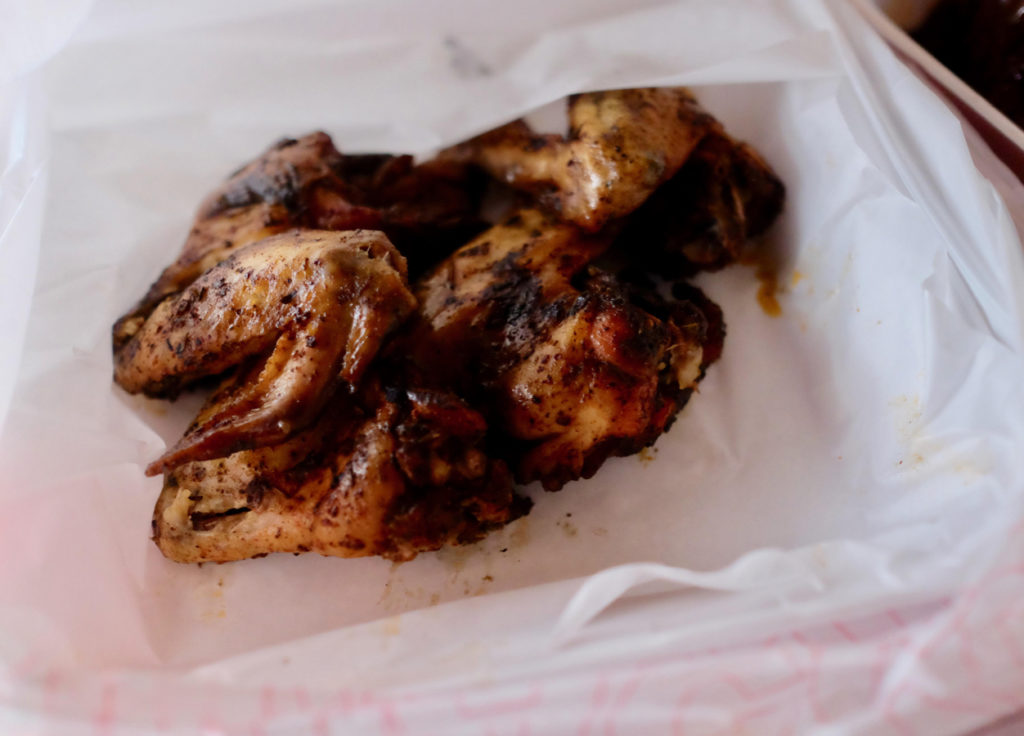 We also went to check out Gus's Fried Chicken, which started in Tennessee and has since expanded to more than a dozen locations around the U.S.  We visited the downtown Memphis restaurant where, once again, Miriam had to cobble a meal out of sides.  Here's the mac and cheese: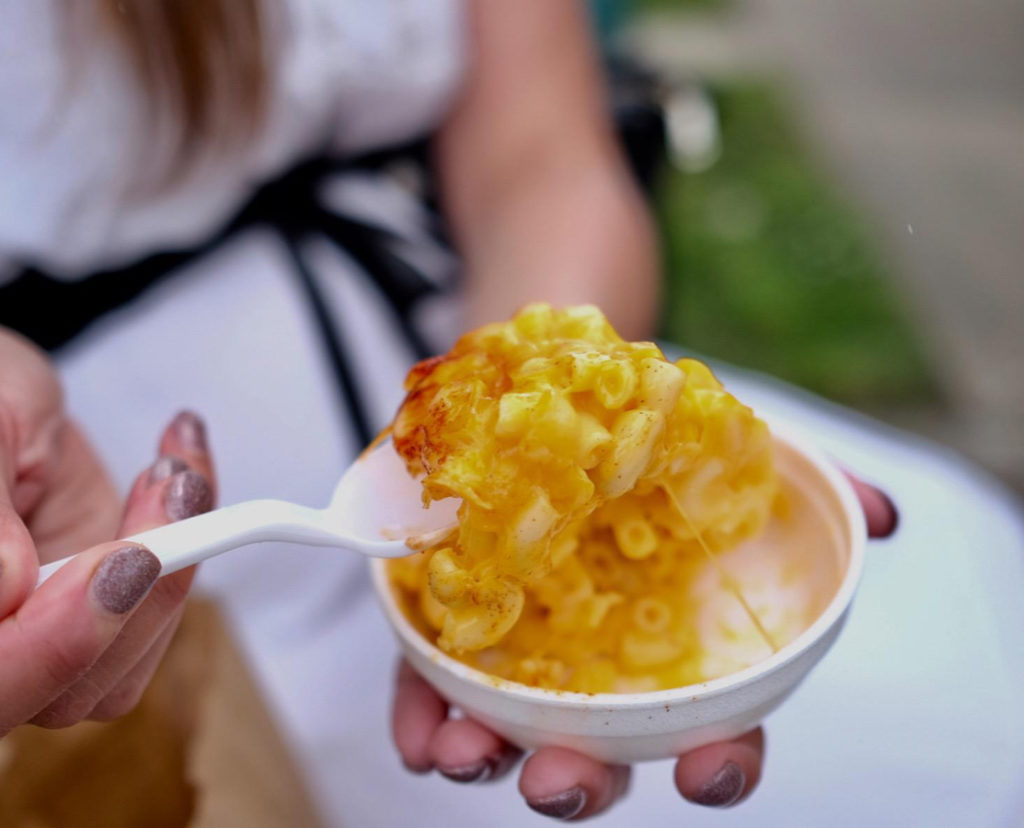 And she also had some fried okra.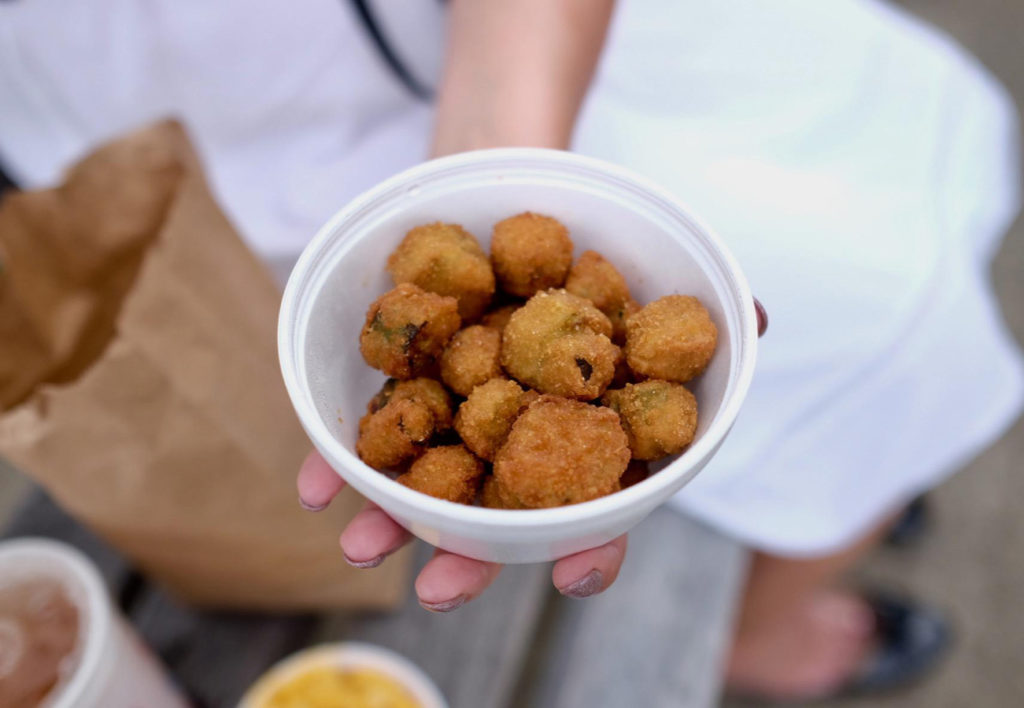 Cyril, of course, got some chicken – a breast and a drumstick, plus baked beans and coleslaw.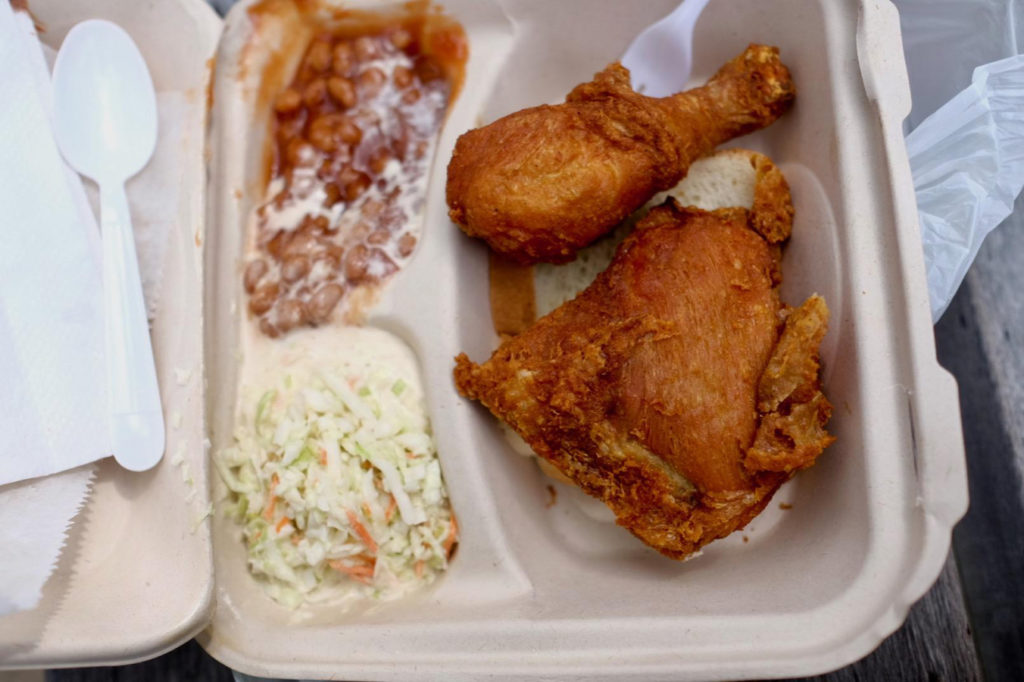 We also tried a few breakfast spots – for a quick bite we headed to Gibson's Donuts and picked up a half dozen, including one plain glazed, one cake glazed, one original cake donut, one chocolate glazed with sprinkles, one maple glazed, and one maple bacon.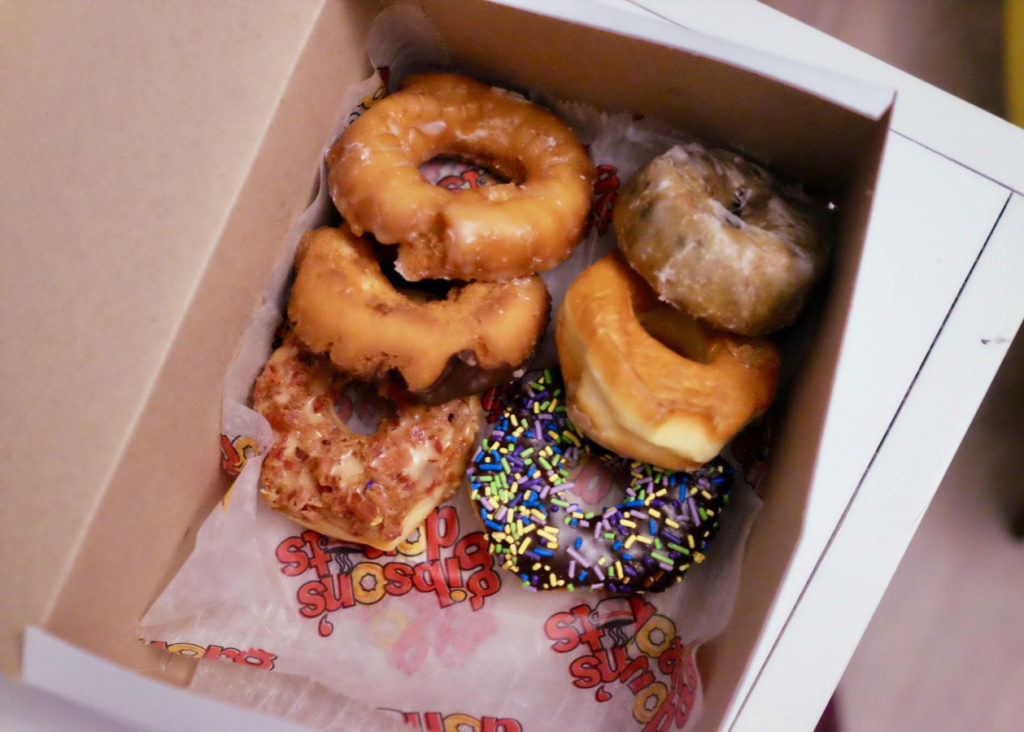 For a historical experience you can head to Arcade Restaurant, which claims to be the oldest cafe in the city.  It was also a favorite of Elvis, Memphis's native son, because they served up his favorite grilled peanut butter and banana sandwich.  Here's the legendary sandwich: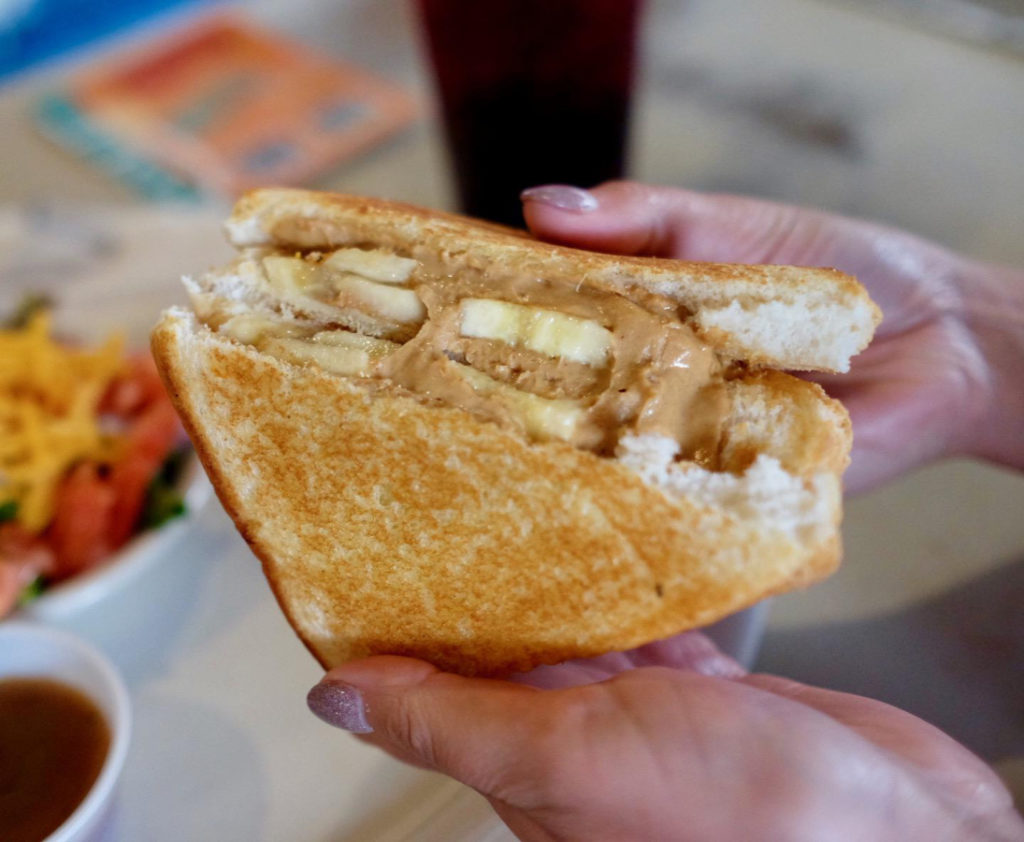 You can also get a more traditional breakfast, like this eggs redneck platter.  It's got biscuits and gravy, eggs, hash browns, and your choice of chicken, sausage, or bacon (Cyril got the fried chicken, as you can see).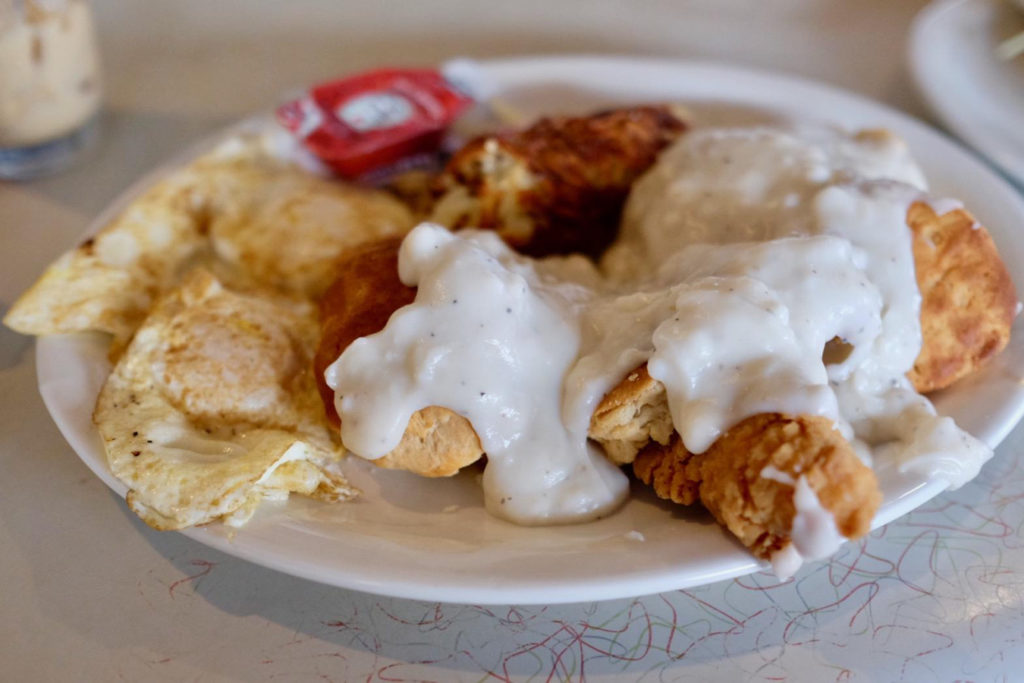 And finally, we also enjoyed visiting Brother Juniper's, which is insanely popular for breakfast and brunch.  After waiting for around half an hour we finally got a table and tried a few different things.  For Miriam it was the potatoes with black beans, salsa, green onions, Swiss cheese, and sour cream, with a biscuit on the side.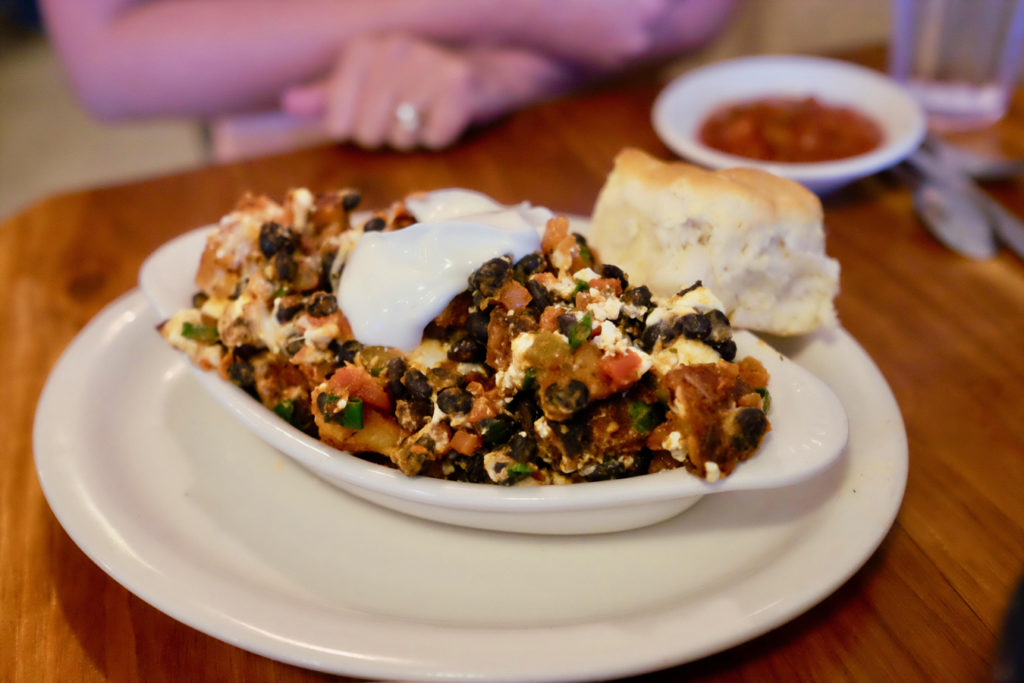 Cyril had the San Diegan open-faced omelet, made with mushrooms, salsa, green onions, bacon, sour cream, home fries, cheddar cheese, and feta, plus a biscuit and cheesy grits on the side.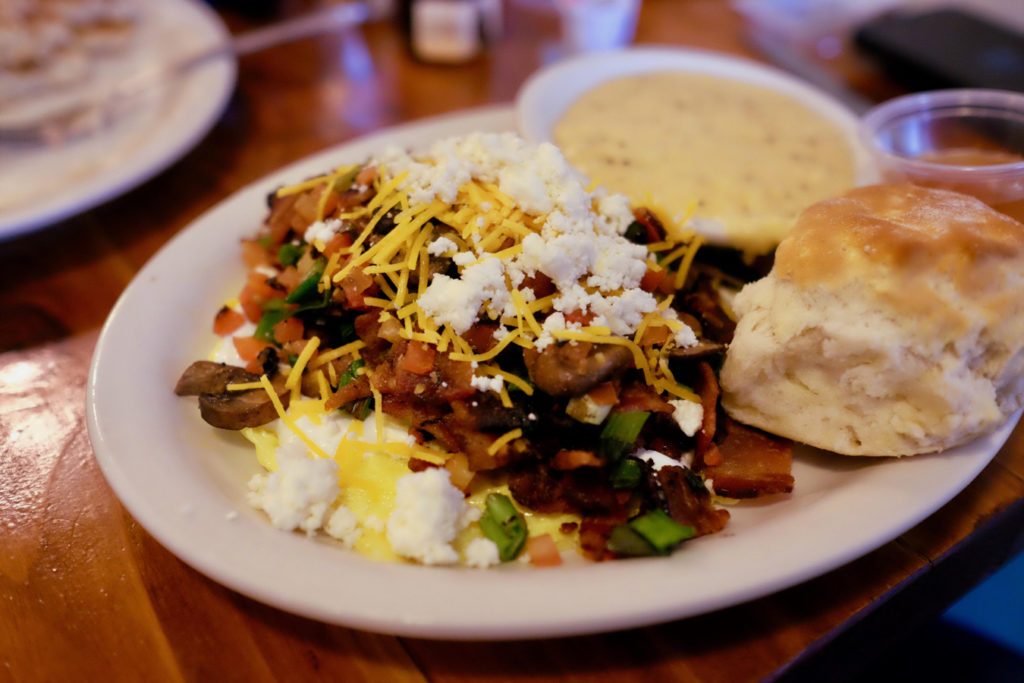 And we also split an order of their famous cinnamon roll pancakes, with a cream cheese glaze swirled on top.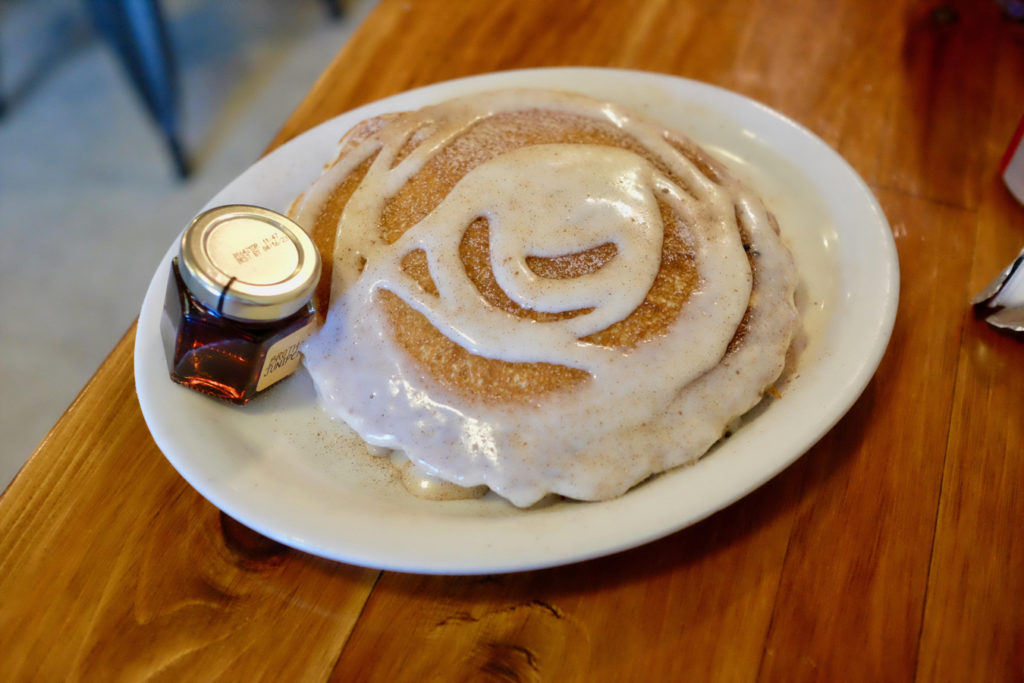 So yes, you can see that eating vegetarian can be a little tricky in Memphis.  But if you're creative and open-minded, you can definitely find some interesting food to try.  Sides are usually a good choice at barbecue spots – just make sure you double-check that they don't have any meat products in them – and we really did appreciate that Central BBQ was willing to offer something vegetarian.  Barbecue and Southern food what what we expected in the city, if you also like breakfast Memphis has lots of interesting spots, from casual to diner to more busy and popular sit-down places.  We're glad we finally, finally got to check out this city, and we enjoyed eating our way through our weekend there.