A few weeks ago we took a food tour in the North End of Boston, which has a large Italian-American population and a lot of food shops where you can buy all kinds of things.  At one store we were pretty excited to find a package of croxetti, because this type of pasta is rare to see in the U.S.  Croxetti is one of the oldest varieties of pasta and one of the most unique:  it originated in the Middle Ages in what is now Liguria, one of the northern regions of Italy.  Croxetti were meant to look like coins, and nobles would have their family's coat of arms stamped into the surface – so each individual pasta is a round disk with a pattern impressed in the top.  Once we got our hands on this very cool pasta, which we'd never had a chance to try before, we had to figure out just what we were going to do with it.  So we did some research and discovered sugo di funghi, a pasta sauce from the Ligurian city of Genoa which is traditionally made from meat cooked with mushrooms, tomatoes, and red wine.  Cyril used his culinary creativity to make this a meatless, vegan sauce, and here's the delicious result!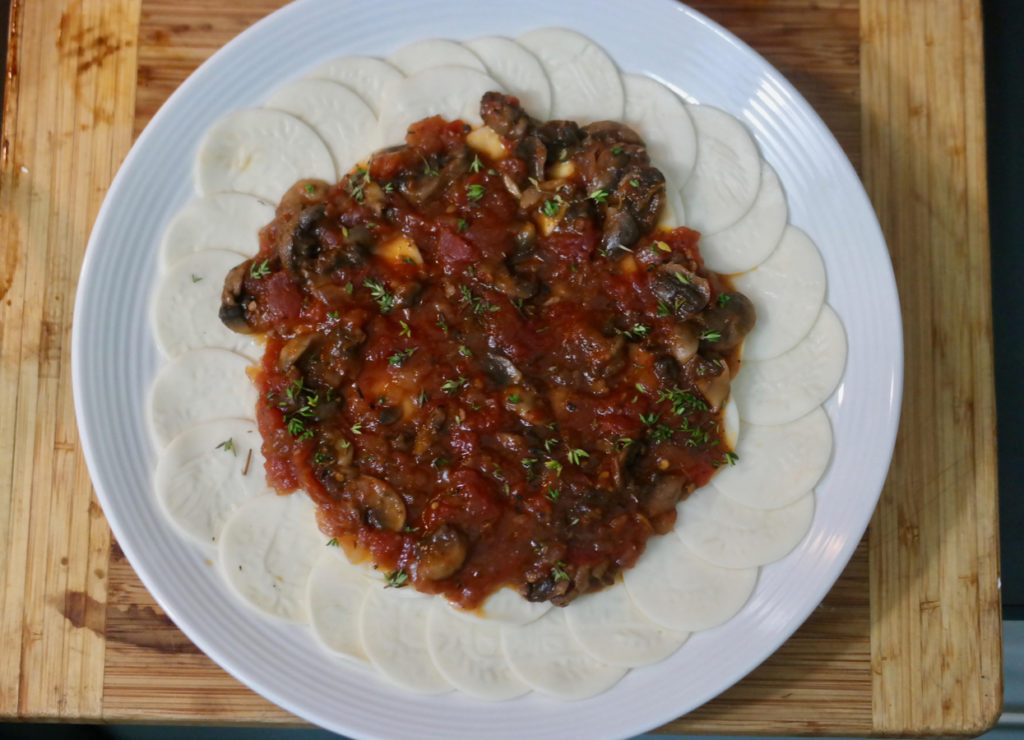 To make this, you'll need:
A 500g (1.1 pound) package of croxetti
A pound of mushrooms
An onion
A 28-ounce can of whole peeled tomatoes
Garlic
Thyme
Bay leaves
Red wine
Olive oil
To get started, you'll want to slice your mushrooms into bite-sized pieces, finely chop your onion and 2 garlic cloves, and take the leaves off a large handful of thyme.  In a pot cook the garlic, onion, and mushrooms with 4 tablespoons of olive oil over medium heat for about 10 minutes, until the vegetables are browned but not burned.  Add in 3/4 cup of red wine and some salt and pepper and cook briefly on high heat until the wine is reduced.  Dissolve a Massel 7's cube into 1/2 cup of very hot water and then pour that into the pot, then sprinkle in the thyme.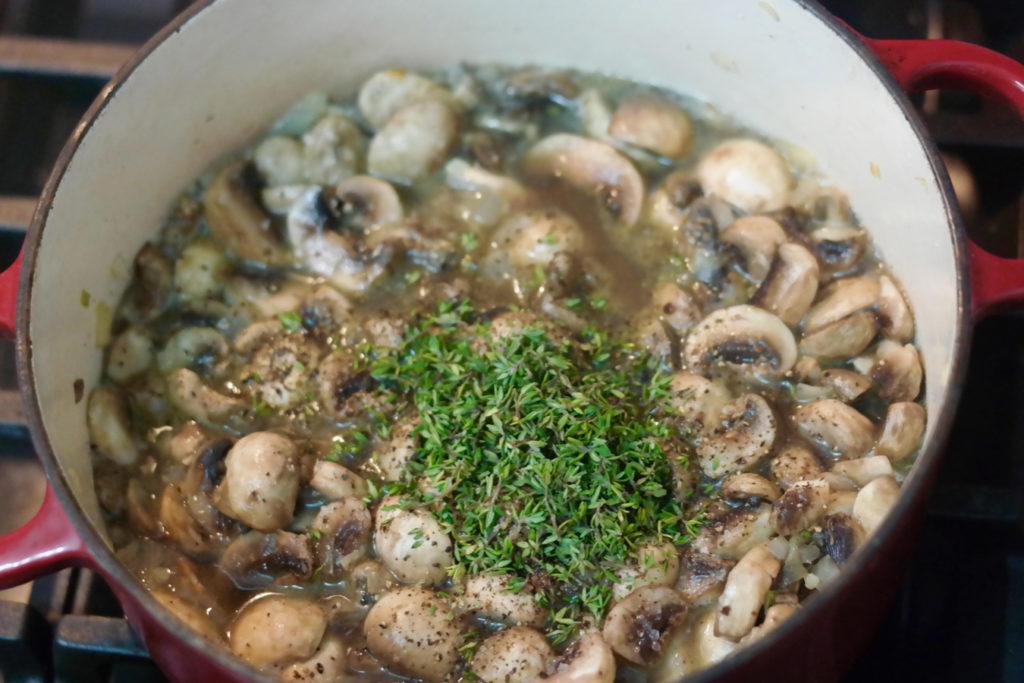 Stir everything together and then add in 2 bay leaves and your entire can of tomatoes, including their juices.  Partially cover the pot and cook over low heat for half an hour.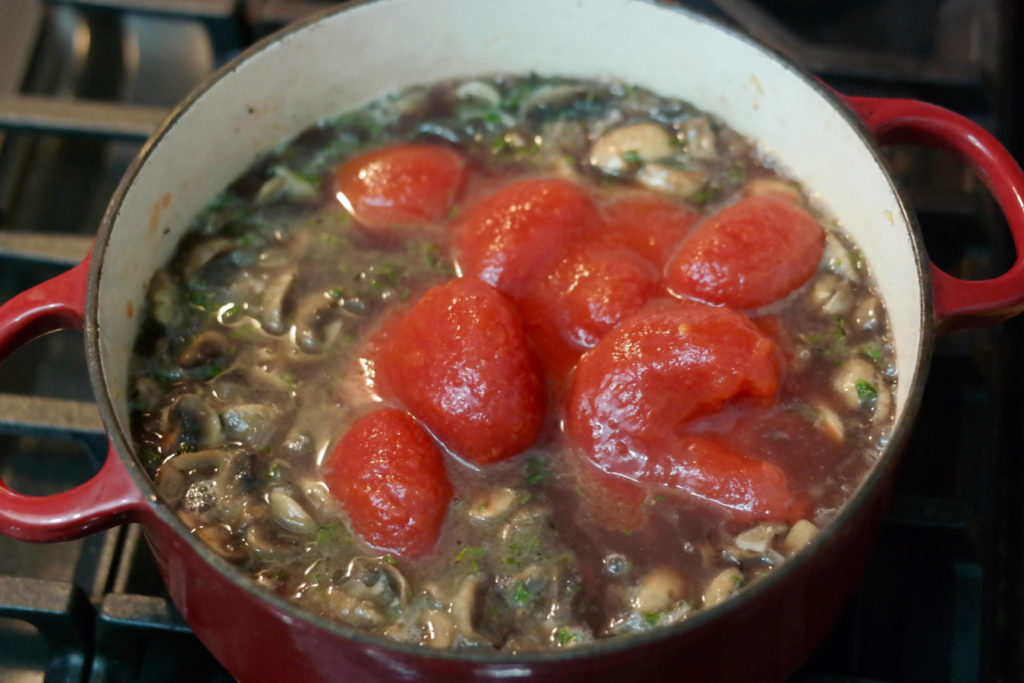 When your sauce is almost ready, cook the croxetti for 5 to 6 minutes in boiling water, then carefully drain them – you want to make sure you don't break any of them, and you also want to keep them from sticking together.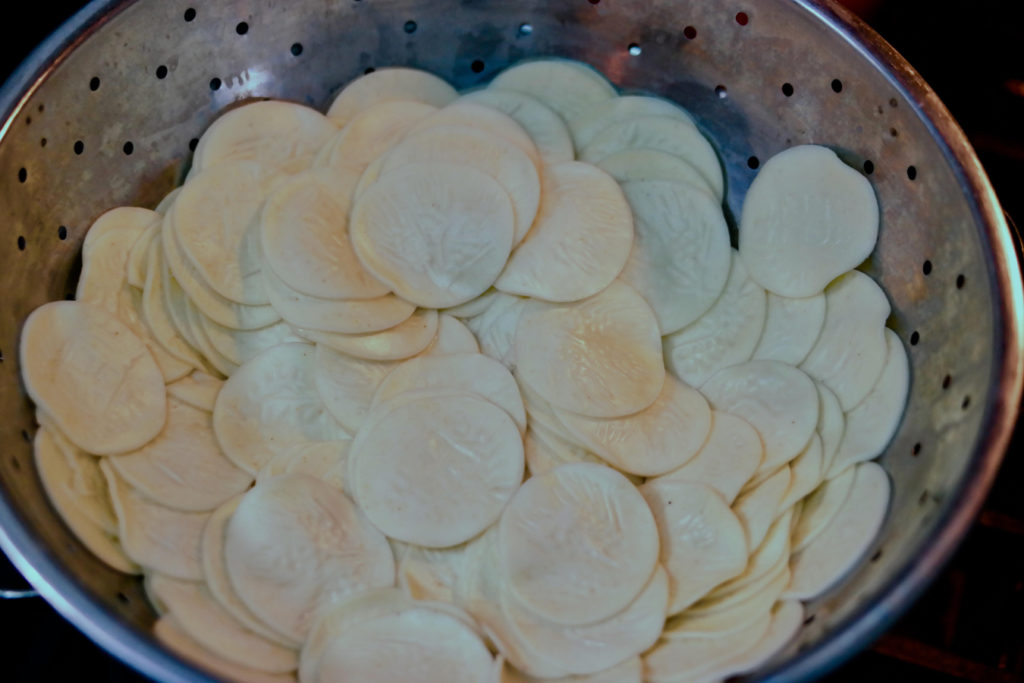 Once the sauce has melded together nicely, fish out the bay leaves and stir it all together until the tomatoes are fully broken down and incorporated into everything.  To serve your croxetti, lay them out on a plate and then spoon sauce on top, along with some extra thyme leaves.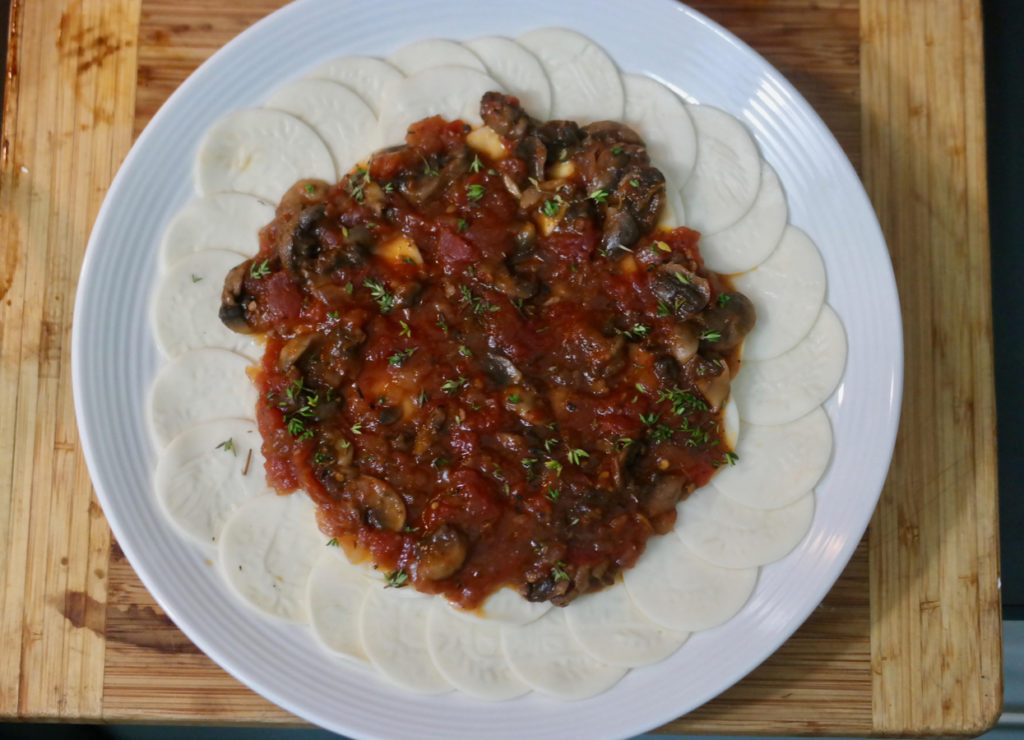 We had a fun time trying this recipe out – we got to sample an interesting type of pasta, and we also had the chance to make a new kind of sauce that doesn't rely on meat or any dairy.  Having the sauce slow-cook makes everything a nice and savory blend, and the chunkiness pairs well with the thin and delicate croxetti.  All in all we got a pretty authentic Ligurian dish, so if you're able to track down this unique type of pasta you now have a delicious way to prepare and eat it!