We love a good noodle dish, because noodles are so vegetarian-friendly: there's tons of meatless sauces you can pair with them, and cuisines across the world have come up with delicious ways to prepare noodles with only plant-based ingredients.  So whenever we see a new noodle recipe we jump on it – hence this one, which we adapted from Bon Appétit.  The key to this meal is gochujang, a sweet and spicy chili pasta from Korea.  We had to travel to a Korean-owned grocery store to find our gochujang, and even then were wandering up and down the shelves trying to find it.  But it's this unique sauce that makes these noodles stand out, so enjoy the hunt, an follow along to see how you can have a hearty noodle dinner that's vegetarian (and easily made vegan), and filled with plenty of flavors.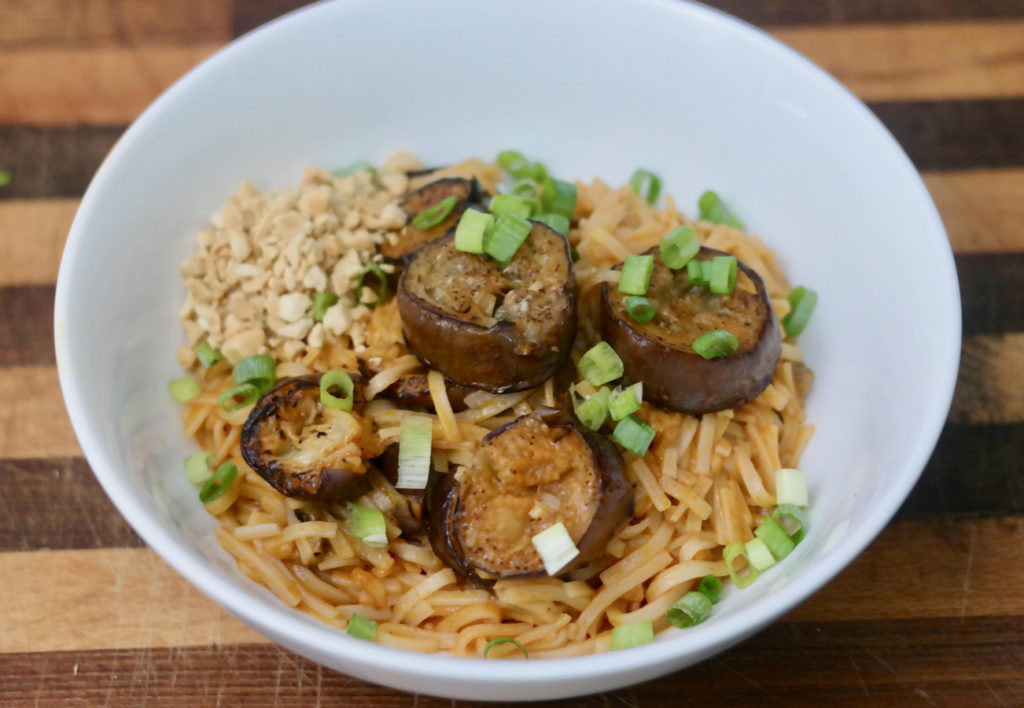 You'll need:
A 12-14 ounce package of rice noodles
Gochujang
Olive oil
 1 1/2 pounds of Japanese eggplant
Garlic
Ginger
Tomato paste
Butter, or a vegan butter substitute
Scallions
Peanuts
You'll want to start by cooking your noodles:  bring a large pot of water to a boil, then take it off the heat and stir in the noodles.  Let them sit in the water for 7 minutes, then scoop out 1/2 cup of the cooking water and drain the noodles, setting them aside for now.
Meanwhile, cut your eggplant into 3/4-inch thick rounds.  Warm 3 tablespoons of olive oil in a large, deep skillet over medium-high heat and then place in as many eggplant slices as you can fit without them overlapping.  Pour another 2 tablespoons of olive oil over them, sprinkle with salt and let them sit for 3 minutes, then flip them over and cook for another 5 minutes, stirring them around in the pan every so often, until the eggplant is browned.  Take the eggplant out, and cook any extra slices you have with more oil as needed.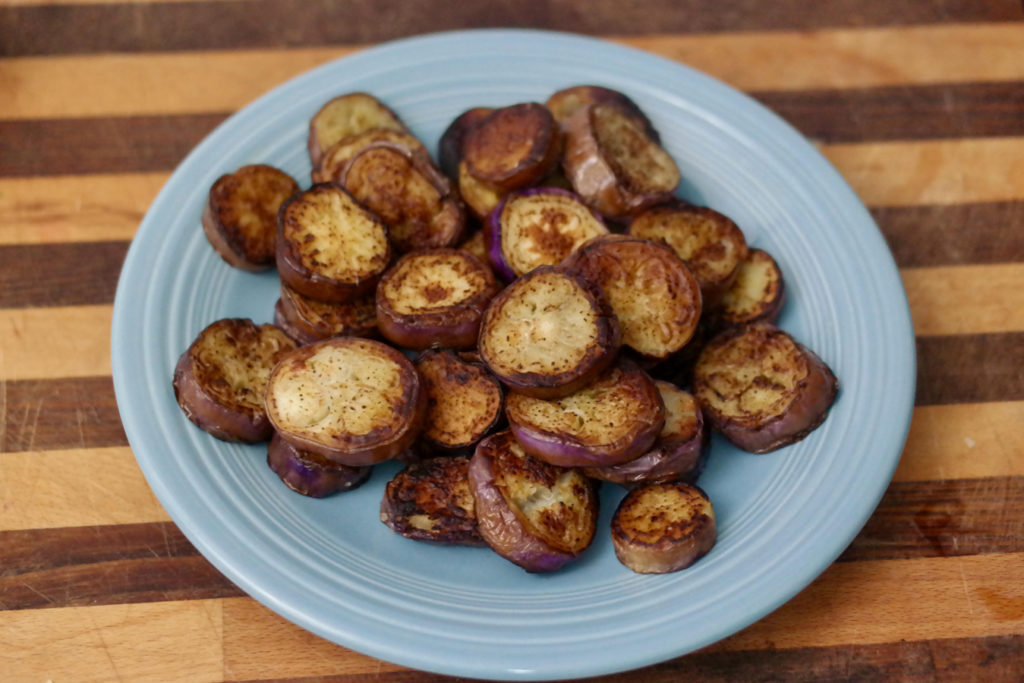 Now chop 6 garlic cloves and a 1-inch, peeled piece of ginger and place in the same skillet along with a tablespoon of olive oil.  Cook over medium heat for 2 minutes.  Add in 2 tablespoons of tomato paste and stir around, then in a bowl whisk together 3 tablespoons of gochujang with 1 1/2 cups of warm water and pour this into the pan.  Add in the eggplant and cook everything together for 8-10 minutes, until the eggplant is very soft.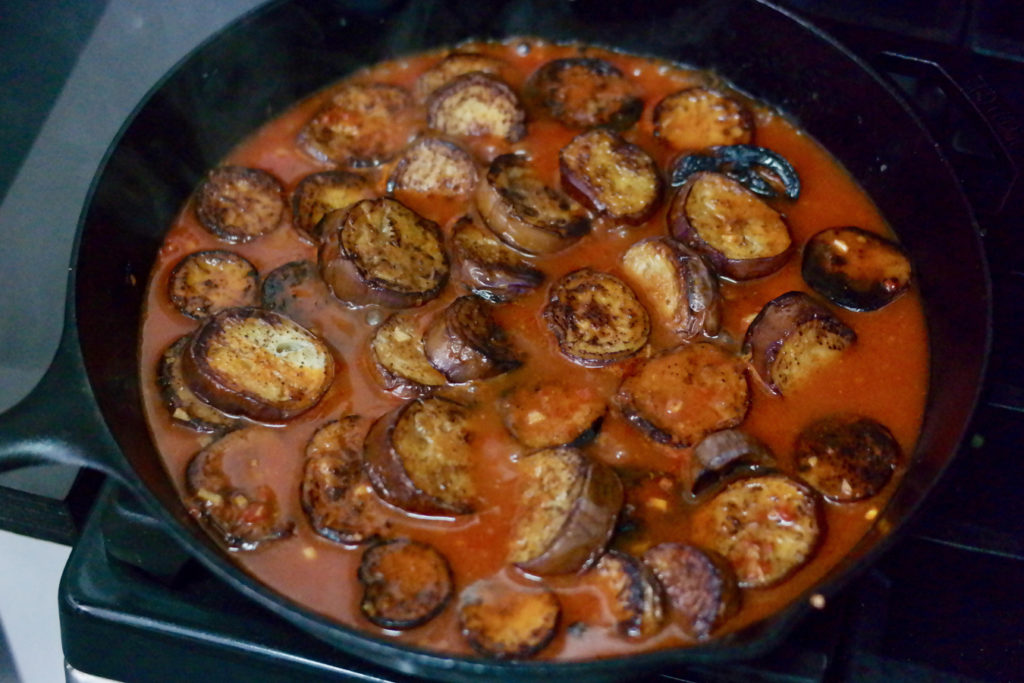 Then stir the noodles into this sauce, along with the noodle cooking water and 2 tablespoons of butter or butter substitute.  Stir and cook everything together for a few minutes, until the noodles are evenly coated, then take the pann off the heat.  Slice up 3 scallions and chop 1/3 cup of peanuts in a food processor, and serve the noodles in bowls topped with the scallions and peanuts.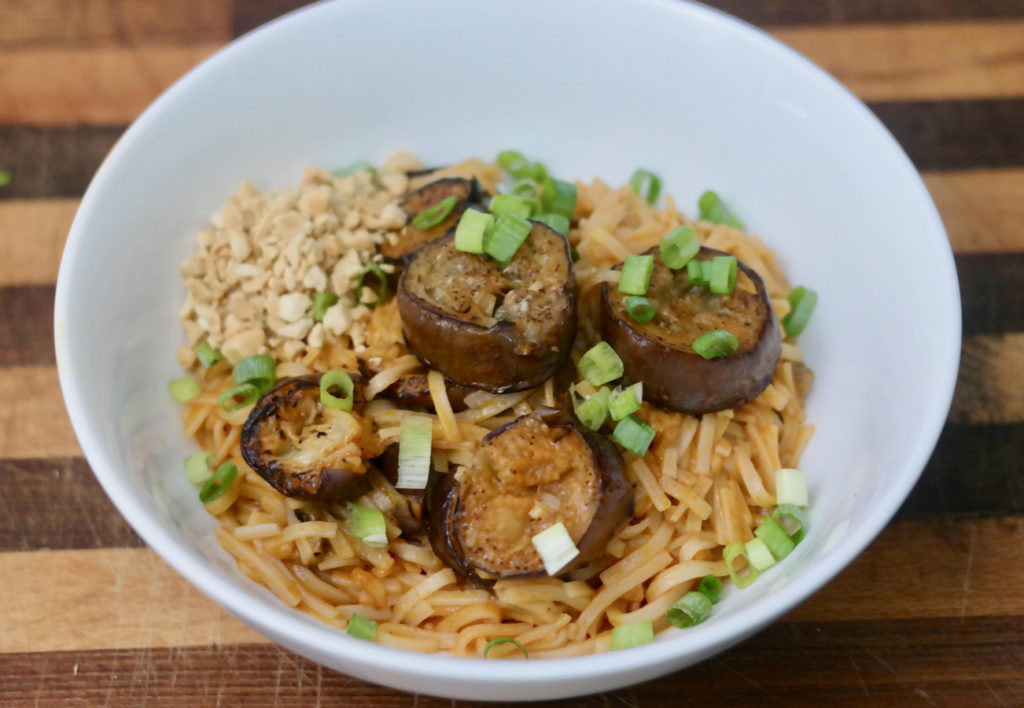 We'll admit, the eggplant slices end of looking like little pieces of sausage – but in reality, they're tender eggplant that mixes well with the tomato-gochujang sauce.  The garlic and ginger add in some good additional flavors, and the scallions and peanuts on top provide a nice crunch to everything.  Cooking the eggplant takes some time, but other than that it's only a matter of soaking noodles, making a sauce, and bringing everything together into a lightly spicy dish.  We'd never used gochujang before this, so we were glad to get a chance to try it at home, and now we plan to get creative in using it with other foods.  For now, we loved these noodles!