We recently showed you a delicious way to cook up some fresh summer vegetables, and now today we'll feature another great seasonal staple – green beans!  This recipe adds some great spices to these beans and makes the whole thing hearty by adding in paneer, plus you get to cook everything on a griddle to make a nice meal from grilled veggies and cheese.  You'll likely have to find an Indian grocery store for the paneer, but the hunt for this ingredient is worth it to get this unique dish.  We based this on a recipe from Bon Appétit, and what's great is that you can either make this as an interesting side dish or a light dinner, as we did.  Whatever you choose to do, you'll end up with this colorful and flavorful meal.
You'll need:
Garlic powder
Onion powder
Paprika
Cumin
Cayenne
Sugar
A lemon
Olive oil
A pound of green beans
12 ounces of paneer
Sliced almonds
You'll first want to make your spice mix:  stir together a tablespoon each of garlic powder, onion powder, and paprika, plus 2 teaspoons of cumin, 1/2 teaspoon of cayenne, 1/2 teaspoon of sugar, and a large pinch of salt.  Then take your paneer, in block form, and coat with a tablespoon of olive oil, then rub all over with a tablespoon of this spice mix.  Warm a griddle over medium heat and grill your paneer for 4 minutes on each side.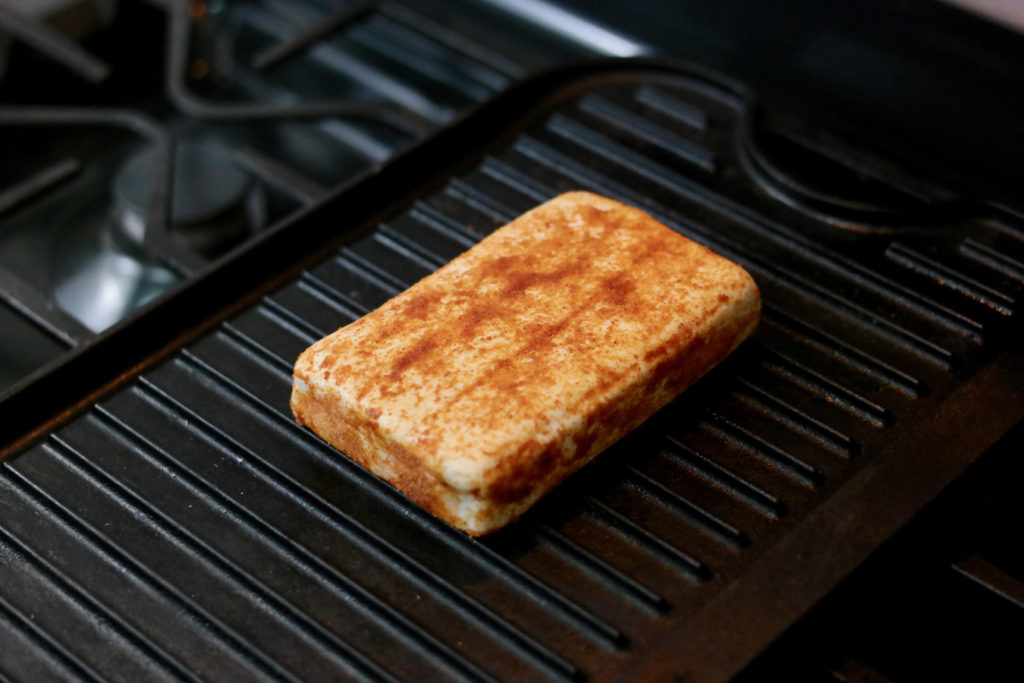 Once it's charred on both sides, cut it into 1/4-inch slices.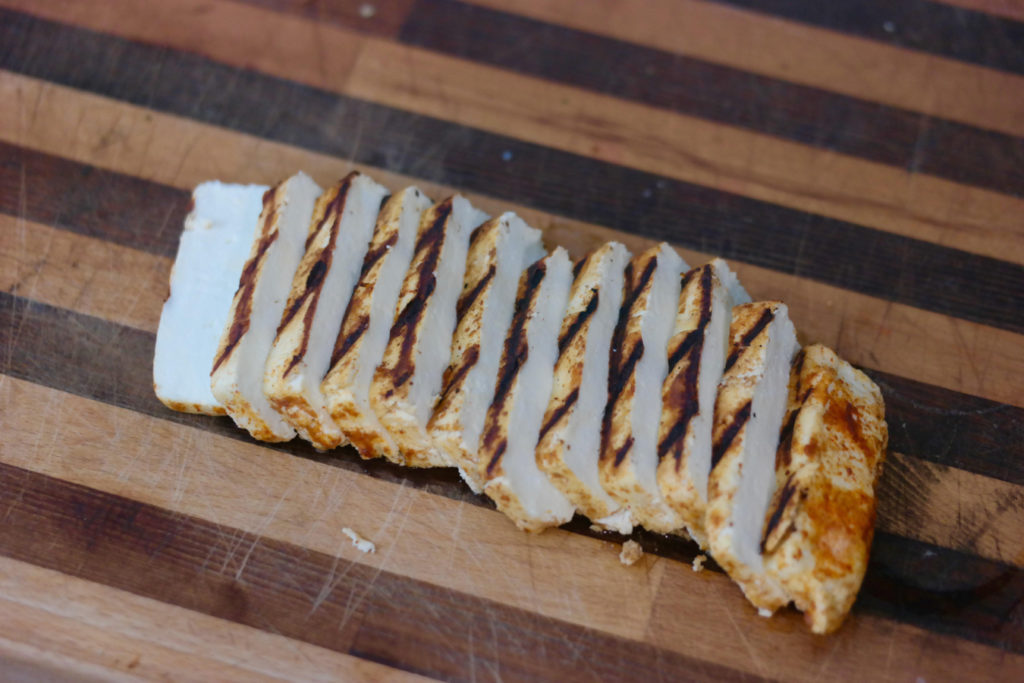 Meanwhile, take your green beans and cut off the ends.  Mix the beans with 2 tablespoons of olive oil and 1 1/2 tablespoons of the spice mix, then spread them out on the griddle.  Grill for 3-5 minutes on each side, until they blacken in spots.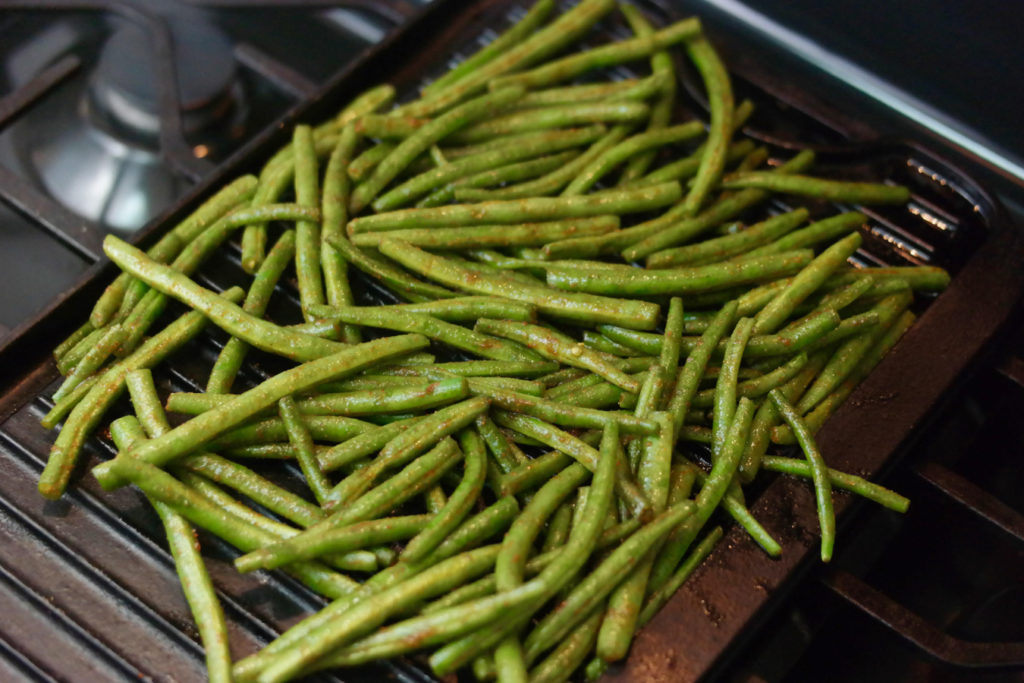 Now in a serving platter layer the paneer on the bottom and the beans on top.  Whisk together a tablespoon of olive oil, a tablespoon of the spice mix, and the juice from your lemon and drizzle over top of everything, then sprinkle on any extra spice mix and scatter some sliced almonds on as well.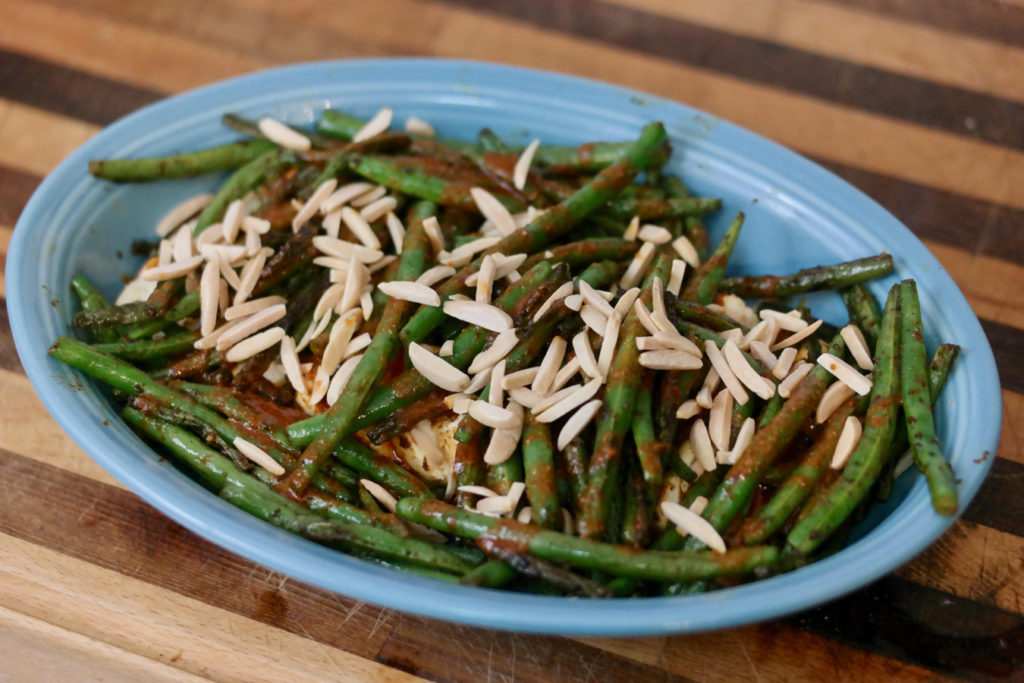 And now you can scoop up some paneer and green beans, and enjoy!
We liked how this recipe was simple in some ways, and complex in others:  the simplicity comes from building an entire dish out of just green beans and paneer, but the five different spices and the method of cooking provides an interesting depth.  You'll have to fire up a griddle (and then clean it afterwards), but this allows you to grill your cheese and vegetables for a tasty result with some good textures – the paneer firms up and cuts into nice slices that are a hearty and chewy pairing for the spiced beans.  The combination of veggies and thick cheese made for a satisfying dinner for us, and we were glad to get the chance to try paneer in a new way – not in a curry, but in a great late summer meal.